1 of Bill Belichick's Former Players Surprisingly Credits the New England Patriots for His 2021 Breakout Campaign
For some NFL players, the New England Patriots may be an acquired taste. Head coach Bill Belichick is one of a kind and has a unique approach to coaching his guys. Although playing in New England may not be a good situation for every player, some buy what the team sells.
Cordarrelle Patterson is finally breaking out in his ninth season, and he credits lessons from Belichick and the Patriots.
Cordarrelle Patterson is enjoying a breakout season in 2021
Cordarrelle Patterson is on pace to have easily the best season of his NFL career. The Atlanta Falcons do-it-all athlete has turned heads with his performance through the first five weeks of the 2021 season.
Since the Minnesota Vikings drafted Patterson with the No. 29 overall pick in the 2013 NFL Draft, he had failed to establish himself as a consistent offensive playmaker. The Tennessee product caught 45 passes for 469 yards and four touchdowns as a rookie. He also scored three rushing touchdowns, earning him a spot on the 2013 All-Rookie Team.
Patterson's offensive production took a slight dip in the years after, but he became a force on special teams. The Rock Hill, South Carolina native has racked up 7,317 kick return yards and eight touchdowns for his career. He's made the Pro Bowl four times as a special teamer.
Now 30 years old, he's putting it all together on offense. Falcons offensive coordinator Arthur Smith is getting the most out of Patterson's dynamic abilities. Smith has lined him up and running back and wide receiver. Patterson has recorded 25 receptions for 295 yards and four touchdowns. He's added 173 yards and one score on the ground, too.
Patterson is proof that you can find success if you stay true to the grind.
Patterson credits Bill Belichick and the Patriots for important lessons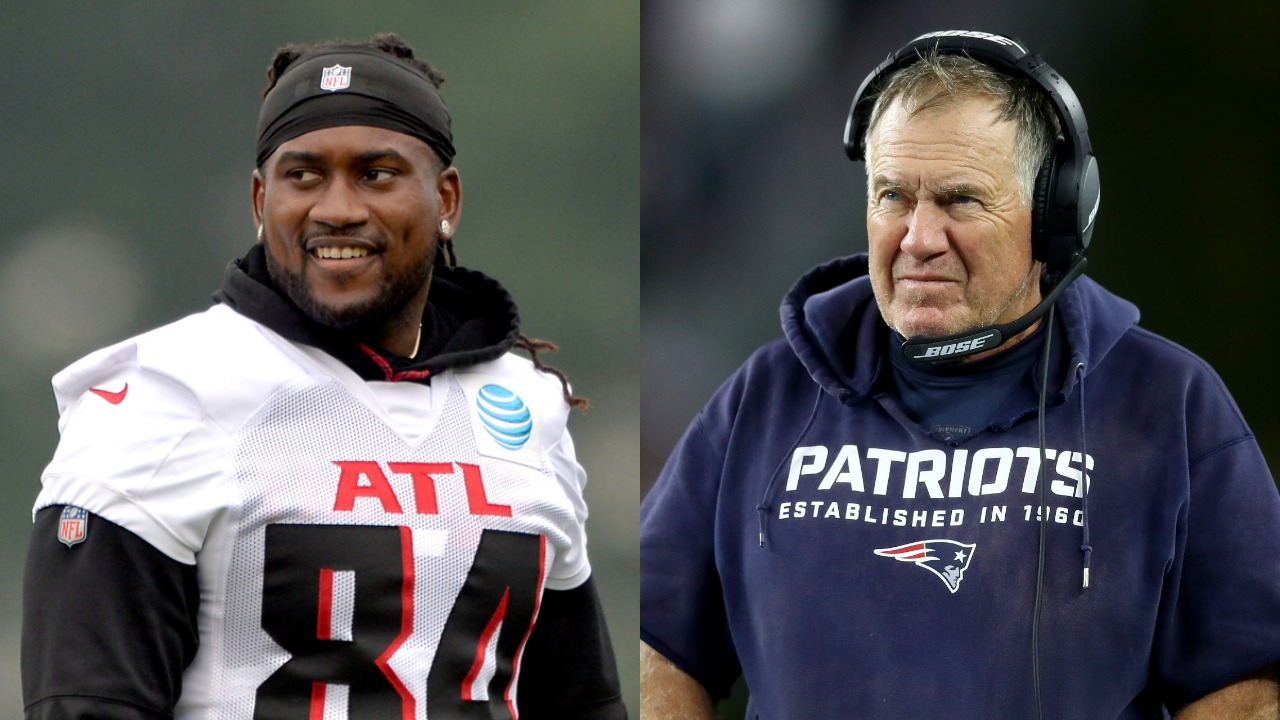 Cordarrelle Patterson is enjoying the most productive season of his career, but it didn't happen overnight. If you ask the Falcons' swiss-army knife what happened, he'll look back at one of his former NFL stops.
The Oakland Raiders traded Patterson to the New England Patriots after the 2017 season. The former Volunteers standout played wideout, running back, and kick returner for the Patriots. He scored five total touchdowns during the 2018 season.
Although Patterson played just one season under Bill Belichick in New England, he learned lessons that he'll take with him for the rest of his career.
"That really taught me the way to practice and compete and all that stuff," Patterson said in an interview with Pro Football Focus. "When you go over there, it's like 'hey, we're trying to win. We're going to win each and every week.' That's their mindset over there."
The ninth-year veteran said it was easy to buy in for his lone season with the Patriots. "It's a mindset, the culture, and all that stuff, he said. "Once you walk into that building, it's go time. Ain't no bulls**t like, 'Let's get this win.' We all know what we're here for."
Not all players buy in to the 'Patriot Way'
Cordarrelle Patterson seems to have enjoyed his time playing under Bill Belichick in New England. The team instilled a strong work ethic and competitive spirit into the then-27-year-old.
As much as Patterson liked competing for the Patriots, not every player shared the same sentiment. Former All-Pro cornerback Darrelle Revis was recently a guest on the I AM ATHLETE podcast.
Brandon Marshall asked him about his experience playing for Belichick and the Patriots, and Revis had some interesting comments.
"When you play with the New England Patriots, it's a lot of pressure every time you walk in the door," said Revis. "It's a lot of tension…It's the unknown. You don't know what Mr. Kraft's doing, and you don't know what Bill's doing."
Similar to Patterson, Revis played only one season in New England. However, the two players had drastically different experiences. The seven-time Pro Bowler won a Super Bowl with the Patriots in 2014 but was not a fan of Belichick.
"That's not my guy," said Revis of his former coach.
Cordarrelle Patterson didn't seem to mind Bill Belichick's coaching style. He credits the Patriots' culture for reviving his career.
All stats courtesy of Pro Football Reference.
RELATED: Darrelle Revis Slams Bill Belichick and the 'Patriot Way' Despite Winning a Super Bowl in New England