1 Decision That Saved Seahawks' DK Metcalf's NFL Career
During his three-year collegiate career, DK Metcalf had emerged as one of the most talented wide receivers in the nation at Ole Miss before he got his shot with the Seattle Seahawks to become a rising star. His hopes of reaching the NFL were put on pause before he ever got a chance after he suffered a knee neck injury. However, things were able to shift in the direction of him getting back onto the field and reaching his high aspirations of playing at the highest level.
DK Metcalf's College Career
Metcalf spent his entire college career with Ole Miss, where he received a redshirt after suffering a season-ending foot injury after the first two games played. He returned for his second year, where he played a more prominent role in the offense, recording 39 receptions for 646 receiving yards and seven touchdowns that showed his big-play ability.
He took off in his redshirt sophomore campaign as he got off to a promising start as he made 26 catches for 569 receiving yards five touchdowns. That was all cut short as he suffered a season-ending neck injury against Arkansas.
It was an injury that not only end his 2018 season, but it also put his football career in jeopardy. Things had moved towards him, potentially not being able to play another down on the football field. However, it all shifted in his direction after one decision.
1 decision that changed DK Metcalf's football career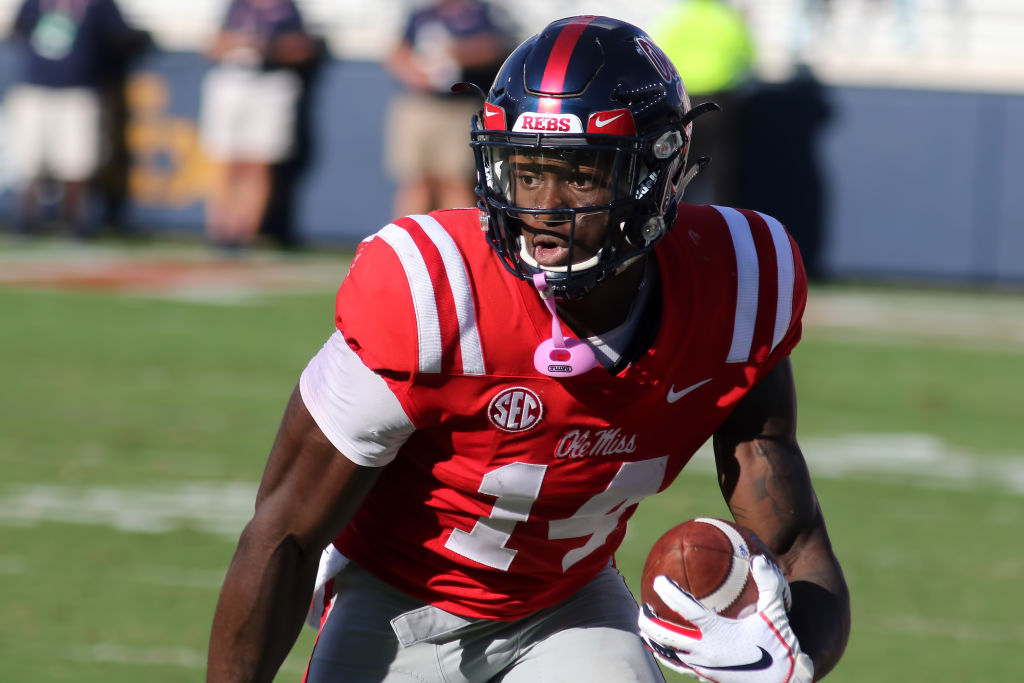 Metcalf was in a dire situation with his football career as the initial doctors, who treated him for the injury, told him that he could no longer play the game.
However, he sought out a second opinion on the matter, turning to noted neurosurgeon, Dr. Kevin Foley, who told him that he needed surgery to repair the broken bone in his neck, according to Gregg Bell of the News Tribune.
"He's done the surgery plenty of times," Metcalf said, "and he told me I was going to be fine."
Metcalf recovered from the surgery being medically cleared in January by Foley in time to go through the pre-draft workouts and NFL combine for the 2019 NFL Draft, which he declared for after his 2018 season was cut short. Despite showing blazing speed at the combine running a 4.33 40-yard dash, there were still some significant concerns about injury history from his collegiate career.
Many labeled him as a development project in the NFL due to running limited routes at Ole Miss, which critics honed in on him only running go routes for big plays because of his size and speed. All that contributed to Metcalf sliding in the draft, which presented the opportunity for the Seahawks to take him with the 64th overall pick in the second round.
DK Metcalf proving doubters wrong
Since entering the NFL, Metcalf has proven to be a game-changing talent and a steal for the Seahawks in the second round of last year's draft.
The 22-year-old has emerged as a rising star talent that has taken up a prominent role in the Seahawks' passing game as one of Russell Wilson's favorite targets. That saw his impact shown through his record-breaking performance against the Philadelphia Eagles with seven catches for 160 receiving yards. That marked the most receiving yards in a playoff game for a rookie in the Super Bowl Era.
If Metcalf can tally at least 83 receiving yards for the rest of the playoffs, it would pass former star wide receiver Torry Holt for the most-ever by a rookie wideout in NFL history in a single postseason. The fact that he's putting up this type of production speaks to the tremendous talent that he possesses that could see him become one of the top receivers in the league soon.
In the meantime, Metcalf keeps defying what many thought he couldn't do on the football field in the NFL.