1 Historic Feat Giannis Antetokounmpo is on Pace to Achieve in 2019-20
Giannis Antetokounmpo was already one of the best players in the world coming into the 2019-20 season. After all, he won the NBA MVP Award while leading the Milwaukee Bucks to the best record in basketball at 60-22. His stat-line last season included an impressive 27.7 points, 12.3 rebounds, and 5.9 assists per game.
But if the first 10 games of the 2019-20 season are any indication, Antetokounmpo still hasn't realized his full potential. The big-man is putting up numbers that the league has never seen before and is living up to his nickname as the 'Greek Freak'.
No one has ever averaged the stat line Antetokounmpo currently has
Antetokounmpo entered the NBA in 2013-14 as an extremely thin 18-year-old bursting with potential and raw talent. He has seen his statistics improve every single year that he's been in the league; for each of the last six seasons, his average number of points, rebounds, and assists per game has increased. Where is the ceiling on his growth potential?
We still haven't found it. So far this season, Giannis Antetokounmpo is averaging 29.7 points, 14.3 rebounds, and 6.8 assists per game.
The season is still young, so there's no guarantee that Antetokounmpo will be able to maintain these averages. But if he does, he will become the very first player in NBA history to finish a season with over 29 points, 14 rebounds, and six assists.
Antetokounmpo is on pace for a historic Player Efficiency Rating as well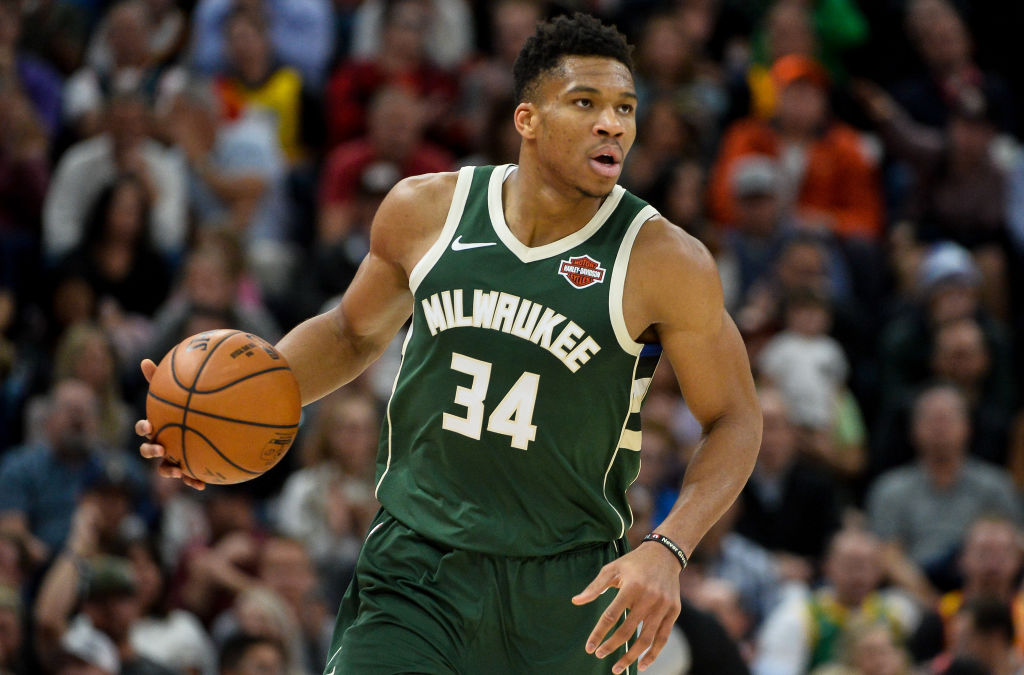 The Player Efficiency Rating (PER) was invented by basketball executive John Hollinger. It is a complex mathematical formula that attempts to compile all of a player's contributions on the season into one number. Players are rated on a scale of 0 through 35+, with a PER score of 0-9 representing a player who isn't likely to remain in the league and a score of 35 representing an all-time great season. Average players hover in the 13-18 point range while All-Stars hover around 22-25.
Michael Jordan (27.91), LeBron James (27.59), Anthony Davis (27.42), Shaquille O'Neal (26.43), and David Robinson (26.18) own the top-five highest career PER scores. There have been 25 single-season PER scores in NBA history of over 30 points. Wilt Chamberlain's 31.82 was the highest single-season PER ever recorded in 1962-63.
Through his first 10 games in 2019-20, Giannis Antetokounmpo currently has a PER score of 33.68.
He has already made history this season
Even if Antetokounmpo is unable to maintain his hot start all season long to claim these historical feats, he has already set one this season. With his 38-point, 16-rebound, nine-assist effort against the Los Angeles Clippers on November 6, the 24-year-old became the first player ever to record 200 points, 100 rebounds, and 50 assists through his first eight games of a season.
The scary part for opposing teams is that Giannis Antetokounmpo's free throw percentage is actually down this season at 64.5%; he is a career 73.8% shooter from the charity stripe. As the season progresses and this number returns to its average, it actually seems more likely that Antetokounmpo's offensive output increases than it decreases.
Stats don't always tell the full story. But as an indicator of how dominant and incredible a player like Giannis Antetokounmpo is, these numbers are a pretty good place to start.