1 Insane Stat From Ryan Tannehill's Breakout Season in Tennessee
Ryan Tannehill has completely turned the Tennessee Titans' season around. After going just 2-4 with Marcus Mariota under center, the Titans have gone 6-1 since Tannehill took over the starting job and have surged to an 8-5 overall record, putting them in a tie with the Houston Texans atop the AFC South standings. These two division rivals face each other twice in the last three weeks of the season to determine who will come out on top.
Tannehill has had some solid seasons in the past as the former starting quarterback for the Miami Dolphins, but he is enjoying a career year so far in Tennessee. Out of all of the impressive stats that he has compiled in his eight games as a starter, one stands out as a testament to how explosive Ryan Tannehill has been.
Ryan Tannehill's yards per pass attempt stat is amazing
In Tennessee's 42-21 road win over the Oakland Raiders, Ryan Tannehill completed 20 of the 26 passes that he threw for 391 yards and three touchdowns with only one interception. The end result was a staggering 14.5 passing yards per pass attempt in the win.
This game was yet another example of Tannehill making virtually every single pass attempt count in 2019. With completions on 149 of his 203 passing attempts, the 31-year-old is completing 73.4% of his passes this season, second only to Drew Brees's 73.6% among starters. But unlike Brees, who is only averaging 7.6 yards per pass attempt, Tannehill leads the NFL by a considerable margin with a whopping 9.8 yards per attempt.
Tennessee puts a heavy focus on its running game on offense, so Ryan Tannehill is only averaging 22.6 passing attempts per game. But by utilizing play action and attacking down the field, Tannehill is making the most of his low number of attempts with big plays. He has 1,993 passing yards, 15 passing touchdowns, and five interceptions so far this season.
Tennessee's offense is on fire of late
The last four games have been something special for the tandem of running back Derrick Henry and Ryan Tannehill. Since losing on the road to the Carolina Panthers back in Week 9, the Titans are a perfect 4-0 with wins over the Kansas City Chiefs, Jacksonville Jaguars, Indianapolis Colts, and Oakland Raiders.
Tannehill has completed 75.6% of his passes over this four-game stretch for 1,013 yards and a dazzling 9-to-1 touchdown-to-interception ratio. Meanwhile, Derrick Henry has racked up 599 rushing yards and seven rushing touchdowns over that same stretch. As a team, Tennessee has averaged 37.5 points per game over this current four-game winning streak.
A perfect fit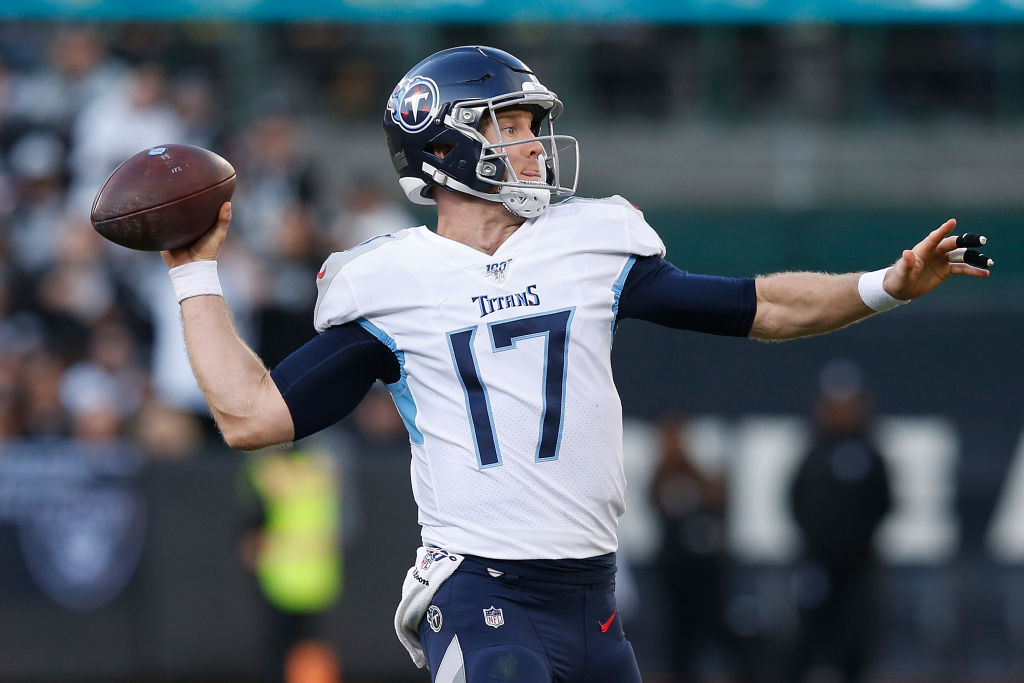 Tennessee's trade with the Miami Dolphins to acquire Ryan Tannehill as a backup to Marcus Mariota has worked out more perfectly than the two sides could have ever imagined. Tannehill has not only played well enough to put the Titans into contention for a division title and a playoff spot, but he's also almost certainly assured himself the franchise tag this offseason. This will put him in position to be the team's starting quarterback for 2020 and beyond.
And if these last four games are any indication, the Titans might be more than a flash in the pan in 2019. This won't be a fun team to play against should they make the playoffs this year.