1 John Madden Record Even Bill Belichick May Not Break
To younger NFL fans, John Madden is most well-known as a longtime analyst who pioneered Telestrator usage during NFL broadcasts, or as the video game guy. Older fans, or people well-versed in the history of the league, know that Madden had a successful tenure as the Raiders' head coach before he entered a broadcast booth. Although Madden's career as a head coach lasted just 10 seasons, he compiled an impressive resume on the sidelines. He even holds one record that may be hard for any coach to beat — even arguably the best head coach in NFL history, Bill Belichick. Let's explore the coaches' careers and what Madden's seemingly unbreakable record is.

How good was John Madden as a coach?
Madden coached the Raiders from 1969-78, garnering at least 10 wins in six of those 10 seasons. That helped him average more than 10 wins per season, and he finished with a record of 103-32-7 in 142 regular-season games.

That feat is impressive by itself, but even more so when you consider that 1978 was the first season in which the NFL had a 16-game regular-season schedule. The NFL had a 14-game schedule in all but Madden's final season as a head coach. So winning 10 games out of 14 equates to a 71.4% winning percentage, compared to 62.5% for 10 wins in a 16-game season. Madden's best season as a head coach was his first, leading the Raiders to a 12-1-1 record in 1969.

Bill Belichick is a coaching legend like Madden
Many people may think Bill Belichick, like Madden, has only coached one team in the NFL, but that's not the case. It's easy to forget that he coached the Browns from 1991-95 because it wasn't a very successful tenure, with Belichick leading the team to 36-44 record. Belichick then returned to the sidelines as a head coach in 2000, his first season with the Patriots.

In the 20 seasons since then, the Patriots have gone 237-83 in 320 regular-season games. Even throwing out Belichick's disappointing time in Cleveland, his 20-season tenure with the Patriots alone gives him twice as much longevity as Madden had in his coaching career — which will only increase if Belichick continues coaching after this season. Add in the Patriots' six Super Bowl titles under Belichick — with a potential seventh depending on how the postseason goes — and it's hard to argue against Belichick having had a better coaching career than John Madden. But Madden holds one record that even Belichick may not be able to match.

John Madden has one record even Belichick might not break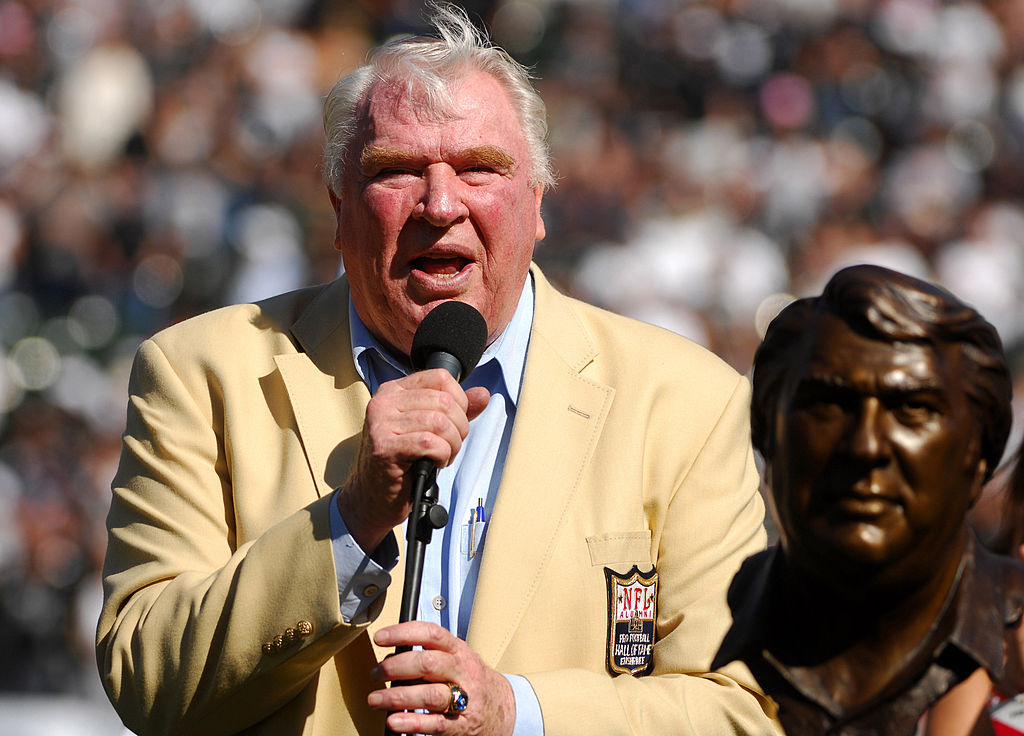 Madden's 103-32-7 record gives him a career winning percentage of 75.9%, which is the all-time record with a minimum of 100 wins. Legendary Packers coach Vince Lombardi is in second place, at 73.8%.

Unsurprisingly, the active leader in winning percentage is Belichick, but there is virtually no chance of him catching Madden. He currently sits at 68.2%, thanks in part to his sub-.500 mark with the Browns. Going strictly by his Patriots tenure, Belichick would be ahead of Lombardi at 74%, but still behind Madden.

Being so far behind Madden, Belichick won't catch him because with each additional game coached, the winning percentage goes up even less with each victory. In addition to Belichick's time with the Browns hurting him, so does the current scheduling structure of 16 games because, as illustrated earlier, with the additional games, each win gives less of a boost to the coach's winning percentage.
Bill Belichick's longevity and success help his case for being the best coach in league history, but it hurts him in terms of winning percentage. He is tied for fifth in winning percentage among all coaches with at least 100 games coached despite being third all-time in wins. Belichick might have more wins than John Madden, but Madden figures to hold the winning percentage for years to come.