1 Mind-Blowing Stat That Proves How Dominant Saints WR Michael Thomas Is
When Peter King for NBC Sports recently asked New Orleans Saints wide receiver, Michael Thomas, how it felt to catch more passes in a single season than any other NFL player in the history of the NFL, he said it hadn't hit yet. In the 2019 regular season, Thomas caught 80.5% of the balls thrown to him. That's outstanding when you consider most receivers average somewhere in the mid-60s.

So is Thomas among the NFL's elite wide receivers? Does he have a shot at this year's MVP?
Michael Thomas — from Buckeye to Saint
Michael Thomas showed great promise playing in college for the Ohio State Buckeyes. In the 2014 season, he started as a redshirt sophomore but took over as starting wide receiver by season's end. Thomas led the team in receptions with 54 for 799 yards and nine touchdowns. In the playoff semifinals against Alabama, he had seven catches for 66 yards and an incredible touchdown pass that helped the Buckeyes to victory.

During the 2015 season at Ohio State, Thomas had 56 receptions for 781 yards and nine touchdowns. In January 2016, Thomas announced he was entering the 2016 NFL draft. Ohio State won the College Football Playoff National Championship game that year with the help of Thomas's four receptions for 53 yards.

The Saints drafted and signed Michael Thomas in 2016. The second-round draft choice has been unstoppable as a dynamic player for the team. He made the Pro Bowl in 2018 for the second straight year, and he was an Associated Press first-team All-Pro. Thomas had the most receptions by any NFL player at the end of his first three seasons, with 321 receptions for 3,787 yards and a total of 23 touchdowns.

Thomas can make tough catches with ease and grace, which makes him an exciting player to watch.
One stat proves Michael Thomas' dominance in 2019
Thomas had a huge season in 2019 as he caught 149 of the 185 passes sent his way by Drew Brees, Teddy Bridgewater, and Taysom Hill. That's 82.1% of everything thrown to the wide receiver. To understand how impressive that number is, you need to look at the elite receivers who finished behind him.

Other talented receivers hardly came close to matching Michael Thomas in catch percentage. Julian Edelman caught 65.4% of balls thrown to him, Tyreek Hill caught 62.6%, Julio Jones caught 63%, and JuJu Smith-Schuster caught 60%, according to NFL Next Gen Stats.

That means roughly 12 passes are thrown to Thomas per game, and he manages to catch nearly 10. That puts a target on his back.

Michael Thomas handles it well. He explained that his love for the game, his teammates, and his personal accountability drive him. Thomas said he and his fellow players were all in the huddle with the goal of executing plays as best they can to move the chains. He wants to make the play for his teammates as much as for himself.

Former Indianapolis Colts player Marvin Harrison previously held the record for single-season receptions until Thomas topped it this season. A 20-yard pass from Hill to Thomas tied the record, and he broke it with a 14-yard touchdown reception from Brees for his ninth touchdown reception of the year.

Brees told Thomas off the field with a hug that no one deserved it more than he did. His coaches and fellow players shared his sentiment.
Should Thomas have MVP consideration?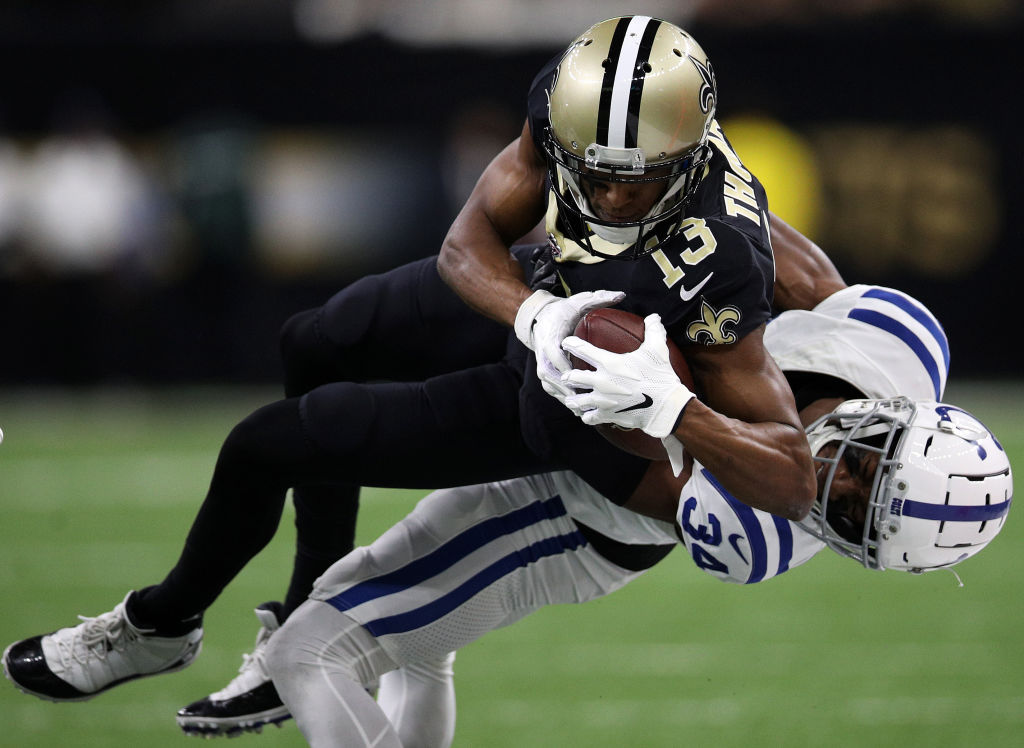 While most experts in the league agree this year's MVP will be Lamar Jackson, Michael Thomas has done more than enough to be worthy of consideration as the league's MVP in 2019. In the NFL's 100-year history, a wide receiver has never won the league's MVP award.

The player called "Can't Guard Mike" has a humility that endears him to his teammates. Thomas explains that he has bigger, team-oriented goals in mind. He's grateful for the opportunity to play and says that he's not finished yet.

His fellow players describe him as a hard worker. Thomas doesn't want anyone ever to think he's arrived. And that's how he plays. Not only does he pull down an amazing number of passes, he appreciates that the defenses he plays against each week have worked hard trying to figure out how to stop him. No team has yet really figured out how to do that.