1 More Way the Saints' Michael Thomas was the Best WR in the NFL This Season
New Orleans Saints wide receiver Michael Thomas didn't have the best season of anyone at his position. Instead, it was a generational regular-season run. He absolutely destroyed the rest of the field in receptions. It wasn't even close. Oh, and he crushed several other key WR stats as well, which we'll get into.

First, let's look at the stat that will have future football fans pause when they take a look back at who did what in 2019.

How Michael Thomas blew up the receptions leaderboard in 2019
Michael Thomas didn't just take the number one spot on the receptions leaderboard in 2019. He blew away the competition in a way that's hard to process: 33 more than his nearest competitor.

Carolina Panthers' running back Christian McCaffrey had the number two spot, with 116 receptions. That's a number that could easily top this list under normal circumstances.

Thomas' 149 catches put him above all-time greats like Randy Moss and Marvin Harrison. The 33 reception gap between number one and number two? That's the widest since 1942 when Don Huston caught 74 compared to the wonderfully-named Pop Ivy's 27.

That averages out to 9.3 catches per game. It's about four or five extra games worth of catches compared to McCaffrey's already amazing season. That is an important piece of NFL history that unfolded before our eyes.
No NFL player has ever made it to 400 career receptions as fast as Thomas. At just 26, he's nowhere close to done.

Thomas' mind-blowing 2019 with the Saints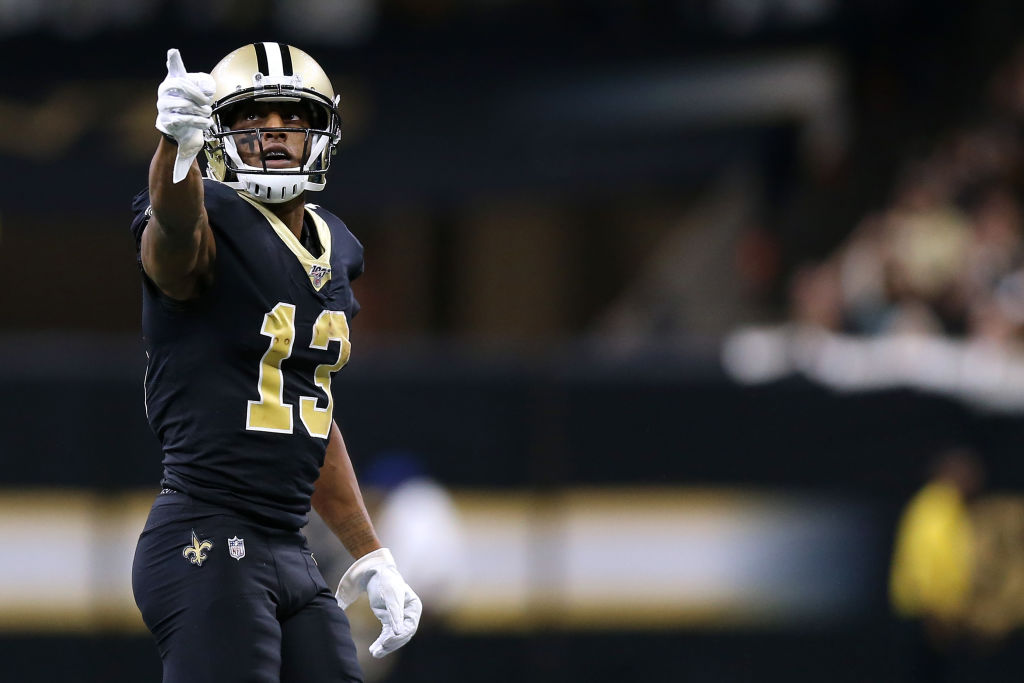 Thomas' 2019 wasn't all about receptions. He's a generational WR talent, who contributed in myriad ways.

A memorable moment as the regular season closed out appears at the end of the highlight reel above. Thomas takes a pass in the end zone, seemingly effortlessly. The commentator quips that the best strategy to follow up Thomas missing a pass is to simply try to get him the ball again.

That is because his stats aren't inflated by constant pass-and-miss attempts. Thomas catches the ball over 80% of the time. Then he runs it for his second NFL 2019 record: 1,725 yards in the regular season.

On top of all that, he caught seven of eight passes thrown his in the Saints' single playoff game of the year. Don't let their ultimate failure against the Minnesota Vikings distract from his incredible display at a crucial moment.

Is Michael Thomas MVP material?
We've said it before: Michael Thomas isn't getting the MVP buzz he deserves. Lamar Jackson and Russell Wilson's QB heroics are undeniable, and they play a position that gets the most attention for awards like this.
It's a tough situation for a WR to be in, but receivers don't win MVP. It's an unfortunate, unfair reality of the NFL. Not even the great Jerry Rice managed to win a single MVP nod.

If Rice can't do it, does Thomas have much of a chance?

It doesn't help that Thomas often spends more time in the middle of the field. He's the guy who takes Brees' passes and gets them into position. He's not the guy who often takes that final pass in the end zone for the big splashy moment. His nine touchdowns are nothing to sneeze at, but they cause him to be unfairly ignored.

But let's reel back on the doom and gloom for a second, and focus on the question itself. "Is Michael Thomas MVP material?" The answer has to be a resounding, yes. The realities of the league, sports media, and fan bias make it difficult for him to win, but Michael Thomas has the makings of the most valuable player in the NFL.

Don't focus on whether he'll win it. He made his case to be taken seriously in the running. He turned in a performance unlikely to be topped anytime soon.