NBA
1 Reason Russell Westbrook Should be Thrilled About Moving to Houston
When Kawhi Leonard convinced Paul George to request a trade to the L.A. Clippers, it was all but a matter of time until the Oklahoma City Thunder found a way to get Russell Westbrook out of town. The franchise honored their longtime star's desire to win a title by shipping him to a contender, trading him to Houston for Chris Paul and a boatload of draft picks.
From a basketball perspective, the move is a high-risk, high-reward one. But there's one particular reason Westbrook should be thrilled about moving to Houston.

Amazing career achievements
As one of the NBA's best guards and overall players, Westbrook has put up some gaudy numbers since entering the league in 2008. Consider what he's done as a member of the Thunder:
23 points per game
8.4 assists per game
2008-2009 All-Rookie Team
2017 Most Valuable Player
Eight All-Star appearances
Two-time scoring champion
Eight-time All-NBA
One NBA Finals appearance
Westbrook's credentials as an NBA star are not in doubt. There's also no question he's earned his big contract. He has five years and over $200 million left on his current deal.

But will Westbrook fit as a member of his new team?

Russell Westbrook to the Rockets
The big question, from a basketball perspective, is how well Westbrook and backcourt mate James Harden will gel as teammates. The two play a similar style of basketball, so it may prove difficult. However, in his piece about the trade, ESPN's Zach Lowe reported that Rockets GM Daryl Morey received assurances from Harden that it wouldn't be a problem:

"…Daryl Morey, Houston's general manager, called James Harden to discuss how both stars might work together. Harden gently cut Morey off and reminded him: "I know how to play with Russ and he knows how to play with me," Morey recounted to ESPN.com…"

While some believe the move may not pan out, it may actually help Russell Westbrook become more productive. Opposing backcourts in the past could focus most of their attention on stopping Westbrook. Now they'll have to contend with two All-Star caliber players. Other than Kevin Durant, Westbrook has never played with a more devastatingly effective scorer than Harden.

But there's an additional reason Westbrook will like playing in Houston, and it has nothing to do with the Rockets as a team or even basketball in general.

Why Russell Westbrook should be thrilled about moving to Houston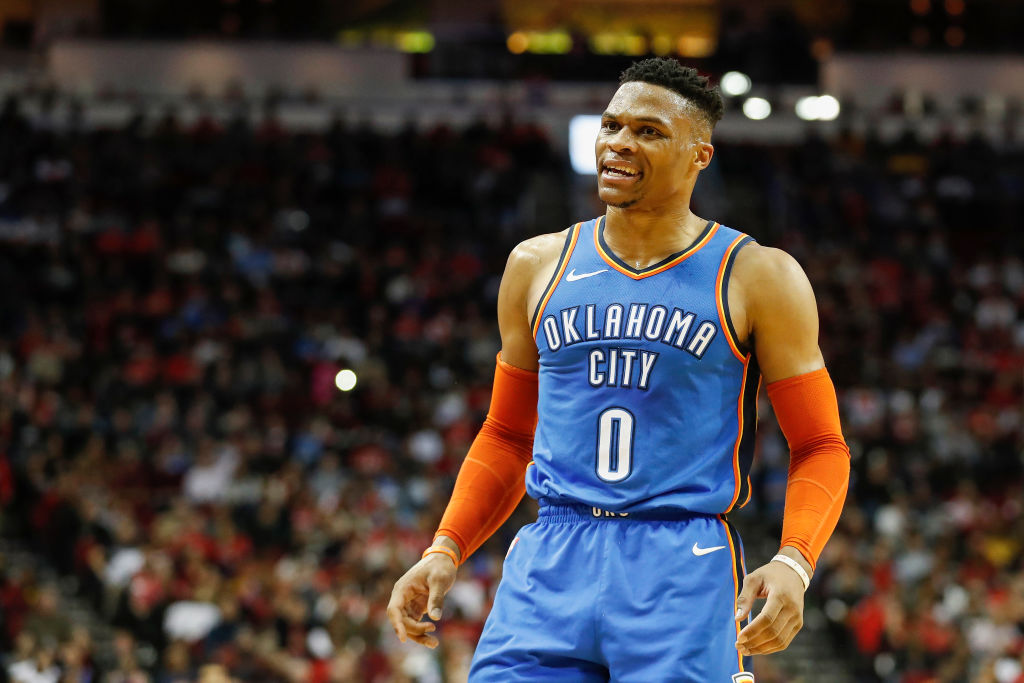 Westbrook's location — namely, the state of Texas — has one distinction that will keep him happy.

According to Forbes' Sean Packard, the trade to Houston will save Westbrook $10 million. No matter how the move works out on the court, that's enough to put a smile on anyone's face.

The move saves Westbrook money because Texas does not have a state income tax. Here's Packard's math on how Westbrook will save:

"Westbrook has $171,139,920 left on his deal, an average of $42,784,980 per year….Under his contract, he would pay a total of $2,571,623 in state and local income taxes to Oklahoma and other states and cities where he plays…In Houston, he will still pay $1,005,528 annually as the Western Conference plays in the U.S.'s three highest-taxed states, California (13.3%), Oregon (9.9%) and Minnesota (9.85%). So over four years, he will save over $6.4 million in state taxes on his salary alone."

Packard added that Westbrook will also save significantly on his endorsement income as well. What is Westbrook's financial windfall is the major loss of the state of Oklahoma, as they'll surely miss his hefty tax payments.