1 Reason the Lakers' Rajon Rondo Could Be the Next Great NBA Coach
Throughout his career, Rajon Rondo has built a reputation as one of the canniest point guards in the NBA. His game smarts have earned him the respect not only of his peers in the league, but also coaches and front office staff. Many people consider him a natural candidate for a coaching position once his playing career comes to an end.

Of course, Rondo still has plenty of game left in the tank, as he has shown in his surprisingly good second season with the Los Angeles Lakers. This year he has also shown a desire to soak up all the knowledge he can from new coach Frank Vogel. This article breaks down how that relationship may be just the thing Rondo needs to become the next great NBA coach.

Rajon Rondo's NBA career so far
Rondo played two years at Kentucky before the Phoenix Suns drafted him with the 21st pick of the 2006 draft. The Suns promptly sent Rondo to the Boston Celtics on draft night as part of a larger trade package. Rondo played most of his first year as a back-up point guard, showing flashes of excellence when given more minutes.

As a result, starting in his sophomore season, Rondo moved into a full-time starter role playing alongside Kevin Garnett, Paul Pierce, and Ray Allen. Rondo played a crucial role in that group's trip to the NBA finals, which they ultimately won over the Los Angeles Lakers in six games. Over the next several years, Rondo made four All-Star appearances and received two NBA All-Defensive Team selections.

By 2014-15, the Celtics had begun to stagnate, although Rajon Rondo was still in his prime. In December 2014, the Celtics traded Rondo and other pieces to the Dallas Mavericks for a combination of players and draft picks. Rondo had a rocky time in Dallas, often clashing with coach Rick Carlisle. Stints in Sacramento, Chicago, and New Orleans followed before Rondo finally found himself in L.A. playing alongside LeBron James.

Rondo's role with the Lakers this season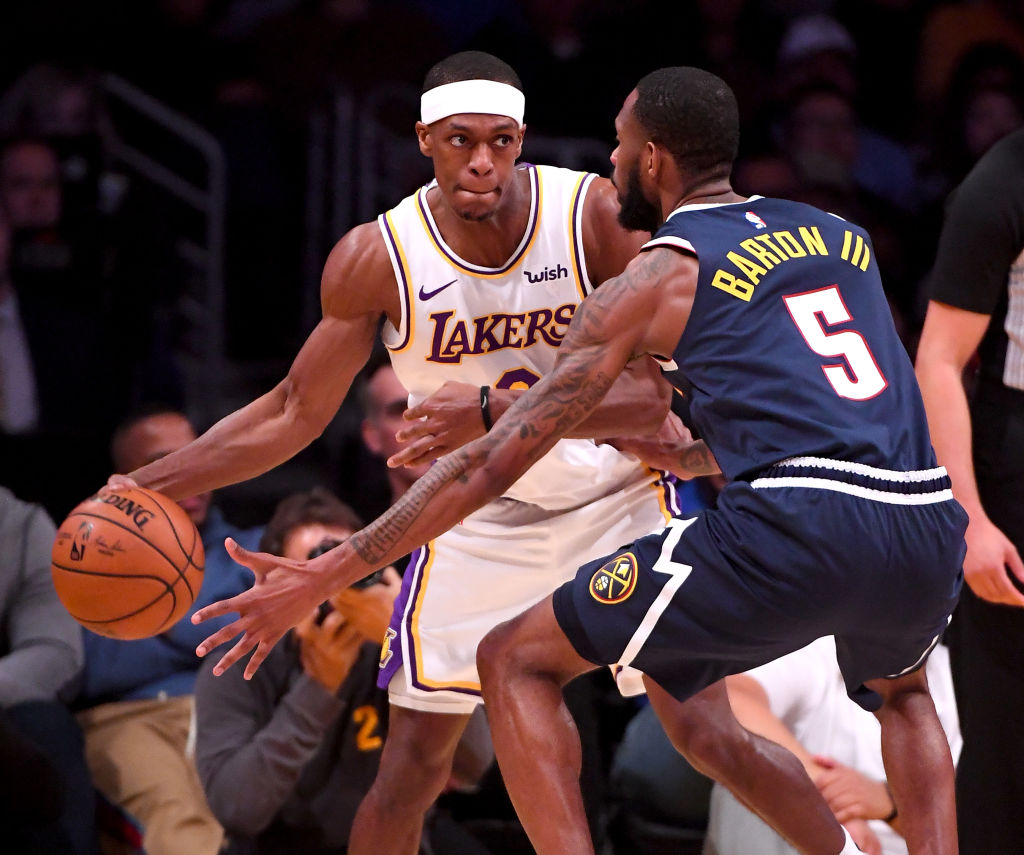 Most analysts would agree that Rajon Rondo been passed his prime several years ago. Yet he still has plenty to contribute to a good team, as he has been showing with his stellar year so far. After missing the first part of the season with a calf injury, Rondo has provided a steady veteran presence — especially in the locker room, where he remains a popular figure among his teammates.

As expected, Rondo remains a competent floor general, racking up 5.6 assists in 21.6 minutes per game. More surprising has been Rondo's touch from the 3-point line. Although Rondo is just a 32.0% career three-point shooter, this year, he has been knocking down 42.9% of his long-distance shots. That kind of perimeter play makes him a perfect complement to LeBron James' drive-and-kick style of play.

Rajon Rondo could be the next great NBA coach
Another surprising aspect of Rondo's season has been his outspoken endorsement of Laker's coach Frank Vogel. In particular, Rondo has called out Vogel's excellent style of communication, which has allowed him to quickly earn the respect of superstars LeBron James and Anthony Davis. Vogel has also highly effective at motivating his squad on both sides of the ball, and at providing constructive criticism during film sessions. It goes far beyond that, too, according to Silver Screen and Roll:
"If you can talk to (LeBron as the coach), you can talk to anybody. (Vogel's) delivery, his communication, is great. That's what I think I'm learning (about) for my future, if I want to go that route. I take notes every day. I'm trying to learn from coach. Sometimes I'll write them down. Sometimes I'll take a picture of the scouting report, what his philosophy is before the game and take a couple things I love about what he does and just continue to grow as a player."

Rondo also expressed his admiration for Vogel's mastery of Xs and Os strategy, as well as his ability to game plan for opponents. In a recent interview, Rondo even said that he sometimes takes photos of Vogel's scouting report. That kind of willingness to learn from one of the great coaching minds in the NBA may be just what it takes to make Rajon Rondo a coaching star himself once his playing career ends.