1 Reason Zion Williamson's Recovery is Taking So Long
Even the most casual NBA fans are familiar with the basketball phenom Zion Williamson — even though he hasn't played a single regular-season game yet. When it comes to top-tier prospects, Zion generated more buzz than virtually any player going back to LeBron James. Many analysts even considered Williamson a more talented prospect than the King himself.

When Williamson tore his meniscus during a preseason game in October, the New Orleans Pelicans estimated that he would be out between six and eight weeks. Now we're well past two months, and Williamson still has yet to play a game. Let's recap what we know about Williamson's college career and knee injury, as well as one key factor that may be contributing to his extra-long recovery.

Zion Williamson's college and preseason career
Williamson is one of those rare players whose physical gifts and on-court skills were clear from his earliest high school days. As a result, Williamson was heavily recruited by colleges, ultimately choosing to go to Duke. Almost instantly, he proved himself to be a high-impact player, consistently putting up huge scoring, rebounding, and block numbers.

Despite missing the final six games of the season due to an injury he sustained when his Nike shoe literally disintegrated in the middle of a game, Williamson tallied some impressive numbers. He is one of just three total players to amass 500 points, 50 blocks, and 50 steals in a season. The other two players on that list are Kevin Durant and Anthony Davis.

Not surprisingly, Zion Williamson was the consensus National College Player of the Year, while also collecting a consensus first-team All-American selection. The New Orleans Pelicans made Williamson the No. 1 overall pick in the 2019 NBA draft. Before injuring his meniscus, Williamson played in four preseason games.

His numbers during those games showed virtually no drop-off from his college days. He easily tallied 23.3 points, 6.5 rebounds, and 2.3 assists per game—all while playing a mere 27 minutes.
Williamson's meniscus injury was a major setback
Nobody is quite sure exactly when Zion Williamson injured his meniscus. In other words, there was no one play where he clearly came away injured. Initially, he was listed out due to knee soreness — not exactly a cause for much worry. Once the extent of his injury became clear, analysts traced it back to an October 13 preseason game against the San Antonio Spurs.

Many experts believe that Williamson's weight — he is listed at a whopping 284 pounds, second-heaviest in the entire NBA — played a role in the injury. Pelicans executive David Griffin blasted those who said that, but there may be some truth to it. When a player who weighs that much spends as much time above the rim as Williamson, one wrong landing is all it takes to do serious structural damage.

This might explain Zion Williamson's long recovery time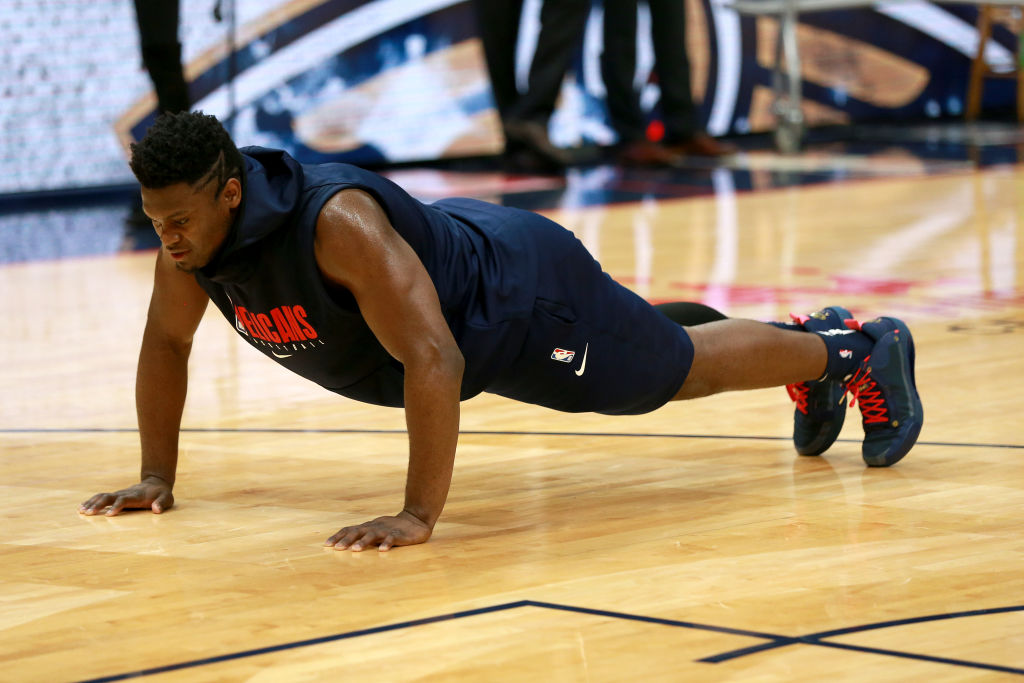 Williamson underwent surgery on his damaged meniscus on October 21, with an estimated recovery time of six to eight weeks. Now that we have long since passed that time frame, many people around the league are starting to worry that the issue is more severe than initially disclosed by the team.

The good news is that Williamson does seem to be on track with his recovery, slowly getting back to on-court work. Of course, his return date is still unknown and a matter of much speculation. Williamson himself provided an intriguing clue regarding his extra-long rehab in a recent interview.

According to Williamson, the Pelicans have been working with him to change the way that he walks and runs. The Pelicans want to tweak what is known as the kinetic chain to reduce the amount of stress placed on his body. That involves more than just waiting for a knee to heal; that means Zion Williamson is literally starting from the ground up as he traverses the path to recovery.

Unfortunately, Williamson's comments have only fueled the fires of speculation — after all, an injury that requires you to relearn how to walk and run must be pretty serious. However, his recovery is now moving rapidly to the point he is dunking again. That's a good sign for NBA fans keen on seeing how Zion Williamson stacks up to the game's best.