1 Relationship Threatens to Devastate the Brooklyn Nets Locker Room
There was a condition when Kevin Durant and Kyrie Irving changed the NBA landscape in 2019 by deciding to sign with the Brooklyn Nets. Irving and Durant accepted less-than-max deals to go to Brooklyn. In return, the Nets also brought in center DeAndre Jordan on a four-year, $40 million contract.
Jordan played primarily as a reserve in 2019–20, but after a positive COVID-19 test, he did not attend the bubble to resume the season. Last season, he started 43 games during the regular season but didn't leave the bench in 12 playoff games. Jordan initially went to the bench when the Nets signed LaMarcus Aldridge, but after Aldridge's abrupt retirement, he stayed there. In the playoffs, Brooklyn used Blake Griffin as its starting center.
Jordan's game has slipped, and so far, there has been no interest from other teams this offseason.
Lots of time together in Rio set the stage for the Brooklyn Nets move
During the 2016 Olympics in Rio de Janeiro, DeAndre Jordan played with Durant and Irving. They were inseparable during the trip. That close bond was a big reason why Irving and Durant went to the Brooklyn Nets. It's also why they wanted Jordan to come with them.
Jordan turned 33 in July, and he's a long way from the player who made two All-Defensive and three All-NBA teams with the Los Angeles Clippers.
However, one of the oft-cited reasons former Nets coach Kenny Atkinson lost his job was starting young Jarrett Allen over Jordan. That reportedly didn't sit well with Durant and Irving, according to the New York Post.
With training camp about five weeks away, Jordan remains on the Brooklyn roster. But the Nets re-signed Griffin and drafted North Carolina center Day'Ron Sharpe. Rebounding is a lingering problem for Brooklyn, but the organization still hopes Nic Claxton, a second-round pick in 2019, can grow into a more significant role.
If Jordan can't be part of the solution to the rebounding issue, his roster spot may be in jeopardy.
Brooklyn is willing to give DeAndre Jordan a chance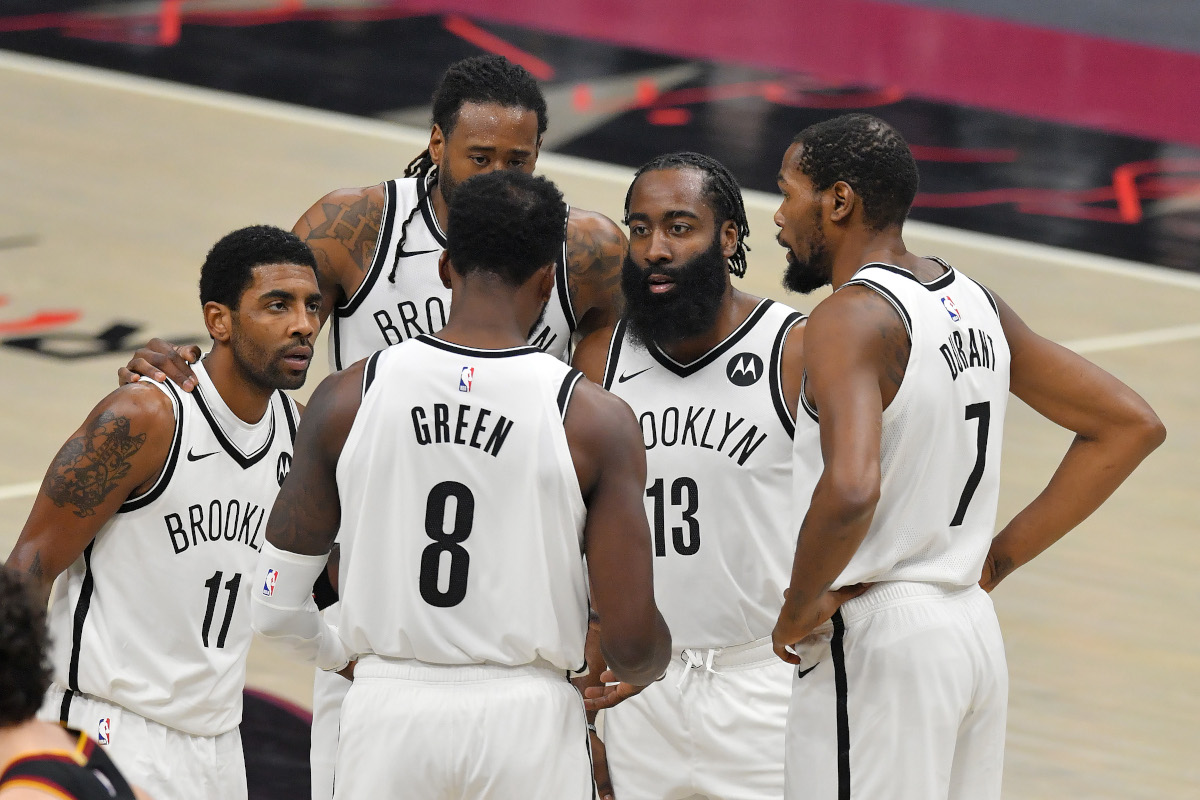 The New York Daily News reported that Brooklyn Nets general manager Sean Marks wasn't ready to include DeAndre Jordan in the sign-and-trade deal that sent Spencer Dinwiddie to the Washington Wizards. Marks is keeping his options open. A trade isn't off the table; nor is a buyout.
"I think with all of our guys, there's always discussions. And whether that's reported or whether it's not reported, I don't want to use the old cliché, but it's a credit to our players that they come up in conversations or talks.
"When you have a good team, a good roster, people are obviously going to make calls. And from a GM standpoint, if we're not having calls around the league, then none of us would be doing our job. That's what we do. Whether the roster looks the same in a month or two, I really don't know. But as it stands now, DeAndre is certainly part of this roster, part of this team moving forward."
Including the playoffs, Jordan didn't see the floor in Brooklyn's final 16 games. Marks isn't writing off Jordan with training camp looming:
"We need to get better on the defensive end. We need to get better rebounding. … It's gonna come with a mindset, Day'Ron Sharpe, for instance, does he get an opportunity to play and push our group in that regard potentially? Nic Claxton knows what's at stake for him. DeAndre Jordan knows what's at stake."
But does Marks endanger the team's chemistry if Jordan must go?
The Brooklyn Nets are the 2021–22 favorites
Even after a second-round loss to the eventual champion Milwaukee Bucks, oddsmakers made the Brooklyn Nets the favorites to win the title next season. Much of that revolves around Durant, Irving, and James Harden being healthy. Injuries to Irving and Harden sabotaged Brooklyn's playoff run in 2021.
The Nets are still on the hook for two years and $20 million for DeAndre Jordan. If there's a piece Marks wants to bring to Brooklyn, might he be willing to part with an asset to get Jordan off the cap sheet?
Perhaps the bigger question is how Durant and Irving will react should the Nets decide they are better without Jordan than they are with him. Team chemistry is a fragile thing. Throw in the volatile personalities of Irving and Durant, and there's potential for a wildfire in the locker room.
Like Sportscasting on Facebook. Follow us on Twitter @sportscasting19.