1 Smart Reason Ben Simmons Refuses to Shoot 3-Pointers and Jump Shots
Ben Simmons has been criticized since he was a rookie for his inability to shoot threes. While many players get this reputation for shooting poorly, Simmons got it for his refusal to shoot more than a handful during any given season. In a league where shooting is becoming increasingly valuable, the sometimes Kardashian-adjunct Simmons remains hesitant despite making the first two of his career this season. Is he doing the right thing?

Ben Simmons' game is truly unique
Simmons is in a unique position in the NBA. He plays point guard despite being as tall as many centers at 6-foot-10. While his ability to make plays is undeniable, he does so playing a different brand of basketball than a Chris Paul or Rajon Rondo. Simmons can do a little bit of everything in the modern NBA, making him a valuable piece for the 76ers.

Ben Simmons can score with ease around the rim, using his size to get by the shorter defenders and match up against any help defenders who might get in his way. Theoretically, if he grew comfortable shooting the 3-point shot, he would be able to use his size on the perimeter as well and become impossible to guard, like Giannis Antetokounmpo. He does not do this, however.

The smart reason Ben Simmons won't shoot threes
Simmons has shot 22 3-pointers in his career and made two of them (as of Jan. 21, 2020). Many of those were half-court heaves and shots at the end of the shot clock. He is 2-of-5 on the season and has not let the makes change much about his game. That has not been an issue in the past, however. Simmons became a helpful piece for the 76ers as a rookie, and the deeper team last year did not need his scoring.

This year, however, the team is not doing as well. Simmons isn't holding the team back, but his limited ability to shoot the ball could be seen as a nuisance for a team whose star center, Joel Embiid, can even shoot it from downtown. Ask Simmons, however, and the 3-point shot just isn't part of his arsenal. For his part, head coach Brett Brown seems fine with Simmons' lack of jumper.

Brown believes that Simmons' ability to make shots for the other team outweighs the importance for him to shoot the ball himself, and spoke about this to the media.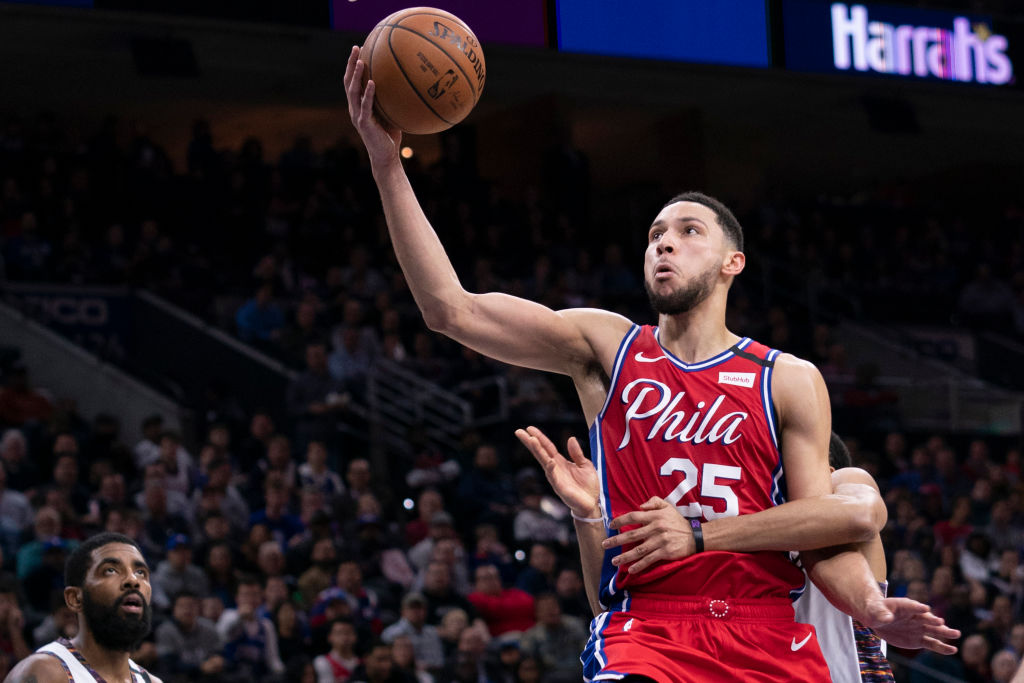 "He still finds [a] way to put his thumb on the game," Brown said (per NBC Sports). "But it hasn't come from this thing that we're talking about. … [I]f he came in under a different set of rules and team expectations, I have zero doubt that we would have seen maybe — not maybe, definitely — more attempts at 3-point shooting, as an example."

Simmons doesn't have full confidence in his 3-point shooting now, which explains why he refrains from that shot. But he still finds a way to make a positive impact on his team. Ben Simmons has a better than 2-1 assist to turnover ratio, which shows he's a top-notch distributor. Plus, he makes nearly 58% of his field goals from inside the arc. There's no need to shoot it from deep if he finishes so effectively inside the arc.

Should Simmons start shooting from distance?
Ben Simmons is a jack-of-all-trades when it comes to nearly everything but the 3-point shot. He can defend the other team's best player at multiple positions and still draw defenders away due to his size. To that extent, Brown is right about the value of his playmaking, outweighing the potential of his shooting ability.

On the other hand, when it comes down to a playoff environment, the 76ers saw firsthand just how important it is for a player to be willing to shoot the ball in the big moments when Kawhi Leonard sent them packing at the buzzer. Simmons can find guys for those shots, but being able to add them in high-stakes environments, even if he isn't shooting tons of threes, could be a difference-maker for his career.

Not every player who has achieved stardom has been a 3-point shooter, but the league is moving toward shooters for a reason. Simmons might carve a superstar path for himself, but it would be a lot easier if he would diversify his offense in the process.