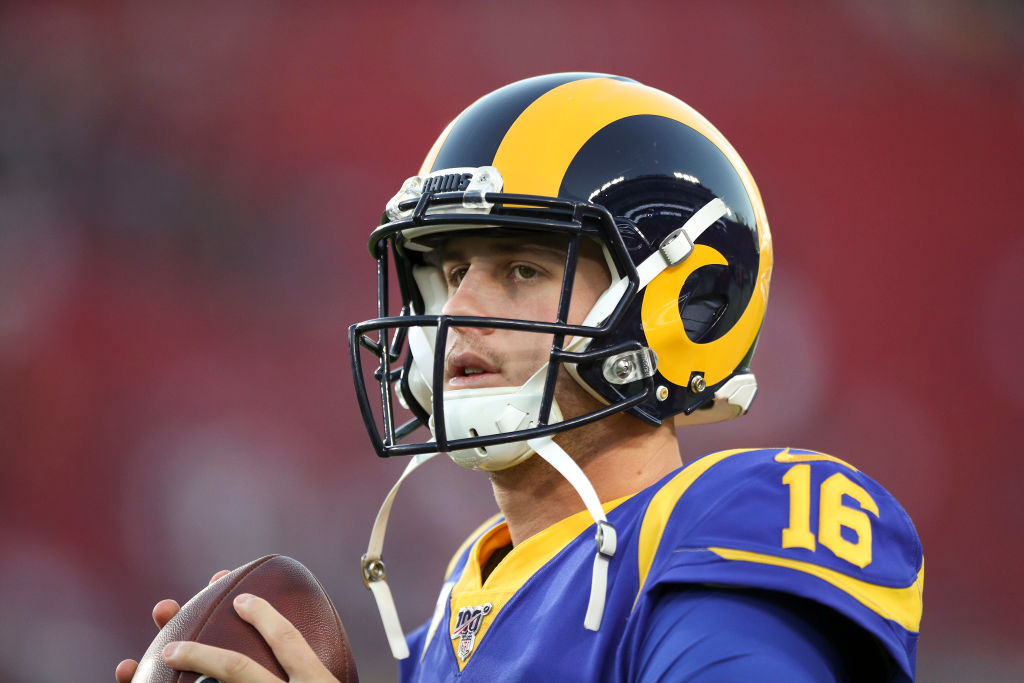 1 Up, 1 Down: How Lamar Jackson and Jared Goff are Trending in Different Directions
Lamar Jackson has emerged as one of the best quarterbacks in the NFL in 2019. Jared Goff has been one of the worst. How did we get here?
Lamar Jackson is the odds-on favorite to win the NFL MVP award in 2019. His Baltimore Ravens enter Monday Night Football with an 8-2 record and a six-game winning streak that includes double-digit wins over the Seattle Seahawks, New England Patriots, and Houston Texans. Jared Goff, on the other hand, was signed to a huge four-year, $134 million extension last offseason and has been a massive disappointment this season.
The two young quarterbacks are going in completely different directions in 2019. How did they get to this point, and will these trends continue in 2020 and beyond?
Jared Goff's fall from grace
Jared Goff had an abysmal rookie year under former Los Angeles Rams head coach Jeff Fisher in 2016, completing just 54.6% of his passes for 1,089 passing yards, five touchdown passes, and seven interceptions in seven games. People were already calling Goff a bust. But then everything changed when new head coach Sean McVay took over in 2017.
Goff flourished in his first 27 games under Sean McVay. Across the 16 games he played in 2017 and the first 10 games of 2018, Jared Goff went 578-of-903 on his pass attempts for a completion percentage of 64%. He had a touchdown-to-interception ratio of 55-to-13 and averaged 281.9 passing yards per game. Life was good in Los Angeles.
And then all of a sudden, it wasn't. Since Week 13 of last season, Goff has played in 18 games before Monday night's matchup against Baltimore. His completion percentage dropped to 59.2%. The average passing yards per game dipped to 257.6. And worst of all, Goff's touchdown-to-interception ratio is an abysmal 18-for-18.
Sure, Todd Gurley's struggles and the offensive line's struggles over this 18-game stretch have had a negative impact on Jared Goff. But even with external factors coming into play, there's no excuse for such a rapid and dramatic decline, especially without any injuries to speak of.
Lamar Jackson's ascension
Even last season when he was using his legs a lot more than his arms, Lamar Jackson was winning games. He finished the regular season in 2018 with a 6-1 record as a starter, and his record now stands at 14-3 heading into Monday Night Football against the Los Angeles Rams.
In 2018, Jackson averaged seven yards per passing attempt and 4.7 yards per rushing attempt in his seven regular season starts. In 2019, those numbers have skyrocketed up to an average of 8.1 passing yards per attempt and 6.7 rushing yards per attempt.
Lamar Jackson spent this offseason working on his passing game, and it has paid huge dividends. Whereas teams could cheat on defense in anticipation of the run last season, now Jackson is performing at an elite level as both a passer and a runner. Opposing defenses that commit too hard to the passing attack or the running attack will get beaten by the other.
It is this versatility on offense that has led the Ravens to have the best scoring offense in the NFL in 2019 averaging 34.1 points per game.
These trajectories are likely to continue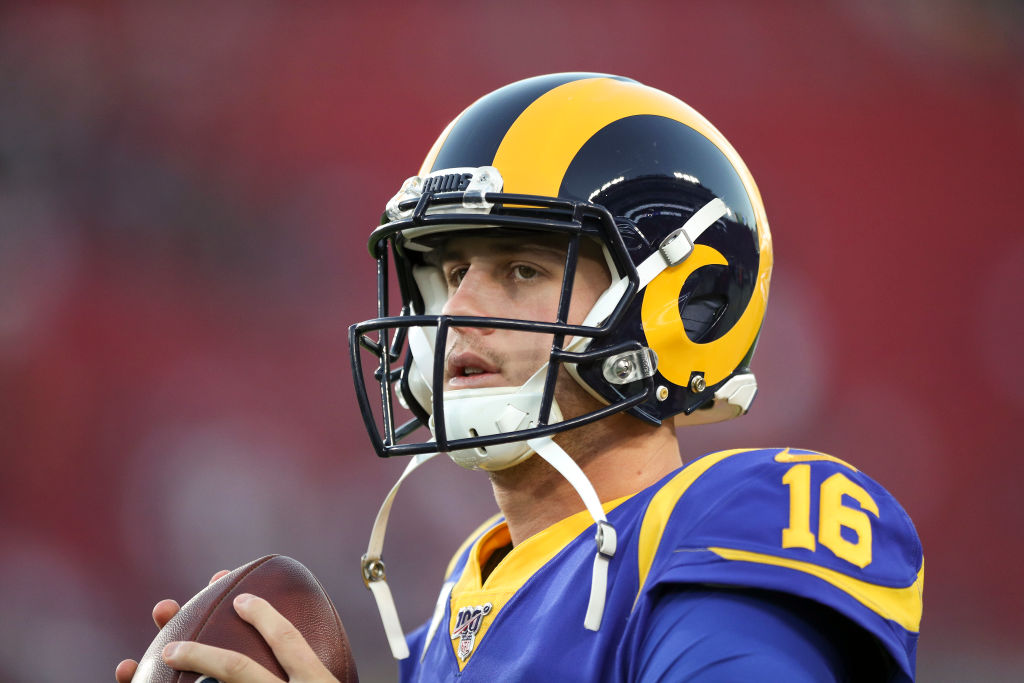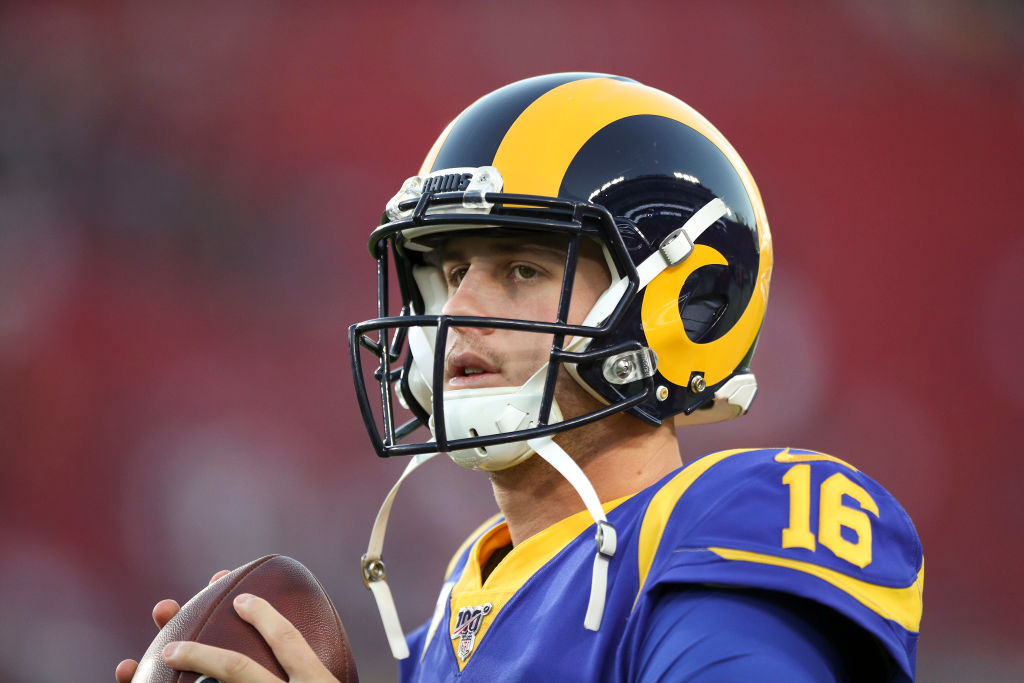 At this point, it seems that the only thing that's going to slow Lamar Jackson down is injuries. Things can certainly change unexpectedly (just ask Jared Goff and the Rams), but there's actually reason to believe that Jackson could be even better in the future if Baltimore drafts or signs more weapons around him. The sky is the limit for this young man.
Jared Goff and the Rams, however, are in trouble. Goff's currently modest $10.6 million cap hit is going to balloon up to $36 million next season when his extension kicks in. With Goff, Todd Gurley, Brandin Cooks, and Aaron Donald all signed to massive long-term deals (and Jalen Ramsey expected to receive one), the Rams are going to have salary cap issues for years to come.
This means that the Rams aren't going to be able to afford the help that Goff desperately needs in the running game on the offensive line. And Los Angeles traded away valuable draft picks to acquire Jalen Ramsey, so cheap help through the draft will be hard to come by, too. Things aren't looking so sunny in Los Angeles.