1 Way Cowboys Coaches Want Dak Prescott to be More Like Barry Bonds
Dak Prescott has been a successful quarterback in his NFL career so far, but he hasn't moved to the Tom Brady, Drew Brees, and Aaron Rodgers level yet. According to at least one of his coaches in Dallas, Prescott may be able to get there by emulating a former baseball superstar: Barry Bonds. Just how does Prescott's game compare to Bonds'?

Dak Prescott's career overview
Dak Prescott took the reins at quarterback for Dallas at the start of the 2016 season and has yet to relinquish them. He's in line for a new extension, though the team hasn't given him one as of yet. Here's what he's accomplished during his career thus far with the Cowboys:
56 games played
Win-loss record of 37-19
Two NFC East Division titles (2016, 2018)
13,256 yards passing
82 touchdowns
33 interceptions
Two-time Pro Bowl selection
2016 Offensive Rookie of the Year
There's no doubt that Prescott has been very good so far in his career. But the Cowboys are a run-first team, and they haven't asked Prescott to win games for them very often. They have an outstanding offensive line with an even better running back behind it in Ezekiel Elliott, so Prescott isn't always the most important player on the offensive side. That may need to change if the team wants to go deeper in the playoffs.

Dak Prescott's 2019 season so far
The Cowboys have had an up and down season, though they're still in first place in the NFC East. Here's what Prescott's been able to accomplish so far in his stellar 2019 season:
Win-loss record of 5-3
69.6% on completions
2,380 passing yards
8.7 yards per attempt
15 touchdowns
Eight interceptions
Three rushing touchdowns
The Cowboys have generally taken care of business this year against teams that are much worse than them (the debacle against the New York Jets notwithstanding), so a three-game losing streak hasn't hurt them too badly. They've been more consistent than any of the other NFC East teams, two of whom are horrible (Washington Redskins and New York Giants) and one of which is shaky at best (Philadelphia Eagles).

How Cowboys coaches want Dak Prescott to be like Barry Bonds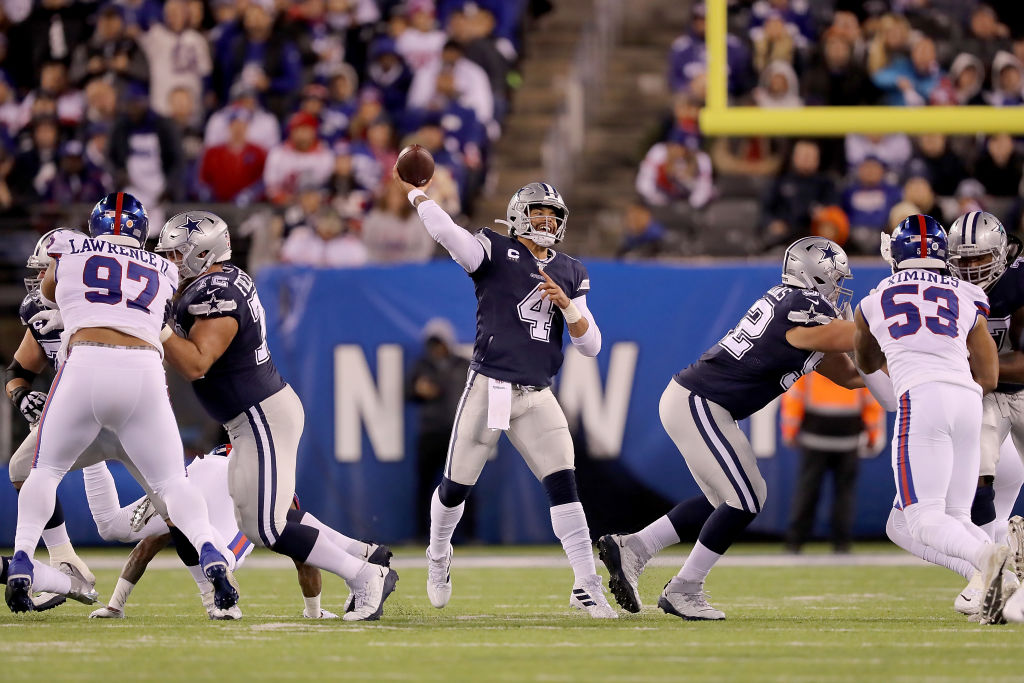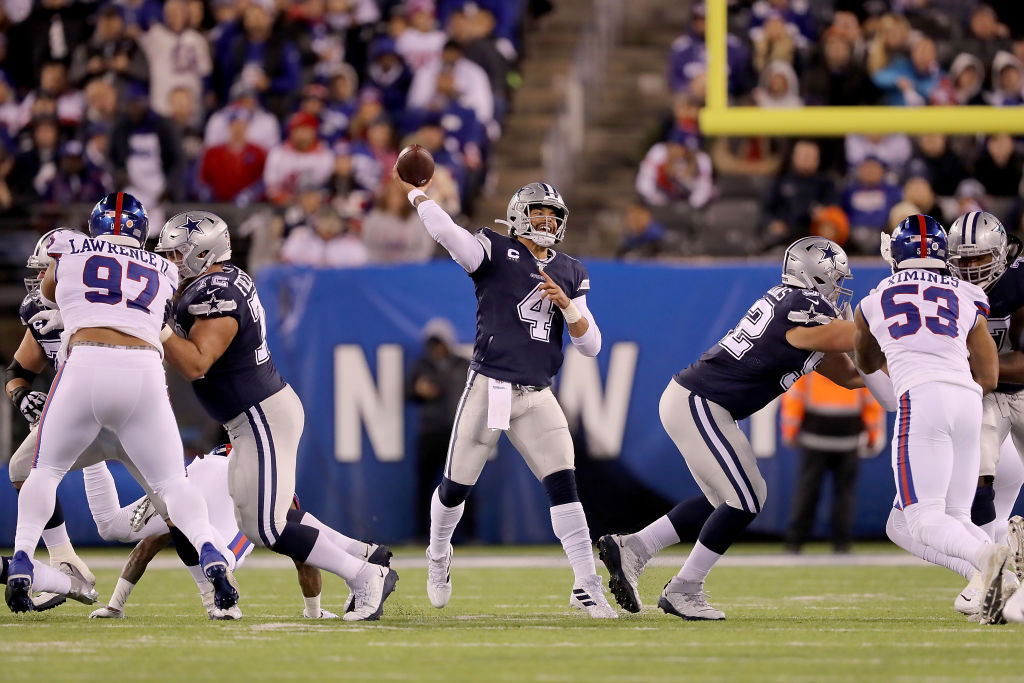 Cowboys' quarterbacks' coach Jon Kitna is a former NFL quarterback himself. The approach he's stressed to Prescott is similar to the one Barry Bonds showed at the plate during his 2001 record-setting season:

"You want to have a Barry Bonds mindset, which is he broke the record for home runs in a season," Kitna said of the seven-time National League MVP, who set an MLB high with 73 home runs in 2001. "He also broke the records for walks in a season. That meant they weren't throwing him pitches to hit. But when he hit, he hit it out of the park. That's what we want to have as a quarterback: the discipline to say, 'That's not my pitch. Let's check it down.' But when it presents itself: Let's let it rip."

Kitna's point is about waiting for the opportune moment and having the instincts to know when the time is right to take a shot downfield. If Dak Prescott has no opportunity for a big play, he shouldn't force anything. Kitna wants him to take what's being offered by the defense (read: check-downs). But if he does see an opening, he needs to make those plays.

It's part of Prescott's development as a quarterback. While he's been outstanding in his career so far, he has plenty to improve on to become great. If Kitna and the Dallas coaching staff can get Prescott to take advantage of more downfield opportunities without forcing ones that aren't there, he'll be well on his way to being an elite quarterback.