1 Way Jimmy Johnson is Different From Most of the Other Dallas Cowboys in the Hall of Fame
The Dallas Cowboys may or may not still be America's Team, but they are one of the most nationally recognized teams in the NFL. They grabbed their fair share of headlines this offseason with a coaching change. One of the team's most famous coaches, Jimmy Johnson, made his own headline by being inducted into the Pro Football Hall of Fame. Johnson joins a long list of other Dallas Cowboys' in the Hall of Fame. But there's one rather dubious distinction between Johnson and the rest of those highly regarded Hall of Famers.

Jimmy Johnson's career overview
Before coaching the Cowboys, Jimmy Johnson was the very successful coach of the University of Miami Hurricanes. When Cowboys owner Jerry Jones bought the team in the late 1980s, he overhauled the team and the culture. That meant firing longtime head coach Tom Landry. Landry had been the only coach the Cowboys had ever known, and he won two Super Bowls with the franchise. When Jones hired Johnson, his former University of Arkansas teammate, it was clear Johnson had some big shoes to fill.

Johnson filled them well, however. Built around Troy Aikman, Emmitt Smith, and Michael Irvin, Johnson made the Cowboys the powerhouse team of the early 1990s. He returned them to their former place of prominence. Like Landry, Johnson won two Super Bowls, defeating the Buffalo Bills in consecutive seasons. Though Johnson left the team following his second championship (more on that in a minute), a team he had a huge part in building went on to win their third Super Bowl only a couple of seasons after he left.

The Jimmy Johnson vs. Jerry Jones feud
In hindsight, it may appear strange that a football coach at the apex of his profession would leave the team he was with. But that's exactly what Johnson did following the Cowboys' second Super Bowl victory during his tenure. He joined the NFL on Fox studio team as an analyst.

Why did Johnson leave? Johnson and Jones were two alpha males who couldn't co-exist. Jones reportedly said there were 500 coaches who could have won two Super Bowls with that Cowboys team. Seeing Jones as being too controlling, Johnson left with five years left on a 10-year deal. Jones brought in University of Oklahoma coach Barry Switzer. Johnson returned to the NFL a few seasons later with the Miami Dolphins, though he'd never replicate his success in Dallas.

How Johnson is different than most Cowboys in the Hall of Fame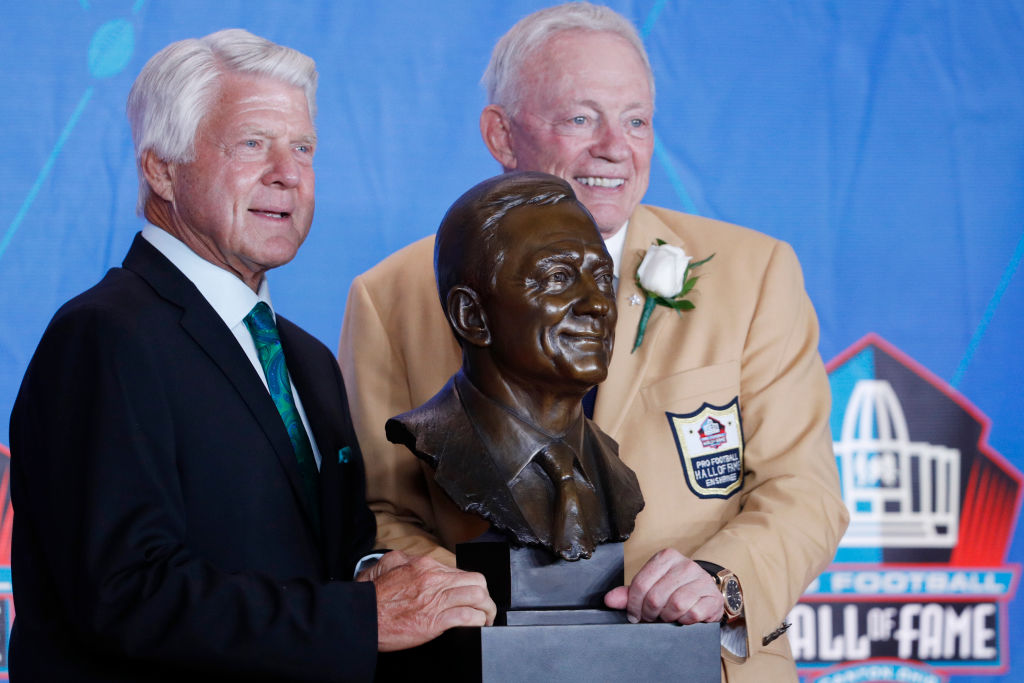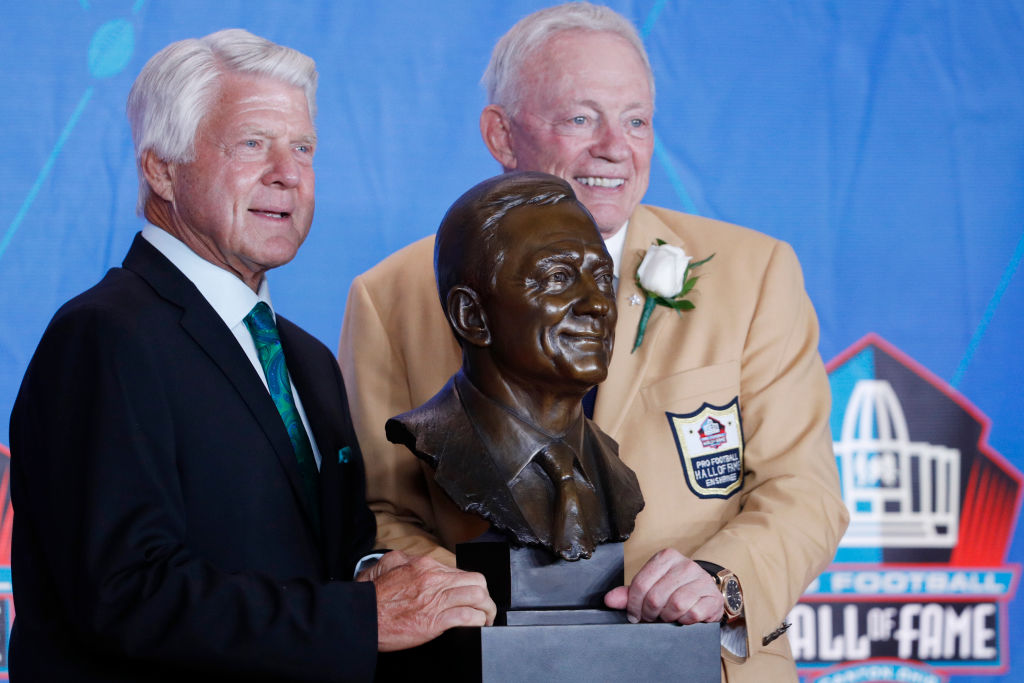 Unlike most of the Dallas Cowboys in the Hall of Fame, Jimmy Johnson is not in the Cowboys Ring of Honor. Dallas' Ring of Honor commemorates the best players, coaches, and executives from the history of the franchise. Based on Johnson's accomplishments with Dallas, there's no reason he shouldn't be in. So why isn't he?

ESPN writer Don Van Natta asked Jones about it several years ago and got a less than convincing answer:

"Jones responded with a convoluted explanation about Johnson failing to meet the standards favoring players established long ago by Tex Schramm, whom Jones himself had put in the Ring of Honor in 2003. (Jones had honored Landry in 1993)," ESPN's Don Van Natta wrote. "Weeks later, Jones struggled to answer the same question during our on-camera interview at Valley Ranch, insisting that his decision is not personal." 

It's clear that Jones still harbors resentment towards Johnson. But now that Jimmy Johnson will join Jones in Canton, it will be next to impossible for Jones to keep him out of the Ring of Honor. The outcry by Cowboys fans will only grow, especially after Johnson is inducted.