The 1 Way Michael Jordan Made Steve Kerr a Better NBA Player and Coach
Steve Kerr has played against, coached, and worked with many of the greatest players of the modern era. From playing alongside Tim Duncan to coaching Steph Curry, Kerr has stories about several of the biggest names in professional basketball. None, however, will ever ring as loud as Michael Jordan, who Kerr played with for more than three years.

In a recent interview on Bill Simmons's Book of Basketball podcast, the Warriors' coach dished the dirt on exactly what it was like to be a teammate with the most ferocious competitor and greatest basketball player of all time.

Steve Kerr's Bulls' career
After five years in the NBA, most of them spent with the Cleveland Cavaliers, Kerr had some notable run-ins with Michael Jordan in the form of his legendary domination over his team. By the time he came to the Chicago Bulls in 1993, however, Jordan was retired, and Scottie Pippen led the team. The Bulls saw great success without their MVP, going 55-27 before losing to the New York Knicks in the second round of the 1994 NBA playoffs.

Two-thirds of the way through the following season, however, Jordan came back to the NBA with a temporary new number. Kerr got fully entrenched in the Michael Jordan experience, and while the Bulls failed to make it to the Finals during Jordan's first year back, it laid the groundwork for a front-row seat to the second three-peat.
Being with Jordan wasn't always pretty, as a story of a practice fight between Kerr and Jordan shows, but it got results, and to this day, Kerr credits Jordan with building him as a player.

Kerr's thoughts on playing with Michael Jordan and Tim Duncan
Steve Kerr was something of a tale of two superstars when he played alongside the even-keeled Tim Duncan after his Bulls tenure. When Simmons asked Kerr about the two different players, Kerr opened up about the difficulties of playing alongside Michael Jordan.

"It was a lot easier to play with Tim Duncan," Kerr said. "The difference between Michael and Tim is you always felt like you were playing with Tim, and there were times where you felt like you were playing for Michael."

That made Jordan more of a boss than a teammate, and everything the Bulls did was in the service of him. Had the Bulls been a perennial cellar-dweller or first-round exit, that may not have worked, but Jordan was one of the most successful NBA players of all-time. By the time the 1995 season started, the Bulls hadn't lost an NBA Finals when they had a full year of Michael Jordan.

Michael Jordan — scary, but effective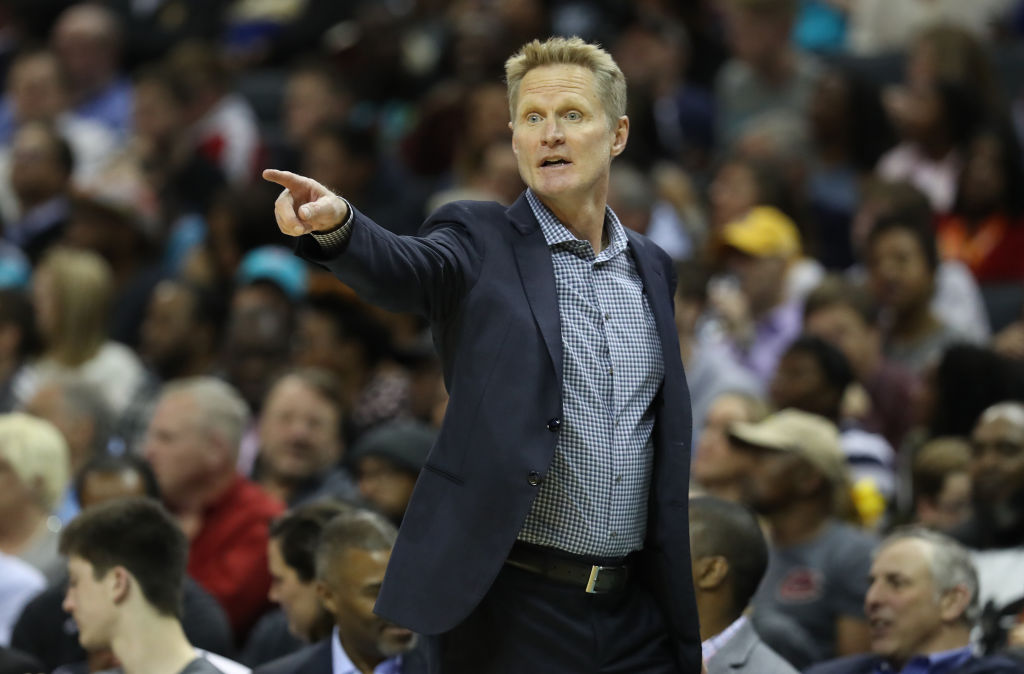 Kerr noted that Jordan was "scary," but he got results. He wasn't just a player, he was a "force of will" who would defeat his opponents before they ever stepped foot on the floor. That might seem like the type of player who someone wouldn't want to be teammates with it, but Kerr says that it helped him become a better player.

Kerr said that Michael Jordan made him a better player, but not just on offense and defense. He helped keep Kerr on his toes.
"That's probably the biggest thing I learned from him, watching him, was he was just so fearless," Kerr said. "He never shied away from the stigma that would come through failure. He understood fully that if he just went all out every single game and went for it on every single play, the positives would outweigh the negatives, but you just to have to live with the failure."

Steve Kerr said he came to Chicago as a shy player who didn't want to assert himself, but Jordan helped elevate him to the type of player who was not afraid to take over and let his presence be known. It may not be the most endearing way to leave an impact on the player, but it may be what gave Kerr the wherewithal to become one of the most successful coaches in NBA history almost immediately after taking over the sidelines.