NBA
The 10 Best Dunks in the History of the Slam Dunk Contest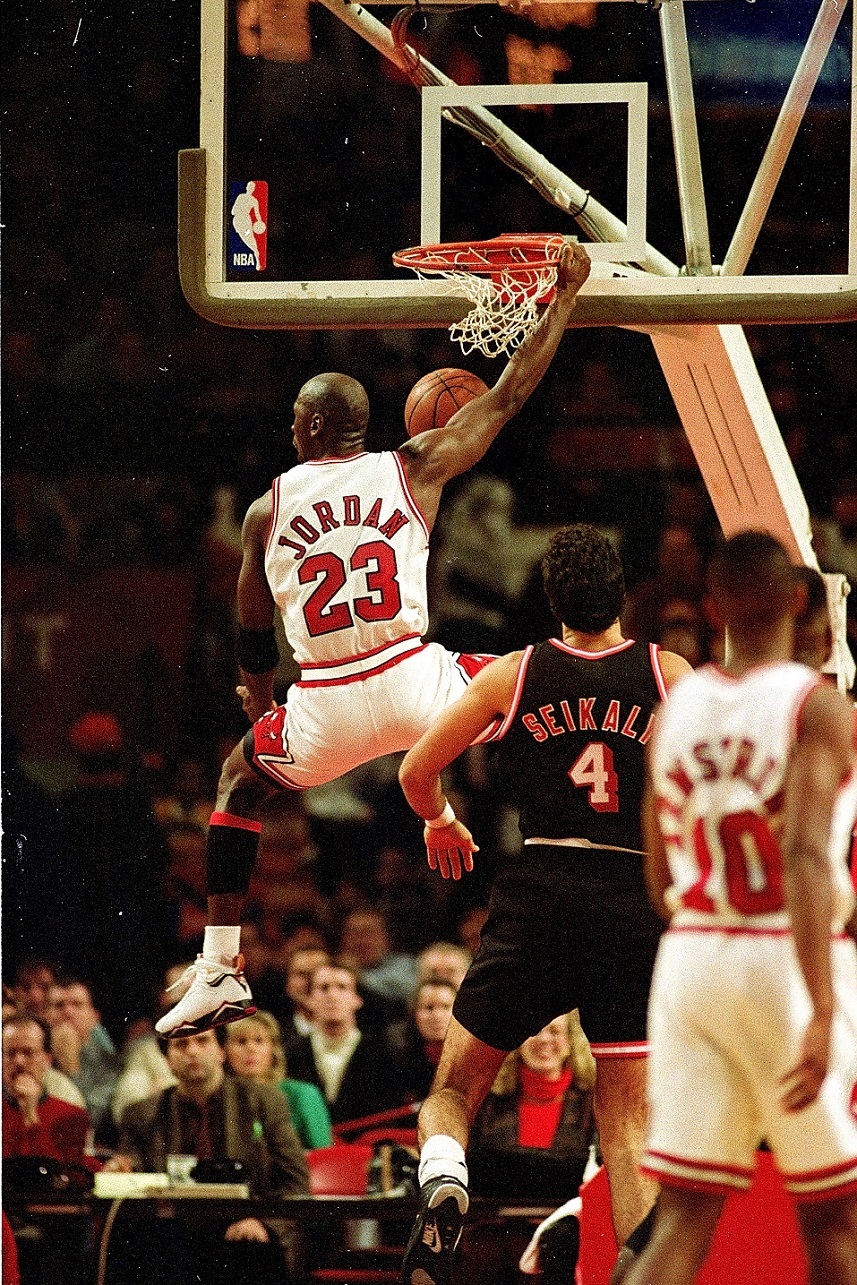 One of the most exciting parts of NBA All-Star Weekend is the Slam Dunk Contest. This contest has it all: inventiveness, competition, and pure athleticism. The players who participate in this event are there for one reason, and that's to put on a show.  And, while having fun watching the best of their best ply their trade against each other is the major reason why anyone watches professional sports, there's something singularly special about the slam dunk, and by extension, the slam dunk contest.
For us, these are 10 best dunks in the history of the NBA Slam Dunk Contest.
10. Spud Webb soars off one bounce
Under today's standards, maybe this dunk wouldn't bring down the house. However, you have to think about the moment. It's 1986, and 5-foot-7 Spud Webb is not only putting on a show, but he's challenging his teammate and defending champ Dominique Wilkins, one of the most dynamic dunkers of all time. Spud is throwing down impressive stuff. However, this final number won him the title.
The "little man" bounces the rock, flies into the air (high into the air), grabs the ball, and flushes a nasty reverse slam. Everyone in the place erupts. That's how you do it.
9. Andre Iguodala goes behind the back
Andre Iguodala got robbed in the 2006 NBA Slam Dunk Contest (the title ended up going to the tiny and electric Nate Robinson). However, it was Iguodala who put in the more phenomenal display that night. This left-t0-right, behind-the-back jam started things off. The fact that he cradled the ball off the bounce with his left hand, then brought it around his back, only to flush it with the right is what makes this play so ridiculous. It's the kind of play that makes you go, "Oooh!"
8. Jason Richardson does the "East Bay Funk Dunk" 2.0
Jason Richardson is one of the best participants in dunk contest history. Not only did he win two contests back to back, but he always managed to electrify the crowd with his originality and his athleticism. This dunk, in the 2004 competition, represents that perfectly. Richardson chucks the ball off the backboard, catches it in mid-air, puts it between his legs, and throws it down with crazy authority. This dunk was super funky and a great way to improve on a classic.
7. Vince Carter puts it through his legs
Vince Carter is dunking royalty. He jams with purpose and he's always prepared to put on a show for the audience. In 2000, when he won the title, Carter may have exhibited the best collection of dunks by one dunker in a single contest. This one was crazy.
Carter manages to put it between his legs and throw down a vicious slam. However, he does this only after he catches the ball off the bounce. That is Vin-sanity! Even teammate Tracy McGrady, who threw the bounce pass, doesn't know how to react to this epic display. However, Carter knew that this was going to be his night. His "it's over" signal after the dunk should've been a message to all the other contests: Just pack up and go home, this one's in the bag.
6. DeMar DeRozan introduces the "Show Stopper"
This dunk by Toronto Raptor DeMar DeRozan, in the 2011 contest, was absolutely filthy. There's really no other way to characterize this slam. Just take a look.
DeRozan lobs the ball towards the basket, cups it in the air, and fluidly manages to bring his body under the rim and throw it down reverse-style. It happens so quickly that at first, it's hard to really appreciate how amazing it is. However, the slow-motion version shows you how truly absurd DeRozan's hang time was on this slam. Wow.
5. Jason Richardson's between-the-legs baseline jam
Jason Richardson was so good that we had to put him here twice. j-Rich has pulled off some incredible jams during his reign as slam dunk king. There really are so many to choose from that it's hard to narrow it down. However, this little number from the 2003 show is our absolute favorite. And it's more than deserving of cracking the top five.
This dunk won Richardson the 2003 contest, and it's unbelievable. He lobs the ball from the baseline, catches it, puts it backwards between his legs, and throws down a reverse with the left hand. This dunk has so many nuances to it, it's ridiculous. That's why he's one of the best.
4. Andre Iguodala's behind-the-basket reverse
This dunk should have won Iguodala the 2006 Slam Dunk Contest. It's one of the most difficult dunks we've ever seen, and we still can't believe it pulled it off. Every time we watch this dunk, we expect Iggy to hit his head on the bottom of the backboard. But he hangs in the air so long, it's like he's flying.
Teammate Allen Iverson, throws the ball off the back of the glass, Iguodala catches it, and in one motion, soars under the basket and slams it with his right hand. Amazing. Commentators wanted them to give Iguodala the trophy right then and there. And, you know what, they should have.
3. Vince Carter with the "Honey Dip"
Like we said, 2000 was the year of Vince Carter. This dunk is so mind boggling that after Carter threw it down, no one knew how to react. No one. Why? Because they had never seen anything quite like it before. And they probably never will again. Carter got so high on this dunk that he actually hung in the rim by his forearm. The amount of power and explosiveness needed to pull of this dunk is indescribable. Let everyone who witnessed it firsthand describe — we're speechless.
2. Michael Jordan flies from the free-throw line
This dunk was done before Michael Jordan, and it's been done after. But, none of them were as iconic as the one that M.J. did in 1988. This is the Air Jordan symbol. This is everything that Jordan was, rolled into one breathtaking moment. Jordan throws down a double-clutch dunk from the free-throw line. It's powerful and graceful and poetic. It's timeless.
1. Vince Carter's 360 windmill
Vince Carter started off his 2000 Slam Dunk Contest with sheer authority. This dunk let everyone in the building know that they were about to witness something special. As they said in the clip, "This is a reverse-360 going against the grain." How could he possibly do that? The strength. The extension. The force. Carter could have won with just that dunk alone. That's why he's the best this contest has ever seen. And this dunk raised the bar.