10 Celebrities Excited for March Madness
With March just around the corner, we're less than a month away from one of the most exciting events in all of sports: the NCAA men's Division I basketball tournament. Let's just say we're ready for some madness.
Sixty-eight teams will enter and only one will walk away as the champion. There will be overtimes and upsets; there will be heartaches and heroics; and there will most certainly be bracket busters. So knock out everything on your to-do list and start getting prepared for a wild ride. After all, there is only one March Madness, and we're not the only ones who take this event seriously. Even celebrities go nuts for their college basketball.
With that, here are 10 famous college basketball fans who most likely can't wait for March Madness.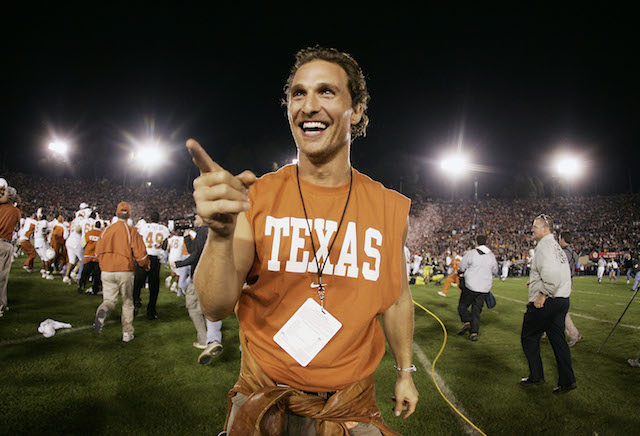 1. Matthew McConaughey
Team: Texas Longhorns
Although Matthew McConaughey is better known for his love of the Texas Longhorns' football program, even being brought in to deliver motivational speeches, the Academy Award winner is a major fan of the athletic program in general. McConaughey graduated from the University of Texas in 1993 and has since become one of the university's most recognizable alumni. All right, all right, all right.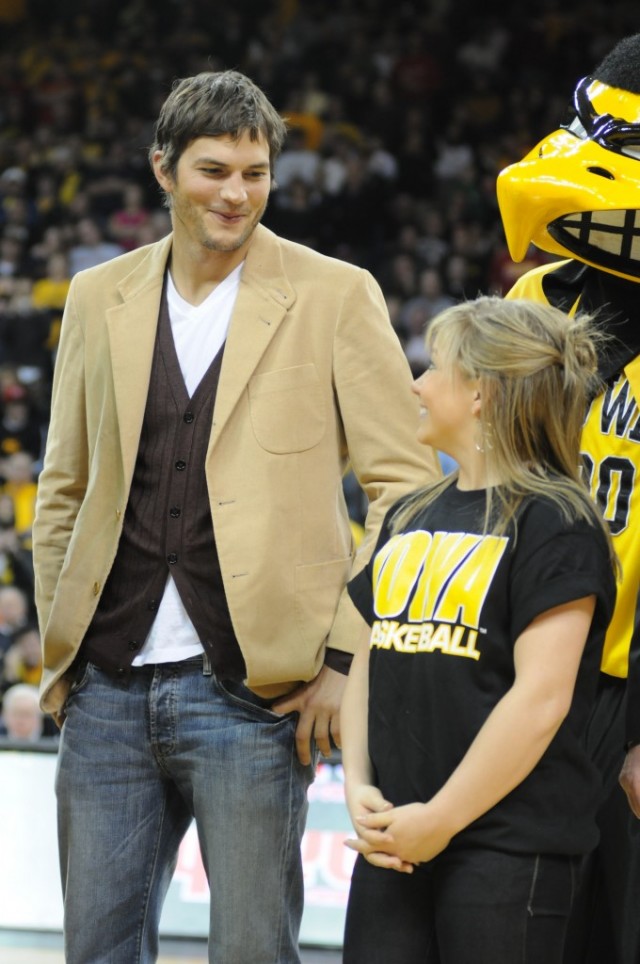 2. Ashton Kutcher
Team: Iowa Hawkeyes
Before Ashton Kutcher became a Hollywood superstar, he was pursuing a degree in biochemical engineering at the University of Iowa. Of course, after being discovered by a local talent scout, those plans changed drastically. Still, Kutcher is always down to show his school pride and has been known to attend plenty of Hawkeyes games over the years.
3. Justin Timberlake
Team: Memphis Tigers
Justin Timberlake didn't attend the University of Memphis, but it's still his college squad of choice. This makes perfect sense, considering he was born in the Volunteer State. He was in attendance at the 2008 NCAA national championship game, when the Tigers were defeated by the Kansas Jayhawks, and he's never been shy about voicing his displeasure of that outcome.
4. John Mellencamp
Team: Indiana Hoosiers
Singer-songwriter John Mellencamp is a major Indiana Hoosier supporter. Not only does he attend their games regularly, but the Bloomington resident also donated enough money to have a state-of-the-art athletic facility built in his name: the John Mellencamp Pavilion. That's one way to show your school spirit.
 5. Condoleezza Rice
Team: Stanford Cardinal
Former U.S. Secretary of State Condoleezza Rice doesn't just teach at Stanford University, but also finds the time to cheer on the Cardinal athletic program. Rice found herself in great company at last year's NCAA tournament.
6. Bill Murray
Team: Arizona Wildcats
Bill Murray is more than just a comedic legend — he's a fan of the University of Arizona Wildcats basketball program. This dates back to when his son, Luke, was on the staff as a graduate assistant.
7. Jennifer Lawrence
Team: Louisville Cardinals
Jennifer Lawrence may be a blockbuster superstar and Academy Award-winning actress, but she's also a Kentucky girl. Born and raised in the city of Louisville, J. Law is a devoted Louisville Cardinals fan and sports the gear to prove it.
8. Jason Sudeikis
Team: Kansas Jayhawks
Funnyman Jason Sudekis is a massive Kansas Jayhawks fan. Not only can he be seen attending Kansas home games at Allen Fieldhouse, but he's also brought fiancé Olivia Wilde into the fold. It's good to be a Rock Chalk Jayhawk.
 9. Ashley Judd
Team: Kentucky Wildcats
There is probably no bigger Kentucky Wildcats fan than actress Ashley Judd. You'd be hard pressed to witness a Kentucky home game that didn't feature Judd going crazy in the stands. She is a Kentucky Wildcat through and through, and don't you forget it.
 10. Bill Clinton
Team: Syracuse Orange
Although former President Bill Clinton didn't attend Syracuse University, he is a major fan of the basketball program. He has been seen in the crowd cheering on the Orange in past Big East Tournaments. Unfortunately, he'll have to wait until next season to watch Syracuse partake in the Big Dance.