10 Greatest NBA Centers of All Time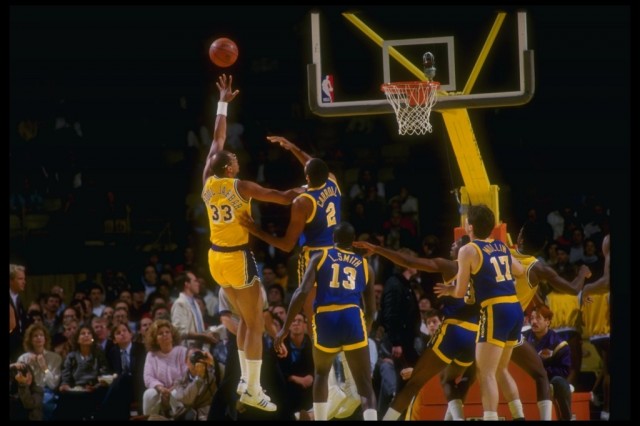 An elite center is the ultimate building block of any NBA franchise. With a dominant big man, teams can control the paint at both ends of the floor. They win closely contested playoff battles, and ultimately bring home championships. The game of basketball is stacked with center lore: Bill Russell blocking shots to himself; Bill Walton throwing outlet passes; Kareem's skyhook; and Shaquille O'Neal tearing down the basket support on a tomahawk jam.
Offensively, the greatest NBA centers of all time were unstoppable on the low block. A skilled center would establish his position in the post, pin you, and receive a lob entry pass for the easy score. With an unreal combination of size, speed, and agility, each center could reach into his bag of tricks to wheel and deal.
At the other end of the floor, the greats were all intimidating rebounders and shot blockers. The ultimate enforcer, a great center would perfect the no-layup rule. He'd either swat your shot into the stands or knock you on your backside. When it all came together, the big man would be rewarded for his tough defense with a sweet pass that leads to yet another rim-rocking dunk. Here's our list of 10 great NBA centers of all time.
10. Bill Walton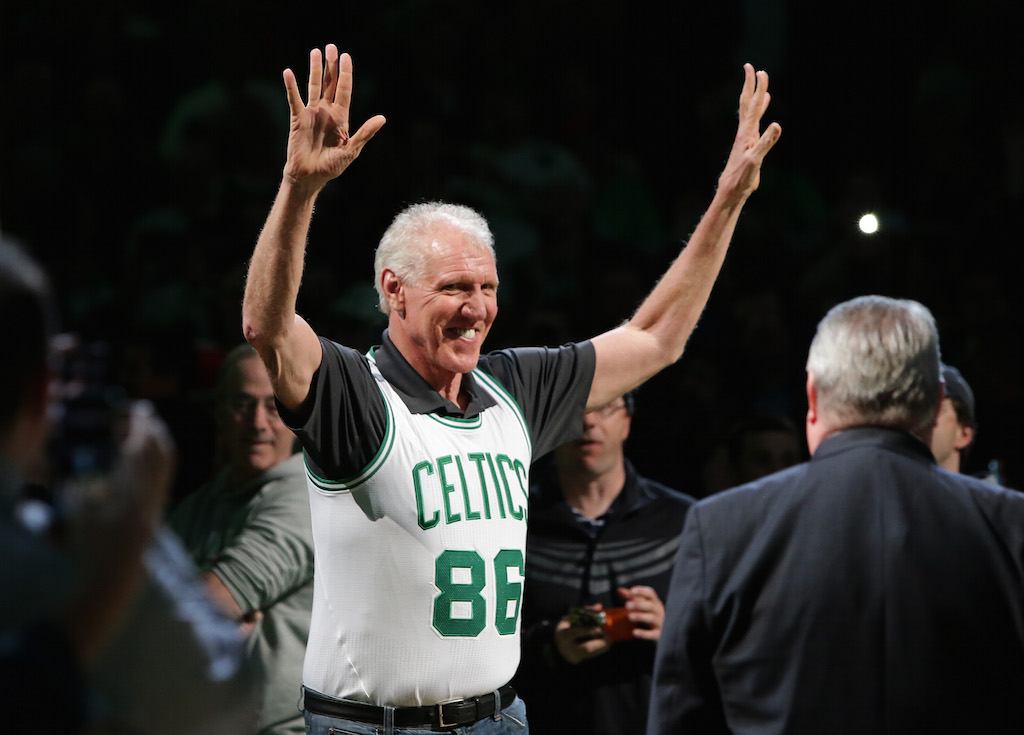 Bill Walton in his own unorthodox, hippie way, was the ultimate winner. During his time with the UCLA Bruins, Walton brought two consecutive national championships to Westwood to finish off back-to-back 30-0 seasons. From there, the Portland Trailblazers selected Walton as the first overall pick in the 1974 NBA Draft. At the NBA level, the Grateful Dead's biggest fan went on to win one championship each with the Blazers and Boston Celtics in 1977 and 1986, respectively.
A tragic hero, Walton's litany of complicated foot and ankle injuries sabotaged his star-crossed career. He had apparently meager career averages of 13 points and 10 boards per game. But Walton was, at his best, one of the most technically proficient centers of all time. He could play the angles to knock down outside shots and lay in the ball.
As an unselfish gamer, Walton was a master of both the outlet to ignite the break and interior passing from the low block to get his teammates involved. In 1977, Walton dropped 19 points per game. He also led the league in rebounding (14) and shot blocking (3.2) averages. In 1978, he put up similar numbers to go alongside 5 assists per game and a league MVP trophy.
9. Patrick Ewing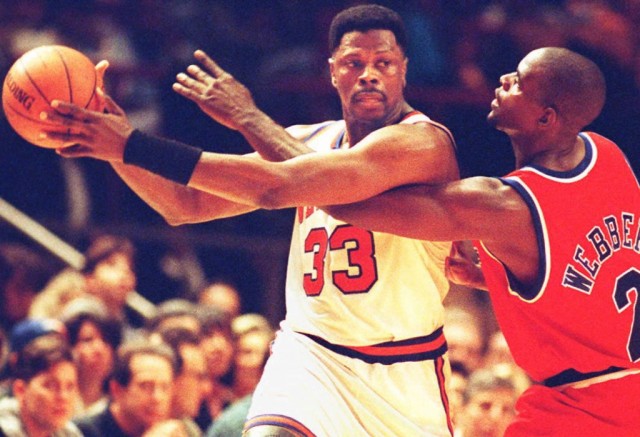 Patrick Ewing was drafted with the No. 1 overall pick in the conspiracy-theory-filled 1985 NBA Draft. He descended upon the Big Apple as the savior for the New York Knicks franchise. As a rookie, Ewing did not disappoint; he logged 20 points and nine rebounds per game and received Rookie of the Year honors.
A model of consistency, Ewing rarely missed games during his 17-year career. He went on to average 21 and 10 in New York and during brief stints in Seattle and Orlando. In his prime, Ewing was a force. He banged bodies down low for layups and knocked down midrange jumpers. In 1990, he put it all together to start all 82 games and snag 11 boards, 4 blocks, and 29 points per game. That year, Ewing finished third in scoring behind Karl Malone and Michael Jordan.
Ewing, however, could never get past His Airness. He labored as a perpetual bridesmaid. During the heated Bulls-Knicks rivalry of the '90s, New York always came up just short in the clutch. In 1994, the Knicks exploited the brief window of Jordan's first retirement to reach the NBA Finals against the Houston Rockets. That battles was best remembered for John Starks's 2-18 shooting in Game 7. As a subplot to Starks's ice-cold streak, Ewing was thoroughly outplayed by Houston's Hakeem Olajuwon.
8. George Mikan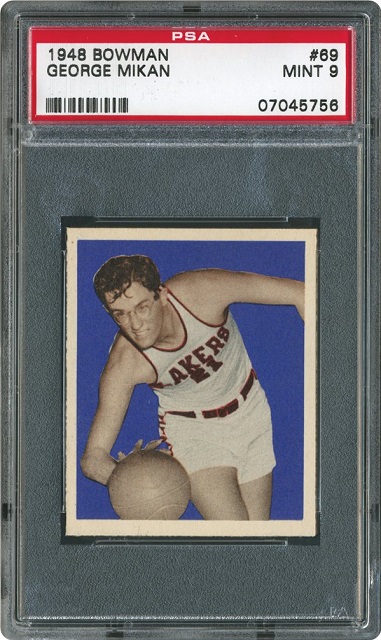 The original game-changing NBA superstar, George Mikan was a giant in the 1950s. At 6-foot-10, the bespectacled one stood beneath the basket to swat away opposing players' jump shots. As a professional, playing for the Minneapolis Lakers, Mr. Basketball simply camped out near the rim and knocked down hook shots to destroy the competition.
At the other end of the floor, opposing coaches ordered their teams to play keep away on offense for long stretches of game time. To speed up the action and limit Mikan's impact on the game, the NBA began enforcing goaltending violations. The league also installed the 24-second shot clock and built out a wider three-second lane.
Mikan's statistical dominance of his era is similar to that of football's Don Hutson. Between 1948 and 1951, this gentle giant led the league in scoring with averages of at least 27 points per game. In each of these seasons, only two other players averaged more than 20 a game.
7. David Robinson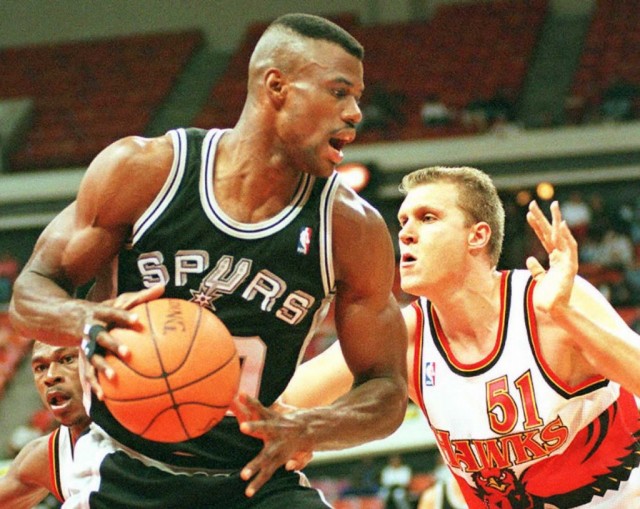 Mr. Robinson (above, left) was almost too nice for his own neighborhood, but at 7-foot-1 and 235 pounds, San Antonio's No. 50 was a physical specimen who could post up, knock down open jump shots, and even put the ball on the floor. The Admiral was especially dangerous in space, where he would assume the triple-threat stance.
Out of the triple threat, Robinson rose up for a midrange jumper or drove past lumbering stiffs for easy dunks. As an offensive force, Robinson averaged 21 points per game over his 14-year career. This time peaked with his scoring title in 1994, when he dropped 30 points per game. In the final game that season, Robinson torched the Los Angeles Clippers for 71 points, clinching the scoring title over Shaquille O'Neal.
In 1995, Mr. Robinson claimed MVP honors when he dropped 28 per game and led the league in total rebounding with an even 1,000. Hakeem Olajuwon, however, thoroughly exposed Robinson's lack of a killer instinct during the 1995 Western Conference Finals. In those playoffs, an agitated Olajuwon destroyed Robinson, averaging 35 points, 12 rebounds, 5 assists, and 4 blocks.
In 1998, the San Antonio Spurs found Robinson some help when they brought in power forward Tim Duncan from Wake Forest. From there, the twin towers and the Spurs dynasty were born. As part of an imposing front line, Robinson teamed up with the greatest power forward of all time. They brought two NBA championships to San Antonio in 1999 and 2003.
6. Moses Malone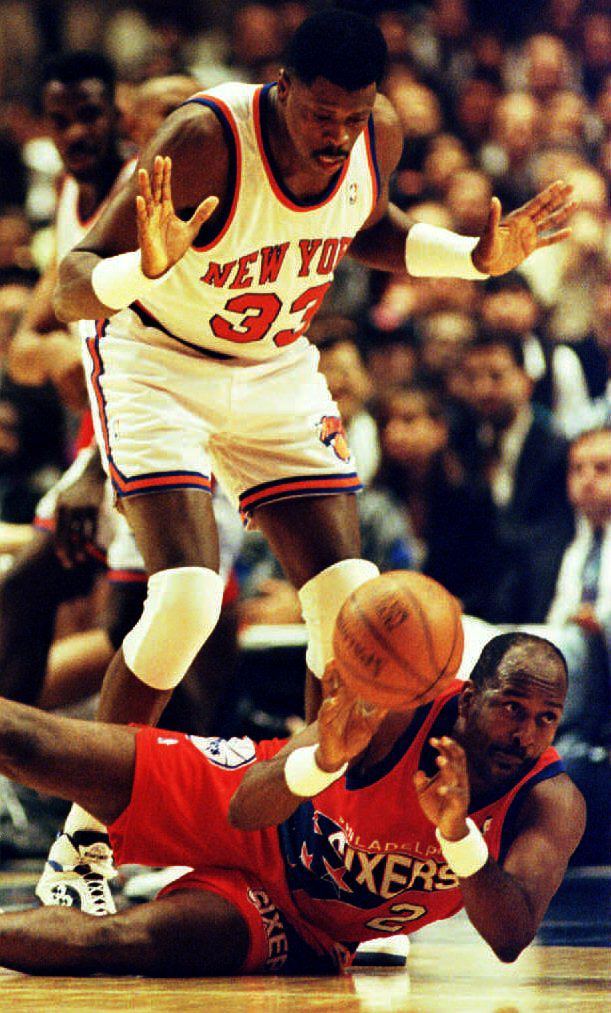 Moses Malone was a workhorse. He came straight out of high school to log 21 seasons between 10 different teams in the NBA and ABA. Statistically, the numbers were staggering. Malone finished his career with 29,580 points, 17,834 total rebounds, 9,018 free-throw conversions, and 1,889 blocks. In terms of accolades, Malone made 13 All-Star appearances and won three MVP honors. As an NBA champion, he was the missing link to a talented 1983 Philadelphia 76ers ball club that included Julius Erving, Maurice Cheeks, and Andrew Toney.
For big men, Malone is the gold standard for the 20 and 10 double-double club. A ferocious rebounder, Malone led the league in total boards through five different seasons. At center, he was especially effective on the offensive glass. He was always in the right place at the right time to anticipate shot angles and caroms. Malone led his league in offensive rebounding during nine separate seasons. He was a banger who topped the NBA in free-throw attempts five times. At the charity stripe, he knocked down free throws at a 76% clip throughout his career.
5. Hakeem Olajuwon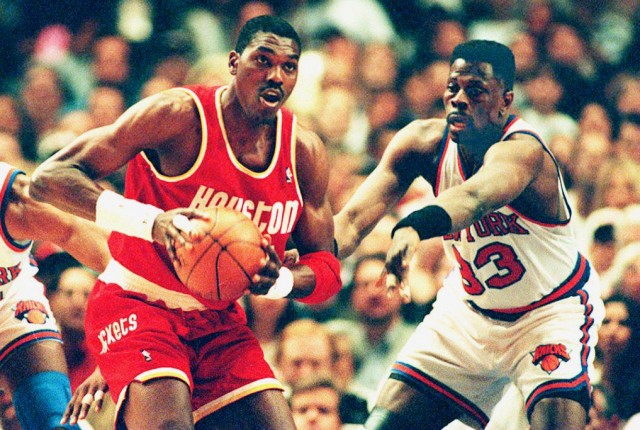 Absolutely unstoppable, Hakeem Olajuwon (above, left) dominated all comers during his 18-year career, from an overmatched Patrick Ewing to a bamboozled David Robinson, as well as a young Shaquille O'Neal. A point guard trapped in a center's body, Hakeem Olajuwon used his natural agility, speed, and explosiveness to school plodding opponents in the post.
With his Dream Shake, Olajuwon had moves upon moves: he could put the ball on the floor, cross over, spin, shake, and fake you into oblivion before dropping an easy deuce on your head. With back-to-back championships in 1994 and 1995, Hakeem Olajuwon helped put the "clutch" in Clutch City for the Rockets.
Defensively, Olajuwon's bag of tricks was equally as impressive. In 1990, he starred as the league's top rebounder and shot blocker. For a big man, Olajuwon patrolled the frontcourt with catlike instincts to steal the basketball. In terms of his total body of defensive work, Olajuwon finished his career atop the all-time blocks list with 3,830 total rejections and ninth best in steals, with 2,162 career swipes.
In one of the greatest athletic sequences of all time, The Dream abused David Robinson in the 1995 Western Conference Finals. From the baseline, the 7-foot Olajuwon faced up Robinson and went between the legs before shimmying into another crossover and spin move. On the low block, Olajuwon wheeled and up-faked twice to lift the Admiral off his feet before laying up the basketball.
4. Shaquille O'Neal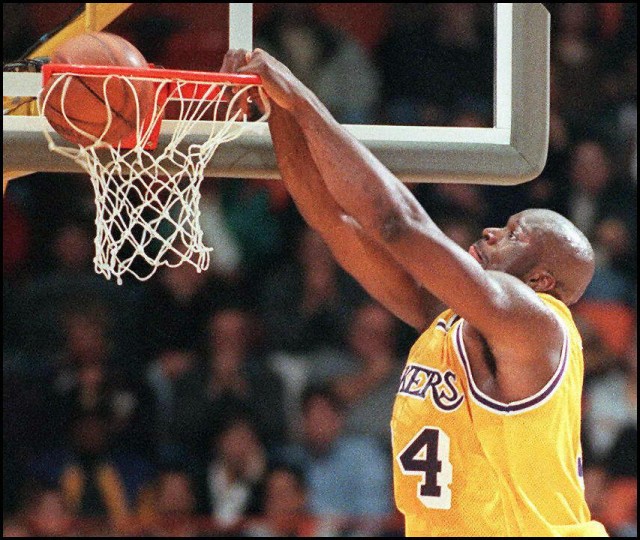 Shaquille O'Neal was a beast. Standing at 7-foot-1 and weighing in at 325 pounds, Shaq was one of the largest men to ever pick up a basketball. Contrary to his peers like Gheorghe Muresan, Mark Eaton, and Manute Bol, however, The Diesel actually had the talent to do something beyond "be big." An unreal combination of size and explosiveness, prime Shaq would devastate defenders with his deep post positioning, quick drop steps, and earth-shattering dunks that would tear down the goal. A man amongst boys, the opposition had no answer for Shaq other than to double team, flop, scratch, claw, put him on the line, and hope for the best.
In Orlando, a young Shaquille teamed up with Penny Hardaway to beat back a No. 45 Michael Jordan and lead the Magic to the big 1995 Finals stage versus the Houston Rockets. The young Magic team, however, was schooled, swept, and spanked by Hakeem Olajuwon and his Clutch City Houston squad. After the loss, Shaq had grown too big for his britches, talked his way out of town, and hopped onto the next flight bound for Hollywood.
With the Los Angeles Lakers, O'Neal joined forces with Phil Jackson and sidekick du jour Kobe Bryant to claim three consecutive titles and Finals MVP trophies between 2000 and 2002. In Los Angeles, Shaq was at his best, as he finally began to play with an insatiable hunger behind the motivational tactics of the great Zen Master. In 2000, Shaq dropped 30, snagged 14 boards, collected 4 assists, and blocked 3 shots per game. In Los Angeles, though, simply winning without drama was never enough. After a contentious feud with Bryant, O'Neal was shown the door and forced to accept a one-way ticket to Miami, where he was still able to lay claim to the 2006 NBA championship while playing Robin to Dwyane Wade's Batman. Shaq spent the twilight of his career as an unabashed ring chaser, spending time in Phoenix, Cleveland, and Boston.
3. Bill Russell
The NBA's definition of a winner at center… Bill Russell was the focal point of a Boston Celtics dynasty that won 11 NBA championships during his 13-year career. The undisputed leader of stacked ball clubs, which included the likes of Bob Cousy, Bill Sharman, Tom Heinsohn, Sam Jones, and John Havlicek. For three seasons, one of the greatest centers of all time doubled as a player-coach. He was responsible for doling out minutes, plotting strategy, and managing a group of headstrong personalities.
Russell revolutionized the concept of team defense. Because of his speed and athleticism, Russell could leave his man as a help defender, protect the rim, and secure the basketball. With the basketball in his control, he would outlet to The Cooz and then head off to the races in Boston's high-octane fast-break offense. This scene repeated itself often, as Russell starred as the NBA's top rebounder through four separate seasons. Remarkably, Russell completed his 13-year career with 21,620 total rebounds, which calculates out to 22 rebounds per game.
Russell and his stoic demeanor were the perfect contrast to the flash of prolific scorer Wilt Chamberlain. In their numerous clashes, Russ often prevailed as the victor. He became the one man who could claim Chamberlain's number.
2. Kareem Abdul-Jabaar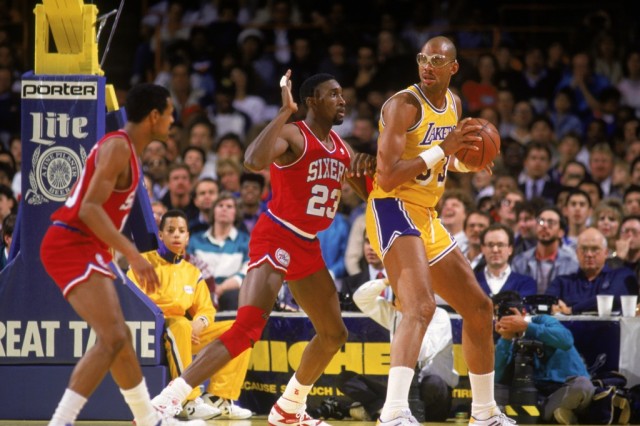 Kareem Abdul-Jabbar (above, far right) is that rare athlete whose career body of work actually exceeded the outlandish hype. A schoolboy legend, the player then-named Lew Alcindor led his Power Memorial Academy to three consecutive New York City Catholic School Championships and a 79-2 record. In college, Alcindor took home three national championships and served as the original building block for the UCLA 88-win dynasty. In the professional ranks, he earned championship hardware for the 1971 Milwaukee Bucks before changing his name to Kareem Abdul-Jabbar and moving on to Los Angeles. As a Laker, Abdul-Jabbar was to establish a formidable one-two punch with Magic Johnson and bring home five more NBA titles.
Kareem Abdul-Jabbar is the all-time NBA scoring leader with 38,387 total points. Classic Kareem would receive the post-entry pass from Magic Johnson on the left block. From there, he would pound the basketball for two counts before rising up and pushing off his left leg. His 7-foot frame and right arm extended, Kareem would then sweep a skyhook into the net from 15 feet away from the basket — the most devastating shot in NBA history.
1. Wilt Chamberlain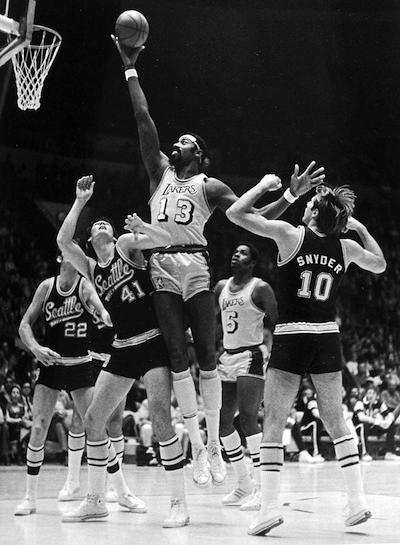 Wilt Chamberlain (above, center) is the greatest NBA center of all time by our account, as The Stilt's mastery of the game and statistical output were comparable to a video game character. For his career, Chamberlain averaged 30 points and 23 rebounds per game, including a 1962 season for the Philadelphia Warriors, during which the Big Dipper slapped up 50 points and snagged 26 boards per contest. At his peak, Chamberlain took home seven straight scoring titles.
Scoring shouldn't overshadow Wilt's excellence as a 7-foot playmaker, and in 1967 and 1968, Chamberlain padded his stats even further, dishing out 8 and 9 assists per game, respectively. The astronomical production, however, was a double-edged sword, as the same questions dogged him throughout his career: Did Wilt Chamberlain care about winning, or was he only concerned with racking up statistics and looking pretty?
Although Chamberlain was often on the losing end of the Bill Russell war, The Stilt did not enter battle with the likes of Bob Cousy, Tom Heinsohn, and John Havlicek as teammates. As a winner, Chamberlain did take home two NBA championships, with the 1967 Philadelphia 76ers and 1972 Los Angeles Lakers. With the 1972 Lakers, The Stilt joined forces with a Dream Team lineup of Gail Goodrich, Jerry West, and Elgin Baylor to win a then-record 69 regular-season games. An elder statesmen on a stacked squad, Chamberlain collected Finals MVP honors on the strength of his 24-point, 29-rebound Game 5 performance. All in all, Wilt Chamberlain got it done.
All statistics courtesy of Basketball-Reference and Hoophall.