The NFL's 10 Greatest Players of All ­Time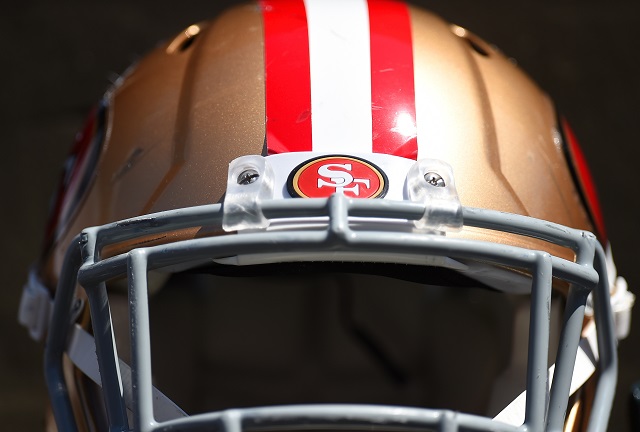 Professional football is the epitome of all things American. We love the sport because of the grit, intensity, teamwork, force, and speed of the game. To win as a team, each individual player must know his assignment, execute, and sacrifice himself at the point of attack. Football is a chess match. Players must shift positions, read, react, and dominate smaller battles to help the larger group prevail.
To the uninitiated, the game of football may simply showcase two walls of humanity crashing into each other. Beyond the color-coded play sheets and complex zone-blocking schemes, the ultimate goal remains to advance the ball to the other side of the field for points.
The greatest NFL players dismiss the conventional wisdom and time-­honored clichés of football diehards. They can concert casual spectators into game-day fanatics. Indeed, no defense exists for the perfect pass, speed does kill, and defense can be your best offense. On the gridiron, the greats demand an eyewitness account at all times. We struggled to describe this supreme ability in words as they redefine what is possible.
10. Reggie White, defensive end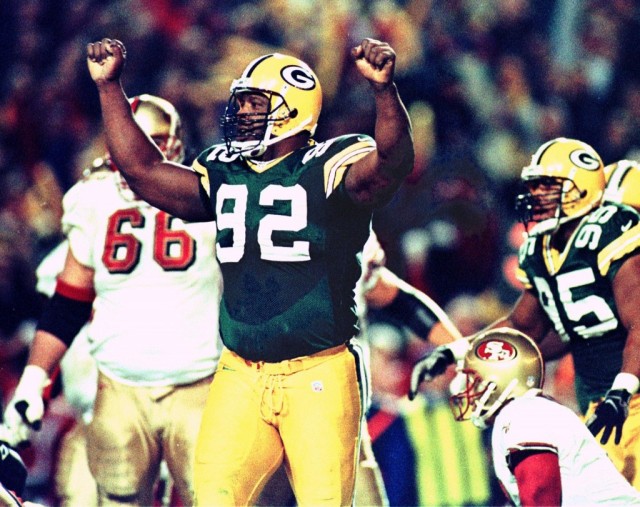 The Minister of Defense dominated the line of scrimmage throughout his 15-­year career, playing well into his late 30s. At left defensive end, Reggie White terrorized opposing right tackles with his patented hump and club moves. From a three-point stance, White would anticipate the snap count, explode up­field, and shrug his shoulders. Then he'd toss aside yet another 300-pound lineman and take a shot at the quarterback.
Against the running game, White possessed both the strength to shed blockers and the speed to chase down ball carriers. This skill set translated into two AP NFL Defensive Player of the Year awards, in 1987 and 1998, when White led the league with 21 and 18 sacks, respectively. Before retirement, White racked up a then-NFL record 198 sacks. He made 13 consecutive Pro Bowl appearances (1986­-1998) and won a Super Bowl championship with the Green Bay Packers.
9. Tom Brady, quarterback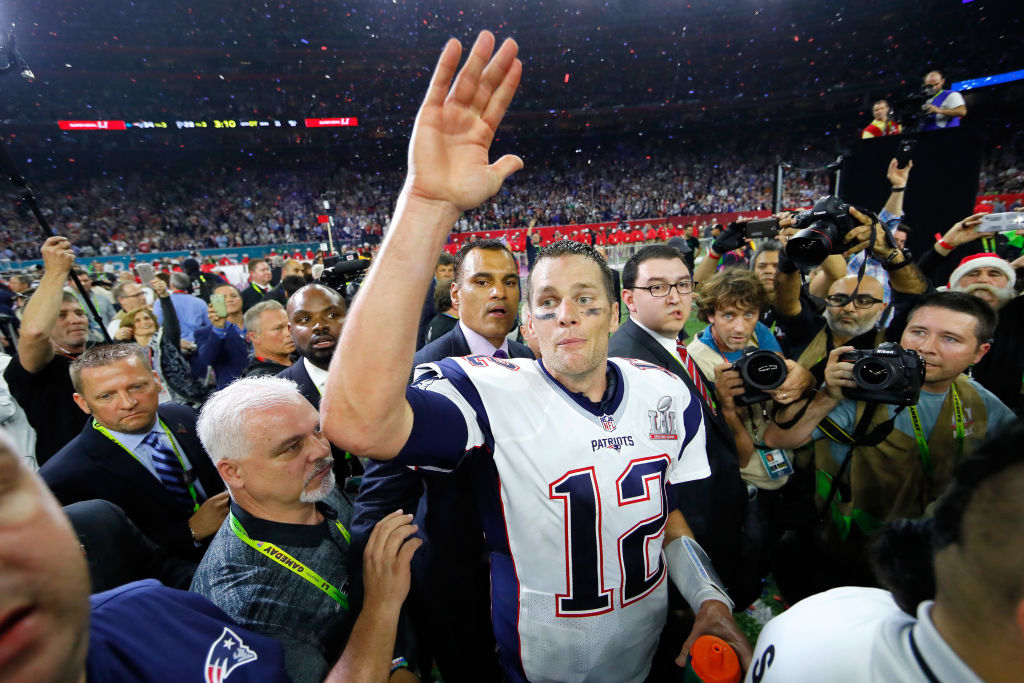 At quarterback, Tom Brady has emerged as one of the greatest rags-to-riches stories of all time. He entered the NFL as a doughy sixth-round pick out of Michigan. But Brady eventually transformed into front-­page fodder for both the sporting and celebrity gossip magazines. By 37, Brady has already taken home five Lombardi trophies and four Super Bowl MVP awards, granting him the bragging rights as one of the greatest football players of all time.
As an icon, he has combined Joe Montana's winning gamesmanship alongside the playboy lifestyle of "Broadway" Joe Namath. Statistically, Brady is equally impressive as any quarterback to ever play professional football.
In 2007, he teamed up with Randy Moss and Wes Welker to create one of the most impressive displays of offensive firepower ever. Brady closed out that undefeated regular season having thrown for 4,806 yards and a then-record 50 touchdowns after completing 68.9% of his passes. The 2007 run, however, ended with a Super Bowl loss, an 18-­1 record, and a disheveled Brady.
8. Don Hutson, wide receiver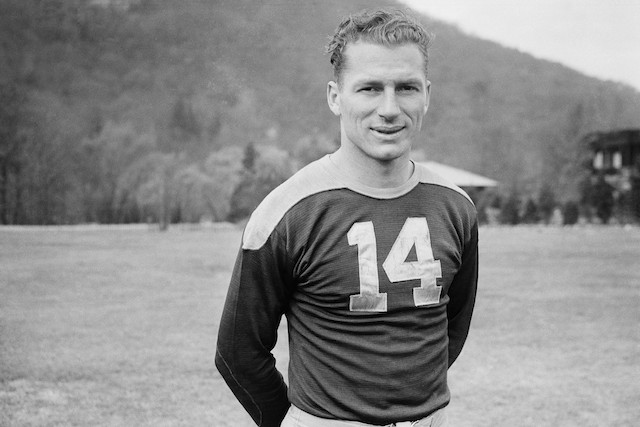 Don Hutson dominated in his position. At wide receiver for the 1935-45 Green Bay Packers, Hutson helped introduce the game of football to slant, rub, deep out, and crossing routes, which first unlocked the timing complexities of the forward pass. As the game's first big-time wide receiver, several of Hutson's records stood for decades (Steve Largent and Jerry Rice finally broke them).
Today, Hutson still holds the NFL record for the most seasons (nine) spent leading the league in touchdowns. On several occasions, Hutson's production actually doubled the statistics of his next-best competitor. In 1942, Hutson caught a league-leading 74 balls for 1,211 receiving yards and 17 touchdowns. These numbers were unreal for Hutson's era.
7. Dick Butkus, linebacker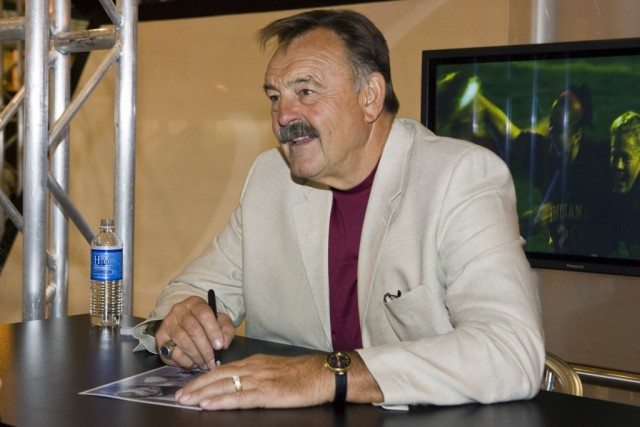 With his dark No. 51 jersey, garish shoulder pads, and blood-curdling shrieks, Dick Butkus was a feared tackler. At 6-foot-3 and 250 pounds, he led the Monsters of the Midway and their black-and-blue style of punishment. Chicago Bears lore remains steeped in the tradition of defense thanks to him. The unforgiving stare of Mike Singletary and pure athleticism of Brian Urlacher can't match the devastation that Butkus brought to the fore at Soldier Field.
In the box, Butkus ran downhill to pull guards at the line of scrimmage and fold pesky running backs into the turf. In space, Butkus patrolled the middle of the field and laid down the law on any wayward receiver. Contrary to Butkus's reputation as a total goon, the man was a student of the game. He could make tackles, strip the ball carrier, corral interceptions, and wreak havoc.
6. Johnny Unitas, quarterback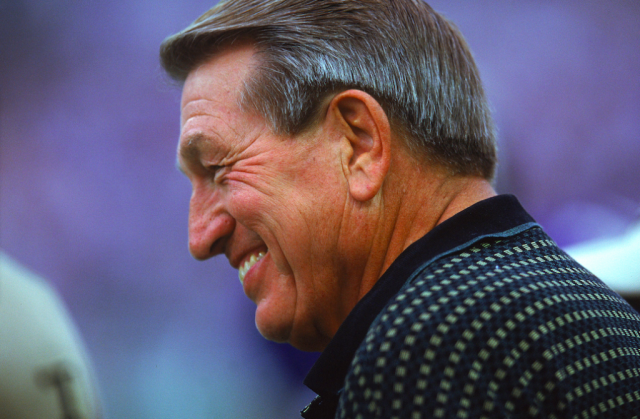 Johnny Unitas was as American as apple pie, with his first-generation heritage, crew-cut hairstyle, and black high-top shoes. At quarterback, Johnny U was credited for authoring the two-minute drill and fourth-quarter comeback. As a virtual coach on the field, Unitas called his own plays to pick apart defenses throughout his 18­-year career.
Unitas, of course, will forever be immortalized as a Baltimore Colt. He led the NFL in passing on four separate occasions and won the league MVP award three times. Unitas finished his career with 40,239 passing yards, which is still good for 14th place on the all-­time list. Johnny U's statistics are even more impressive ­­when you consider the fact that he was a quarterback during the 1950s and '60s. This was prior to the advent of five-­wide sets, the shotgun spread, and all other pass­-happy gimmicks.
Unitas put his full talents on display in "The Greatest Game Ever Played," which ushered professional football into the television era. That game pitted a total of 17 Hall of Famers against each other, both Baltimore Colts and New York Giants, for the 1958 championship grudge match.
Late in the game, Unitas engineered two separate 80-­yard drives to send the contest into overtime on a short field goal. Baltimore claimed the title on a one-­yard touchdown dive by Alan Ameche. As the winning quarterback, Unitas went 26-40­­ for 349 passing yards and one touchdown. In doing so, the Comeback Kid laid the groundwork for the likes of John Elway, Peyton Manning, and Joe Montana.
5. Walter Payton, running back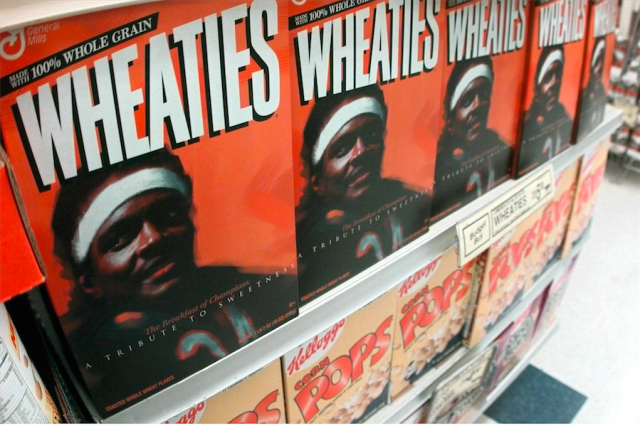 Walter Payton simply outworked everybody else. At 5-foot-10 and 200 pounds, Payton was neither a physically imposing, bruising back, nor was he blessed with track star speed. On the playing field, the man they called Sweetness was known for his iron will to finish off runs in the image of his lunch-pail work ethic and madman fitness program. As a testament to his durability, Payton owned the rushing record books at the end of his 13­-year career with the Chicago Bears. By retirement, he had racked up 16,726 rushing yards and 110 total touchdowns. As a true workhorse back, Payton led the NFL in carries for four consecutive seasons between 1976 and 1979. In 1977, Payton carried the football 339 times to run roughshod over the competition for 1,852 yards and a 5.5 yards­ per ­carry average.
Vintage Payton would take the inside handoff and juke a flailing defensive lineman with a quick spin move before slamming his knee into the chest of a stunned linebacker in the hole. After breaking that tackle, Payton kept diminutive defensive backs at bay with a stiff arm before he bounced the play to the outside and headed off to the races. Refusing to run out of bounds, Payton would drop his pads and lower the boom at the goal line to drive his last opponent into the end zone.
4. Lawrence Taylor, linebacker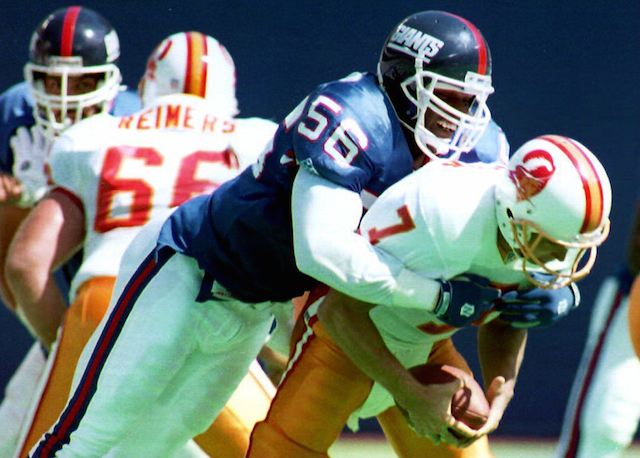 At linebacker, Lawrence Taylor (pictured above, center) was the maddest of all mad men. Because of his pure explosiveness, Taylor was the game's foremost defensive weapon. In the 3­-4 scheme, Taylor lined up all over the field to sell out his body, force turnovers, and destroy careers. Taylor was too fast for plodding tackles and too powerful for blocking backs to contain coming off the edge at the line of scrimmage. Within two counts, the quarterback would get decked and stripped of the football in one fell swoop. As a sack artist, Taylor compiled 132.5 quarterback sacks over his 13­-year career, which is still good for tenth all-time.
In coverage, Taylor could also drop back to man up against running backs into the flat. Playing with reckless abandon, Taylor appeared to hate all comers who wore opposing jerseys. Through pure intensity, L.T. altered offensive schemes. Today, we can actually credit a linebacker for the evolution of the H­-Back, single­back formations, double tight ends, and unbalanced lines. These offensive packages largely trace their roots back to Joe Gibbs and his gimmick formations, designed to contain No. 56.
3. Joe Montana, quarterback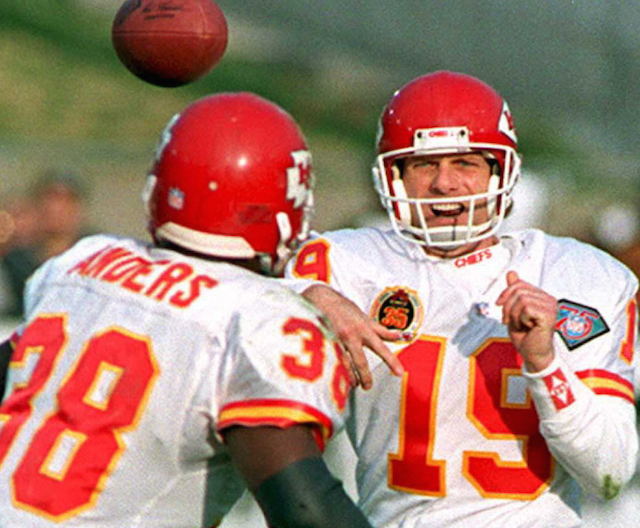 Joe Montana (pictured above, throwing) can lay claim to four Lombardi trophies and three Super Bowl MVP awards. Known for his quiet confidence, Joe Cool pointed out John Candy in the Super Bowl XXIII stands while his teammates huddled up. After breaking the ice, Montana had his 49ers on the march before he flicked the game-­winning toss to John Taylor on a slant route into the end zone.
Montana was not your classic Golden Boy quarterback. Out of Notre Dame, Montana's draft stock plummeted — NFL scouts questioned his size, arm strength, and general toughness. Montana slid all the way down to the third round ­before Bill Walsh got his man with the 82nd overall pick in the 1979 NFL Draft. Montana, because of his ability to deliver the football with precision and touch, was a perfect fit for the precise timing of the West Coast offense.
In the prolific West Coast offense, Montana could dump off short passes to the likes of Jerry Rice, John Taylor, Roger Craig, and Tom Rathman, and let his receivers go to work with runs after the catch. Although Montana and his 49ers are historically regarded as a finesse bunch, this group showed its moxie in countless comeback victories and cold-weather playoff bloodbaths. Before the Super Bowl trophies, Montana proved his toughness to the world with both "The Catch" and his beatdown of the 1988 Chicago Bears against the backdrop of single­-digit temperatures and the swirling winds of Soldier Field. Montana has more than earned the title of one of the best football players in NFL history.
2. Jim Brown, running back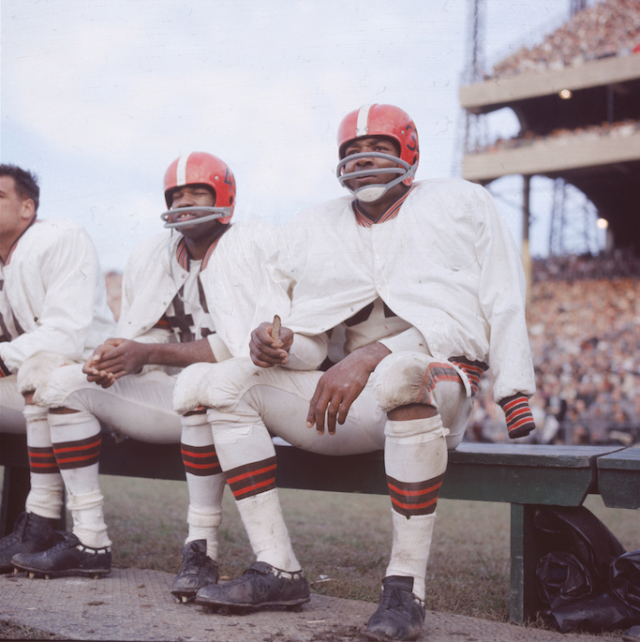 Jim Brown dominated everybody. Over the course of his nine seasons, Brown ran over, through, and around people for 12,312 rushing yards and 106 touchdowns on the ground. At 29, he shocked the world and retired from the game of football in his prime. Brown simply had nothing else left to prove, having already qualified as the record holder of every significant rushing mark in the books. Although Brown has since been surpassed by Emmitt Smith and Walter Payton in the record books, neither back can touch his remarkable 5.2-­yard-per-carry average.
As the perfect complement of size and speed, Brown put up video-game-­like numbers in the era of the phonograph and turntable. With the exception of 1962, Brown led the NFL in rushing every year between 1957 and 1965. In 1963, he torched defenses for 1,863 rushing yards on only 291 carries, which translates into a 6.4-yard-per-carry average.
1. Jerry Rice, wide receiver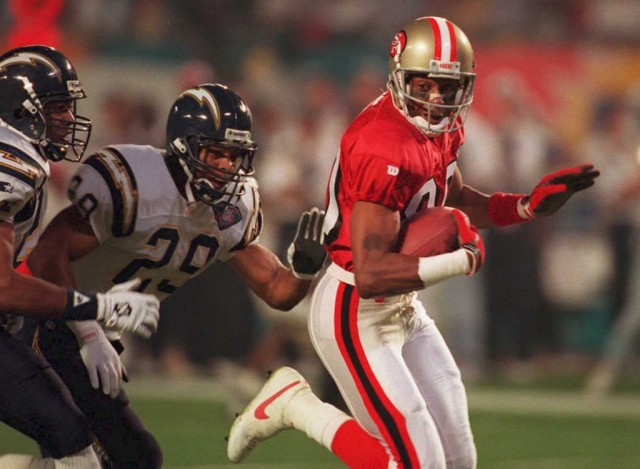 By every qualification, Jerry Rice was the greatest wide receiver of all time. He had the best hands, ran the most precise routes, and starred as the premier game changer after the catch. Rice, the San Francisco Treat, may even hail as the greatest blocking wide receiver of all time. And as an NFL bootstrapper, he serves as another monument to hard work.
In all, Rice rewrote the NFL record books for 1,549 receptions, 22,895 receiving yards, and 208 total touchdowns. Rice's career and statistical records are breathtaking, as he proved to be a lock for 80 catches, 1,000 yards, 10 touchdowns, and one Pro Bowl ticket to Hawaii for 13 seasons. He was a threat to score on every play.
Rice earned his position. In the offseason, he would jog the rugged hills of Northern California, lift weights twice a day, and run wind sprints until he had nothing left –­­ for fun. Before he had even stepped onto the field, Rice and his will to work had already destroyed many an opponent.
Statistics courtesy of ESPN and Pro-Football-Reference.