10 Heisman Trophy Favorites at Season's Halfway Point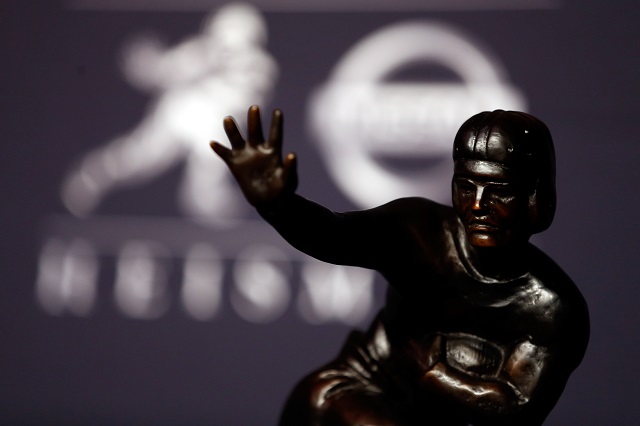 With the college football season more than halfway gone, the Heisman race has changed significantly over the past month or two. The favorites, according to Bovada's odds, no longer include familiar names like Todd Gurley, Kenny Hill, or Brett Hundley. Instead, a new batch of stars has skyrocketed into the chase for college football's greatest individual honor as those others have slipped. Here, then, are the top 10 players with the best current odds to win the Heisman, according to Bovada.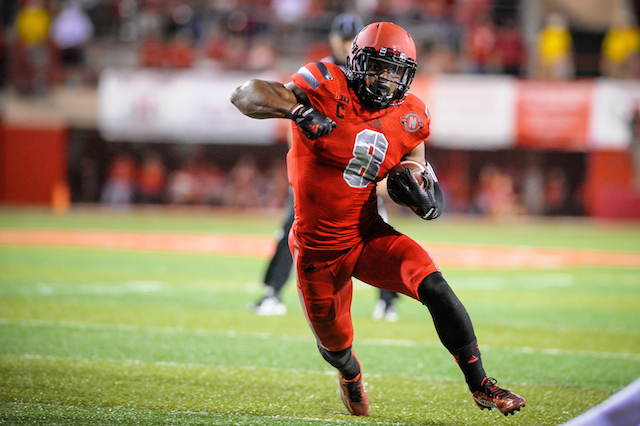 Ameer Abdullah, Nebraska (20/1)
Nebraska senior running back Ameer Abdullah (pictured) is one of four players with 20/1 odds to take home the Heisman Trophy in December. Abdullah has played bigger than his 5-foot-9 size, rushing for 1,024 yards and 14 scores this season. He opened the year with 232 yards on the ground against Florida Atlantic and hasn't looked back, with a career total now over 4,000 yards. Last week against Northwestern, Abdullah found the end zone four times.
J.T. Barrett, Ohio State (20/1)
Ohio State has scored at least 50 points in each game during its current four-game winning streak, and redshirt freshman quarterback J.T. Barrett has been a big reason why. Barrett has done an admirable job filling in for the injured Braxton Miller this year, with 20 touchdown passes (six in one game against Kent State) and four scoring runs. The Heisman hopeful is completing 65% of his passes and has thrown for 1,615 yards so far.
Nick Marshall, Auburn (20/1)
Auburn senior quarterback Nick Marshall's Heisman candidacy may have taken a hit with the Tigers' recent loss to Mississippi State, but Marshall still boasts impressive numbers on the year with 964 passing yards, 492 rushing yards, and 14 combined touchdowns. Marshall has done much of his damage on the ground, with four 100-yard rushing games already. With showdowns against Ole Miss, Georgia, and Alabama still to come, Marshall will have the stage to make a statement in the Heisman race if the Auburn offense keeps putting up points.
Bo Wallace, Ole Miss (20/1)
The Rebels have come out of nowhere to start the season with seven consecutive wins, and as long as Ole Miss keeps putting up victories, its quarterback will be in the thick of the Heisman discussion (although he still doesn't even have the best odds among quarterbacks in the state of Mississippi). The senior has thrown for 1,899 yards and 17 touchdowns in 2014, and his undefeated ballclub is averaging more than 35 points a game.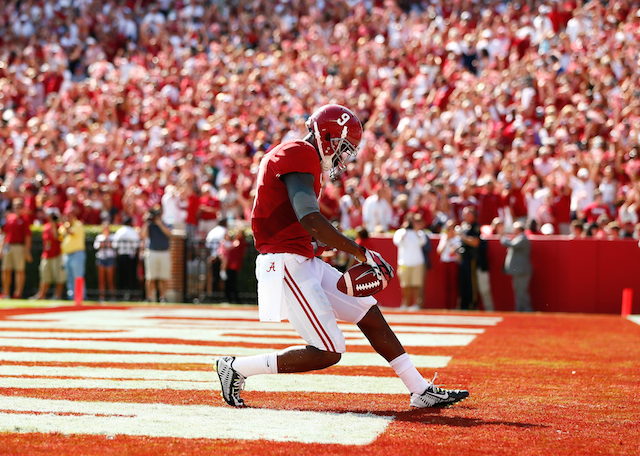 Amari Cooper, Alabama (18/1)
Alabama junior wide receiver Amari Cooper (pictured) has been one of the key pieces of Lane Kiffin's Crimson Tide offense, catching 62 passes in the season's first seven games. Cooper is averaging nearly 130 receiving yards per contest, and has caught at least 10 passes in a game three times already this year. He topped the 200-yard mark in a 42-21 win over Florida, accounting for half of his team's touchdowns on the day.
Everett Golson, Notre Dame (18/1)
Notre Dame senior quarterback Everett Golson has won 90% of his career starts and nearly led the Fighting Irish to victory in Tallahassee this past weekend (if not for one little penalty flag), attempting a career-high 52 passes in the process. Golson has thrown for multiple touchdowns in every game of the 2014 season, and has nearly 2,000 passing yards to go with 23 scores (19 passing, four rushing).
Jameis Winston, Florida State (18/1)
Florida State's Jameis Winston is trying to become only the second player to ever repeat as Heisman winner, joining Ohio State great Archie Griffin (1974-1975). While the sophomore has made more headlines off the field than on it this season, he's still the quarterback of the undefeated defending national champions and has never lost a game. If Winston continues to complete 70% of his passes — he put on a show against Notre Dame with 15 second-half completions in 16 attempts — don't count the Noles' QB out.
Melvin Gordon, Wisconsin (6/1)
Wisconsin junior running back Melvin Gordon has put up video game numbers in the first half of the 2014 season, rushing for 253 yards against Bowling Green (with five scores) and following that up two weeks later with 259 yards against Northwestern. Gordon is one of a quartet of Big Ten backs that have more rushing yards than any other player in America, but the two-loss Badgers no longer being ranked could hurt his Heisman candidacy.
Dak Prescott, Mississippi State (9/4)
It's somewhat of a cliche, but the quarterback on the No. 1 team in the country always gets a long, hard look for Heisman honors. Right now, that's Mississippi State junior Dak Prescott. Prescott (pictured) has been solid and steady for the Bulldogs, throwing for between 200 and 285 yards in every game he's played this season, all of them victories. Prescott got on voters' radar in a hurry, tossing four scores in each of his first two outings: He now has 14 TD passes against just four interceptions.
Marcus Mariota, Oregon (3/2)
The current favorite to win the 2014 Heisman Trophy is Oregon junior quarterback Marcus Mariota, whose touchdown/interception ratio is about as good as it gets: 19 scores and zero picks. Mariota has thrown for 8,299 yards in his career, nearly 2,000 of them in 2014, and is completing 70.2% of his throws this year. Mariota has also rushed for five touchdowns for the Ducks, who could help their quarterback's Heisman bid by winning out and cracking the top four for a spot in the College Football Playoff bracket.