The 10 Highest-Paid Tennis Players in 2022
The world of professional tennis is filled with competition, intense training, and immense pressure. And the tennis players who rake in the most money are always the best athletes on the Grand Slam and ATP tours. The sport also comes with great rewards, both in terms of salary and sponsorships. In fact, tennis players are some of the highest-paid athletes in the world.
Who are the highest-paid tennis players in 2022?
10. Ashleigh Barty: $5.8 million
Born into a tennis family, Ashleigh Barty concludes our list with an annual salary of $5.8 million to her name. The 26-year-old has three Grand Slam titles and 19 ATP titles to her name. In early 2022, Barty retired from tennis, becoming just the second No. 1-ranked tennis player to retire.
The Australian cited a lack of motivation. According to WTA, she explained, "I don't have the physical drive, the emotional want and everything it takes to challenge yourself at the very top of the level anymore."
9. Stefanos Tsitsipas: $8.1 million
At just 23 years old, Stefanos Tsitsipas' bank keeps growing. With an annual salary of $8.1 million, you can be sure the tennis world enjoys seeing this wonder kid play. He currently doesn't have any Grand Slam titles but has locked eight ATP titles. Tsitsipas is No. 4 in the world rankings.
8. Dominic Thiem: $8.9 million
According to Players Bio, Dominic Thiem was once ranked the third-best tennis player in the world. Now, he ranks No. 190, but the 28-year-old still has time. The Austrian tennis player still makes a cool $8.9 million with one Grand slam and 17 ATP titles.
7. Daniil Medvedev: $13.9 million
Daniil Medvedev's annual salary of $13.9 million puts him seventh on our list. Born in Moscow, Russa, he currently has one Grand Slam title — he won the 2021 US Open — and 13 ATP singles titles. The 25-year-old currently ranks No. 2.
6. Kei Nishikori: $26 million
Kei Nishikori is a Japanese powerhouse who has taken the tennis world by storm. The 32-year-old has yet to win his first Grand Slam title. But Nishikori has 12 ATP singles titles and is currently ranked No. 83 in the world.
5. Rafael Nadal: $27 million
Rafael Nadal has won a record 21 Grand Slam titles and 89 ATP titles. The lefthanded Spanish athlete started playing at the age of 12 and turned pro in 2001. Rafa holds the all-time men's singles record for the most Grand Slam titles in tennis history. A master on clay, he's won the most clay-court titles in history. Nadal currently ranks No. 5 in the world.
4. Novak Djokovic: $38 million
With an annual salary of $38 million, Novak Djokovic has made his name on the tennis top earners list. With 20 Grand Slam titles and 86 ATP titles, the Serbian athlete is considered one of the greatest tennis players of all time and rightfully so as the current No. 1 in the world.
3. Serena Williams: $41.8 million
Serena Williams' annual salary of $41.8 million is just a fraction of her empire. The 40-year-old has won 23 ATP titles and 23 Grand Slam titles — the most for any tennis player in the Open Era. Williams has ranked No. 1 in the world for 319 weeks total. Now, she sits at No. 276 in the world but has not announced her retirement yet. In addition to her prolific tennis career, Williams is an activist, fashion designer, producer, mother, and wife.
2. Naomi Osaka: $57.3 million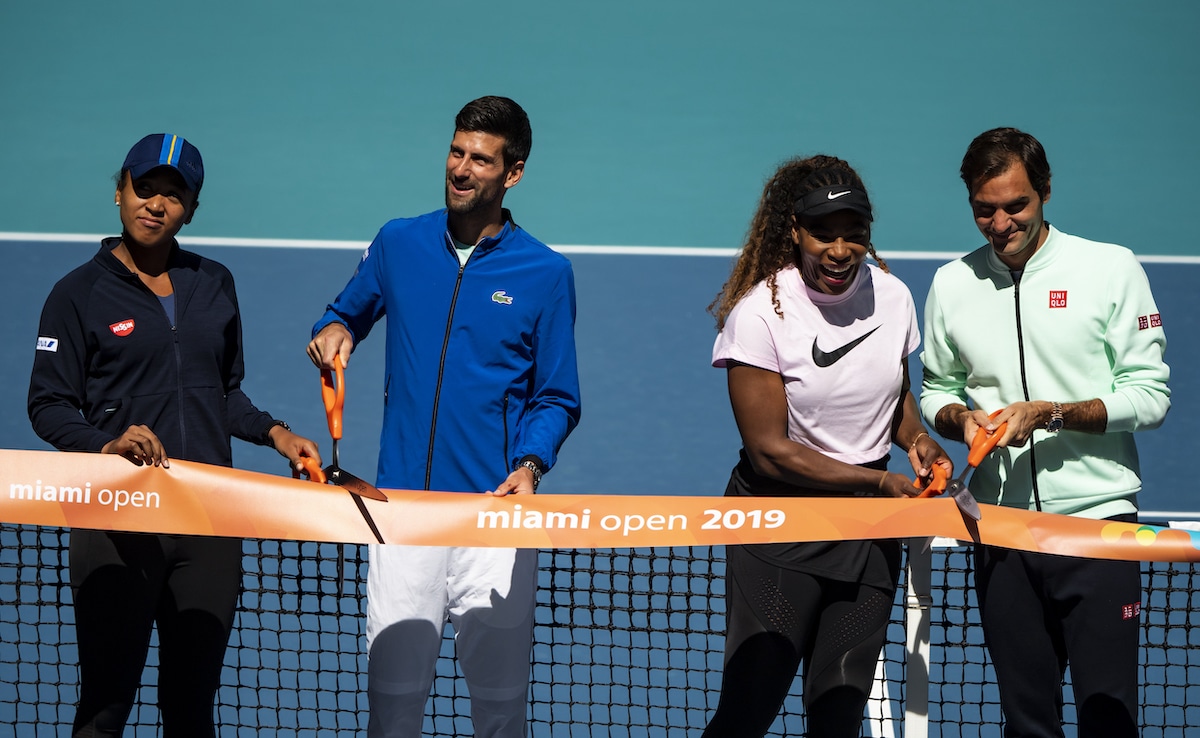 Naomi Osaka is the second-highest paid tennis player in the world, with an annual salary of $57.3 million. A mental health advocate and skincare founder, the Japanese athlete has won four Grand Slam titles and seven ATP titles. Osaka has garnered millions of fans globally. She's currently ranked No. 38.
1. Roger Federer: $90.6 million
Roger Federer is the highest-earning tennis player in the world, with an annual salary of $90.6 million, as Surprise Sports reports. He's won 20 Grand Slam titles and 103 ATP titles and continues to be one of the biggest stars in the sport. Federer is also one of the most famous athletes globally with a current world ranking is No. 47.