College Football: 10 Records No One Has Been Able to Break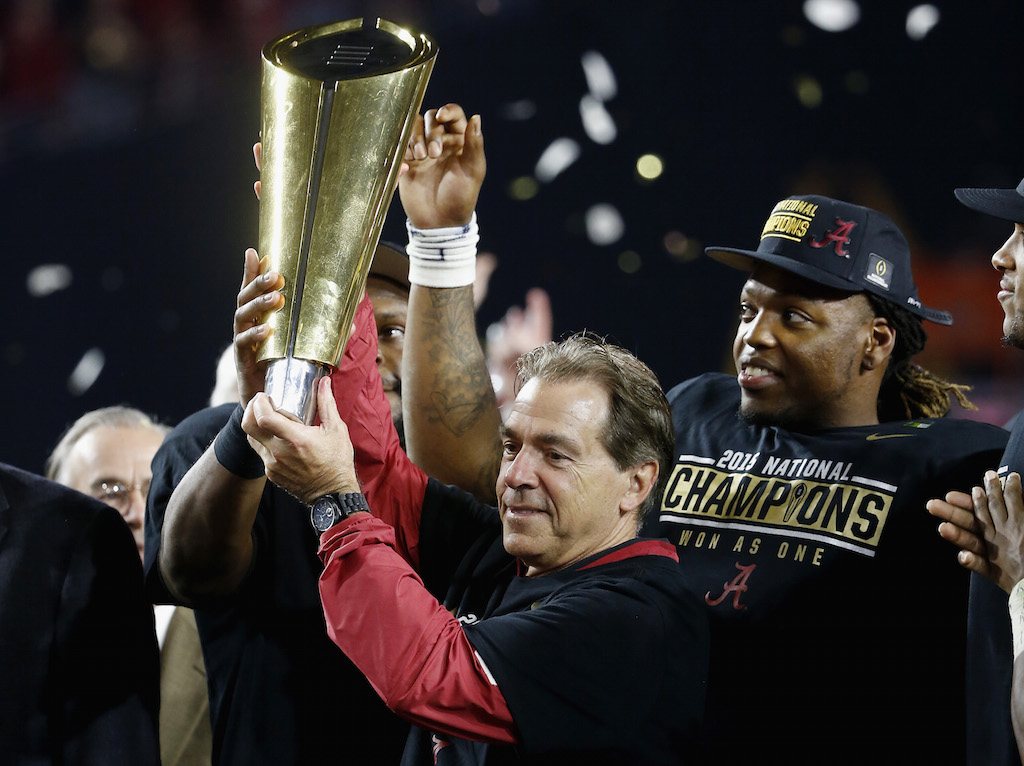 Major college football has been around for well over 100 years. Over that span, we've seen countless records be set, and we've seen records fall on what seems like a weekly basis. In the history of college football, very few records have proven to be far enough out of reach to stand the test of time. After doing a little digging, we have come up with a list of 10 records that we have decisively deemed to be unbreakable. Here's what we came up with.
* Note: this list only considers Division-I/Football Bowl Subdivision records.
1.  Longest winning streak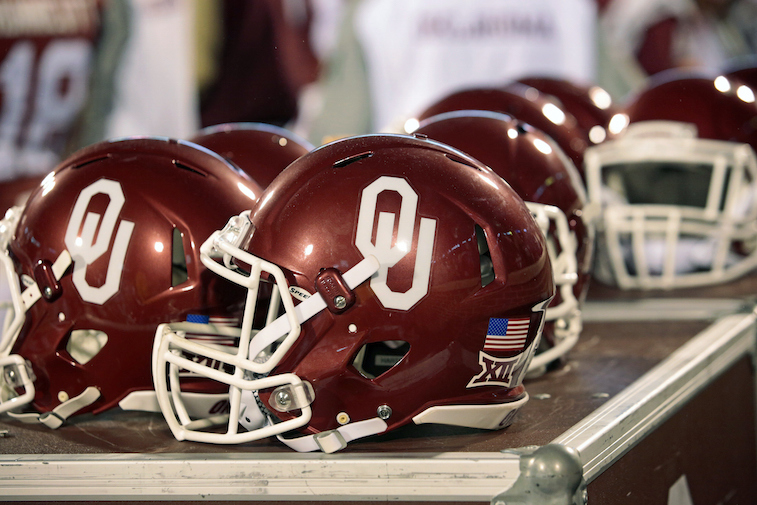 Record:

  47

Held By:

  University of Oklahoma
This record will almost surely stand the test of time. The Sooners' streak began in 1953, spanned the better part of five years, and included three perfect seasons. During the streak, head coach Bud Wilkinson led Oklahoma to recognized national titles in 1955 and 1956, and conference titles in all five seasons where the streak was alive. Since Oklahoma's streak ended at the hands of Notre Dame in 1957, no other team in college football has had a winning streak longer than 35 games.
 2.  Most interceptions thrown (single game)
Record:

  9

Held By:

  John Reaves
What may be more shocking than Reaves throwing nine interceptions in a single game is the fact that the former Florida Gator went on to be a first round draft pick in the 1972 NFL Draft. Rease's infamous performance came in a 38-12 loss to the Auburn Tigers, which ended up being Florida's only loss during the 1969 season. Needless to say, we don't see a quarterback approaching this dishonorable record anytime soon.
3.  Longest Punt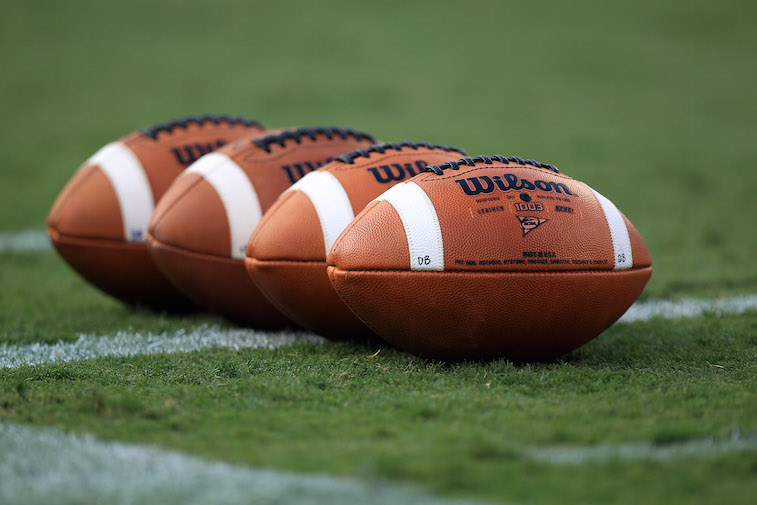 Record:

  99 yards

Held By:

  Pat Brady
This one really needs no explanation. Brady's punt traveled the longest distance a punt can possibly travel, making this a record than can only be tied, not broken.
Likewise, the records for longest pass, longest run, and longest reception also stand at 99-yards, but we believe a 99-yard punt stands out above the rest.
4.  Most punts (single game)
Record:

  36

Held By:

  Charlie Calhoun
No, that's not a typo. Charlie Calhoun of Texas Tech really did punt 36 times in a single game in 1939. At this point, you may be saying to yourself, "who cares about punting?" Well, we're here to remind you that punters are people too.
5.  Rushing yards per game (single season)
Record:

  238.9

Held By:

  Barry Sanders
Sanders' 1988 Heisman Trophy-winning season was, and still is, hands down the best season by a running back in college football history. What's even more shocking is that Sanders' 1988 stats came before the NCAA began counting bowl game stats in their official record book. In an 11-game season in 1988, Sanders averaged almost 240 yards per game. We simply don't see a running back ever topping that mark.
6.  Most touchdown passes (single game)
Record:

  11

Held By:

  David Klingler
To put some perspective on this record, it would take some quarterbacks three or more games to throw 11 touchdown passes. Klingler set this record against Eastern Washington on November 7, 1990, and did so despite sitting out most of the fourth quarter in the 84-21 blowout win for the Houston Cougars. Even with the emergence of the spread offense in today's game, this record will likely stand the test of time.
7.  Most touchdown passes (quarter)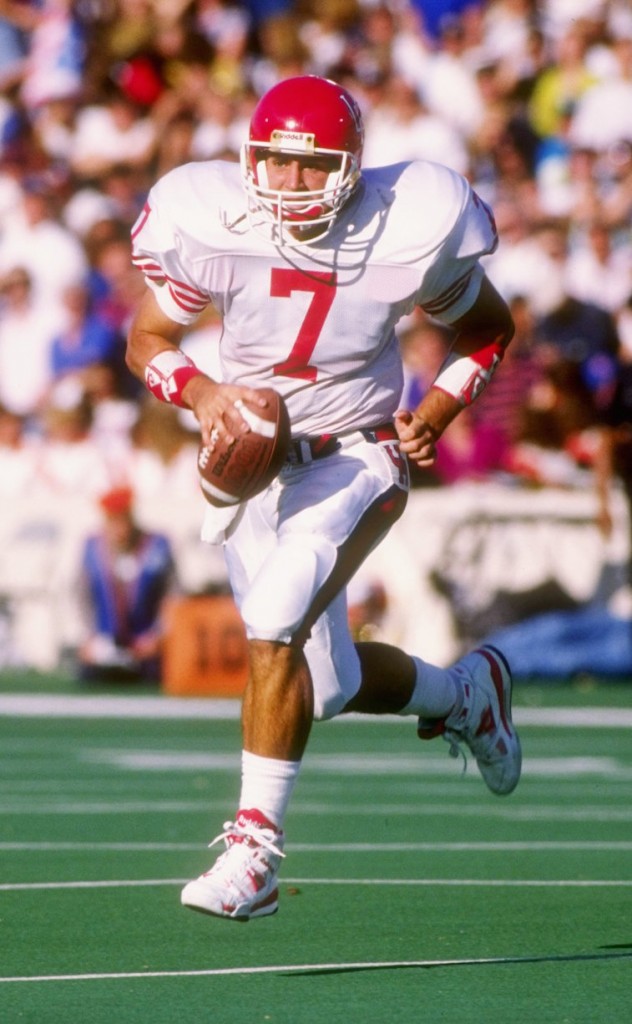 Record:

  6

Held By:

  David Klingler
This is another jaw-dropping record that Klingler (pictured above) will likely hold forever. During a game against Louisiana Tech on August 31, 1991, Klingler needed only one quarter – the second quarter to be exact – to throw six touchdown passes. Most teams struggle to get six possessions in a single quarter, and furthermore, the fact of the matter is six touchdowns for an entire game is a great day by any standard. There is very little chance we ever see another quarterback approach this record.
8.  Most touchdown receptions (single game)
Record:

  7

Held By:

  Rashaun Woods
Seven touchdown receptions in a single-season would be a great season for most wide receivers. Woods, playing for Oklahoma State, accomplished the feat in a single game against SMU on September 20, 2003. Again, we don't see this record ever truly being in danger.
9.  Most yards of offense (single game)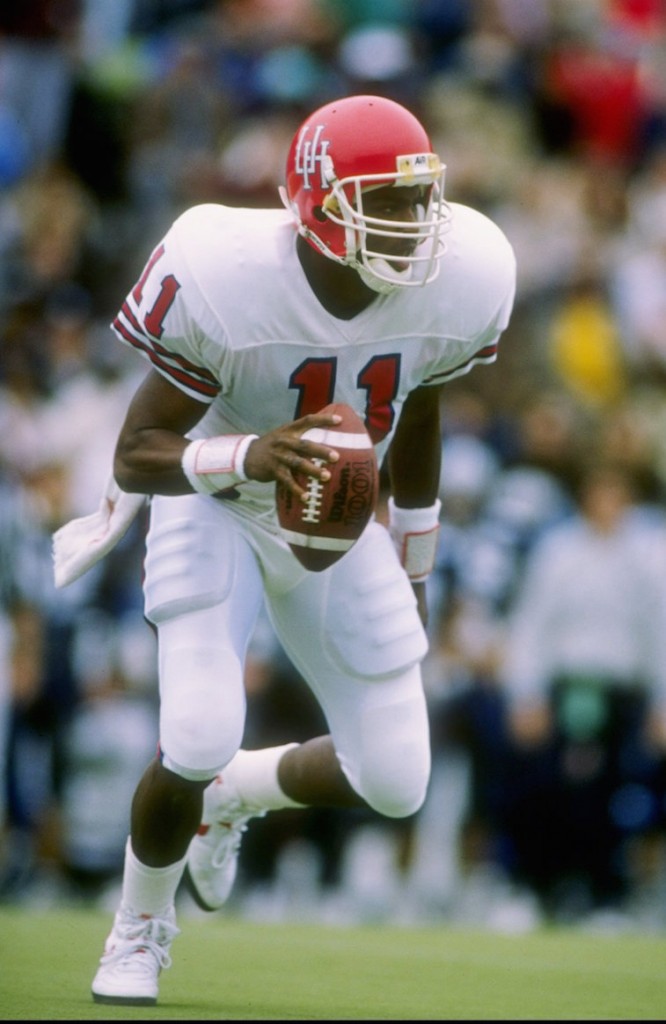 Record:  1,021 yards
Held By:  University of Houston
In a game against SMU on October 21, 1989 the Houston Cougars compiled 250 yards on the ground, and put up 771 yards through the air. This game really set the tone for Andre Ware's (pictured above) run to the 1989 Heisman Trophy. Barring a high-flying game that features 10-plus overtimes, this record will never be broken.
10.  Most receptions (single season)
Record:

  155 yards

Held By:

  Freddie Barnes
Even in today's college football world where spread offenses have teams routinely throwing the ball 50-plus times a game, this record is safe. For Barnes' record to ever truly be in danger, there would have to be a wide receiver who averages just over 11 catches per game over the course of a 14-game season, and that is unlikely to happen.
All statistics courtesy of Sports-Reference and the National Collegiate Athletics Association.