10 NBA Players Making a Fortune Off Shoe Endorsements
More than any other sport, basketball lives and dies by its footwear. They're the tools of the trade, as well as collector's items, and generally occupy a space for sneakerheads to unleash their inner completist and fill every inch of closet space imaginable. Other professional sports have specialized equipment — but how many hours can really be spent taping up a hockey stick just like Sidney Crosby's? Football players have strict guidelines around  their apparel, and the league takes those guidelines very seriously. Basketball players? They can wear whatever footwear they want. They can also buy as many pairs as they want – just ask Jarret Jack.
Since the NBA is such a star-driven league — it's the only major U.S. sport with players that don't have their faces obscured by helmets or other protective gear — it only follows that the big shoe companies would give big money to the big stars. The NBA: where big shoe deals are made. Actually, though, the basketball shoe (and the basketball shoe endorsement) predates the modern NBA's founding in 1949 — the Converse All-Star, first created as a soccer shoe, took on new life as the Chuck Taylor signature basketball sneaker in 1932.
According to legend, Taylor never took a portion of the cut from any of the Converse that were sold. We're pretty certain that's not the case with this batch of NBA superstars. All endorsement information courtesy of Forbes.
10. Chris Paul — $4 million — Nike (through Jordan)
Mr. Argyle. The State Farm Agent. Chris Paul. Probably the best point guard in the league, Paul makes a nice bit of cash from his CP3 shoe — currently in its eighth iteration, and marketed by Nike as #Riquickulous.  Paul, who signed with Nike after his Rookie of the Year campaign in the 2004-2005 season, has a whole room in his bedroom dedicated to basketball shoes. You can see a photo his wife posted to Instagram that, in her words, shows "only a portion of the #shoes in @cp3s shoe room" below. No word on whether Paul, who is generously listed at an in-shoes 6'0 by the NBA, can reach that top shelf.
9. Blake Griffin — $6 million — Nike (through Jordan)
Coming in just ahead of his Lob City compatriot is Blake Griffin, the All-Star Power Forward who might be the biggest endorsement hound in the NBA today. At least, it feels that way, as the airwaves are saturated with his ads for Kia and Foot Locker. No complaints from us, Blake. You gotta get it while you can.
Get it he has. After signing with Jordan back in 2012, Blake's Super.Fly signature shoe has been flying off the shelves. Almost as fast as the new Kia Optima, probably. Luckily, Griffin's got nothing if not a sense of humor — he famously interned at Will Ferrell's comedy website Funny or Die during the 2011 lockout — and his Foot Locker commercial from last summer confirmed that he is, in fact, in on the joke.
8. Dwight Howard — $6 million — Adidas
Ok, this was a little surprising. Mostly because everyone hates Dwight Howard. He gets hated on by Magic fans, Lakers fans, doctors, other players, owners, and more or less everyone that isn't on board with the Houston Rockets this year.
On the other hand, he is still the best center in the NBA right now, and the three time Defensive Player of the Year's Adidas D Howard 4 sneaker has been a hot commodity since he signed with the brand in 2004. Ten years in, the deal seems to be working out pretty well for both sides.
Howard's commercial game, like his post moves, need a little bit of work, though. After a turn for the serious with the Fast Don't Lie campaign, Dwight most recently dabbled in Ghost Hunting for Footlocker. See the results for yourself (and make sure your volume is low.)
7. Amar'e Stoudemire — $6.5 million — Nike
Wait, what? Sure, back in the day, in Phoenix, Amar'e was a machine. Running a gorgeously deadly high pick and roll with Steve Nash to propel the 7 Seconds or Less Suns to serious contender status. Amar'e used to be a great basketball player. Six or Seven years ago.
Since being run ragged by Mike D'Antoni in 2011, though, STAT has been a shell of himself — 48 games. That's how many times Amar'e has been a starter since the lockout. But here he is, at number 7 on this list. Madness. Anyway, STAT just had  his latest Nike (a 'collaboration' with LeBron) released a couple of months ago. It actually looks pretty good. Maybe that's where all this cash is coming from?
6. Carmelo Anthony — $9 million — Nike (through Jordan)
Carmelo Anthony is an under-appreciated superstar. Some of this is his own fault. Some of this is the fact  that the Knicks are awful. Whatever the case may be, it makes his new series of Jordan commericals, the latest in a long string since he signed with Team Jordan back in 2003 hilarious.
Anthony, who has an entire montage dedicated to the clutch shots he's missed this season on Youtube, has been the captain of a sinking ship in New York this season, with his Knicks limping to a 21-36 record that's 5.5 games out of the playoffs. That's not really his fault, nor can you place the entire fate of a franchise on one player, and his latest shoes, the Melo M10, are pretty fly.
But does this look like the body language of a guy who's really happy making $9 million from his shoes? No, I didn't think so, either. It'll be interesting to see what happens to Melo's shoe popularity if he flees the wreckage that is the New York Knicks in his impending free agency.
5. Dwyane Wade — $12 million — Li Ning

Ok, this is the one outlier on our list — Wade's deal with Chinese shoe manufacturer Li Ning. Wade, who had grudgingly been with Nike/Jordan since 2003 when they bought Converse (his original sponsor), signed with Li Ning in 2012, becoming the biggest shoe related coup since Grant Hill signed with FILA. While Li Ning had signed shoe deals with Shaq, Baron Davis, and Evan Turner, Wade was the only real superstar to sign with the brand while he was still a superstar, even if he was on the tail end of that trajectory by 2012.
After signing with the company, Wade and Li Ning made a commercial titled "Make Your Own Way" that provided a visual accompaniment to his decision to leave Jordan and Nike and create his Way of Wade sneaker (and judging by his position on this list, Wade's way is paying dividends.)
4. Kevin Durant — $14 million — Nike
You had to know this one was gonna be on here. Kevin Durant, bonafide basketball icon (and possible Jordan-chaser) has had a fiscally healthy relationship with Nike since signing a deal with them back in 2007. Durant, who's latest shoe, the KD VI, comes in every size and shape you can think of — hi-top, low-top, toddlers, size 15 — and is sported by at least a few other players around the NBA is undoubtedly one of the most popular pair of kicks in the basketball sneakers world.
Despite his recent protestations that he doesn't dig the "Slim Reaper" nickname, Durant's got to remember that he doesn't get to choose that one.
3. Derrick Rose — $21 million — Adidas
We all remember this one. We spent a whole year watching it. DeMarcus Cousins makes jokes about it. The Return was Adidas's 2013 ad campaign about Derrick Rose's rehab. It was a great commercial the first time. By the hundredth time, it had lost some luster. After seeing how much Adidas was paying Rose to get back onto the court, though, all the airtime made sense.
Rose, the youngest NBA MVP ever (and it was a legitimate award — he was the best player on the best team) was the next iteration of NBA superstar, and his deal with Adidas, inked in his rookie year, had been increased to a 14-years and $250 million, according to ESPN. With his future uncertain, it's almost a guarantee that Adidas is regretting the contract, while the rest of us are just regretting the fact that we don't get to watch him play.
Instead of putting up that commercial (we've all seen it enough), here are some Rose highlights from his too-brief return in 2014.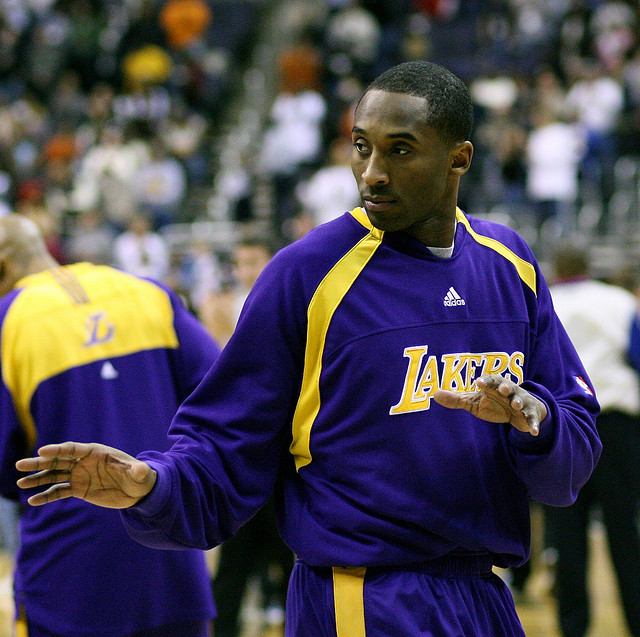 2. Kobe Bryant — $34 million — Nike
Did you know that Kobe was originally signed to Adidas? Back in 1996, when Kobe was just a rookie, he inked a deal with Adidas that lasted him until 2003 when he moved over to Nike. That's a true story. If you've got time, Kicksologists has a comprehensive list with pictures of every one. There's a ton. A metric ton.
After resigning with Nike in 2007, Bryant went on to cement his legacy with two more championship rings and approximately a zillion more points, residing fourth on the all time scorer's list. Nike's decision to stick with Bryant after his image took a huge hit in that Colorado hotel room proved to be a profitable one for all parties involved. Plus, it got him the KobeSystem ad, which is easily the best thing he's ever done. Ever.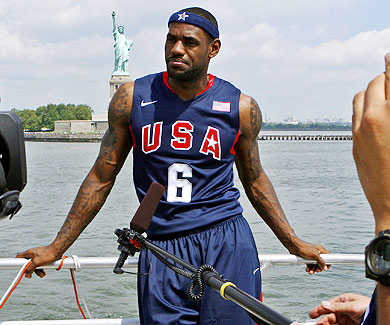 1. LeBron James — $42 million — Nike
It's good to be the king. You get to hang out in your jersey getting interviewed on boats, you can seriously contemplate winning three consecutive NBA titles in a row, and your shoes make you a ton of money. Definitely makes those millions you sacrificed by joining the Heat go down easier.
James, who signed a then-record deal with Nike in 2003 for $90 million dollars, extended with the company in 2010, keeping him signed, sealed, and delivered until 2017.  Really, the only thing that could've gone better for James and Nike would've been Kobe and LeBron actually meeting in the Finals. But, because they didn't, those Nike commercials with the puppets are just hilarious filler.