10 All-Time Favorite Sports-Themed Marriage Proposals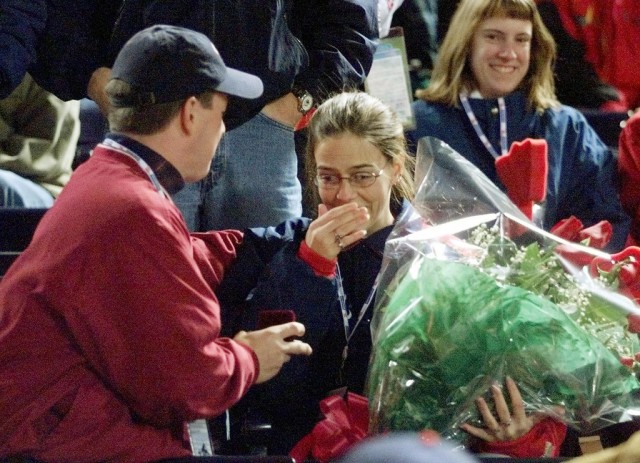 With the recent news of a young man using Alabama coach Nick Saban's office as the setting for a marriage proposal to his girlfriend — even temporarily switching out a Crimson Tide BCS championship ring for the lucky lady's diamond engagement ring — it seems like the right time for us here at The Cheat Sheet to take a look back at some of the most memorable sports-themed proposals of all-time.
History provides plenty of options to choose from, both in the stadium (such as the 1999 World Series proposal pictured above) and outside it. Some are unique, some are costly, and some have become nearly cliche.
We've ranked our top ten on a completely subjective basis and have included video clips of each for your perusal. Did we miss a noteworthy proposal? Tell us in the comments.
10. The Kiss Cam
We start with perhaps the most predictable model of the sports-themed marriage proposal — the Kiss Cam method. The camera is already panning around the stadium looking for happy lovebirds, so what better way to use the spotlight than popping the question? The example above comes in video form to us from a 2012 Astros game in Houston, but there have been plenty of other similar occurrences at sporting events through the years.
9. The Hot Dog Contest
Competitive eating champion Joey Chestnut, known for winning the Nathan's Famous Fourth Of July Hot Dog Eating Contest for eight years in a row, made a different sort of history at the 2014 event when he proposed to girlfriend Neslie Ricasa, just before chowing down sixty-one hot dogs. Ricasa, also a contestant in the Nathan's contest, said yes…but (in case you were wondering) she only ate ten hot dogs. This one might have been ranked a little bit higher on our list, except we really don't want to admit that competitive eating qualifies as a sport.
8. The Prank
The New Britain Rock Cats, a Class AA minor-league baseball team, drew national attention in 2013 after releasing a viral video of a rejected proposal that took place on the field during one of the team's games. "She said no" blew up on social media, but, come to find out, she really didn't say no at all. The team admitted later that the 'boyfriend' and 'girlfriend' were actually Rock Cats employees, and the whole thing was simply nothing more than a publicity stunt. "This endeavor was intended to entertain and remind fans you never know what you're going to see at a Rock Cats game," said the team's vice president of marketing.
7. The Mascot and the Cheerleader
Chicago Bulls cheerleader Ariana Rosado had no idea when the song suddenly changed during a dance routine that one of the most memorable moments of her life was about to unfold. As the new music, Bruno Mars's "Marry You," played over the PA system, Rosado's boyfriend Shane Zackery walked out on the floor wearing an inflatable Benny the Bull suit. He quickly discarded the mascot outfit to ask his surprised girlfriend the all-important question. Fun fact: Zackery told the New York Daily News he was most nervous not about the proposal itself, but about the possibility of getting stuck in the 'very-hot' mascot suit.
6. The 'Injury'
Many good wedding proposals involve some level of deception to keep the bride-to-be unaware, and some more than most. This entry on our list may take the cake though, as it includes a near-Oscar-worthy performance. Fresno Pacific assistant men's soccer coach Fabricio Nazare proposed to Sara Vega, a player on the women's team, after faking a painful hamstring injury during a practice scrimmage. He grabbed his leg, writhed around in agony on the field for a few minutes, and then sat up with a smile and proposed marriage. Despite the roller-coaster swing of emotions from the first-concerned/then-confused girlfriend, she apparently said yes to her suitor anyway.
5. The Team Huddle
After a November 2013 win over Washington, UCLA linebacker Stan McKay proposed to his girlfriend on the field at the Rose Bowl. What made this situation different than other on-field proposals, though, was the entire Bruins team (and coach Jim Mora) gathered in close around the happy couple. The roar of ecstatic celebration from the congregated players (along with a few random teammates excitedly jumping up and down during the whole process because they just couldn't contain themselves!) makes this proposal especially unforgettable.
4. The Parachute
Air Force cadet Eric Wallace popped the question in style before one of the school's football games, parachuting into Falcon Stadium to get down on one knee before his surprised girlfriend, Melanie. It's true: Jumping from thousands of feet in the air to propose brings a whole new meaning to the phrase 'taking the plunge.' The best part of this video clip is how the future Mrs. Wallace can't stand still — she initially does a backpedal that would make a cornerback proud, then finishes nearly marching in place before embracing her beloved skydiver.
3. The Super Bowl
New York Giants rookie Greg Jones celebrated his team's Super Bowl XLVI win over the New England Patriots by asking his girlfriend, Mandy Piechowski, to marry him. With confetti and cameras everywhere, a tearful Piechowski answered in the affirmative. At first, she couldn't even manage to understand what was happening. "He pulls out a box and I am still not comprehending what he was about to do," Piechowski told ESPN.com. "First thing I thought of was their ring and that doesn't make sense." Jones said one of the players on the practice squad held onto the engagement ring for him during the game, and he would have picked a different time if the Giants had come up on the wrong end of the scoreboard. Of course, Jones is far from the only player to propose after winning a football game, but something about the Super Bowl makes this setting just a bit more special.
2. The Homecoming
No matter how many surprise military homecoming videos we watch, they never, ever get old. And when there's a diamond ring in the equation, an unbelievable moment of joy somehow becomes multiplied by a once-in-a-lifetime question. The Kansas City Royals hosted this proposal, where an overcome Celi leaped into the waiting arms of her soon-to-be-fiance Eddie, in May 2011. The game actually took place on Memorial Day, which seems fitting for the earlier-than-expected return of a loved one from overseas. Good luck trying to watch this clip without getting goosebumps.
1. The Statue of Liberty
Undoubtedly, one of the most memorable marriage proposals of all time came in January 2007 after the Fiesta Bowl. In a game that had it all, including an undefeated David facing off with a powerhouse Goliath, a 4th-down hook-and-ladder play to tie the game in the waning seconds, an attempted 2-point conversion in overtime instead of kicking to extend the game, and an even more unbelievable trick play with the famous 'Statue of Liberty' call, why not add a storybook proposal to a storybook season? Boise State RB Ian Johnson took the no-look handoff, scampered into the end zone to stun Oklahoma 43-42, and then got down on one knee on national television to propose to Broncos cheerleader Chrissy Popadics. Years, decades, or centuries from now, when the topic of sports-themed marriage proposals is raised, this Ian Johnson highlight will immediately jump to mind.