NFL: The 10 Dumbest Injuries Ever
Injuries are a part of the NFL. Always have been, always will be. Of course, the overwhelming majority of these bumps, bruises, cuts, tears, breaks, and dislocations come on the field as a result of a play in practice or a game, as we would expect, but there are exceptions to every rule. Here are 10 of the dumbest injuries NFL players have ever suffered, including one player lucky/unlucky enough to make our list twice! (Players are listed in alphabetical order.)
1. Orlando Brown, 1999
Cleveland Browns lineman Orlando Brown was accidentally hit in the eye by a penalty flag during a 1999 game against Jacksonville. Brown angrily confronted official Jeff Triplette, who had thrown the flag, pushing him to the ground and earning an ejection in the process. Brown was hospitalized for nearly a week and didn't play another NFL game until 2003. He sued the league and eventually settled for millions of dollars.
2. Plaxico Burress, 2008
From the highest of highs to the lowest of lows: less than ten months after catching the game-winning touchdown in the final seconds of Super Bowl XLII, New York Giants WR Plaxico Burress (pictured above) accidentally shot himself in the leg with a gun unlicensed in the state. Burress was in a New York City nightclub in November 2008 when the incident happened, and eventually served nearly two years in prison for the firearms-related charge. He made his NFL return in 2011 with the Jets.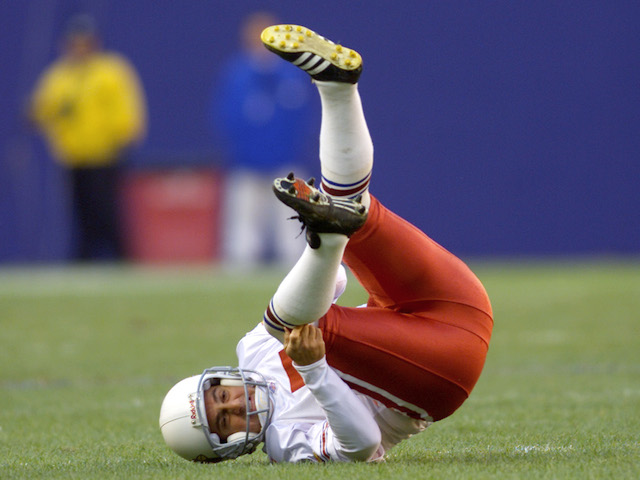 3. Gus Frerotte, 1997
On November 23, 1997, Washington quarterback Gus Frerotte decided to celebrate a touchdown run against the New York Giants by headbutting a wall. Yes, on purpose. Needless to say, that wasn't a great plan. Frerotte sustained a sprained neck, underwent X-rays at halftime, and was finally taken to the hospital during the game. Frerotte's team didn't score again without him that day, finishing with a 7-7 tie and leading to this Washington Post headline: "Head-Butt Turns Into Real Pain in the Neck."
4. Bill Gramática, 2001
Arizona Cardinals rookie kicker Bill Gramática tore his ACL while jumping to celebrate a made field goal — from 42 yards. In a regular season game. In the first-quarter. To be clear, the over-exuberant (and apparently unembarrassed) Gramática says he didn't suffer the injury jumping. "My jump was excellent. It was my landing I needed to work on." To his credit, Gramática stayed in the game long enough to kick a 23-yard field goal in the next quarter, but the unwise leap of joy on his first try of the game ultimately did land him on injured reserve.
5. Brian Griese, 2002
We've all heard of the dog ate my homework excuse. But what about the dog tripped me on the stairs? Denver Broncos quarterback Brian Griese suffered a seriously sprained ankle in September 2002 when his pet tripped him as they were walking down the stairs. Fortunately for Griese, X-rays were negative and he was able to play in the team's next game against Baltimore. Teammate Shannon Sharpe wasn't buying Griese's explanation, telling reporters that, "I'm not a very good storyteller, but I think I could have come up with a better one than that … So the dog stood up on his hindlegs and gave him a push? You might want to get rid of that dog or put him in the circus, one of the two."
6. Chris Hanson and Jaret Holmes, 2002
Two Jacksonville Jaguars players — a punter and a kicker — both suffered serious burns in a fondue accident at the punter's house in 2002. No need to get your eyes checked — the previous sentence really does say fondue. Chris Hanson and Jaret Holmes, paired together for obvious reasons, were "moving the fondue pot when it slipped onto the tile floor," according to Hanson. The incident happened during the offseason, and both players were healthy and ready to go by the time training camp rolled around.
7. Chris Hanson (again), 2003
It's been said that lightning never strikes the same place twice. While we'd like to think that dumb injuries can't hit the same player twice, that's sadly not the case. Jaguars punter Chris Hanson shows up twice in a row on this list, because in 2003 — the year after the fondue accident — Hanson cut himself with an ax in the team's locker room. Jacksonville coach Jack Del Rio had installed a tree stump and ax to symbolize his team's "Keep chopping wood" slogan, and — rather predictably, in our estimation — the visual illustration didn't end well. "Chris said that everyone else had been taking a swing with the ax, chopping the wood, and he finally decided to do it too," Hanson's agent told ESPN.com. Hanson cut his foot badly enough to need surgery and missed the season's final 11 games.
8. Brandon Marshall, 2008
What's the only thing worse than accidentally putting your arm through an entertainment center? Accidentally putting your arm through an entertainment center because you slipped on a McDonald's bag. That's what we learned from Brandon Marshall's March 2008 injury. The Denver Broncos wide receiver "severed an artery, vein, tendon, [and] muscles in his right forearm" in the incident. Marshall was able to recover enough during the 2008 offseason to play for Denver when the regular season rolled around (catching over 100 passes, including 18 in his first game back), but admitted after the season that his hand was numb the entire year.
9. Derrick Mason, 2003
Tennessee Titans wide receiver Derrick Mason broke his hand in May 2003 during a charity golf tournament. Mason was teeing off and did so rather poorly, swinging his club into the ground and causing his hand to swell up immediately. The fractured bone would heal in plenty of time for Mason to participate in the Titans' 2003 season, although it's still unclear if his pride has healed yet after the less-than-textbook swing.
10. Stephen Tulloch, 2014
Detroit Lions linebacker Stephen Tulloch is the latest addition to this list, injuring his knee during a September 2014 game against the Packers. Tulloch didn't get hurt making a play — no, he crumpled in pain after celebrating a play. Tulloch was mocking Packers quarterback Aaron Rodgers' "discount double-check" move after a first-quarter sack of Rodgers, and was unable to continue in the game. Lions coach Jim Caldwell referenced the Bill Gramática celebration as he discussed the Tulloch injury after the win: "Those things are flukes, and our guys will keep certainly being excited about what they do." Might we suggest just a little bit less excited?
Did we miss any? Let us know — and shoutout to Jason Pierre-Paul.