NBA Big Men: 10 of the Greatest Players of All Time
An elite Big Man is the ultimate cornerstone of any franchise. Great power forwards and centers score at will in the post, make plays on the defensive end, and dominate the paint to grab tough rebounds in traffic. A balanced team often combines a strong interior presence alongside clutch outside shooting to win ballgames. The Los Angeles Lakers, Boston Celtics, and San Antonio Spurs franchises have all built celebrated dynasties behind Hall-of-Fame NBA big men anchoring the low block.
NBA lore has been built on images of Shaquille O'Neal tearing down the basket support, Wilt Chamberlain scoring at will en route to 100 points, Bill Russell making the calls on defense, Tim Duncan wheeling and dealing down low for easy scores, and Kareem Abdul-Jabbar rising up to deliver his patented sky hook. They are unstoppable.
10. David Robinson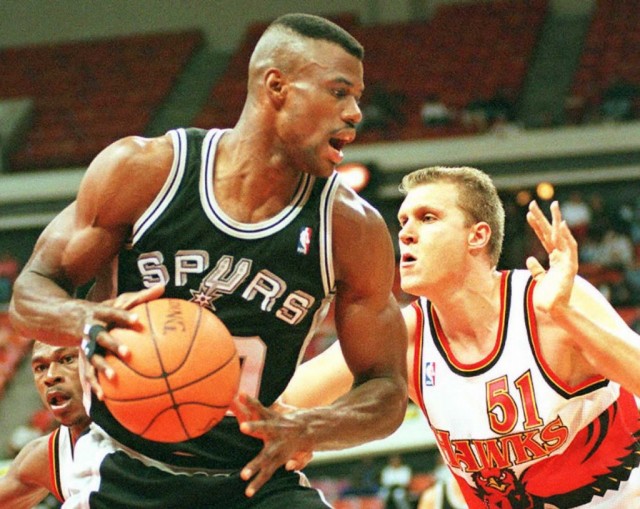 Remarkably, David Robinson stood out as a physical specimen within a league of world-class athletes. In the post, Robinson used his quickness and agility to slide past lumbering defenders for easy scores time and time again. In space, The Admiral would either rise up to knock down mid-range jump shots or dribble drive to the basket for hooks, layups, and dunks. On the defensive end, Robinson was a quick leaper who would fly across the lane to block shots and control the boards for key possessions. In all, he finished up his 14-year career with 21-point, 11-rebound, and 3-block per game averages.
Due to his 'Nice Guy' demeanor, Robinson has been historically criticized for his lack of a killer instinct. After claiming 1995 MVP honors, Robinson went on to get torched by an angry Hakeem Olajuwon, who dominated the Spurs in the playoffs for 35 points, 15 rebounds, and 5 assists per game averages.
In 1998, the San Antonio Spurs drafted Tim Duncan out of Wake Forest with the first overall pick. From there, David Robinson was to join forces with one of the greatest power forwards ever and bring two NBA championships back home to San Antonio in 1999 and 2003.
9. Charles Barkley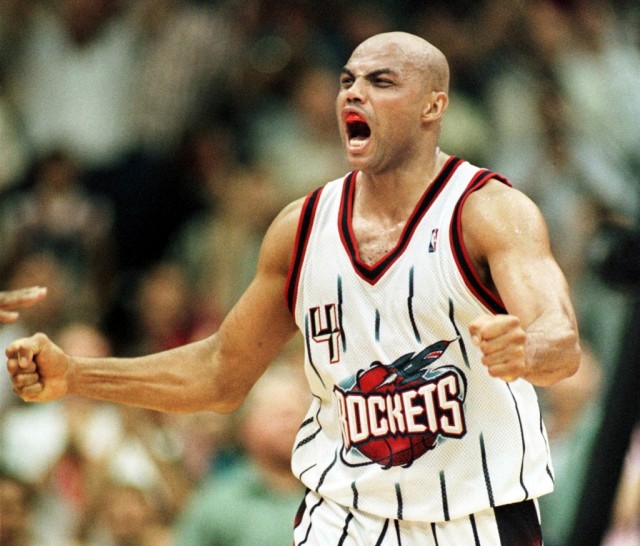 Standing at a mere 6-foot-4, the Round Mound of Rebound played with a reckless abandon, and transformed himself into one of the game's greatest big men through heart and desire. Before LeBron James, Sir Charles was the runaway freight train that would crash the defensive boards, control the basketball, and turn up court. As a playmaker, Barkley would attack the goal with a full head of steam before throwing down his trademark gorilla dunk over any stiff who stood in his way.
For Philadelphia, Barkley was a force who used his wide girth and explosive leaping ability to dominate the low block. Over time, Barkley added a mid-range jump shot to his game to star as the total package at power forward. With limited postseason success, however, Barkley talked his way out of Philadelphia and was shipped off to Phoenix in a blockbuster trade for Jeff Hornacek, Tim Perry, and Andrew Lang.
In 1993, Barkley put it all together for the Phoenix Suns. That MVP season, Sir Charles had added an effective three-point shot to his arsenal, while also improving further as a ball-handler. For the year, Barkley turned in 26 points, 12 rebounds, and 5 assists to go alongside 1.6 steals and 1 block per game. Barkley and his Suns, however, were to be denied a championship by Michael Jordan and the Chicago Bulls.
8. Moses Malone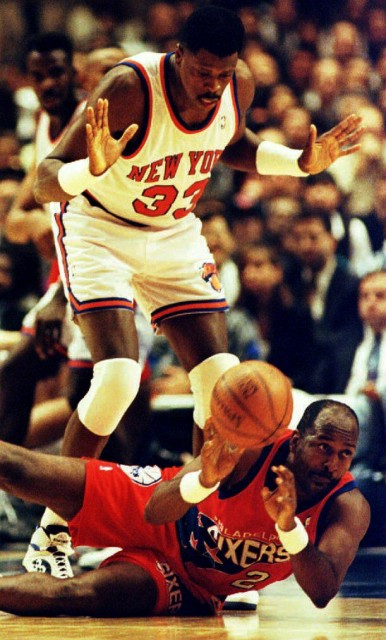 Moses Malone was a workhorse, and His name became synonymous with the term "double-double," as this big man dominated the paint for points and rebounds through 21 years of professional basketball. As a prep-to-pro, Malone made an immediate impact within the professional ranks when he hung up 19 points and 15 rebounds per game for the Utah Stars during 1974-1975 regular season. After two seasons in the ABA, Moses Malone made the transition to the NBA, where he starred at Houston, Philadelphia, and Washington before finishing out the twilight of his career in Atlanta, Milwaukee, Philadelphia, and San Antonio.
As a blue-collar player, Moses Malone led the league in rebounding six times between 1978 and 1985. When working the boards, Malone was adept at playing the angles to carom shots before boxing out and grabbing rebounds. He was especially dangerous on the offensive glass, where his pogo-stick leaping ability would own the opposition for easy put-backs and dunks.
Offensively, Malone operated with the total package of drop steps, hooks, and fade-away shots to score the basketball on the low block. At 6'10", Malone was also able to put the ball on the floor and bull his way toward the basket from the elbow area. In his best season, Moses Malone averaged 31 points and 15 rebounds per game as a member of the 1981-1982 Houston Rockets.
As a three-time NBA MVP, Moses Malone was heralded as the final piece of the championship puzzle in Philadelphia. The 1983 76ers destroyed the competition behind the wing acrobatics of Julius Erving, microwave scoring of Andrew Toney, floor leadership of Maurice Cheeks, and, of course, the rugged post presence of Moses Malone.
7. Karl Malone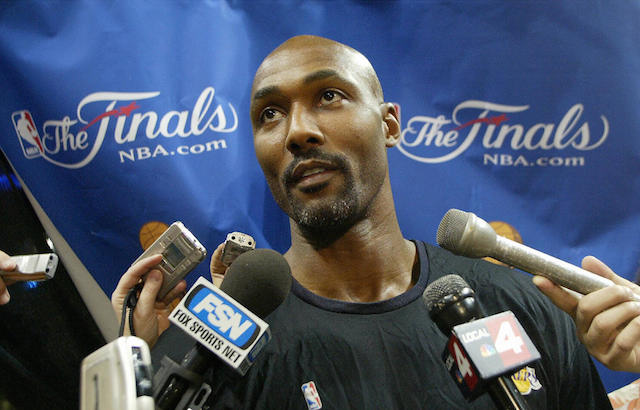 Karl Malone was a beast. As 6'9? and 250 pounds of muscle, it was impossible to root Karl Malone out of the low block. In the post, The Mailman would seal off defenders and set up shop on the low block for easy scores. Over time, Malone developed a face-up game from 15 feet, in which he could knock down mid-range jumpers, beat his man off the dribble drive, or even turn and spin to swish a fadeaway shot.
The Mailman, of course, was only one half of the Stockton to Malone drumbeat parade. Stockton to Malone for the scoop shot lay-in off the pick and roll. He fed Malone for the pretty-boy, behind-the-head dunk in transition. And he curled off the Malone screen to hit the dagger three and fire up the crowd at Salt Lake. Over the course of 19 years, Stockton to Malone largely translated into 36,928 points for the Mailman and 15,806 assists (first of all time) for his point guard. Malone finished his career second on the all-time scoring list, only behind Kareem Abdul-Jabbar.
Karl Malone, however, was left standing at the championship altar by Michael Jordan. Jazz fans will forever shudder at the image of No. 23 stripping the basketball out of Malone's alligator arms and coming back to cross over Bryon Russell at the top of the key for the game-winning 1998 NBA Finals shot.
6. Hakeem Olajuwon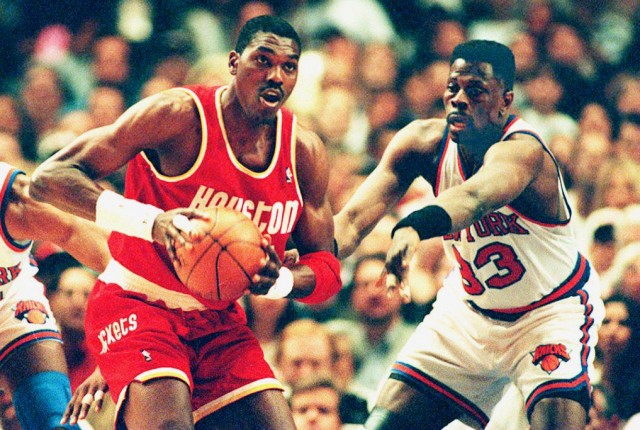 A former soccer player, Hakeem Olajuwon packaged the agility of a guard into the frame of a 7-foot center. Famous for his Dream Shake, Olajuwon would devastate opponents with his mix of shimmies, spin moves, hook shots, and fadeaway jumpers. On the defensive end, Hakeem Olajuwon was a cat-quick center that roamed the interior for timely steals and blocks. For his career, The Dream averaged 3.1 blocks and 1.7 steals per game as a defensive maven.
In his prime, Hakeem Olajuwon challenged and dominated all comers. In the Western Conference Finals, Olajuwon took David Robinson to school before abusing Patrick Ewing and a young Shaquille O'Neal to bring two championships back to Clutch City.
Picture Hakeem Olajuwon facing up David Robinson on the baseline and putting the ball on the floor to cross over the Admiral. In the post, Olajuwon would spin, wheel and deal, up fake, and lift Robinson off his feet before dropping in a sweet scoop shot.
5. Tim Duncan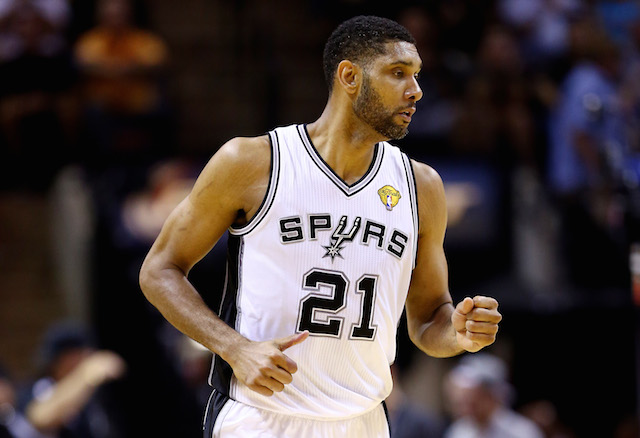 The Big Fundamental has been a model of consistency. On the low block, Tim Duncan combined the technical footwork of a Kevin McHale alongside the lateral quickness of mentor David Robinson. Tim Duncan's precise demeanor has often been compared to insurance sales and tax preparation. On the wing, Tim Duncan has been able reach into his bag of tricks to hit bank shots off the glass, dribble drive into the paint, and work his post-up game for clutch baskets right at the front of the rim.
With his stoic nature and winning ways, Tim Duncan is the perfect match for military town San Antonio. As the focal point of the Spurs' dynasty, The Big Fundamental may now claim five NBA championships to his credit, making him one of the greatest power forwards of all time.
4. Shaquille O'Neal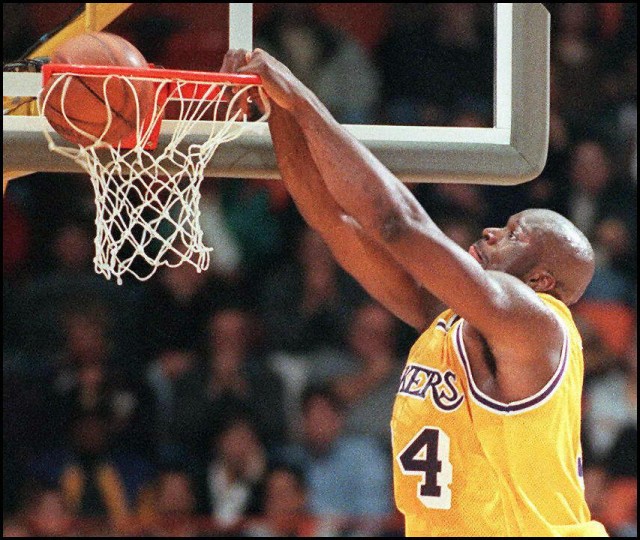 An unreal combination of size, speed, and athleticism, Shaquille O'Neal starred as the most dominant NBA force throughout his prime. Standing 7'1? and weighing in at 325 pounds, O'Neal would simply bowl people over to get what he wanted. As a literal man amongst boys, Shaq camped out in front of the basket, took entry passes, and powered his way up for dunks time and time again. In response, frustrated coaches would employ the Hack-A-Shaq defense and send entire front line personnel to take him down. Never mind that — Shaq would simply discard his fellow 7-foot brethren as if they were mere rag dolls before he tore down the basket support.
In Orlando, Shaq teamed up with sidekick Penny Hardaway to create a formidable one-two punch before leaving for the bright lights (and money) of L.A. With the Los Angeles Lakers, The Big Aristotle joined forces with a young Kobe Bryant to win three titles. Like all things Hollywood, of course, the Laker marriage between Shaquille O'Neal, Phil Jackson, and Kobe Bryant inevitably blew up due to high drama. As the casualty of the divorce, Shaq was shown the door and given his golden watch alongside a one-way ticket to Miami.
As a member of the Miami Heat, Shaquille O'Neal fell back to play the role of Robin to Dwyane Wade's Batman when the pair brought a championship title to South Beach. After the confetti settled, Shaq ultimately took his act to Phoenix, Cleveland, and Boston – in an attempt to chase after even more rings.
3. Bill Russell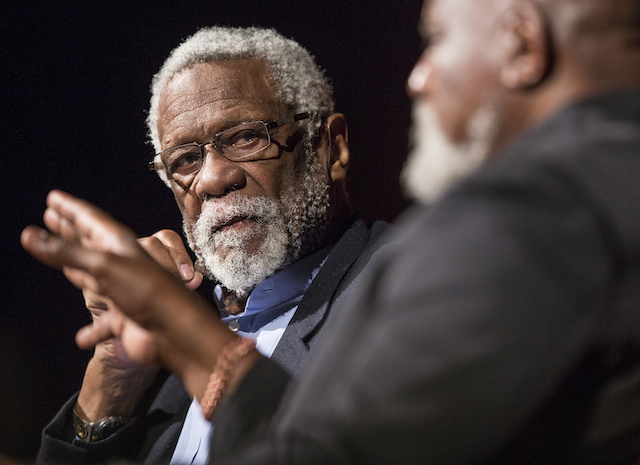 Bill Russell was the greatest defensive center of all time. He revolutionized the idea of help defense, as he would either rotate off his man to protect the rim on the dribble drive and block shots, or recover back into the passing lane for steals and deflections. A fierce rebounder, Russell learned to play the angles and use his quick leaping ability to control the boards.
Largely due to instinct and technique, the great Bill Russell was able to average 23 rebounds per game throughout his 13-year career. Although Russell rarely had his number called in offensive sets, he also tacked on 15 points and 4 assists per game to go alongside his impressive defensive prowess.
Most importantly, Bill Russell was a winner. As the anchor of the Celtics' dynasty, Russell brought home a total of 11 championships to the city of Boston. In doing so, Bill Russell commanded the respect of Bob Cousy, Sam Jones, John Havlicek, and, of course, archrival Wilt Chamberlain, as the ultimate competitor.
2. Kareem Abdul-Jabbar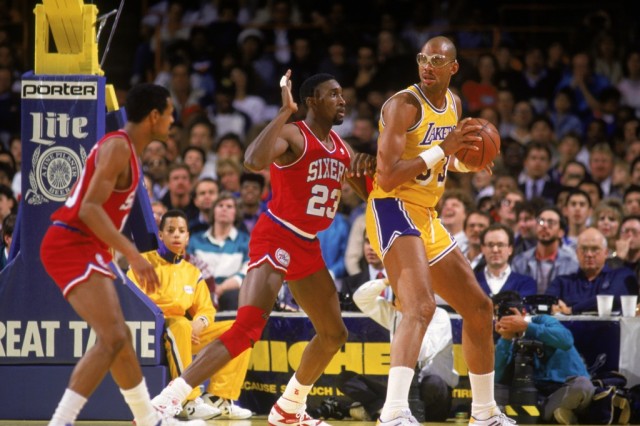 Incredibly, Kareem Abdul-Jabbar's NBA career actually exceeded tall-tale expectations. Over the course of 20 years, Abdul-Jabbar amassed 38,387 total points and hung it up as the NBA's all time scoring leader. To rack up points, Abdul-Jabbar would tower over opponents to drop in his patented skyhook. Good from either hand, Kareem was automatic on the block from fifteen feet and in.
As a winner, Kareem Abdul-Jabbar took home a total of six rings that mirrored his career arc. In 1971, Abdul-Jabbar had immediate success as the savior of the Milwaukee Bucks and helped an aging Oscar Robertson claim his one and only championship. For the Los Angeles Lakers, the prideful Kareem gradually passed the leadership torch over to Magic Johnson. By 1988, Abdul-Jabbar had made the transition from a focal-point center and into an effective role player of the Showtime Lakers. Kareem Abdul-Jabbar retired at the age of 42, after having won six NBA championships.
Kareem Abdul-Jabbar got it done.
1. Wilt Chamberlain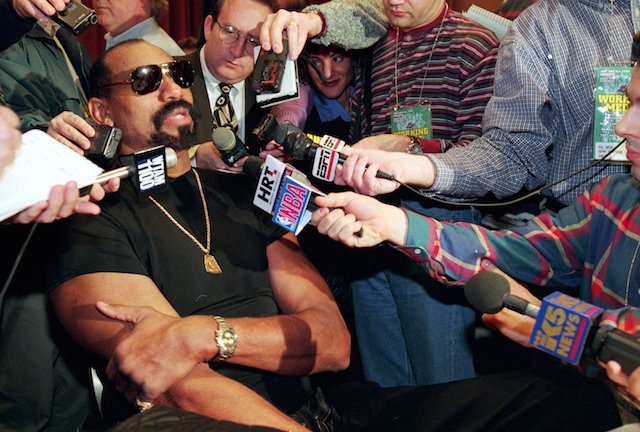 Wilt Chamberlain was the greatest NBA big man of all time. Throughout his career, the Big Dipper put up video game-like numbers. A giant before his time, Chamberlain led the NBA in both scoring and rebounding during his first four seasons as a professional. In 1961-1962, Chamberlain posted a staggering 50-point, 26-rebound per-game year for the Philadelphia Warriors. This season also includes The Stilt's signature 100-point game where he absolutely dominated the New York Knicks. As somewhat of an added bonus, Wilt actually led the NBA in total assists during 1968.
As a natural talent, Wilt Chamberlain's individual abilities can never be denied. And although Bill Russell may have had Wilt's number, Bob Cousy, John Havlicek, and Sam Jones never walked through that door for the Big Dipper as teammates. In any event, Chamberlain's legacy did include two NBA titles. Wilt Chamberlain left the game of basketball with nothing else left to prove.
Statistics courtesy of ESPN and Basketball-Reference.