10 of the Greatest NBA Shooting Guards of All Time
The shooting guard's primary responsibility has historically been to score the basketball. In some cases, the shooting guard is the offense, because he is able to put the ball on the floor, break down the defense, and create his own shot at will. Beyond simply putting the ball in the hoop, the greatest all-around players can control the action in all phases of the game.
At any time, the all-time great shooting guards could just kick it into that extra gear and slap together staggering triple-double stat lines. At home, these showmen delight crowds with slick ball-handling, silky-smooth jump shooting, and no-look passes in transition. On the road, the best shooting guards transformed into the ultimate villains; they demanded the basketball to run rough-shod over the competition, shut up the home crowd, and seal victories with clutch-time free throws. Here are 10 of the greatest shooting guards seen in the NBA.
10. Ray Allen
Ray Allen is getting the slight nod over Reggie Miller as an all-time great. As scorers, Allen and Miller will always be compared to each other. Both wing scorers shared deft shooting touch, superb conditioning, and vintage off-the-ball movement. Miller, however, could never get past Michael Jordan.
Allen, with 2,973 three-point field goals to his credit, has two championship rings — as a Boston Celtic and as a veteran Miami Heat role player. As a gentleman out on the floor, Allen never flashed the choke sign or traded barbs with Spike Lee beneath the bright lights of Madison Square Garden. Allen, instead, was simply all business in Milwaukee, Seattle, Boston, and Miami — to the tune of a 19-point per game career scoring average over 19 years in the league.
9. Earl "The Pearl" Monroe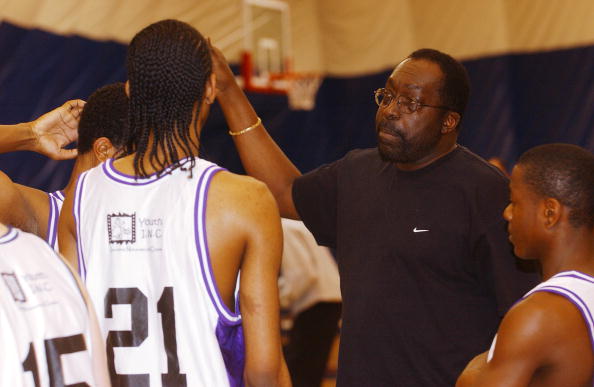 Apparently Earl Monroe came out the womb ready to drop 40. A pure scorer, The Pearl went from Philadelphia schoolboy legend to dominate the league with his flamboyant style. In between stops, Monroe managed to average 42 points point per game as a senior at Winston Salem State. Monroe took his high-octane act to the professional ranks as the second overall pick in the 1967 draft for the Baltimore Bullets. In 1971, Monroe was shipped up north where he teamed up with Walt "Clyde" Frazier to own New York and take home a 1973 NBA Championship.
Over a thirteen-year career, Monroe made it look easy as he averaged 19 points per game as a professional. Monroe was a silky smooth scorer, who would pin the defense on his back with a spin move before dropping a floater into the net.
8. Pete "Pistol Pete" Maravich
Pistol Pete Maravich was one of the most unique athletes to ever don a pair of basketball shorts. From his days at LSU and into the NBA, Maravich electrified crowds with his scoring ability, showmanship, and slick ball-handling. In the 1970s, Pete Maravich helped introduce a street ball style to the professional ranks. Vintage Pistol Pete would don his sloppy socks, receive an outlet pass in the backcourt, cross over between his legs, and go behind the back before raising up for a clutch jumper on the wing. Maravich could and would fill it up.
Over the course of eleven seasons, Maravich shredded defenses for his 24-point, 4-rebound, and 5-assist per game averages. In his best season, Maravich led the 1976-1977 NBA in scoring — with 31 points per game. To boot, the Pistol also averaged five rebounds and assists per game that season for the New Orleans Jazz.
7. Clyde Drexler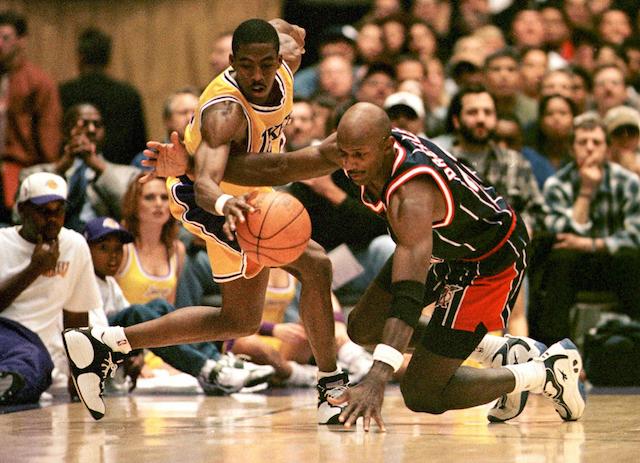 Clyde "The Glide" Drexler was a raw athlete. Because of his explosive first step and other worldly leaping ability, Drexler could get by on a jump shot that may have been described as serviceable, at best. Drexler electrified Portland crowds with his end-to-end high-wire act. A founding member of Phi Slama Jama, The Glide was well known for his ability to throw down a thunderous tomahawk jam, and swing the momentum of an entire ball game.
As a Trailblazer, Drexler averaged more than 25 points per game during three separate seasons and made two trips to the 1990 and 1992 NBA Finals. In the finals, Drexler's Blazers were stopped short by the likes of Isiah Thomas and Michael Jordan. Via trade, Drexler was to return back to Houston and again team up Hakeem Olajuwon to win the 1995 NBA Finals. Critics, however, might suggest that this championship was deserving of an asterisk: Jordan was out of basketball that season.
6. John Havlicek
In true Boston Celtic form, John Havlicek (left, above) was an overachiever, whose overall game was greater than the collective sum of its parts. Largely playing beneath the rim, Havlicek earned his spot as the all-time scoring leader for the Celtics through grit, hustle, and determination. Hondo did not necessarily beat defenders through raw athleticism and rim-rocking jams. Instead, Havlicek wore the opposition down through conditioning and would run his man into the ground down the stretch into the fourth quarter on both ends of the floor. A model of consistency, he averaged 21 points, 6 rebounds, and 5 assists per game after putting in sixteen years of service at the NBA level. Hondo claimed eight championships with the Celtics dynasty that included Red Auerbach, Bill Russell, Bob Cousy, and Sam Jones.
5. Allen Iverson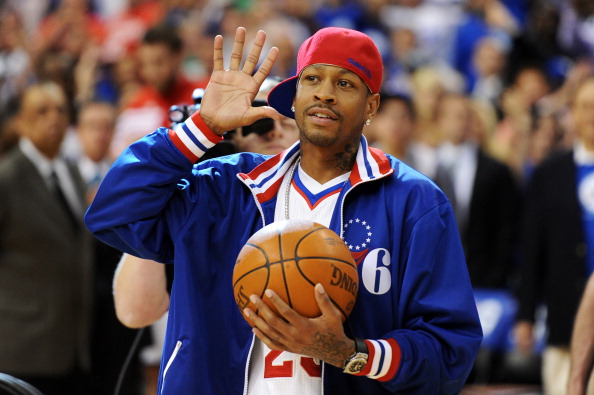 Pound-for-pound, Allen Iverson was the toughest man to ever play basketball. Standing 6-foot and weighing in at a svelte 165, Iverson had no regard for his own body. The relentless A.I. remained locked into attack mode from the opening tip. Love him or hate him, no reasonable NBA fan could question Iverson's tenacity, aggressiveness, and overall swagger. In terms of stats, Iverson reigned as the NBA's scoring champion on four separate occasions and finished up his NBA career with a 27-point per game average. Beyond the stats, cornrows, tattoos, and "we talkin' bout practice" rant, A.I. will forever be immortalized through his 1997 encounter with Michael Jordan. In Philadelphia, Iverson took on Jordan at the top of the 3-point circle. Controlling the ball, A.I. crossed up Michael with his patented left-to-right D.C. Crossover shimmy, before lighting up Jordan with a foul line jump shot.
4. George Gervin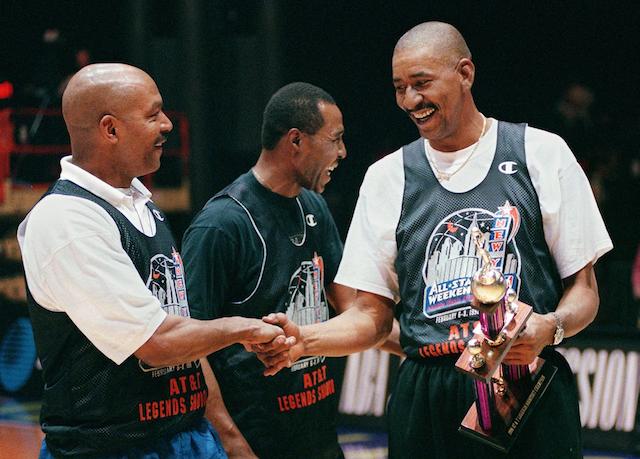 As cool as the other side of the pillow, George Gervin knew how to score the basketball. Seemingly at will, Gervin (right, above) could get hot from the outside, post up, and drive the lane. To finish, Gervin would elevate and finger-roll the ball into the hoop, over the outstretched arms of opposing big men time and time again. Working the perimeter in the ABA and the NBA, the Ice Man averaged 25 points per game as a professional basketball player between 1972 and 1986. No. 44, of course, did most of his damage in San Antonio, where he led the NBA in scoring four out of the five seasons from 1978 to 1982. In his best (1979-1980) season, Gervin torched the opposition for 33 points per game.
3. Jerry West
The Jerry West silhouette ultimately emerged as the NBA Logo. As testimony to his all-around play, West averaged 27 points, 6 rebounds, and 7 assists per game throughout his fourteen-year NBA career. With this stat line, Mr. West proved that he was equally adept as a playmaker as he was as a scorer. In 1972, Jerry West actually led the league in assists (9.7 APG) — to go alongside his 26 points per game average. In the NBA Playoffs, West earned his Clutch moniker, despite the fact that he lost eight out of his nine bridesmaid trips to the Finals.
West holds the record for playoff series scoring average — with an unreal 46 points per game in five match-ups versus the 1965 Baltimore Bullets. Also of note, West took home the 1969 Finals MVP trophy, despite losing the series to the Boston Celtics. In the clinching Game 7 defeat, West dominated all aspects of the game, in compiling 42 points, 13 rebounds, and 12 assists. Thwarted by the Boston juggernaut yet again, West would not taste NBA Championship victory until he teamed up with Wilt Chamberlain to beat the 1972 Knicks. Upon his playing retirement, West easily transitioned into one of the league's most formidable executives. As Lakers general manager, West engineered a 1996 draft day trade to bring Kobe Bryant to Los Angeles.
2. Kobe Bryant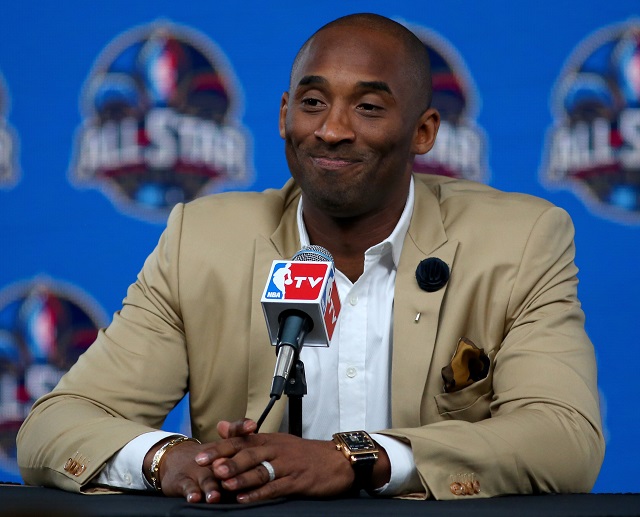 Kobe Bryant is that rare athlete whose career arc has actually exceeded the obscene hype that preceded his first professional warm-up session. As a young pup fresh out of high school in 1996, Bryant quickly established himself as a dangerous slasher to the goal and the next big thing. Like any great, Bryant improved each year as he worked tirelessly on his game each summer to add to his bag of tricks: turnaround jumper, crossover dribble, and the Hakeem Dream Shake. Both off and on the court, Bryant has gone full circle from wunderkind to despised brat to cagey veteran.
Within three short years, Bryant was hands down the most talented player in the league and began to chase championship hardware as Robin to Shaquille O'Neal's Batman. The two, of course, could not co-exist as Bryant apparently grew to resent his role as second banana. It was only a matter of time Shaq was shipped out of town, as Lakers management decided to build the franchise around the younger Bryant. The highs and lows of Bryant's young career already included a 2000-2002 championship three-peat, embarrassing NBA Finals shellacking at the hands of the 2004 Detroit Pistons, and one notorious Colorado trial.
To silence the critics, Bryant simply put in work. Bryant's approach to the game has become more cerebral as his body has lost explosiveness to injuries and age. In half-court sets, Bryant can play the angles to knock down open shots, pin overmatched guards on his back, and slip gracefully into the lane. He finished his storied career having won five NBA Championships.
1. Michael Jordan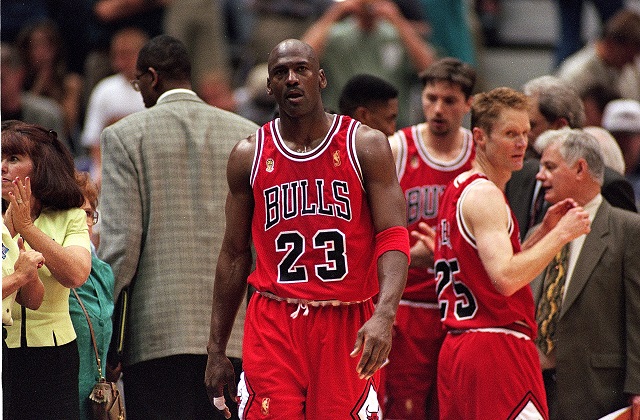 Jordan was unquestionably the most competitive athlete to ever step out on to the hardwood. To go with his athleticism and work ethic, Michael took pleasure in ripping out the collective heart of his opposition at mid-court. For motivation, Jordan would often play up perceived slights to go ballistic and drop 50 to close out games. The tongue wagging and aerial acrobatics came out in full force with Michael in the zone. Jordan would demand the basketball and go on the attack to torch all comers out on the floor. Even Larry Legend compared Michael to God. Apparently, mere mortals could never hope to contain Jordan, who performed with no apparent weakness to his game.
Jordan drives the lane. Jordan spots up and hits the three. Jordan posts up and connects on the fade away. Jordan steals the basketball and feeds Pippen in transition for the jam. After 40 minutes of action, Jordan is well on his way to another victory, NBA Championship, epic performance, and title as the all time greatest to ever lace up a pair of Nike Air Jordan sneakers. It's gotta be the shoes.
Statistics courtesy of ESPN and Basketball-Reference.