NBA: 10 of the Greatest Small Forwards of All Time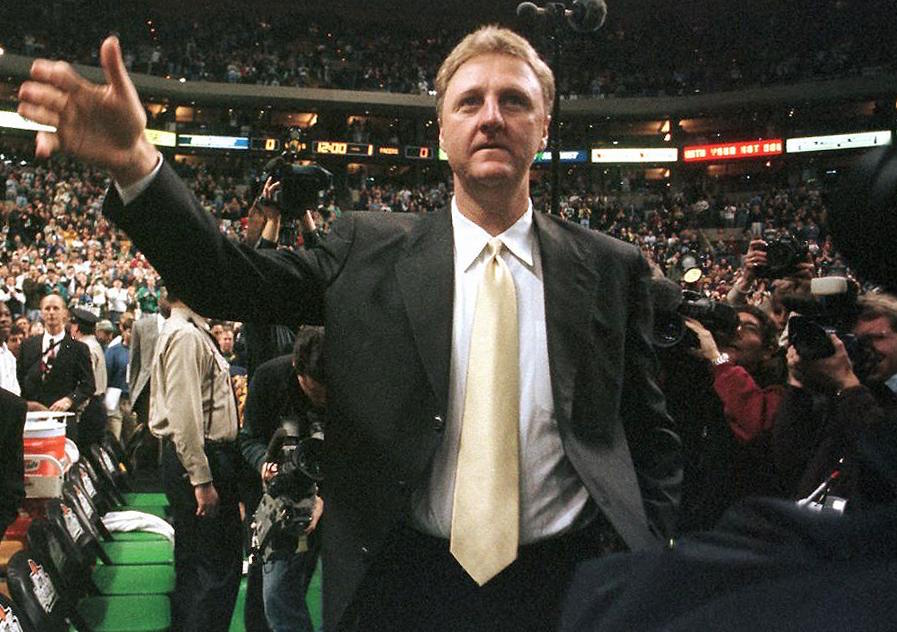 At any point in the game, the NBA small forward is the most versatile athlete out on the floor. The best small forwards dominate the end-to-end action. On the offensive end, skilled 3-men are capable of filling it up on the wing with smooth midrange jump shots, running the floor in transition, and powering their way to the goal for easy layups and dunks time and time again. Defensively, the best small forwards will get low to their feet and shut down the opposition's top scorer with timely steals, blocked shots, and tough rebounding.
As part of the team, a great small forward is the coach's ultimate weapon. When going big, a skilled small forward can handle the ball in space and run the offense as a point forward. When going small, the best 3-men can slide over to power forward to bang bodies in the paint, post up, and crash the boards.
Beyond nuts-and-bolts execution, the ideal small forward is an electric athlete who fires up the home crowd with up-and-under moves, crossover dribbles off the triple threat, and windmill slams on the fast break. With that in mind, here's a look at who we believe represent the 10 greatest small forwards of all time.
10. James Worthy
In Los Angeles, Big Game James teamed up with Magic Johnson to bring home three championships between 1982 and 1994. For Magic and the Showtime Lakers, Worthy ran the floor to come off the wing for his trademark Statue of Liberty dunks. In the post, the former North Carolina product would toast opponents with his quick spin moves, baseline jumpers, and finger rolls. Over the course of 12 seasons, Worthy's dynamic talents translated into 17.6 points, 5.1 rebounds, and three assists per game to go alongside his seven All-Star Game appearances.
During the 1988 NBA Finals, Big Game James solidified his status as a clutch performer with a 22-point, seven-rebound, and four-assist per game stat line against the Detroit Pistons. Worthy was at his best in Game 7, when he dropped a 36-point, 16-rebound, and 10-assist triple-double to walk off the floor as NBA Finals MVP.
9. Adrian Dantley
Adrian Dantley averaged 24.3 points and 5.7 rebounds per game between Buffalo, Indiana, Los Angeles, Utah, Detroit, Dallas, and Milwaukee, all while wearing high socks over the course of a 15-year career. In Utah, Dantley dropped 30 points per game for four straight seasons and led the league in scoring during 1981 and 1984.
As an offensive force, A.D. was a master of the midrange game, where he would knock down 15-foot jumpers time and time again in space. When crowded, Dantley would put the ball on the floor with an explosive first step for easy lay-ins at the goal. Simply put, Dantley was a pure scoring machine.
8. John Havlicek
John Havlicek is the epitome of Boston Celtics lore. With a total game that was greater than the sum of its parts, Hondo relied upon sheer hustle and determination to rack up 26,395 points over 16 years and finish up his career as Boston's all-time leading scorer. As a defensive force, Havlicek used his lateral quickness to harass opponents into mistakes within half-court sets and create turnovers through steals, deflections, and blocked shots. In transition, Hondo was a supremely conditioned athlete who thrived in a fast break system for uncontested layups and dunks.
Hondo put it all together in 1971, when he averaged 29 points, nine rebounds, and eight assists at forward. As a winner, Havlicek bridged the gap between the likes of Bill Russell, Sam Jones, Dave Cowens, and Charlie Scott to bring home eight championships to the city of Boston between 1963 and 1976.
7. Dominique Wilkins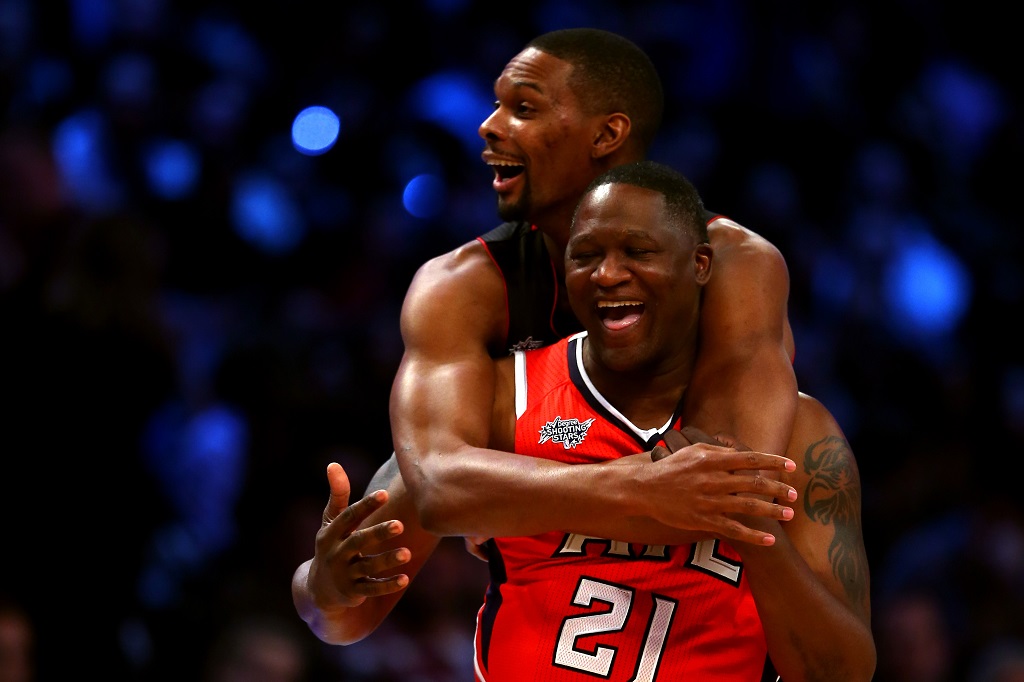 The Human Highlight Film was one of the most electric performers to ever throw on a pair of gym shorts. As a raw athlete, Dominique Wilkins was at his best in transition, where he would fire up the Atlanta crowd with his signature windmill slams and tomahawk throw downs. In the 1985 and 1988 slam dunk contests, Nique split two toe-to-toe heavyweight bouts with Michael Jordan off foul-line dunks, 360 spins, and off-the-backboard jams.
Aside from the highlight reel dunks, Wilkins was a pure scorer. When filling it up, he brought the full arsenal of jump shots, drop-step post moves, and hook shots to abuse the opposition. In the 1988 Eastern Conference Semifinals, Wilkins unleashed his full repertoire against Larry Bird as the two traded baskets in a classic Game 7 duel. When the smoke cleared, the Human Highlight Film had dropped 47 points to Bird's 34. Unlike Bird, however, Wilkins could not call upon Kevin McHale and Robert Parish for backup as teammates and lost the game, 116-118.
6. Rick Barry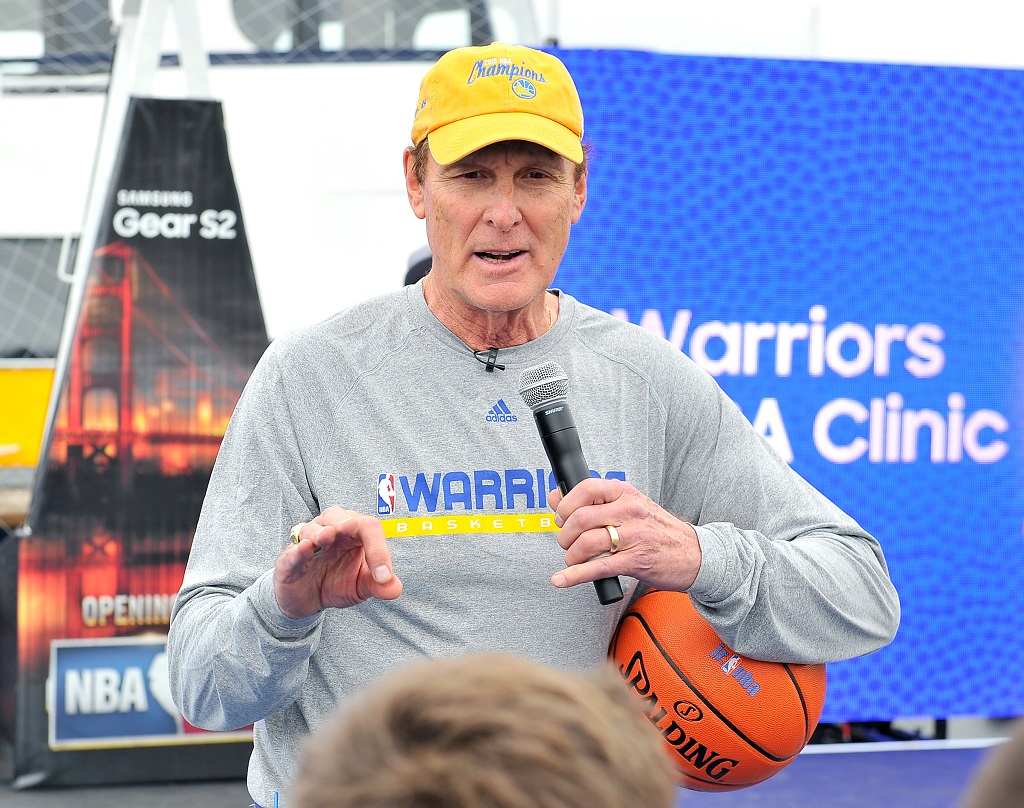 Rick Barry was an overachiever who performed as the Rocky Balboa of professional basketball. Between his time spent in the ABA and the NBA, Barry finished his professional career with averages of 24.8 points, 6.7 rebounds, and 4.9 assists per game, actually leading the league in scoring  — at 36 points per game — during his sophomore season.
Behind his deadly jump shot, deceptively fast dribble drive, and automatic underhanded free throw shooting, Barry could take over games and score in bunches at any moment. With age, Barry reinvented himself as a playmaker who could draw the defense and find teammates for easy buckets off the wing. Always a scrapper, he is one of the all-time great rebounders from the small forward position. As a rookie, the young Barry hustled to collect 10-plus rebounds per game before averaging more than nine boards a contest over his next two seasons.
Barry, of course, will forever be recognized as the golden boy of the Warriors franchise. In 1975, Barry put up 30-point, six-rebound, and six-assist per game averages for the Golden State Warriors while leading them to the promised land of an NBA championship. That year, Barry claimed Finals MVP hardware after a 4-0 Finals sweep of the Washington Bullets.
5. Scottie Pippen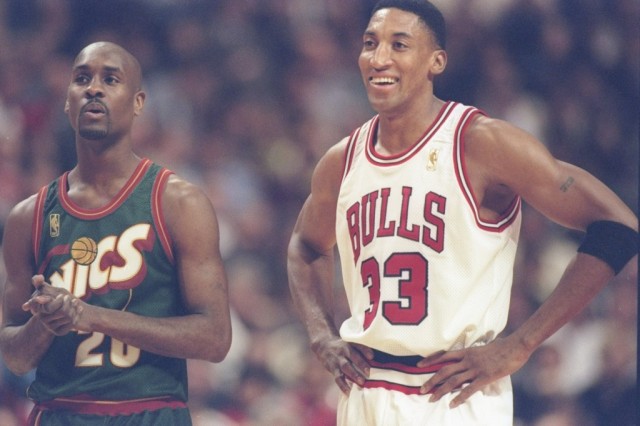 Scottie Pippen (above, right) emerged as the most versatile small forward of all time while playing Robin to His Airness' Batman. Thanks to his fantastic all-around game, Pippen could alternate with Jordan to control the game offensively as a scorer and distributor, clean the glass for rebounds, and also wreak havoc on the defensive end. Always in Jordan's shadow, Pippen transitioned from his role as a battered but talented little brother against the Bad Boy Pistons into the trusted confidante who held down the fort to carry a flu-ridden MJ off the Salt Lake City Finals floor.
Classic Pippen would lay in wait as a center fielder in the Bulls' famed 1-2-1-1 full-court press before baiting the opposition into a careless pass for the steal. From there, he would lead the break as a point forward with Jordan racing down the wing. At foul line extended, the two greats would complete a give-and-go that resulted in Pippen elevating for the tomahawk jam. By halftime, Jordan, Pippen, and the Bulls often ran the opposition off the floor and won over millions of fans en route to winning six NBA championships.
4. Julius Erving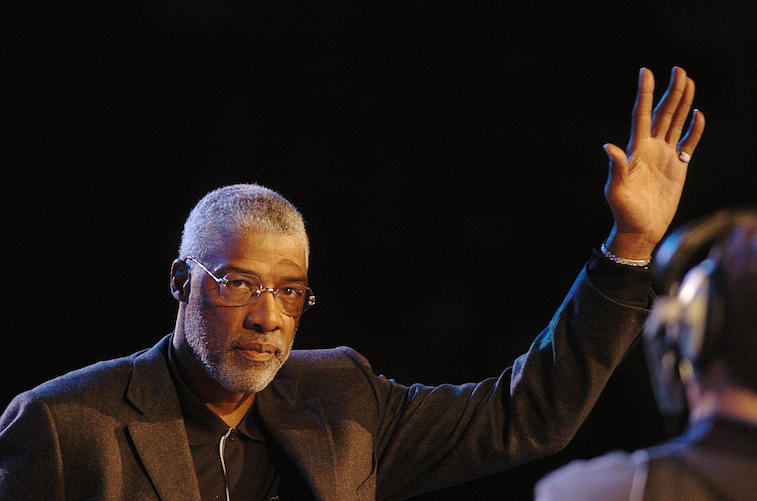 Before Michael Jordan, it was Julius Erving who captured the collective imagination of the sporting world. Poetry in motion, we can all picture the Great Doctor and his well-coiffed 'fro taking flight from the foul line, wrapping around the basket support to finger roll, or skying from the wing to swoop in for the cradle dunk in transition.
Beyond the aerial show, Dr. J was also a fundamentally sound offensive threat. Erving led the ABA in scoring during three separate seasons as a player for the Virginia Squires and New York Nets. After winning two ABA titles and making the transition to the NBA game, Erving continued to dazzle crowds in Philadelphia, where he put up 22 points, 6.7 rebounds, and 3.9 assists per game over 11 seasons. In 1983, Dr. J joined forces with Moses Malone, Andrew Toney, and Maurice Cheeks to form one of the greatest NBA teams of all time, claiming championship hardware for the Philadelphia 76ers.
3. Elgin Baylor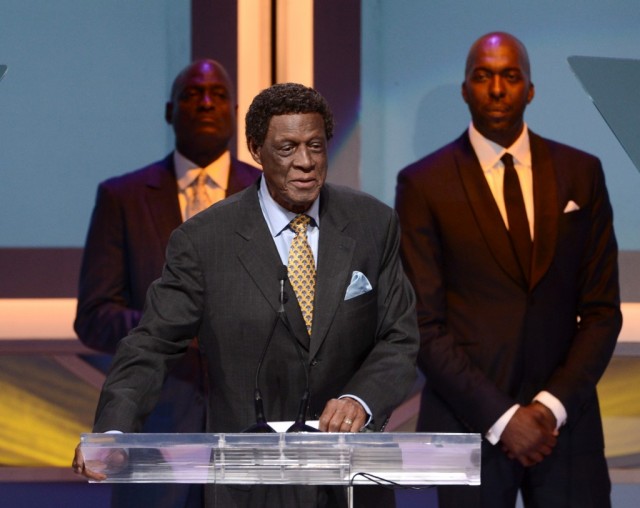 3. Elgin Baylor
Elgin Baylor (above, center), at one point in time, was the savior for the Los Angeles Lakers franchise. One of the game's most prolific scorers, Baylor simply could not be stopped as he put fans in the seats to watch him fill it up off the wing. Standing 6-foot-5, Baylor was a shorter yet powerfully built small forward who could both beat defenders off the dribble and create enough space with a forearm shiver to rain down jump shots from deep.
After hanging it up, Baylor finished up his 14-year career with averages of  27.4 points and 13.5 rebounds per game. In his most impressive season, Baylor averaged 38 points and 19 rebounds per game as an Army Reservist based out of Washington state who could not even practice with his own team. Despite the video game statistics, all-world accolades, and Jerry West backup in Los Angeles, Baylor lost in the Finals eight times and retired without ever winning an NBA championship.
2. Larry Bird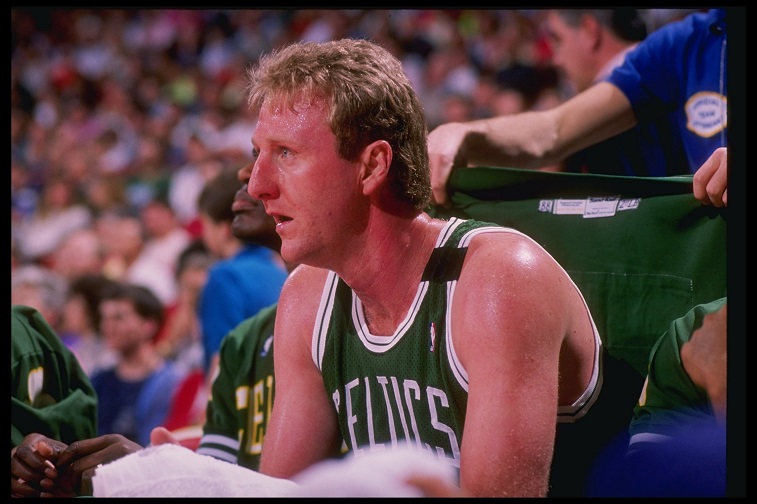 Despite lacking in athleticism, the Hick from French Lick more than made up for his plodding feet and limited vertical leap through dedication, smarts, and the will to win. As a shooter, Larry Bird could light it up from all spots on the floor. On any possession, Bird could reach deep into his bag of tricks to riddle defenses with his turnaround jumpers, up-and-under moves, and dribble drives to the bucket.
As a passer, Bird would play the angles to feed the likes Kevin McHale and Robert Parish for pretty dunks and scoop shots beneath the basket. In all, Larry Legend compiled 24-point, 10-rebound, and 6-assist per game averages in 13 NBA seasons, all with the Boston Celtics.
Bird, of course, starred as the perfect contrast to Magic Johnson and his Showtime appeal amid the heated Lakers-Celtics rivalry. Bird and Magic met three times in the Finals during the 1980s, with Bird claiming one title and MVP award through these matchups. He would go on to claim three total NBA championships as well as two Finals MVP awards.
1. LeBron James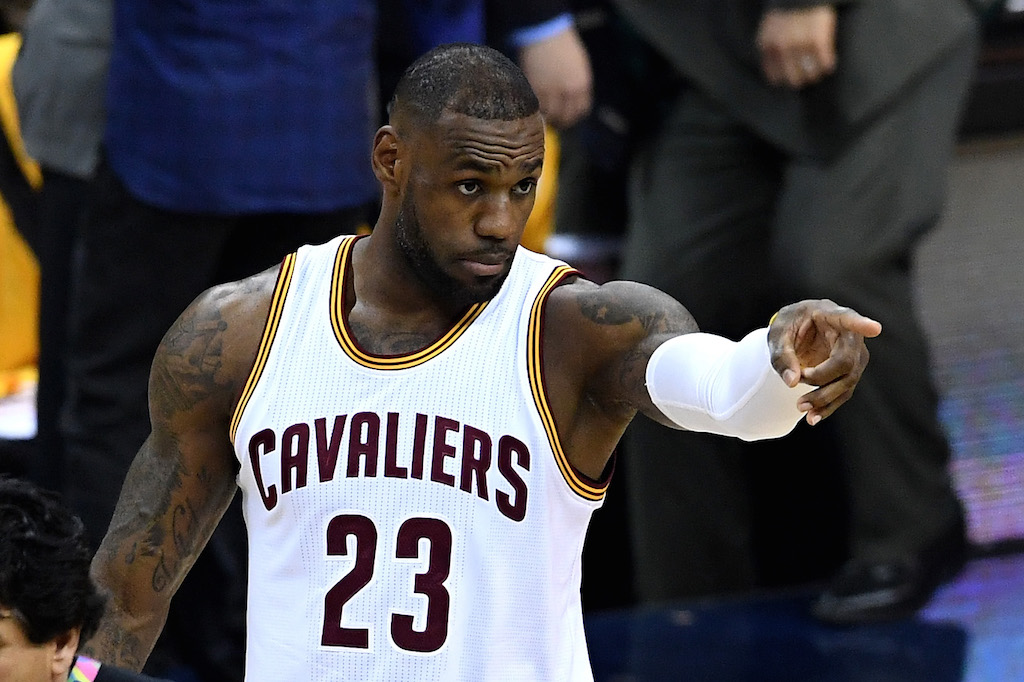 Built to play basketball, LeBron James represents an unreal combination of Karl Malone's body, Charles Barkley's power, Magic Johnson's court awareness, and Michael Jordan's agility out on the floor. Hailing from Akron, Ohio, the St. Vincent St. Mary's product appeared poised to perform as the savior of the Cleveland Cavaliers franchise immediately out of high school. In Cleveland, James controlled every facet of the game as a clutch scorer, pinpoint passer, and ferocious rebounder. On the break, LeBron often bullied his way into the lane for layups, dunks, and easy put-backs. Over time, he also developed as a defensive force capable of guarding all positions.
After seven years of failed championship dreams, however, James was to deliver yet another devastating blow to the tortured city of Cleveland. With "The Decision," James took his game to South Beach to unite with Dwyane Wade and Chris Bosh. From there, LeBron lead the Heat to four consecutive NBA Finals appearances, winning two, in 2012 and 2013.
In just his second season following his decision to return to the Cavaliers, James put together one of the greatest Finals performances in NBA history, ultimately bringing the city of Cleveland its first professional title in 52 years and solidifying his place as the greatest small forward of all time.
Statistics courtesy of Basketball-Reference.