Top 10 NFL Defensive Players of All Time
NFL fans are familiar with raucous 12th man crowds and chants for defense. Scenario: Your team needs to put together a defensive stand to seal away a victory in the fourth quarter of a nip-and-tuck game. The passionate home crowd will be out for blood as the opponent sets up first and ten at its own 20. To all, the defense feeds off the home-cooked energy and is also foaming at the mouth to make a play, shut down the opposition, and get the ball back for the offense. The electricity is real as both teams break huddle and approach the line of scrimmage. Defense is beautiful. Here are 10 of the best defensive players the NFL has ever seen.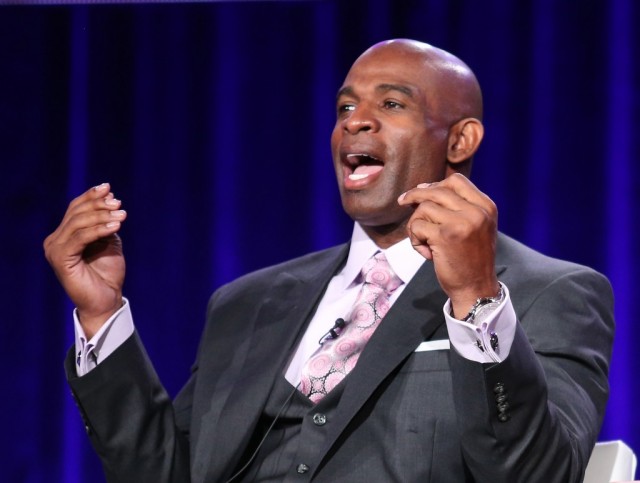 10. Deion Sanders
Deion Sanders was the greatest pure cover corner of all time. Once clocked at 4.18 – 40 speed, it was impossible to outrun and even out-throw Prime Time. Before the exploits of Darrelle Revis, Deion was on his own coverage island, as he was always primed to duel and shut down the likes of Jerry Rice, Michael Irvin, and Andre Rison. In one-on-one coverage, Deion would dominate his entire half of the field, as opposing quarterbacks would simply refuse to challenge this man through the air. In terms of accolades, Deion parlayed his talents into one 1994 AP Defensive Player of the Year award alongside eight Pro Bowl appearances as a member of the Atlanta Falcons, San Francisco 49ers, and Dallas Cowboys.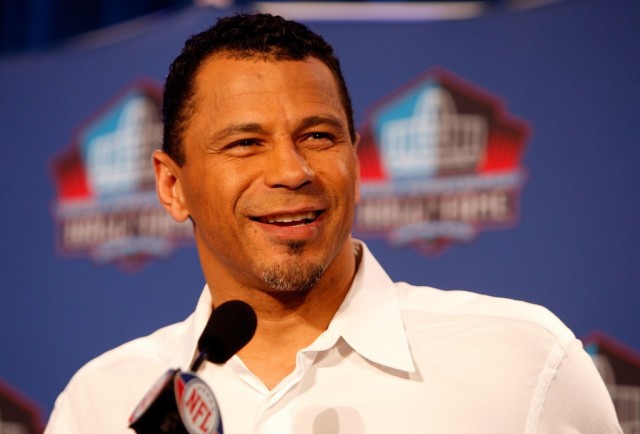 9. Rod Woodson
A versatile performer, cornerback Rod Woodson could wreak havoc from all angles. For #26, a typical day at the office might include 7 tackles, 2 pass break ups, 1 interception, 1 sack, and 1 punt return touchdown. Despite his graceful style and position, Rod Woodson was never afraid to get down and dirty in blue collar Pittsburgh and Baltimore. In Pittsburgh, Woodson mastered the art of the slot blitz, where he would line up as a nickel back, before coming off the edge to take shots at the opposing quarterback behind the line of scrimmage. In Baltimore, Woodson slid over to safety, where he helped to quarterback one of the greatest defenses of all time to a Super Bowl XXXV 34-7 shellacking over the New York Giants.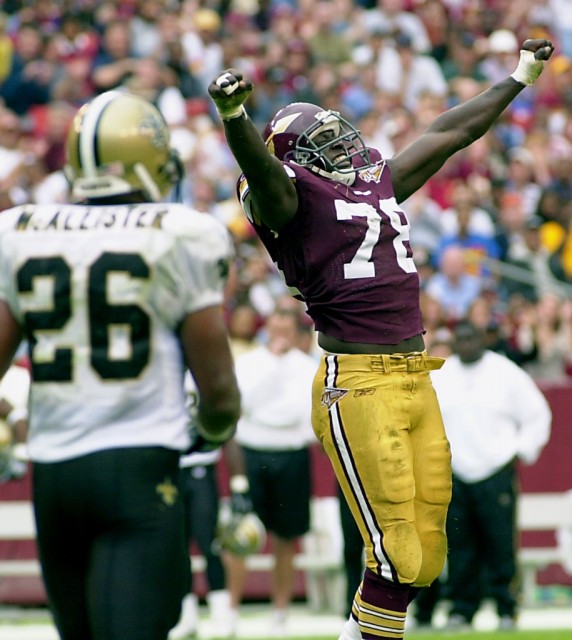 8. Bruce Smith
Bad things, man. Bad things. Bruce Smith closed out his NFL career as the all time sack leader with 200 career quarterback takedowns. Standing at 6-foot-4 and weighing in at 264 pounds of muscle, Bruce Smith was an unreal combination of speed and power for the Buffalo Bills. At right defensive end, Smith faced off against the most talented left tackles in the game and turned these mammoth men into mush with his up field rush. A master of the spin move, Bruce Smith would explode off the ball, feint to his right, and spin back to the inside before accelerating to pound the quarterback. When using the power technique, Bruce would simply pin his ears back, get low, and use leverage to strong arm some stiff offensive linemen into his own backfield.
No. 78, of course, was equally as dominant against the run game. With his speed, Bruce could track down the ball carrier on the weak side and make the tackle from behind. With his strength and discipline, Bruce Smith could also muck it up on the strong side point of attack, shed blockers, and make a stop.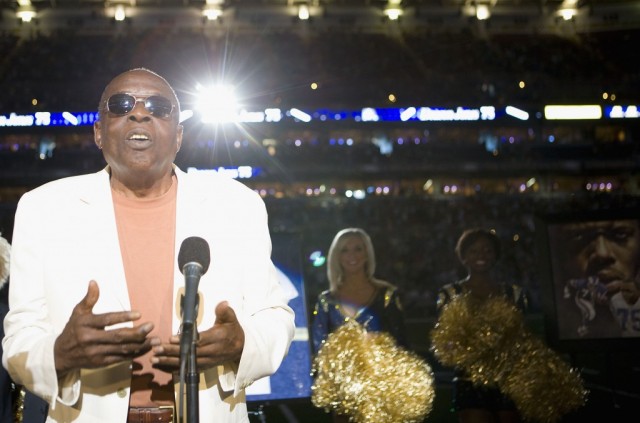 7. Deacon Jones
Deacon Jones invented the meaning of the word of sack. Illegal today, Jones perfected his infamous head slap to dominate the line of scrimmage. To operate in space, The Deacon would smack an offensive lineman upside the head. With the lineman stunned, Jones was free to maneuver behind the line of scrimmage and incite mayhem. Due to the success of this move, historians have often argued that Jones would be far and away the leader in sack totals — if the statistic were to be officially recorded in his day.
Deacon Jones and fellow Hall of Famer Merlin Olsen alongside Lamar Lundy and Rosey Grier joined forces as the Fearsome Foursome for the 1960s Rams. As part of this group, Deacon Jones appeared in seven out of his eight total Pro Bowls before being traded to the San Diego Chargers in 1972. The Deacon continued to dominate into the twilight of his career, before transitioning into today's grandfatherly television persona.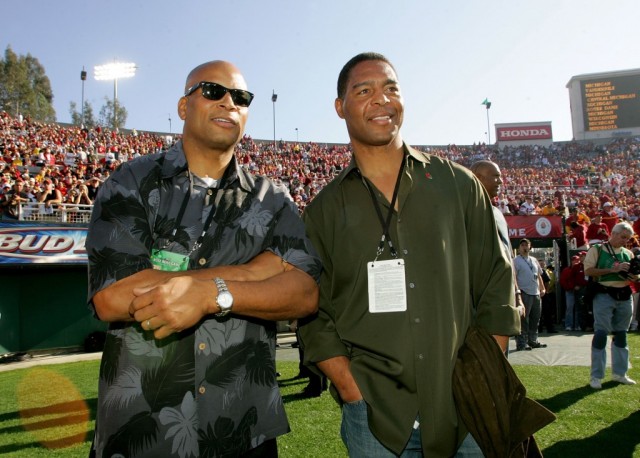 6. Ronnie Lott
Ronnie Lott is the greatest NFL defensive back of all time as an All-Pro at both cornerback and safety. Ronnie Lott has gone down in NFL lore as a devastating hitter with no regard for his own body. Lott brought toughness to 1980s San Francisco 49ers teams more so identified with finesse and precise, West Coast passing. As a test of a man, Ronnie Lott actually agreed to have the tip of his pinky finger amputated — just to stay in the game.
Fundamentally sound, Ronnie Lott was a stat sheet stuffer and perennial Pro Bowler during his 14-year career. In 1985, Lott alternated between free safety and corner, while going on to record 104 tackles, 6 interceptions, 2 sacks, and 2 fumble recoveries. Through sheer instinct, Ronnie Lott just happened to be at the right place at the right time.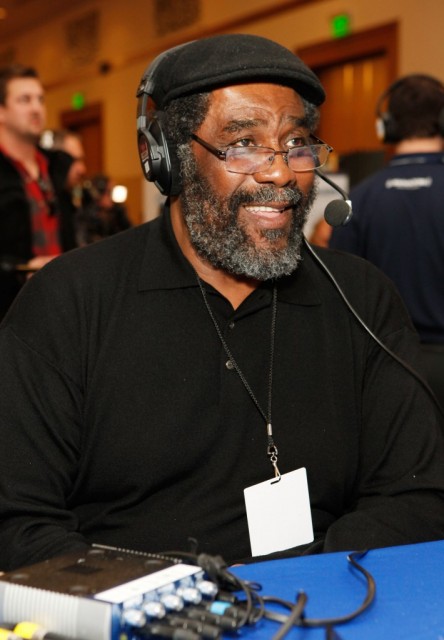 5. "Mean Joe" Greene
At tackle, Mean Joe Greene anchored the '70s Dynasty Pittsburgh Steel Curtain. Equally relentless against both the run and pass game, Greene utilized an angular technique to disrupt blocking assignments at the line of scrimmage. To do so, Greene would wedge his body between the center-guard A-Gap. At that snap of the football, Greene would either shoot the gap to make a play, or tie up two blockers so linebackers Jack Ham and Jack Lambert could run downhill and deliver their own form of punishment at the point of attack.
Mean Joe Greene's tenacity and refuse-to-lose attitude translated into two AP Defensive Player of the Year awards, 10 Pro Bowls, four Lombardi Trophies, one bronzed bust in Canton, and one classic commercial. Here, kid. Have a Coke and a smile.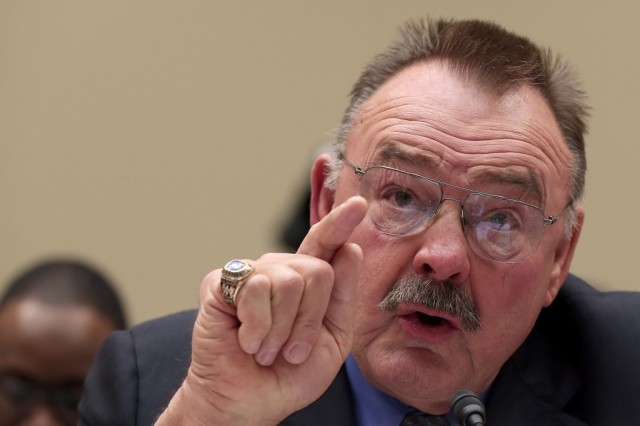 4. Dick Butkus
Dick Butkus brought the pain to the 1960s and 70s Black and Blue division. A true Monster of the Midway, Butkus opened up the door for the likes of Mike Singletary and Brian Urlacher at Bears' middle linebacker. Due to his ability to diagnose plays, Dick Butkus always appeared one step faster than the competition and emerged as one of the most feared tacklers of all time. Butkus thrived upon contact and intimidation as he tossed aside blockers before sniffing out the football and laying the ball carrier out upon his back. Dick Butkus just wanted it more.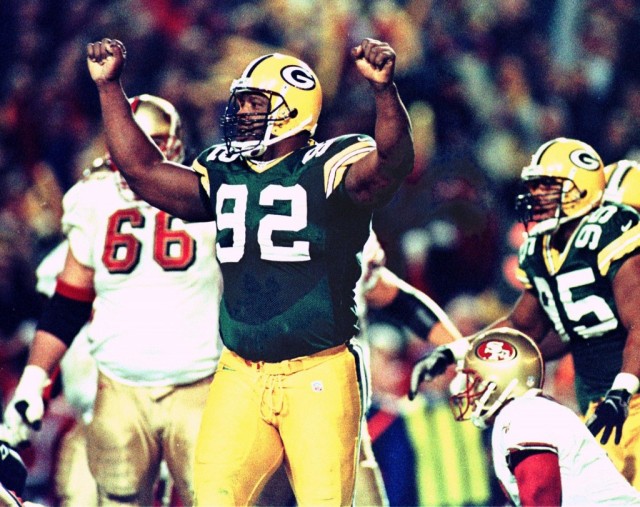 3. Reggie White
The late Reggie White was the most disruptive defensive lineman to ever throw on a pair of shoulder pads. In Philadelphia, the Minister of Defense teamed up with Clyde Simmons, Ron Pitts, and Jerome Brown to dominate the trenches in defensive coordinator Buddy Ryan's madman scheme.
At left defensive end, White brutalized opponents with his famed hump move. The hump move begins with an explosive first step off the line of scrimmage. From there, White barreled into some right tackle sap, shrugged his shoulders, raised his right arm, and tossed aside a 300-pound lineman as if he were a rag doll. White then roamed the backfield scot-free to lay down the law and wood upon the opposing quarterback. Between 1985 and 2000, Reggie White's hump move helped him to record 1048 tackles, 198 sacks, 13 trips to Hawaii for the Pro Bowl, and two NFL AP Defensive Player of the Year Awards.
Reggie White was also a pioneer of the mega-bucks free agency movement. In 1993, Reggie White took his talents to Green Bay and the Frozen Tundra — with much fanfare. The deal was one of the most successful in sports history, as White went on to rack up 68.5 sacks and claim one Super Bowl trophy for his new Wisconsin home.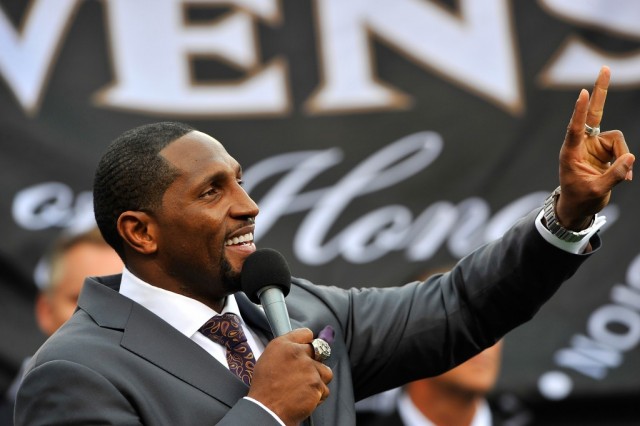 2. Ray Lewis
Ray Lewis, who called himself God's linebacker, was a natural born leader. A mic'd up Ray Lewis has been recorded barking at his teammates to "give it all up, right here and right now." The Baltimore Ravens franchise, of course, fell right in line behind Lewis's grit and passion. To all, opponents and fans respected Ray Lewis for his love of the game, sportsmanship, and desire to play his best football.
On the football field, Ray Lewis was a cerebral and physical specimen. Mentally, Lewis was a coach on the field, who would anticipate offensive play calls, audible defensive shifts, and arrive at the point of attack to make tackles time and time again. Physically, Ray Lewis was an imposing 6'1?, 250-pound man who loved to throw his weight around and knock people into the operating room and into next week. After putting multiple careers on ice, Ray Lewis would offer up his telephone number to players for brotherly support and counsel. Ray Lewis won two Super Bowls before retiring in 2012.
1. Lawrence Taylor
Lawrence Taylor was the greatest defensive weapon of all time. The leader of a pack of crazed dogs, L.T. remained in attack mode and out for blood. Lawrence Taylor, together with masterminds Bill Parcells and Bill Belichick, effectively changed the game for outside linebacker. In New York, No. 56 actually imposed his will on the offense, instead of reading and reacting to the action as had been the case with outside backers of years past. In response, Washington Redskins head coach Joe Gibbs and other NFC East division rivals were forced to install two-tight end sets, H-backs, motion, and jumbo offenses in an attempt to contain Taylor and his raw athleticism. Despite the creativity, nothing worked. Lawrence Taylor could not be stopped.
In 1986, L.T. put everything together and took home NFL MVP honors as a defender. That year, Lawrence Taylor rang up 20.5 sacks, made 105 tackles, broke up five passes, and forced two fumbles. After the 1986 regular season, Lawrence Taylor went on to win his first of two career Super Bowls. Lawrence Taylor was a force.