10 of the Worst Ceremonial First Pitches in Baseball History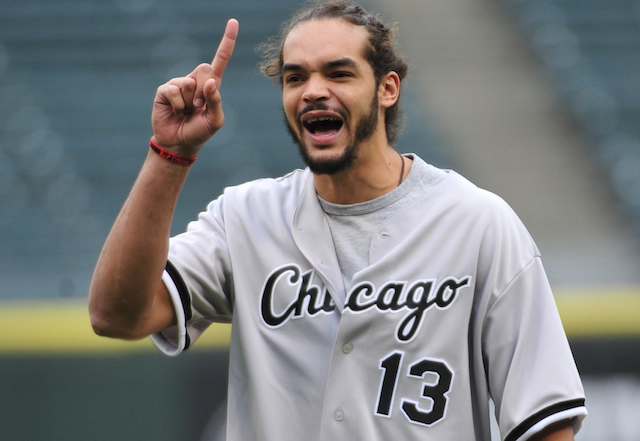 When Chicago Bulls star Joakim Noah threw out the first pitch before a White Sox game this week, it was nothing to write home about (a low one-hopper that skittered past the honorary catcher all the way to the backstop). However, Noah received a mulligan and did a much better job the second time.
That got us thinking about some of the worst ceremonial first pitches in baseball history — those poor, unfortunate souls who only wished they could have had a second crack at making the throw from a pitcher's mound to home plate in front of thousands of people (well, at least some of them made it near home plate).
Thanks to The Washington Post, we have a handy graphic with 'unquestionably' accurate and scientific data of great importance to see where some of history's most (in)famous first pitches ended up. Sadly, this was assembled earlier this year and doesn't take into account recent standouts that may very well otherwise deserve fuller levels of shame. But, for now, based on the chart alone and the always reliable 'eyeball' test (theirs and ours both), here are 10 of the worst ceremonial first pitches ever.
T-Rex

The pitch: A baby Tyrannosaurus Rex threw out the first pitch before a Padres-Royals game at Petco Park in May. 'Baby T,' representing a WALKING WITH DINOSAURS show in San Diego, used its mouth to deliver a pitch toward home plate.
The ball didn't get past the infield grass, but since there were no hands involved in the pitch, we're going to give Baby T a pass compared to some of the others on this list. (Well, that, and we're a little bit scared to criticize further because we're frightened of Baby T, honestly.)
The video evidence: T-Rex throws out the first pitch.
Nolan Ryan

The pitch: This one has to be the most stunning entries on the list, as one of the greatest pitchers in MLB history came nowhere close to the strike zone on Opening Day 2014 in Houston. Baseball's all time strikeout king doesn't quite have the same control he did 20-plus years ago, and fellow Astros legend Craig Biggio never had a prayer of catching the Ryan fastball.
Ryan jokingly said later that it was Biggio's fault, not his. "He didn't try. That ball wasn't that far outside." We respectfully disagree.
The video evidence: Nolan Ryan throws out the first pitch.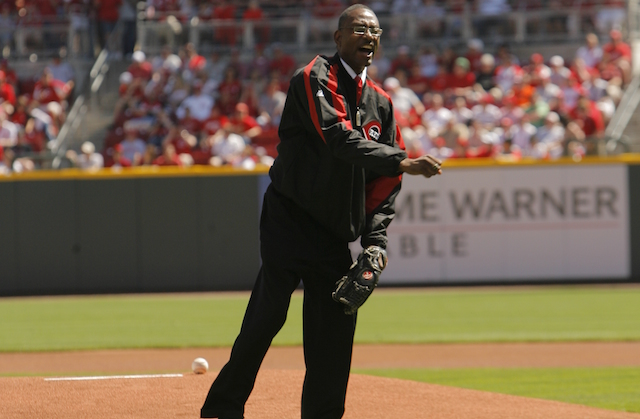 Mark Mallory

The pitch: When you Google 'Mark Mallory,' the first auto-filled entry is 'Mark Mallory first pitch.' That's never a good sign. The then-mayor of Cincinnati's first pitch before the Reds' 2007 Opening Day game was so far away from its intended target that it landed outside view of the television camera. A cincinnati.com poll asking what the mayor would most be remembered for after two terms in office featured nearly 30 percent of respondents referencing 'the pitch.'
Give Mallory credit for a sense of humor, though, as he did several TV appearances after the game to make fun of himself and even released a list of the top 10 reasons his first pitch went wrong.
The video evidence: Mark Mallory throws out the first pitch.
Michael Jordan
The pitch: For one of the greatest athletes of all time — and one who fancied himself a baseball player for a misguided year in 1994, no less — Michael Jordan's first pitch before the 1998 Cubs-Giants playoff game has to be considered a 'giant' disappointment. M.J. was wearing a Sammy Sosa jersey and threw the ball so far over Sosa's head that the slugger couldn't get a glove on it. We still don't know what the Birmingham Barons ever saw in Jordan.
The video evidence: Michael Jordan throws out the first pitch.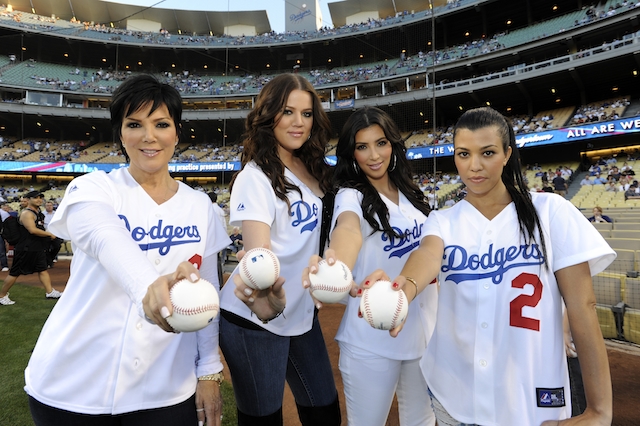 Kim Kardashian

The pitch: The three Kardashian sisters, Kim, Kourtney, and Khloé (along with mom Kris Jenner) threw out simultaneous first pitches before a May 2009 Los Angeles Dodgers game, and — well, how we can we put this? It didn't go well. Kim's pitch was the farthest off base of any of them, landing her on this list to the exclusion of the rest of her famous family.
The video evidence: Kim Kardashian throws out the first pitch.
Cookie Monster

The pitch: There's really not a lot to say about this throw before a Chicago White Sox game — one of the older pitches from our list. Let's see here: Cookie Monster embarks on an elaborate stretching and warmup routine then takes off running (okay, waddling) toward home plate, stops a few feet from his catcher, and still throws the ball nowhere close to the mitt. Cookie Monster wins the award for worst pitch from the closest distance in a runaway. Hey, that's good enough for me.
The video evidence: Cookie Monster throws out the first pitch.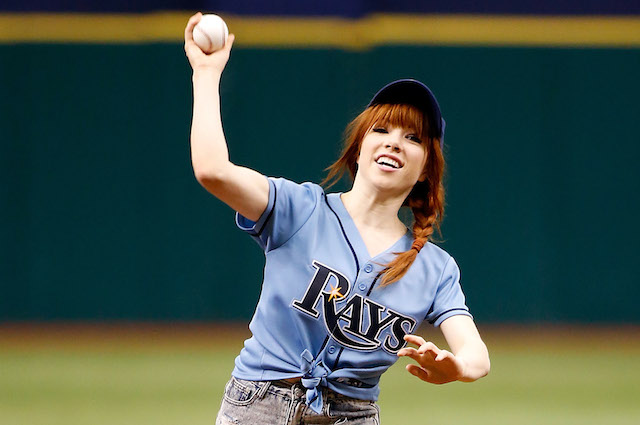 Carly Rae Jepsen

The pitch: We credit Carly Rae Jepsen's notoriously bad pitch (before a Tampa Bay Rays game in 2013) as the advent of the modern, social media-driven 'worst first pitch ever' stories. Fortunately for Miss Jepsen and her pride, she's had plenty of competition for this title in the months and years since. Still, Jepsen's pitch trickled harmlessly over the first-base line quite a few feet from home plate, and we doubt the Rays will be calling Jepsen back anytime soon. Well, maybe.
In Carly Rae's defense, she had thrown out the first pitch earlier that season at an Orioles game with no incident whatsoever.
The video evidence: Carly Rae Jepsen throws out the first pitch.
Barack Obama

The pitch: To be fair, President Barack Obama's first pitch (before an Opening Day game at Nationals Park in 2010) was better than most on this list simply because it was catchable. Still, President Obama's throw was just a bit outside and more than a bit high. The President didn't do himself any favors by donning a White Sox hat to honor his hometown team before throwing out the first pitch in Washington, D.C., so the fans were razzing him before he even let go of the ball.
The video evidence: Barack Obama throws out the first pitch.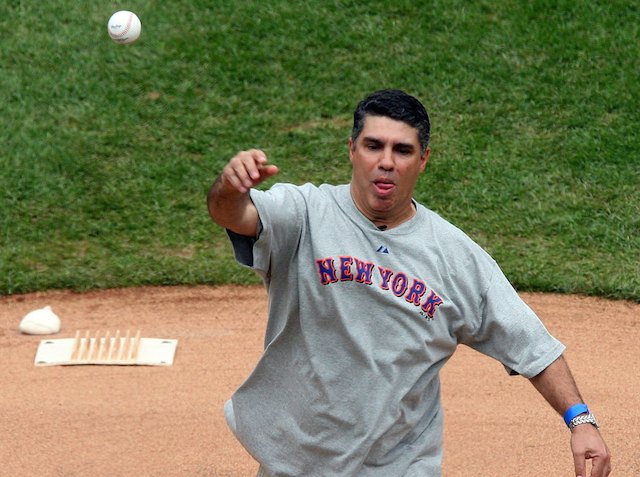 Baba Booey

The pitch: The final two entries on this list — both of which took place at New York Mets games — could reasonably be considered the leading two candidates for 'worst first pitch in MLB history.' Call them 1A and 1B. Gary Dell'Abate, better known as 'Baba Booey' from The Howard Stern Show, actually hit an umpire with his off-target throw in 2009.
"I was really hoping that that would not end up on television," Dell'Abate said later that day. He should have been hoping that it didn't end up on YouTube. Actually, MLB's official YouTube channel describes the clip as throwing out the first pitch 'with mixed results.' That's being rather kind, in our estimation.
The video evidence: Baba Booey throws out the first pitch.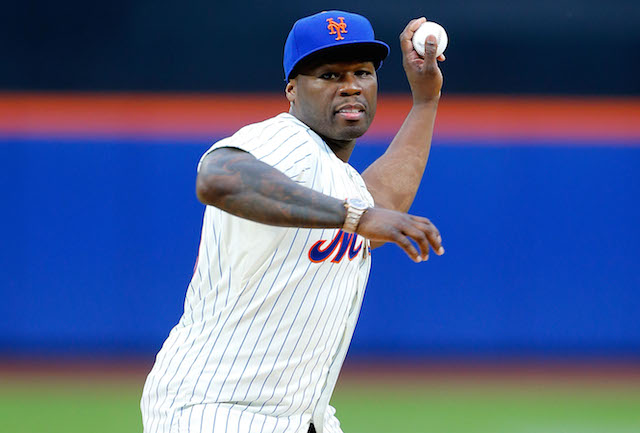 50 Cent

The pitch: Whether it was intentional or not, we may never know, but it's impossible to have a conversation about the worst first pitches in history without mentioning 50 Cent's unbelievably poor toss before a May 2014 game at Citi Field.
Seriously, doesn't it go without saying that the first thing to do when throwing a baseball is … well, aim? The Mets' starting pitcher was standing off to the third-base side of the mound watching the disaster unfold, and who was he to know that if 50 Cent had actually been in that very spot in the infield, the same throw may have had a tiny chance of ending up in the catcher's glove? (Or at least in the catcher's zip code.)
The video evidence: 50 Cent throws out the first pitch.