10 of the Worst Games Left on the 2014 NFL Schedule
Don't buy your tickets now! Don't clear your calendars! Don't get your popcorn ready! At this point in the 2014 National Football League season, it's become pretty easy to tell the contenders from the pretenders, the title threats from the high 2015 draft pick threats, and the good teams from the bad. As we look ahead to the remaining two and a half months of the NFL regular season, it's getting painfully obvious that there are some games coming up that won't be any fun at all to watch (okay, that's putting it mildly).
No, we're not just talking about the Thursday Night Football slate. Instead, we've been counting up — and dreading — the zero- and one-loss teams that either have to play each other (which will be an ugly thing to see) or face off with a powerhouse team on the road (which might be an even uglier thing to see).
Who are these so far disappointing bottom-tier candidates? Between the Buccaneers, Jaguars, Jets, Raiders, Rams, Redskins, and Titans, we're faced with a pathetic group of seven teams that boast a whopping total of five wins — combined.
With that said, we not-so-proudly present a list of 10 of the worst games left on the NFL schedule. If you can avoid watching these matchups, by all means, please do. If you can't, well, don't say we didn't warn you. Games are listed in chronological order.
October 12: Jaguars at Titans
The inspiration for this list comes Sunday in Nashville when 0-5 Jacksonville takes on 1-4 Tennessee. The only good news in a game like this? At least one of the teams have to win. Wait just a second: After a brief consultation with Donovan McNabb, apparently that's not necessarily true.
October 16: Jets at Patriots
New England just got done blowing out an undefeated team in a prime-time, nationally televised game. Imagine what they might do to the Jets and that woeful offense. Yikes. (Of course, it's a Thursday night game, so it sorta has to be a blowout, right?)
October 19: Titans at Redskins
Washington has allowed more than 36 points a game during its current three-game losing streak. Tennessee is giving up more than 32 points a game during its four-game skid. In other words, you could almost say in good conscience that this should be an offensive shootout — unless you've actually seen either team's offense play.
November 2: Raiders at Seahawks
The defending Super Bowl champion Seahawks have won 17 of their last 18 home games. The Raiders have won as many NFL games this season as I have. This one could get ugly in a hurry.
November 16: Buccaneers at Redskins
The Buccaneers have been one of the biggest disappointments in the league to date, with three losses by a single possession and one unbelievably bad blowout defeat. But really, who cares if your losses are respectable or not? A loss is a loss is a loss. Or in 1-4 Tampa Bay's case, a loss is a loss is a loss is a loss.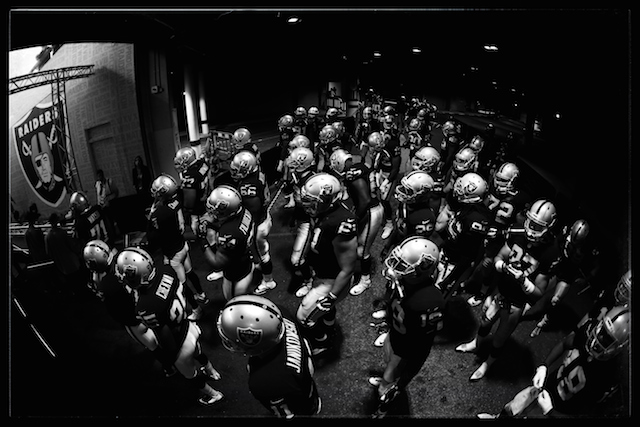 November 30: Raiders at Rams
So far this season, if the Rams allow exactly 34 points in a game — no more, no less — they lose. Any other opposing point total, and St. Louis can't be beaten. The bad news for Jeff Fisher's team? In three of their four contests, they've given up 34 points. Well, at least the Raiders have a magic number to shoot for.
December 7: Rams at Redskins
Washington hasn't won more than 10 games in a season since 1991, a streak longer than any NFC team except one. Maybe someone should tell owner Dan Snyder that changing the team's name couldn't hurt? (Sadly, 'Washington Generals' isn't an option. That moniker is amazingly taken by a team with an even worse all time winning percentage.)
December 14: Jets at Titans
The way Geno Smith and Michael Vick played in the Jets' last game, we wouldn't be surprised if New York was using a completely different quarterback by mid-December. Except for one small issue, that is: Smith and Vick are the only two on the roster. Looks like it will be a long year for 'Gang Green.'
December 18: Titans at Jaguars
We can almost picture the conversation that went on in the NFL's Park Avenue offices this spring: "Hey guys, this Thursday night schedule is going to be absolutely amazing! What game could we possibly finish with that would sum up in 60 minutes all of the wonderful matchups our fans have enjoyed thus far? Oh, of course: Tennessee at Jacksonville!" With the way Thursdays have gone this year, that sounds just about right, actually.
December 28: Raiders at Broncos
This regular season finale could be slightly interesting for a couple different reasons: 1. Will the Raiders still be winless and chasing an 0-16 'perfect' season? Or: 2. How lopsided a beatdown can Peyton Manning's Broncos put on Oakland? If Manning is looking for any records in the season's last week, this is the defense he'd want to face. (More likely: Denver will have sewn up a playoff berth by then and Peyton gets the week off. Maybe then Oakland has a prayer?)