NFL: 10 Players With the Most Touchdowns in One Season
We're a year and a half out from Peyton Manning's failed attempt to take it all against the Seattle Seahawks at Super Bowl XLVIII in New Jersey, but the star quarterback has also had an individually standout season in 2014. Manning claimed back his record for the most touchdown passes in a regular season from Tom Brady in 2013, and also threw for a league record total 5,477 yards.
Joe Montana once said there's no thrill like throwing a touchdown pass. Taking that to heart, here's a list of 10 quarterbacks with the most touchdown passes in a season in the history of the NFL.
9 (tie). Matthew Stafford (Detroit Lions)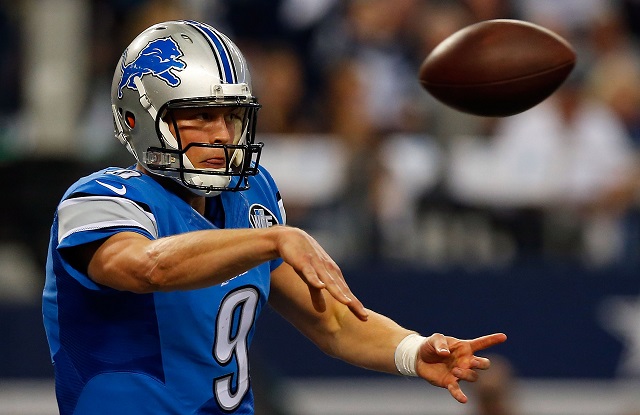 41 Touchdown Passes
Season: 2011
Stafford shone in 2011 and added the honor of being only the fourth quarterback in NFL history and third in the 2011 season to throw for 5,000 passing yards in a season. The other two were Tom Brady and Drew Brees. Stafford then became the only quarterback in NFL history to pass for over 1,500 yards and 14 touchdowns over a four-game span. He was named a Pro Bowl alternate for the NFC and also the 2011 Pro Football Weekly Comeback Player of the Year, AP Comeback Player of the Year, and NFL Alumni Quarterback of the Year.
9 (tie). Kurt Warner (St. Louis Rams)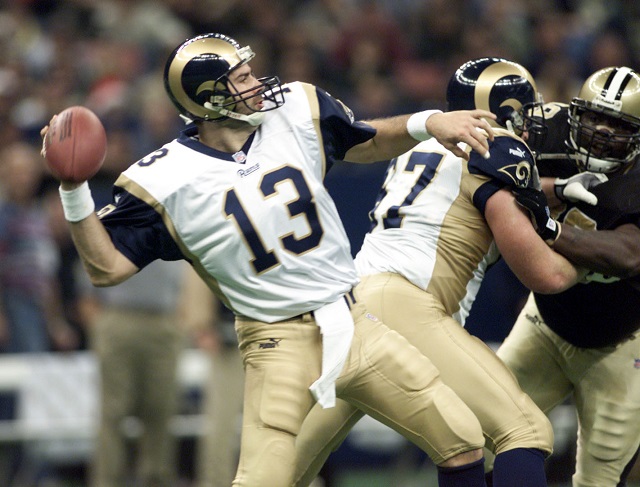 41 Touchdown Passes
Season: 1999
Warner, part of the Rams' "The Greatest Show on Turf" offense, had a standout season in 1999, arriving to limelight straight from anonymity. He threw for a total of 4,353 yards and his 41 touchdown passes came with a completion rate of 65.1 percent. He also became the only NFL quarterback in history to throw three touchdown passes in each of his first three starts. Taking the Rams to a Super Bowl win against the Tennessee Titans, Warner set a Super Bowl record of attempting 45 passes without a single interception. He was named the league Most Valuable Player as well as the Super Bowl MVP that year.
8. Drew Brees (New Orleans Saints)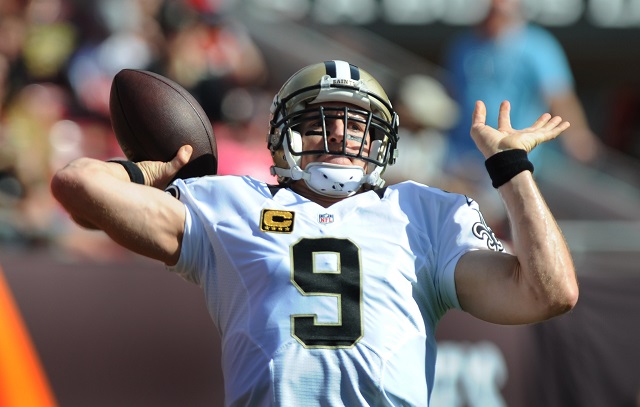 43 Touchdown Passes
Season: 2012
In Week 14 of the 2012 season, Brees threw for 354 yards, which gave him his seventh straight 4,000-yard passing season and beat Manning's record of six straight seasons. His streak of consecutive games with at least one touchdown pass each ended at a whopping 54 in Week 13 against the Atlanta Falcons. In all, 2012 was Brees's fifth straight season with at least 30 touchdown passes & 4,000 yards passing. Brees was then selected to the 2013 Pro Bowl as an injury replacement for Robert Griffin III.
7. Dan Marino (Miami Dolphins)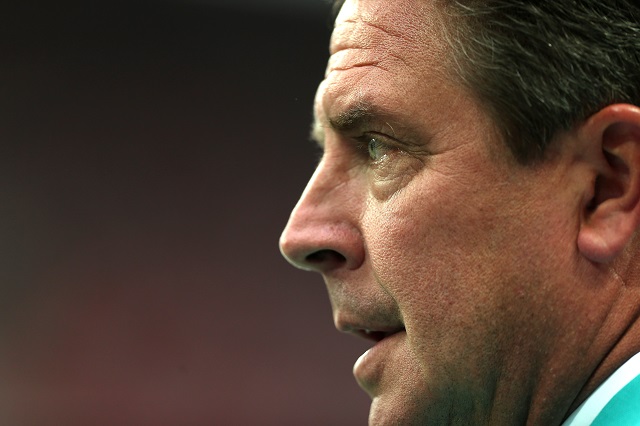 44 Touchdown Passes
Season: 1986
Marino threw for 4,476 yards and scored 44 touchdown passes in 1986 on his way to becoming the first quarterback in NFL history to have three consecutive seasons of 30 or more touchdown passes.  He threw his 100th career touchdown pass in the middle of this season, too, one in which he led the league in yards and touchdown passes. He was also named 1986 first team All-Pro.
6. Aaron Rodgers (Green Bay Packers)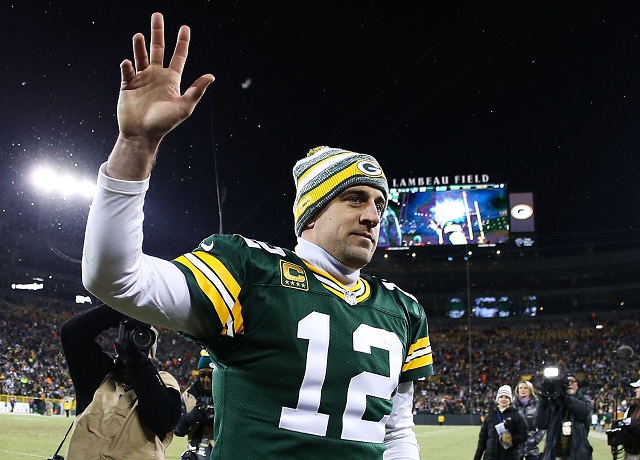 45 Touchdown Passes
Season: 2011
The Packers left the playoff party too early in 2011, but Rodgers had one of the best seasons by a quarterback ever. He passed for 4,643 yards, scored a total of 45 touchdowns, and his passer rating of 122.5 is still the highest for a single season in NFL history. He also topped the league's touchdown-to-interception ratio, touchdowns  percentage, and yards per attempt. He was named the league's Most Valuable Player award and finished second for the AP-Offensive Player of the Year award.
5. Drew Brees (New Orleans Saints)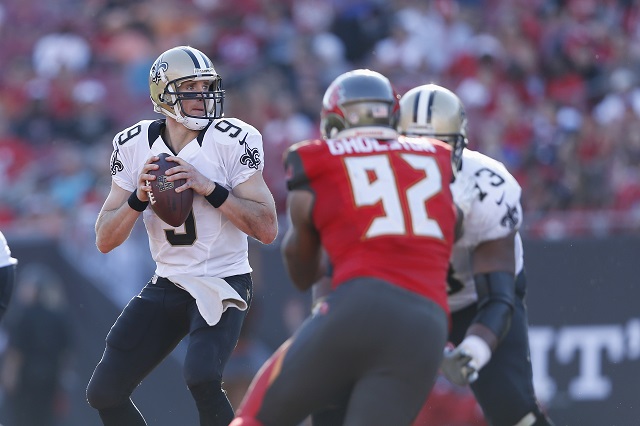 46 Touchdown Passes
Season: 2011
Brees broke Dan Marino's 27 year-old record for most passing yards in one season in 2011 on the way to setting a new Saints franchise record for passing touchdowns in a season. Brees would also remember the season for Week 17 against the Carolina Panthers, when he set 6 NFL records. However, Brees and the Saints lost the NFC Divisional Round Playoff game to the San Francisco 49ers.
4. Dan Marino (Miami Dolphins)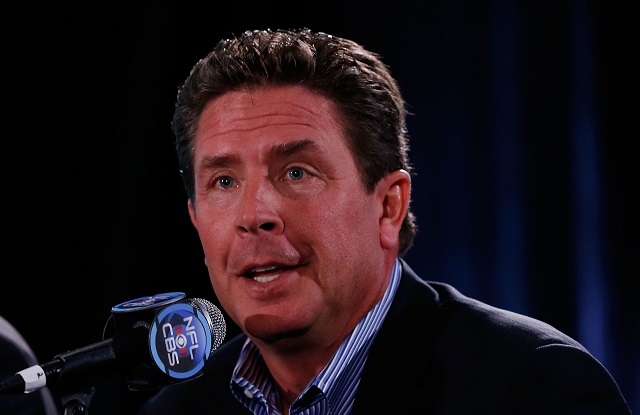 48 Touchdown Passes
Season: 1984
The year of Marino's only Super Bowl appearance saw him breaking six NFL passing records, including those for touchdown passes. His record of 48 was alive for 20 years before Manning and then Brady surpassed him. He was also named the NFL's Most Valuable Player, although the Dolphins lost the Super Bowl against San Francisco 49ers 38-16.
3. Peyton Manning (Indianapolis Colts)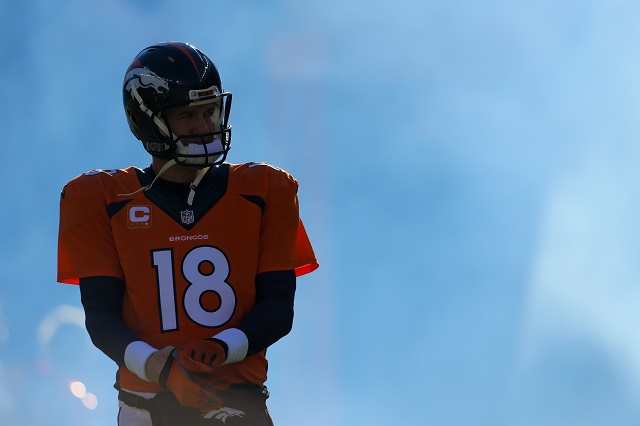 49 Touchdown Passes
Season: 2004
During the season, Manning threw for 4,557 yards and the 49 touchdown passes were a then record. He was also selected as the 2004 NFL Most Valuable Player and was named NFL Offensive Player of the Year. He also won the Best NFL Player at the ESPY Awards and the ESPY Award for Best Record-Breaking Performance. According to statistics site Football Outsiders, this was Manning's best season ever by a quarterback, play-for-play.
2. Tom Brady (New England Patriots)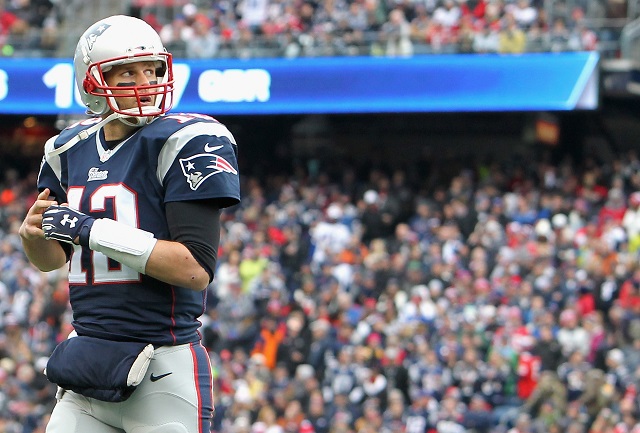 50 Touchdown Passes
Season: 2007
That this was a memorable season for Brady would be an understatement. When the quarterback, who led the Patriots to the first ever 16-0 regular season record in league history, made three touchdowns against Indianapolis, it was the ninth consecutive game in which he had done so and that broke Manning's record of eight. He also finally broke Manning's overall record of 49 touchdown passes, set in 2004, in the very last game of the season. He was named both the Most Valuable Player of the season and the Offensive Player of the Year.
1. Peyton Manning (Denver Broncos)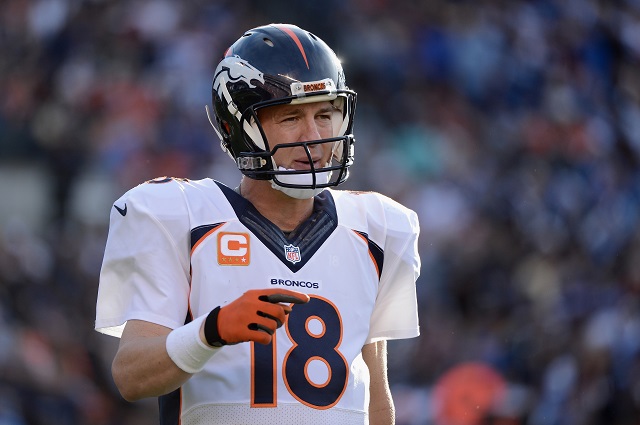 55 Touchdown Passes
Season: 2013
Manning still has the Super Bowl to deal with, but records came thick and fast for the quarterback in 2013. In his very first opening game of the season — against the Baltimore Ravens — Manning became one of only six players in NFL history to throw seven touchdown passes in one game. He then broke the record for most touchdown passes in the first three games of a season — throwing 12 — against the Oakland Raiders. Then came the main statistic for our list. On December 22, playing against the Houston Texans, Manning regained his record for most touchdown passes in a season from Brady after getting to 51. He eventually finished the regular season with 55 touchdown passes and also threw for a league record 5,477 yards.