10 Things You Need to Know About UFC Champion Conor McGregor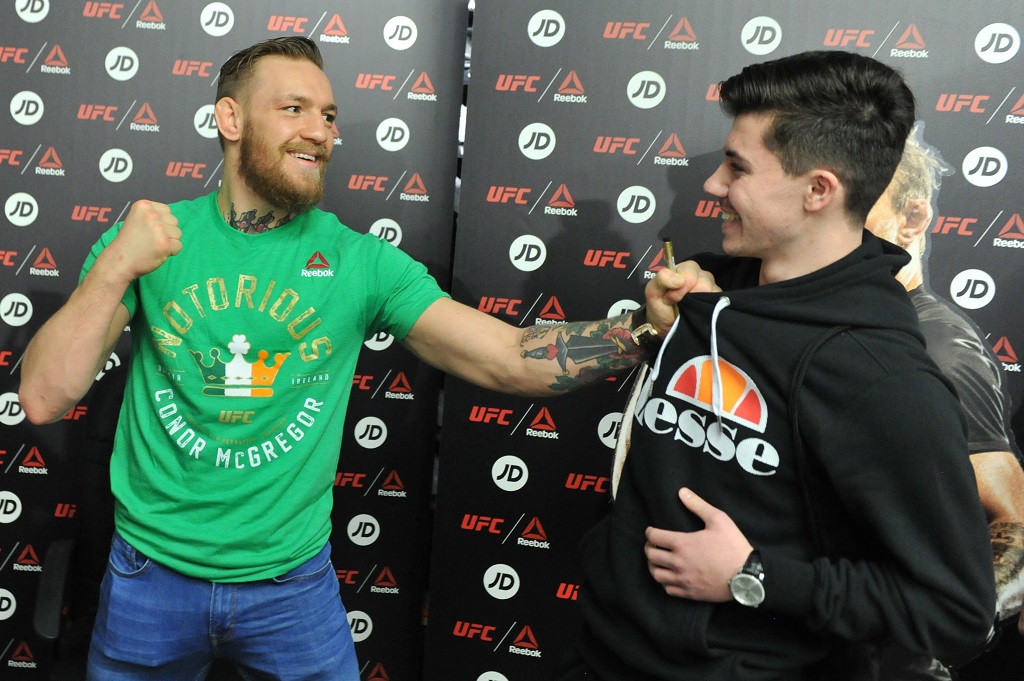 In December 2015, the UFC met it's new superstar, Conor McGregor. The 27-year-old Irish fighter had long claimed that he would become the UFC's biggest star, and after he knocked out one of the pound-for-pound MMA greats, Jose Aldo, at UFC 194, it looks like those claims have come true. McGregor's rise, no matter your opinion on how it was handled by the UFC, has been meteoric.
He joined the promotion in April 2013 and fought on the untelevised portion of a Fuel TV fight card in his debut. In his third fight, he headlined a UFC card in his homeland of Ireland. In July 2015, he headlined a pay-per-view card and won the interim featherweight title. Then, at UFC 194, he became the undisputed champion, defeating Aldo by knockout in 13 seconds. He has not lost in seven fights with the promotion, and he has only gone the distance on one occasion while with the UFC.
Now that he's achieved his goal of becoming a UFC champion, things will pick up for McGregor. You can expect to see, and hear, a lot more from the outspoken fighter. The above are all pretty basic facts about McGregor; they can be found by merely searching online. But we discovered some behind-the-scenes info on this headstrong fighter. Read on to learn 10 obscure facts about McGregor.
1. He's big on visualization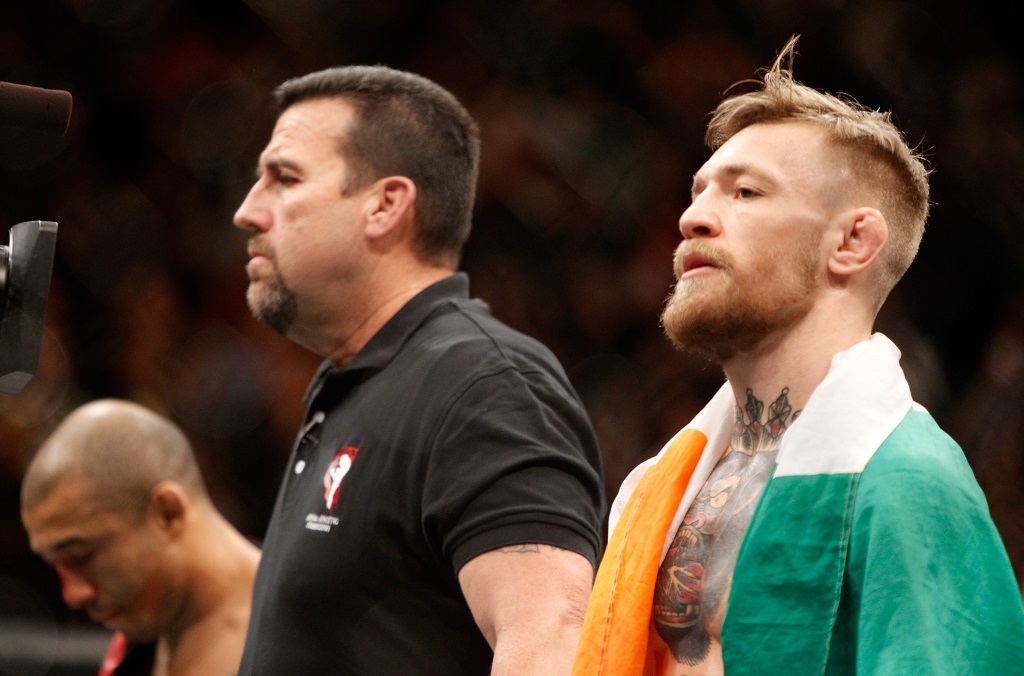 McGregor often says that a lot of his success in the Octagon can be attributed to visualization techniques. He reiterated this fact after knocking out Aldo at UFC 194. At the post-fight press conference, McGregor said:
If you can see it, and you have the courage to speak it, it will happen. I see these shots, I see these sequences, and I don't shy away from them. A lot of times people believe in things, but they keep it to themselves, they don't put it out there. If you truly believe in it, if you become vocal with it, you are creating the law of attraction and it will become reality.
2. He's backed up all his predictions
McGregor is sometimes viewed as a brash trash-talker who says things to get attention or irritate his opponents — and it's easy to believe it. However, when you dig a little deeper, you discover that every seemingly outlandish thing he has said has come to fruition. In 2008, he declared that he would not only fight in the UFC, but he would become the UFC champion as well. He has accomplished both of those things.
Before he fought Diego Brandao in the main event of UFC Fight Night 46, McGregor claimed he would knock out his opponent in the first round. And that's exactly what he did, stopping the fight with 55 seconds left in the round. Prior to UFC 178, McGregor said he would knock out Dustin Poirier in the first round. He accomplished that feat, handing Poirier the first knockout loss of his career, 1:46 into the first round.
In November 2014, McGregor predicted he would bring the largest pay-per-view numbers and largest gate to the UFC. At UFC 194, he brought a Las Vegas record gate to the UFC with $10.1 million; his pay-per-view numbers for the fight trended as the highest in 2015, and maybe ever. Leading up to UFC 189, when he was originally booked to face Jose Aldo, McGregor said he thought Aldo would pull out of the fight. Aldo did drop out of that fight, citing an injury.
So the promotion booked McGregor against Chad Mendes on that card. Before meeting Mendes, McGregor told him on a media call that he would "Butcher you on the bottom, (and) I'll get back up and I'll butcher you on the feet." He did both of those things, abusing Mendes with elbows on the ground before standing up and finishing the fight standing. McGregor tried to bet UFC president Dana White and UFC CEO Lorenzo Fertitta $3 million that he would knock out Mendes in the second round. It's a good thing the UFC bosses refused to participate, because McGregor knocked out Mendes with three seconds left in the second round.
Most recently he predicted that he would knock out Aldo in the first round, and well, he did that as well. So, what's next for McGregor? No one is sure at this point, but whatever it is, history shows that you should put your money behind his predictions.
3. The last man who defeated McGregor is in the UFC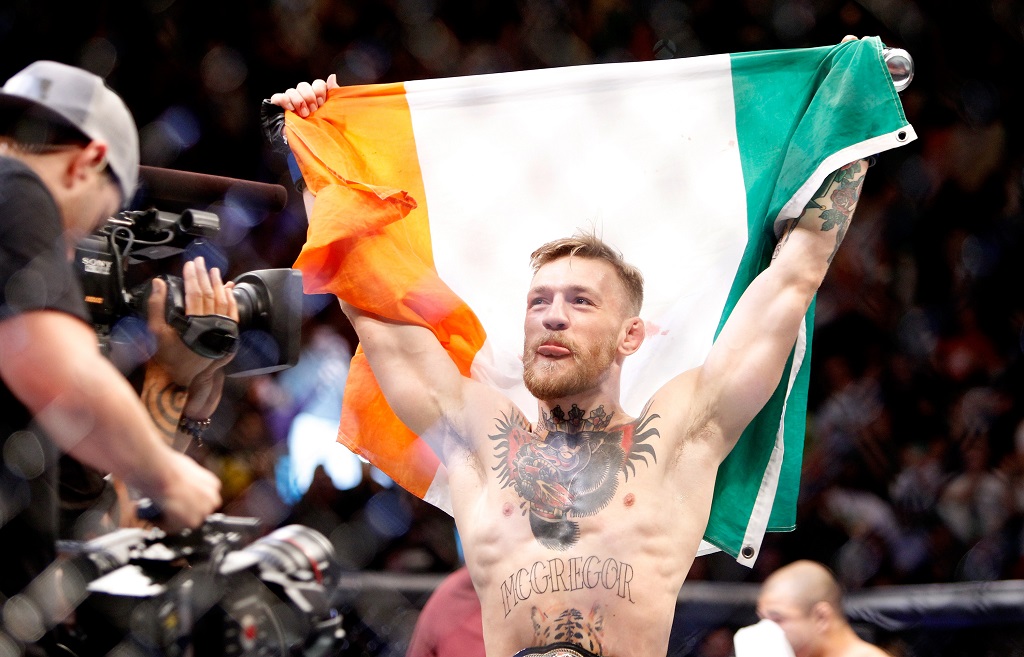 The last time McGregor lost a fight was November 2010. He lost that contest by submission just 38 seconds into the first round. Since then, McGregor has won 15 straight fights. The man who defeated McGregor on that Cage Warriors fight card was Joseph Duffy. Today, Duffy is a 14-1 fighter, competing in the UFC. He won his first two fights with the promotion by first round stoppage.
Duffy's next fight will take place on January 2, 2016, when he faces former McGregor knockout victim Dustin Poirier. Duffy currently fights at lightweight, one weight higher than McGregor presently competes at. However, McGregor has said he is interested in moving up to 155 pounds, so a rematch is not out of the question.
4. He has UFC records
McGregor has only fought in seven UFC fights, yet he is carving his name into the promotion's history book. The records that currently belong to the newly minted featherweight champion include:
McGregor's six knockout victories in UFC featherweight competition are the most in divisional history.
McGregor's 13-second knockout victory marked the fastest title-fight stoppage in UFC history. (Ronda Rousey held the previous record with her 14-second stoppage of Cat Zingano at UFC 184 in February.)
McGregor became the sixth fighter in UFC history to earn five or more consecutive knockouts. (Chuck Liddell, Thiago Alves, Matt Brown, Junior Dos Santos and Ricco Rodriguez also accomplished the feat.)
He has the shortest average fight time in UFC featherweight history at 5:35, almost a full minute less than the second shortest average fight time in the division.
McGregor is first among UFC featherweights in significant strikes landed with 5.53 per minute.
Finally, he is first in featherweights in strike differential at +2.51.
5. He was on the Dole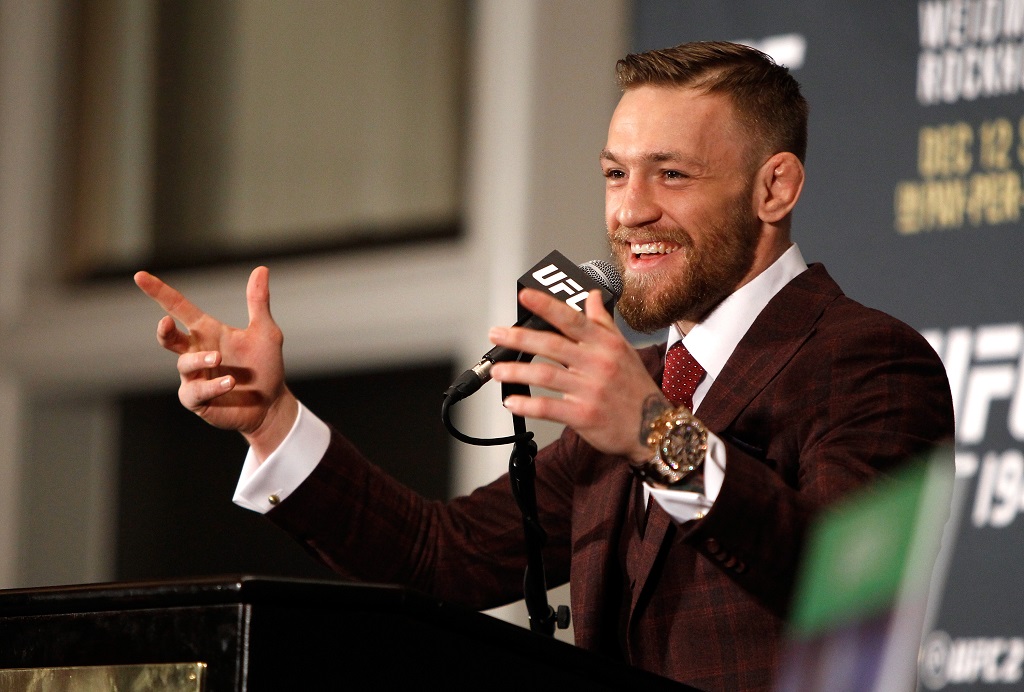 At UFC 194, McGregor's paycheck was $500,000. He also pulled in an extra $50,000 with a "Performance of the Night" bonus. With paydays like that, he is far removed from where he was when he first entered the UFC in 2013. McGregor debuted with the UFC on Fuel TV 9, where he defeated Marcus Brimage by first round knockout. McGregor earned a $60,000 "Knockout of the Night" bonus for his efforts. When McGregor learned about the bonus at the post-fight press conference, he said:
To be honest, I don't know what's going on here, I'm just up here hearing $60,000. I'm just thinking of what I'm going to spend it on. I'm going to buy myself a nice car and maybe some suits or something, some custom-made suits. I don't know. Just last week I was collecting the social welfare.
6. He was signed by the UFC without Dana White seeing him fight
When UFC president Dana White was in Dublin to accept an award from Trinity College, people kept asking him when the UFC was going to sign a fighter named Conor McGregor. The way the fans talked about McGregor, White thought he was a heavyweight. He discovered otherwise, yet he flew McGregor to Las Vegas for a meeting. After that meeting, the UFC signed McGregor to a five-fight deal. White never saw McGregor fight prior to signing him.
7. He was asked to audition for a James Bond villain role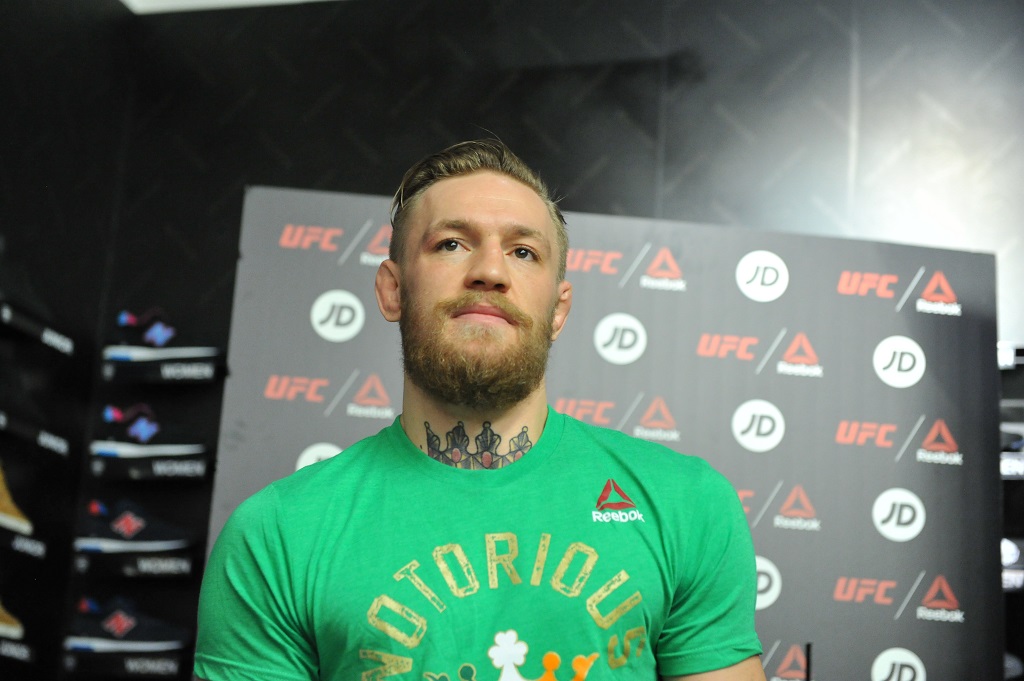 There are constants in James Bond films. The main character, James Bond is one of them, of course. Beautiful women are another Bond association, as well as the villains — and McGregor could have been one of the latter. During episode three of the recent "Notorious" special, McGregor recounted the story of how he almost became a Bond villain.
They want me to audition for the villain for James Bond. The last villain for James Bond won an Oscar. Your man that used to be in No County for Old Men [Javier Bardem]. He was unbelievable. I'm not that person. Do you know what I mean? I'm just doing it having a laugh. Don't start putting in those serious things. But I'll see how I feel. They were telling me this last week. It's the wrong time to say it to me when I'm cutting weight. Maybe after the fight when I'm feeling better. We'll mess about and see what happens. At the end of the day, it's a seven figure thing. I'll give it a shot. For seven figures it's worth a go, isn't it?
8. The UFC titles aren't his first
McGregor has had gold strapped around his waist before UFC 194. As a member of Cage Warriors, he won the promotion's featherweight title in June 2012. In his next fight, he won the Cage Warriors lightweight title. He did not get the chance to defend either of those titles because he signed with the UFC for his next fight.
9. UFC 194 wasn't his fastest KO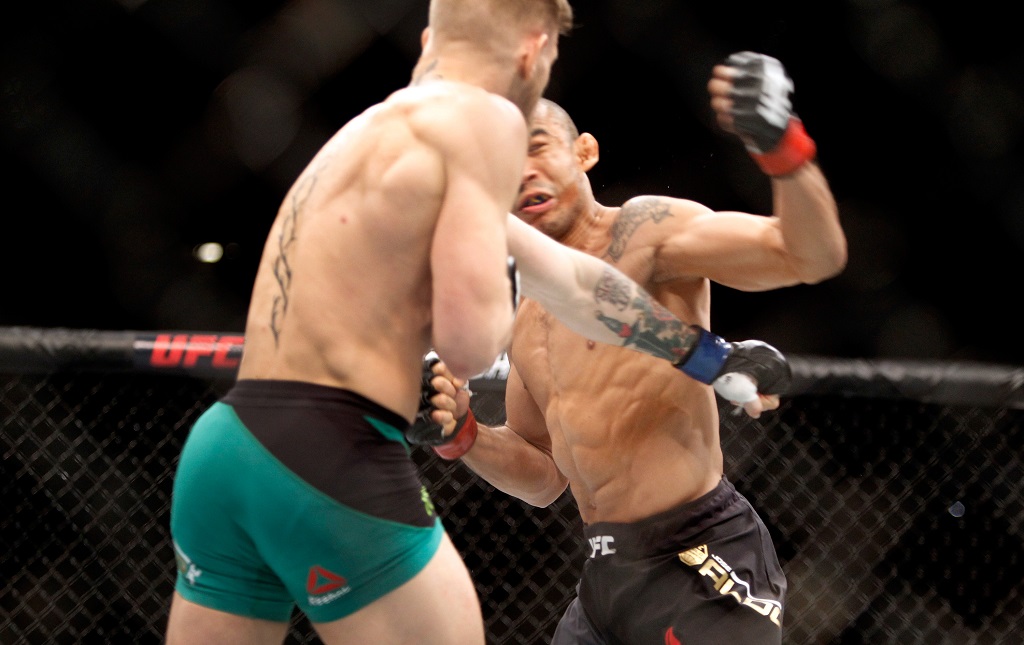 McGregor knocked out Aldo in 13 seconds to claim the UFC featherweight title. While this is now the fastest knockout in UFC title fight history — beating Ronda Rousey's 14-second knockout of Cat Zingano at UFC 184 — it isn't McGregor's fastest KO. McGregor once recorded a four-second knockout. He accomplished that feat in April 2011 when he knocked out Paddy Doherty at Immortal Fighting Championship 4.
10. He once withdrew from a title fight
When Aldo withdrew from his UFC 189 fight against McGregor due to injury, McGregor was quick to taunt the then-champion for doing so. However, McGregor did the same thing when fighting for Cage Warriors in September 2012. He withdrew from his scheduled September 2012 featherweight title fight against Jim Alers after suffering a facial injury while training for the bout.