10 Worst Car Accidents in NASCAR History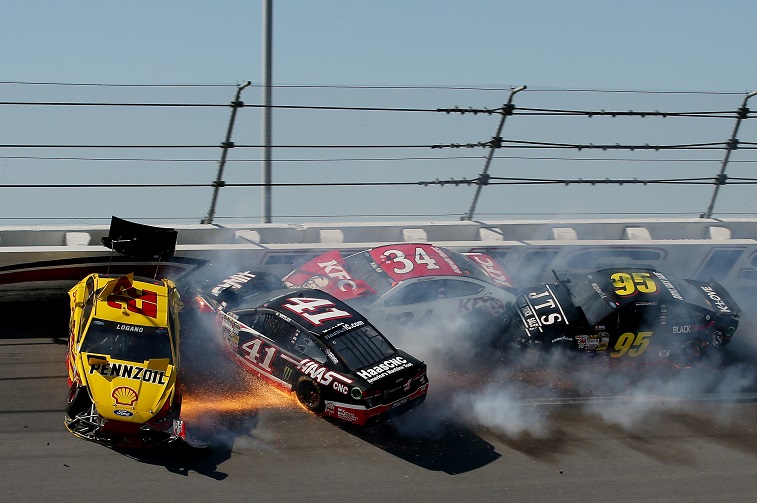 NASCAR is one of more divisive sports out there. Some people just don't understand it — Isn't it just a bunch of cars driving around a track in circles? What's so hard about that? On the other side of the spectrum, some folks treat the sport like a religion; it's not just driving, it's a physical grind that involves coordination, guts, and crazy endurance. There is nothing simple about that.
The fact is, whether you're someone who couldn't care less about a checkered flag or someone who makes sure to tune into as many races as popular, both sides should be able to agree that NASCAR is an incredibly dangerous sport. Every time a racer steps into a car, they are essentially putting their life on the line. Adrenaline, high speeds, risk, these are a part of every race. Unfortunately, sometimes the need for speed and the insatiable desire to win, can get the best of even the most skilled drivers. When that happens, a major wreck is not out of the question.
This sport has seen its fair share of wrecks. Yet some of these accidents have stood out among the rest as a reminder of just how dangerous getting into one of these cars can be. With that in mind, here's a look at the ten worst wrecks in NASCAR history. This list is unranked.
1. 1960 Daytona Modified Sportsman Race
The wreck at the 1960 Daytona Modified Sportsman Race holds firm in the pole position of largest wrecks in NASCAR history. For some reason, 73 cars started on the track that day — on Saturday, February 13th — and it took only one lap for 37 of them to be knocked out of commission. Eight drivers were taken to the hospital that day, but there were no fatalities or life-threatening injuries. While nothing good ever comes from a crash of this magnitude, it at least forced NASCAR to reduce the number of drivers allowed on the track at one time to 43. It's safe to say, things could have been a whole lot worse.
2. Michael Waltrip — Bristol, 1990; Mike Harmon — Bristol, 2002
You can't talk about Bristol Motor Speedway without acknowledging two of the most famous crashes in NASCAR History.
This first occurred in 1990 — during the Budweiser 250 NASCAR Nationwide Series race — when Michael Waltrip (pictured above) sent his car into turn two, causing an impact so great that it practically tore his car in half. Waltrip walked away from the incident with nothing more than "some contusions and a little bit of confusion." His older brother Darrell, however, couldn't believe his brother walked away at all.
Just 12 years later in 2002, while practicing in his NASCAR Nationwide Series car, Mike Harmon crashed into turn 2 as well. His car essentially disintegrated on impact, although he also walked away unscathed. Two drivers, two separate wrecks into the same gate, and two lucky tales of survival. New rule: Always respect Bristol Motor Speedway.
3. Richard Petty — 1970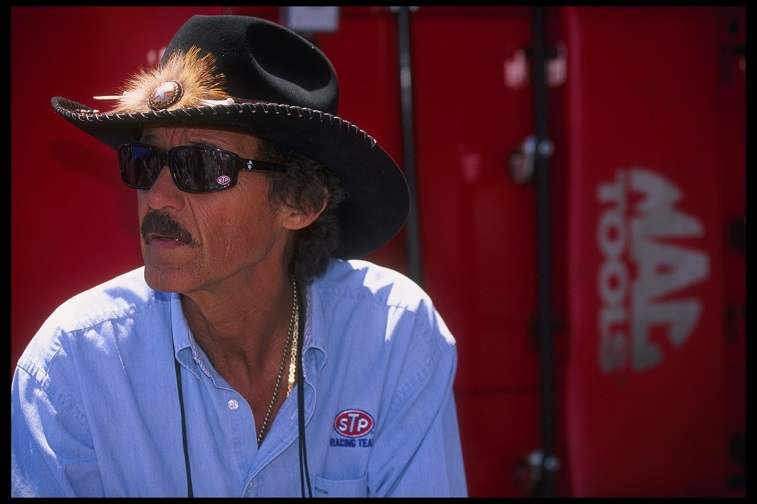 Well-loved NASCAR driver Richard Petty may have been notorious for wrecking his vehicle, but none of his crashes proved scarier than the one he had in 1970 at South Carolina's Darlington Speedway. Petty hit the retaining wall with his Plymouth Roadrunner and proceeded to roll and flip multiple times. It was a brutal crash that had many fans assuming the worst.
As a result of this scary event, NASCAR ordered that protective nets be installed in all NASCAR racing vehicles. The crash was also a precursor to the creation of head and neck support safety features being installed in all cars, as none existed before that time. Once again, something good came out of something that had the potential to be so bad.
4. Dale Earnhardt's fatal NASCAR wreck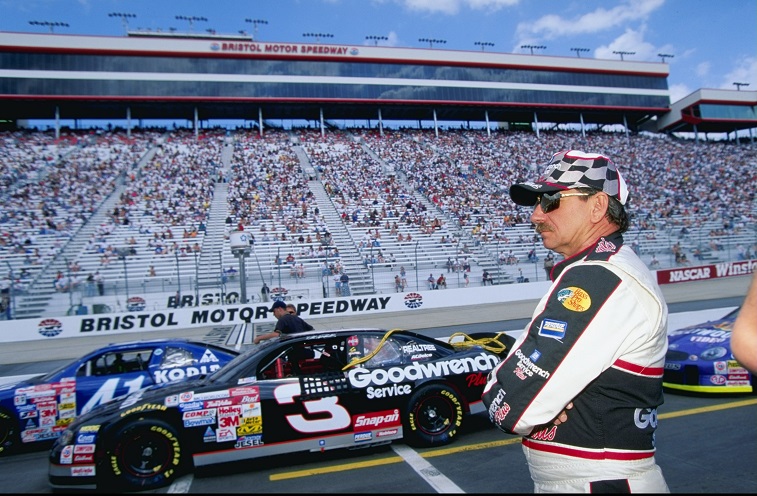 The sport of NASCAR suffered the lost of one of it's most popular and iconic figures on February 18, 2001, when legendary driver Dale Earnhardt fatally crashed during the final lap of the 2001 Daytona 500.
It all started when Sterling Marlin's Dodge hit the rear bumper of Earnhardt's car and sent him spinning into the middle of the track. Ken Schrader was unable to veer around the car and hit Earnhardt's passenger side door head on, sending him smashing into the wall at 155 miles per hour and then pushing the vehicle down the track.
Following the news of his passing, NASCAR president Mike Helton said, "This is understandably the toughest announcement I've ever had to make. We've lost Dale Earnhardt."
5. Carlos Pardo's fatal wreck — NASCAR Corona Series, 2009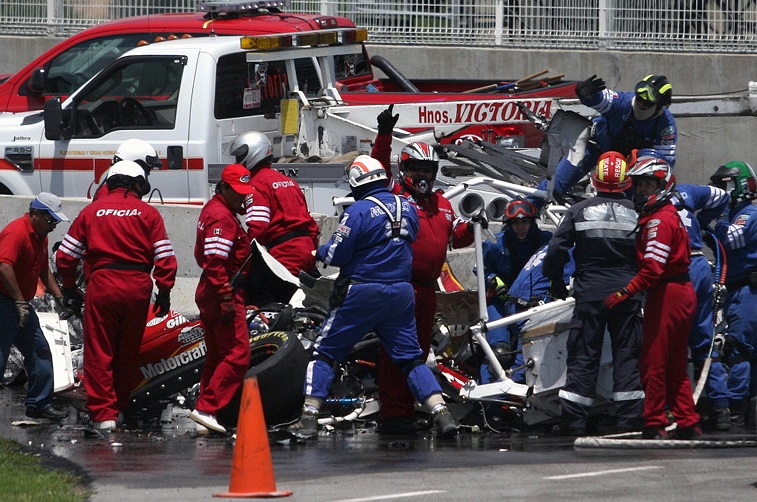 Carlos Pardo managed to win eight of the 74 NASCAR Corona Series races he participated. Unfortunately, his final victory came at a steep cost: his life.
In 2009, during the Mexico Series race at Puebla, Pardo was on Lap 97, when his car was tapped from behind, causing him to spin out of control and smash into a wall behind the pit lane at 120 miles per hour. His car was obliterated and he had to be airlifted to the hospital. While Pardo was awarded the win because his car was out in front at the time of the crash, that detail doesn't make this incident any less tragic.
6. Steve Park — Darlington, 2001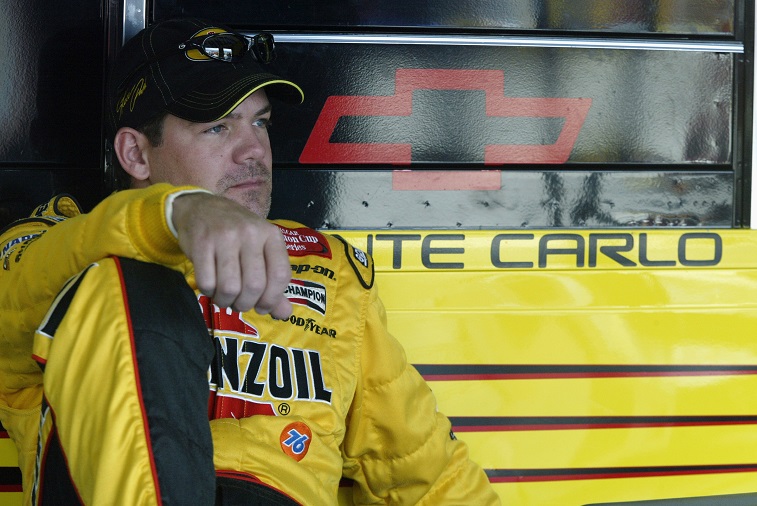 At Darlington Raceway in 2001, Steve Park experienced one of the most freakish accidents in NASCAR history. As the drivers drove around the track under caution, Larry Foyt raced to catch up to the rest of the vehicles, when Park accidentally pulled his steering wheel off, causing his vehicle to veer left across the track, where he would eventually be he T-boned by Foyt's car.
Park suffered serious injuries in the accident, which included massive brain damage and a permanent speech impediment. While it was a long road to recovery, Park never lost his determination.
7. Carl Edwards — Aaron's 499, 2009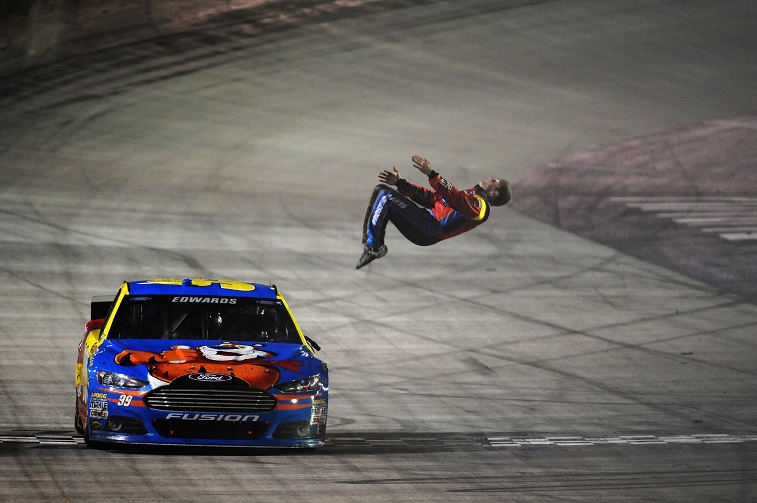 In 2009, Carl Edwards' No. 99 car caused major damage during the Aaron's 499 at Talladega Superspeedway. While trying to block Brad Keselowski from passing him, Edwards' vehicle went airborne and slammed into the catch fence on the frontstretch. Despite how bad the crash looked, fortunately, no one was seriously injured in the incident.
8. Ricky Rudd — Atlanta, 1990
During the 1990 Atlanta Journal 500 — the final race of the year — tragedy struck in pit road, as Ricky Rudd lost control of his car and spun into Bill Elliott's vehicle, which was undergoing a tire change. At the time of the incident, Mike Rich — Elliott's rear tire changer — was working on the back tire, when he was struck and pinned between the two cars. His death would prompt NASCAR to alter the speed limits in pit road and require all pit crew to wear protective gear.
9. Bill Elliott — 1987 Winston 500
The wreck at the 1987 Winston 500 at Alabama's Talladega Speedway was another crash that forced NASCAR to reevaluate its rules and regulations. This time, the problem at hand was speed.
Racers knew things were going to be fast after Bill Elliott drove his Thunderbird 212.809 miles per hour during qualifying on April 30. Therefore, when the race took place on May 3, drivers prepared themselves for an all out, wide open affair.
It was during the actual race that Bobby Allison (going close to 200 miles per hour) shredded a wheel on his Buick and spun around backwards before flying up and over the retaining wall, his car slamming back down and getting annihilated by several other race cars. While Allison was uninjured, multiple fans were hit by debris and had to be rushed to the hospital with minor injuries.
As a result of this incident, NASCAR required Daytona and Talladega-ready vehicles to install "restrictor plates" beneath beneath the carburetors, which would choke the speed of each vehicle to a less dangerous number.
10. Glenn "Fireball" Roberts — 1964 World 600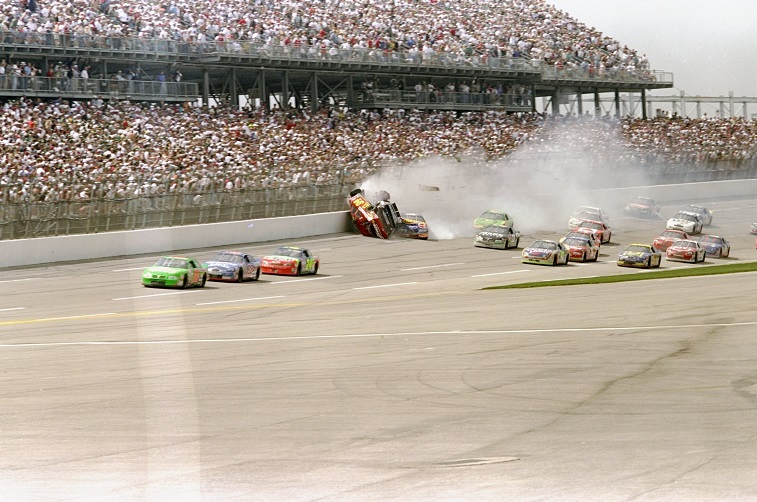 Just seven laps into the 1964 World 600 at the Charlotte Speedway, popular NASCAR driver Glenn "Fireball" Roberts couldn't avoid the wreckage caused by the crash of Ned Jarrett and Junior Johnson. As a result, Roberts slammed into the wall, where his car rolled over and burst into flames. The incident left him with burns over 80% of his body, forcing him to be airlifted to a nearby hospital. After fighting to recover, Roberts developed pneumonia, fell into a coma, and unfortunately passed on July 2, 1964.
The tragic affair forced NASCAR to require all drivers to wear fire retardant clothing, while also installing in-vehicle fire extinguishing systems and replacing the steel tanks with rubber ones.