10K Club: Where Does Calvin Johnson Rank Among Active NFL Receivers?
Detroit Lions wide receiver Calvin Johnson made it into the record books Thursday, reaching 10,000 career receiving yards faster than any player in NFL history. It took Megatron just 115 games to achieve the 10K mark, breaking Torry Holt's old record of 116 games. Johnson is one of 43 all-time NFL receivers to catch at least 10,000 yards (or more than five and a half miles!) worth of passes, and should continue to climb the charts over the next few weeks and years. Only the great Jerry Rice piled up more than 16,000 receiving yards (he had a whopping 22,895 in all), so most of the names on the all-time list are bunched within a range of less than 6,000 yards. (Holt finished 12th all-time with 13,382 yards, to put Johnson's future numbers in perspective.)
Of the 42 men ahead of Johnson on the all-time receiving yards list, only eight of them are still active. Here are the active NFL receivers Johnson will be trying to surpass as his career continues. (And it's not just Johnson doing the chasing: Brandon Marshall, Antonio Gates, and Wes Welker are all closing in on the 10K club, with more than 9,600 yards apiece.) All stats come from Pro-Football-Reference.com and are updated through games played on November 27, 2014.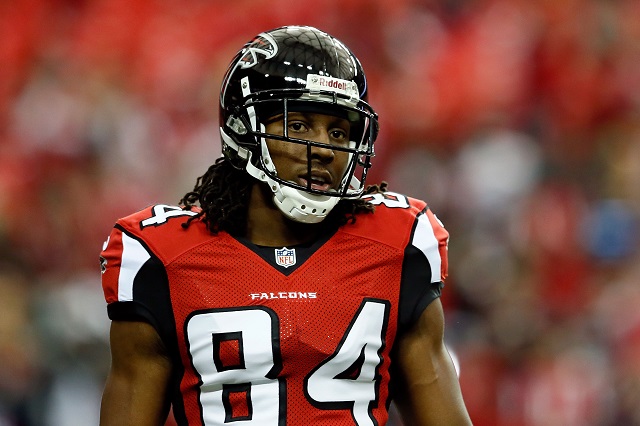 8. Roddy White
Falcons standout Roddy White has caught 10,098 yards worth of passes in a decade with Atlanta, needing 741 receptions over 151 games so far to accomplish that. White led the league with 115 grabs in 2010 and owns 60 touchdown catches in his career, twice catching 10 or more scores in a season. He ranks 41st on the all-time receiving yards list.
7. Santana Moss
Washington receiver Santana Moss has caught 10,167 yards worth of passes, good for 39th all time, since the New York Jets drafted him in the first round in 2001. He amassed at least 40 receptions in each of the last 11 seasons, and has made 722 catches in all, with 66 of them going for touchdowns (although he doesn't have a catch yet in 2014).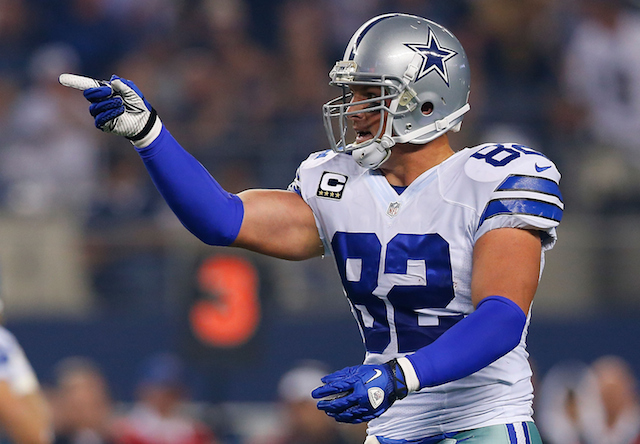 6. Jason Witten
The only tight end on this list, the Cowboys' Jason Witten, ranks No. 36 in all-time receiving yards. Witten has made 923 catches for 10,268 yards during his 12 seasons in Dallas, including a career-best 110 receptions in 2010. Witten, who hasn't missed a game since his rookie year, has caught 56 touchdown passes for Jerry Jones's team.
5. Larry Fitzgerald
No. 24 on the all-time list (and fifth among active players) is Cardinals star Larry Fitzgerald, who has caught 892 passes for 12,025 yards and 89 touchdowns. Fitzgerald is in his 11th season, all with Arizona, and made 58 or more catches in each of his first 10 campaigns, including tying for the league lead with 103 receptions in 2005.
4. Anquan Boldin
Fitzgerald's former teammate, Anquan Boldin, sits at No. 20 on the all-time receiving yards list with 12,187. Boldin has caught 925 passes in his career during stops in Arizona, Baltimore, and now San Francisco, including 69 touchdowns. His best season came with the Cards in 2005, when he averaged more than 100 receiving yards a game.
3. Steve Smith
Next up is longtime Carolina Panther Steve Smith, who now plies his trade with the Baltimore Ravens. Smith has caught 889 balls through his 14 seasons in the league, good for 13,014 receiving yards (the 16th-best all-time total to date). Smith led the NFL in 2005 with 1,563 yards and a dozen receiving touchdowns on 103 catches.
2. Andre Johnson
In 12 years with the Texans, wideout Andre Johnson has pulled in 13,328 yards worth of passes, which puts him No. 13 on the all-time receiving list. Johnson has reached triple digits in catches five different years, and has topped the 1,000-yard mark in seven seasons. He has 62 touchdowns in 165 games for Houston.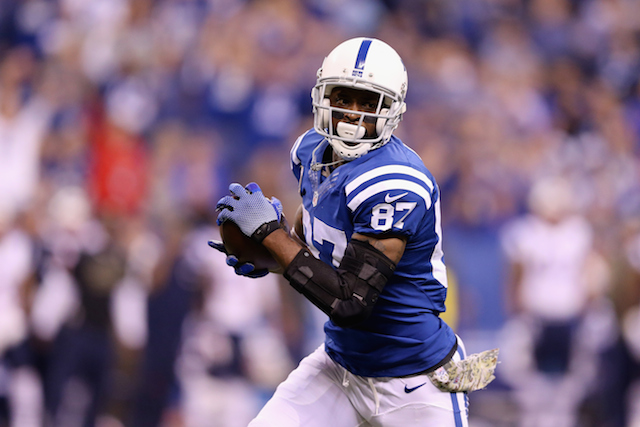 1. Reggie Wayne
No active NFL player has more receiving yards all-time than lifelong Colt Reggie Wayne, who has made 1,056 catches for 14,171 yards and 82 touchdowns over 14 seasons with Indianapolis. Wayne has eight 1,000-yard seasons to his credit, including seven in a row, and has caught more than 100 passes in a year four times. He ranks eighth all-time in receiving yards, behind Rice, Terrell Owens, Randy Moss, Isaac Bruce, Tony Gonzalez, Tim Brown, and former Indy teammate Marvin Harrison.