11 Must-See UFC Fights in May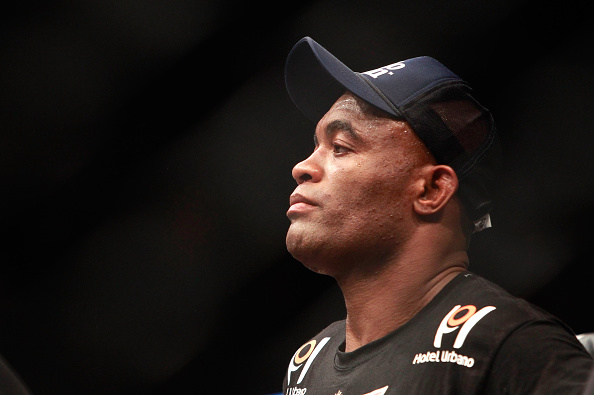 Welcome to May, a month where the UFC will rack up frequent flyer miles, presenting three events on three different continents beginning with the promotion's first fight card, UFC Fight Night 87, in the Netherlands on May 8. This card is not the only first for the UFC in May. The promotion will also make its first trip to a soccer stadium when it visits the 42,000-seat Arena da Baixada stadium in Curitiba, Brazil for UFC 198 on May 14.
The third and final card of the month will see the UFC return to its hometown of Las Vegas for UFC Fight Night 88 on May 29. The first two events of the month feature 13 fights while the final fight card has 12 fights currently booked. Each of these fight cards has at least two matchups that we judge as "must-sees."
There is one title fight in May, and it's a doozy as heavyweight champion Fabricio Werdum puts his belt on the line against Stipe Miocic. There are potential title eliminators, like the heavyweight bout between Alistair Overeem and Andrei Arlovski. There are fights that may feature future champions like the matchup between Thomas Almeida and Cody Garbrandt, and finally, there are fights that will be just plain fun to watch. So, what are the 11 UFC fights you need to watch in May?
UFC Fight Night 87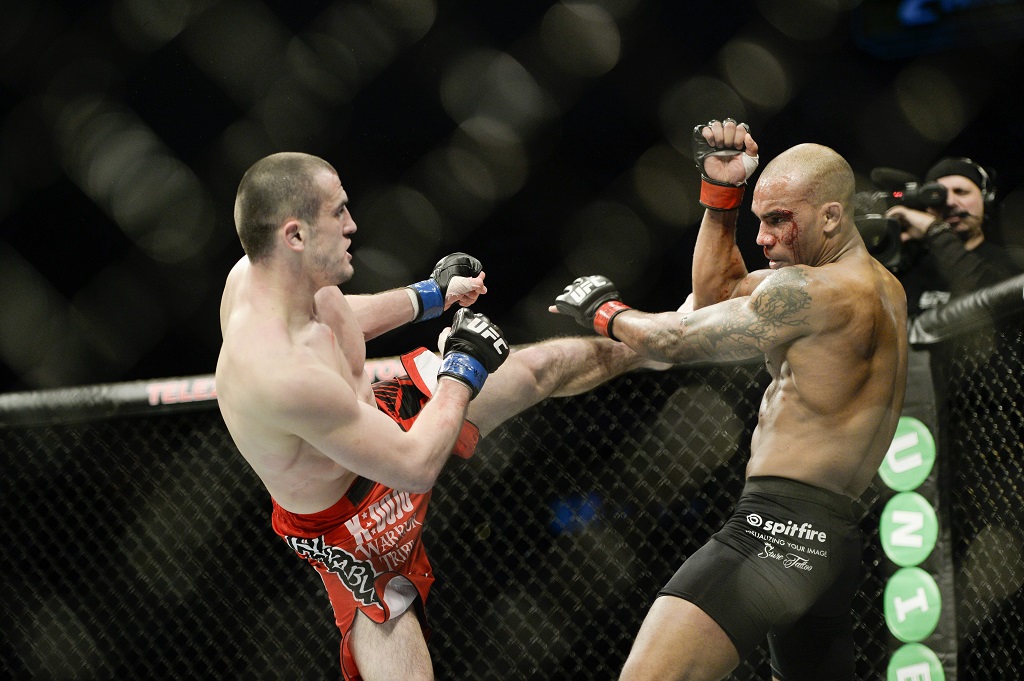 Alistair Overeem vs. Andrei Arlovski
This is a huge fight both literally and figuratively. Overeem and Arlovski are both 6-foot-4 and over 240 pounds. They are both ranked in the top five in the UFC's heavyweight division. They are both former champions — Arlovski with the UFC and Overeem with Strikeforce — and lastly, they are both in the thick of the race for the next UFC heavyweight title shot.
Heading into this contest, Overeem is currently riding a three-fight winning streak while Arlovski saw his six-fight winning streak come to a close in his last outing. The odds are good that this one will end with a stoppage as these two have gone the distance just 15 times in their 92 combined fights. Adding a bit of intrigue, these two train at the same gym, Jackson-Wink in Albuquerque, N.M.
Gunnar Nelson vs. Albert Tumenov
If you are a fan of grappler versus wrestler fights, the bout between Albert Tumenov (pictured above) and Gunnar Nelson will be right in your wheelhouse. Nelson is one of the most accomplished grapplers in the UFC's welterweight division, claiming 10 of his 14 career victories by way of submission. Nelson may have struggled as of late, losing two of his last three fights, but he's always a danger if the fight hits the ground for even a second.
Tumenov is a young, dangerous striker who is in the midst of a five-fight UFC winning streak, winning three of those bouts by way of knockout. He has not been on the ground much, thanks to his stellar takedown defense and heavy hands. Where this fight is contested will likely decide who the victor will be.
Karolina Kowalkiewicz vs. Heather Jo Clark
Karolina Kowalkiewicz launched herself right into the UFC women's strawweight rankings in her first fight in the UFC, a unanimous decision win over Randa Markos at UFC on FOX 17. With an 8-0 record, she looks like she could turn into a contender in the division.
Heather Jo Clark is facing a tough test here. She's fighting for the first time in more than a year after taking 2015 off to recover from injuries. If she has any ring rust from her time off, Kowalkiewicz will be able to take advantage of it, keeping the grinding Clark at distance with her varied striking game.
UFC 198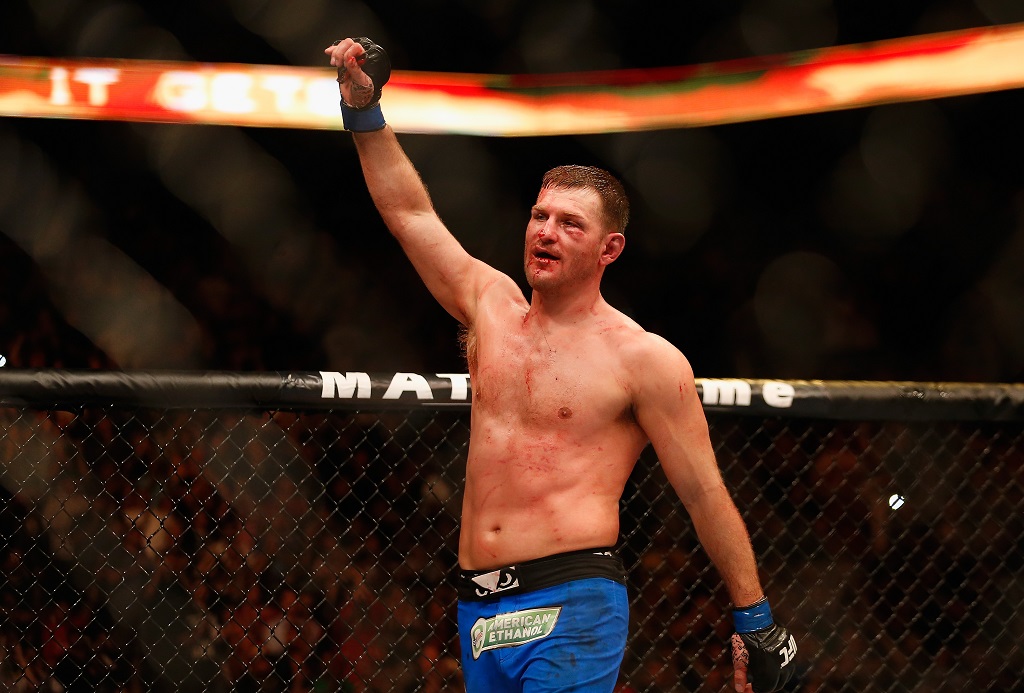 Fabricio Werdum vs. Stipe Miocic
The UFC heavyweight title is on the line in this fight, as Werdum puts the belt up against the highly ranked Miocic. Werdum won the title in June when he dethroned Cain Velasquez with a somewhat surprising submission victory. It was Werdum's sixth straight win and second consecutive "Performance of the Night"-winning performance.
Werdum was once looked at as just a submission fighter, but since rejoining the UFC in 2012, he demonstrates that this tag was a misguided one and that he is a well-rounded combatant who can threaten the best fighters at any aspect of MMA.
Miocic is 5-1 over his last six fights in the UFC, with three fight night bonus-winning performances during that run. Miocic is an athletic fighter with a dangerous striking game. He may not have the submission skills of Werdum, but he is fully capable of finishing the fight on the ground via his heavy striking game.
Ronaldo Souza vs. Vitor Belfort
Ronaldo Souza is a dangerous man. He holds multiple world championship titles in Brazilian jiu-jitsu (BJJ) and has won 16 of his 27 professional fights by way of submission, including two of his last three fights. In the UFC's middleweight rankings, he sits behind only champion Luke Rockhold and former champion Chris Weidman.
Souza enters the fight against Vitor Belfort coming off a controversial split decision loss to Yoel Romero in December. (Souza tested positive for a banned substance after the bout.) The loss ended Souza's eight-fight winning streak. Belfort, at 39, may be getting a little long in the tooth, but his recent performances show that he can still take care of business in the Octagon, knocking out four of his last five opponents.
His only loss during that run was to then-middleweight champ, Weidman. Belfort does have a black belt in BJJ, but he tends to rely on his hands much more than submissions. The winner of this contest could be the next challenger for the middleweight crown.
Demian Maia vs. Matt Brown
This fight, like the two ahead of it on this card, features two top-10 fighters. Demian Maia, currently ranked No. 6 in the welterweight division, is riding a four-fight winning streak, which began when he decided to return to his strong submission game.
For a few fights, Maia seemed to want to transition to a striking-based attack, and it did not serve him well. Now that's he's back to his bread and butter, he is thriving.
Brown, ranked No. 8 in the division, is not interested in seeing the mat unless it is to look down at his beaten opponent. Brown is 8-2 in his last 10 fights, losing only to Robbie Lawler and Johny Hendricks. Brown does have submission skills, but he's a striker at heart; an old-school fighter who likes nothing more than to stand and throw hands until someone drops.
Anderson Silva vs. Uriah Hall
It wasn't long ago that it was unthinkable to see a Anderson Silva fight this far down the card, but time has been cruel to the former UFC middleweight champion. He's 0-3-0-1 in his last four fights and hasn't won a contest since he defeated Stephan Bonnar in October 2012.
Since that win, he's lost his title, broken his leg, failed a drug test, and dropped a decision in his return fight. The bout against Uriah Hall is a chance to remain relevant in the division he once ruled. Hall is an odd fighter, at times capable of unleashing highlight-reel striking displays that leave his opponent crumpled in a heap on the mat.
The bad thing is that Hall is also capable of delivering lackluster performances that leave fans wondering where his appeal lies. A win over Silva would be a huge notch in Hall's belt.
Cristiane Justino vs. Leslie Smith
If the full name Cristiane Justino looks unfamiliar, how about you try the name of one of the most dangerous women in MMA, better known as Cris Cyborg. Justino, who has not lost a fight other than her debut in 2005, is one of the most feared female fighters ever — and with good reason; she's a brutally efficient striker who flat out overpowers her opponents.
Of her 15 career wins, 13 have come by way of knockout, and she has not gone the distance since 2008. The fact that she is finally fighting for the UFC, albeit at a catchweight of 140 pounds, opens up doors to some interesting possible fights for her, with the most appealing contest being against former UFC women's bantamweight champion Ronda Rousey.
At UFC 198, Justino faces Leslie Smith, a fighter who has not had two consecutive wins since she won fights in October 2012 and January 2013. Most recently, Smith defeated Rin Nakai at UFC Fight Night 85. While this fight will get Smith some recognition, all signs point to it not going well for her.
UFC Fight Night 88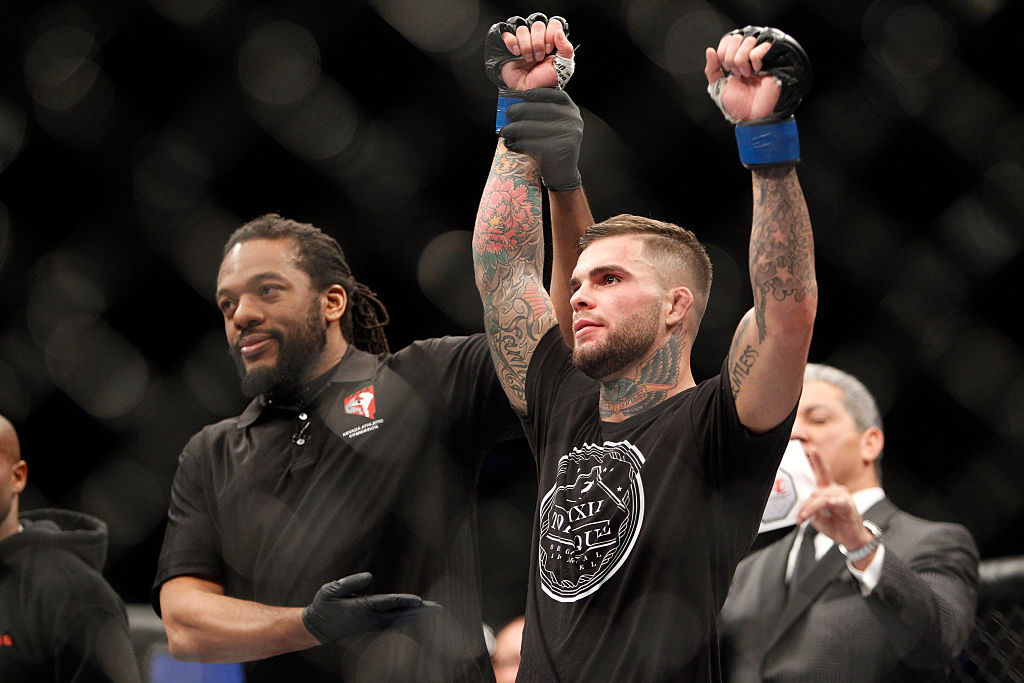 Thomas Almeida vs. Cody Garbrandt
Almeida is one of the best young fighters in the UFC right now. The 24-year-old Brazilian hasn't lost a fight as a professional, going 21-0. He claimed a fight night bonus in each of his four UFC fights, racking up an extra $200,000 in pay since he debuted with the promotion in late 2014. Almeida is currently ranked No. 7 in the bantamweight division and all signs point to him being a title contender within a year.
Garbrandt is a hard-charging 24-year-old who has the utmost confidence in his fighting abilities. He is also unbeaten as a pro at 8-0 and 3-0 in the UFC. This fight promises to be an all-out striking battle.
Tarec Saffiedine vs. Rick Story
Tarec Saffiedine and Rick Story are two veteran fighters who continue to hang around the top 10 of the welterweight division. Saffiedine currently sits at No. 10 while Story checks in at No. 11. A win here will keep the victor in the mix; the loser may slip below the rising tide of the division.
Both of these men are well-rounded fighters, but they tend to go the distance in their bouts, wearing their opponents down over time. This could be a grinding affair, but knowing what's on the line, look for at least one of these two to up the pressure in hopes of impressing the UFC brass.
Sara McMann vs. Jessica Eye
The women's bantamweight division is not the deepest in the UFC and due to that fact, Sara McMann and Jessica Eye remain in the top 10 of the division despite the fact that they are both 1-3 in their last four fights. Like the Saffiedine versus Story fight, a win here is crucial.
McMann is a tough wrestler, but she has struggled against strikers, and that is where Eye excels. With that being said, McMann should be the stronger fighter here, and if she can get Eye to the ground, she should be able to wear her down. However if the fight remains standing, Eye could walk away with the win.
Information courtesy of UFC.com.