NFL: 11 Players Poised to Have Breakout Seasons in 2016
Every year the National Football League sees players enjoy breakout seasons that lead to fame and fortune. Last year, guys like cornerback Josh Norman, defensive end/outside linebacker Khalil Mack, defensive tackle Aaron Donald, and wide receiver Allen Robinson all seemingly came out of nowhere to emerge as some of the best players in the league at their respective positions.
With the 2016 NFL season rapidly approaching, we put together a list of players who are likely on the verge of experiencing breakout seasons. These 11 players have a combined zero Pro Bowl appearances and zero All-Pro selections, but we see these things changing this year.
Several players on this list will likely burst onto the NFL scene in 2016. With that said, here is a look at 11 players who are strong candidates to have breakout seasons in 2016.
DeVante Parker, WR, Miami Dolphins
DeVante Parker's rookie season (2015) was severely limited due to a foot injury that he suffered during training camp. When he was healthy, though, the former Louisville Cardinal flashed signs of brilliance, as he caught 22 passes for 445 yards and three touchdowns in the Dolphins' final six games of the 2015 season.
By all accounts, Parker is now fully healthy. With a full offseason to work with quarterback Ryan Tannehill in new head coach Adam Gase's offense, we wouldn't be the least bit surprised if the 6-foot-3, 209-pounder goes over 1,000 receiving yards and emerges as the Dolphins' No. 1 wide receiver in 2016, leading to an incredible breakout season.
Coby Fleener, TE, New Orleans Saints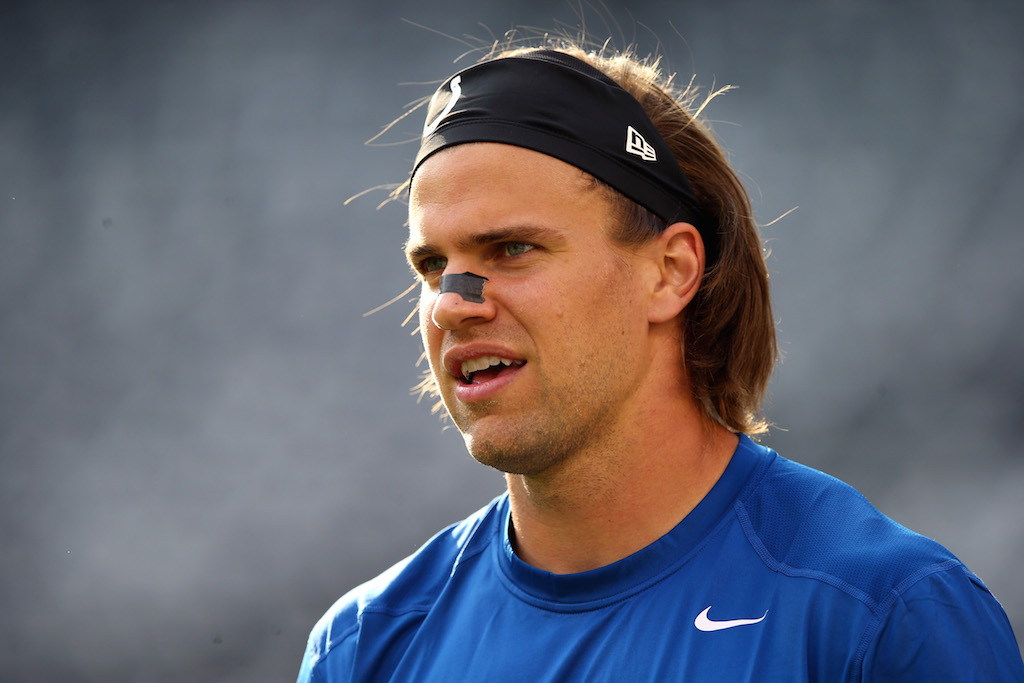 You could easily argue that Coby Fleener had a breakout season in 2014 (51 receptions for 774 yards and eight touchdowns), but that alone isn't enough for us. The former Stanford tight end has yet to earn a Pro Bowl or All-Pro selection in his four-year NFL career, but we believe that could change in 2016.
This offseason, Fleener signed with the Saints and is tasked with filling the void of pass-catching tight end in head coach Sean Payton's offense; a position that Jimmy Graham vacated when he was traded to the Seattle Seahawks. With the Saints' uncertainty at wide receiver, we envision Fleener getting at least 100 targets, resulting in 60+ catches, 800+ receiving yards, and close to 10 touchdowns in 2016.
Kony Ealy, DE, Carolina Panthers
Kony Ealy showed what he is capable of in Super Bowl 50, racking up four tackles, three sacks, and an interception against the Denver Broncos. He only posted five sacks for the Panthers a year ago, but that was in large part because he was playing behind a future Hall of Famer in Jared Allen, who has since retired.
With Allen out of the picture, Ealy will step into a full-time starting role for the first time in his career, and we believe that he will post a double-digit sack total and possibly earn a spot on the NFC Pro Bowl roster in 2016.
David Johnson, RB, Arizona Cardinals
Arizona head coach Bruce Arians has been raving about David Johnson's potential all offseason and has also made it clear that the second-year pro will be the Cardinals' workhorse running back in 2016. The former Northern Iowa standout is one of the most explosive backs and arguably the best pass-catching back in the league. With an increased workload that will likely be well over 300 touches, Johnson may put up All-Pro caliber numbers in 2016.
Ladarius Green, TE, Pittsburgh Steelers
With Heath Miller's decision to retire this offseason, the Steelers suddenly had a pressing need at tight end. They opted to fill it by signing Ladarius Green during free agency, and we actually think the Steelers got better at the position with this acquisition.
Green has spent his entire NFL career with the San Diego Chargers, backing up a future Hall of Famer in Antonio Gates. He will step into a starting role in arguably the best offense in the league in 2016. At 6-foot-6 and 237 pounds, Green presents a dynamic target for Ben Roethlisberger, and we believe the 25-year-old tight end will post Pro Bowl-caliber statistics this year.
Thomas Rawls, RB, Seattle Seahawks
Based on what we saw from Thomas Rawls as a rookie in 2015 (during his time filling in for Marshawn Lynch), we believe that the former undrafted free agent is on the verge of becoming a bona fide NFL star. He will be the Seahawks' starter in 2016, and simply put, we would be shocked if he doesn't rush for over 1,000 yards — he just has to stay healthy for the entire season.
Weston Richburg, C, New York Giants
As a whole, offensive linemen tend to fly under the radar. And Weston Richburg has fallen victim to this. Pro Football Focus graded out the former Colorado State standout as the third-best center in the league in 2015, yet he still goes unnoticed by most football fans. We believe this will change in 2016, as Richburg has a legitimate chance to earn All-Pro or Pro Bowl honors if he continues to dominate.
Jeremy Langford, RB, Chicago Bears
After eight exceptional seasons, running back Matt Forte moved on to the New York Jets, which opened the door for Jeremy Langford to step into a starting role in his second year in the league. Based on what we saw from Langford as a rookie in 2015 — he ran for 537 yards and six touchdowns on 148 carries, and he caught 22 passes for 279 yards and a touchdown — we firmly believe that big things are in store for the former Michigan State Spartan as he may see a significant increase in touches in 2016.
Preston Smith, OLB, Washington Redskins
Preston Smith started all 16 regular-season games for the Redskins as a rookie in 2015, and during the last month of the season, the former Mississippi State Bulldog showed flashes of talent, leading us to believe he could very well develop into a perennial All-Pro candidate in 2016.
Smith will likely benefit greatly from the Redskins' improvement of the back end of their defense, and with Junior Galette and/or Ryan Kerrigan rushing the passer from the other side of the defensive line, teams won't be able to focus solely on slowing down the 6-foot-5, 271-pounder. We predict a double-digit sack total and Pro Bowl-caliber play against the run from Smith in 2016
Jadeveon Clowney, OLB, Houston Texans
When he entered the NFL back in 2014, Jadeveon Clowney was widely viewed as a once-in-a-generation type of prospect. And up to this point, the former South Carolina Gamecock's professional career has been largely disappointing. That said, when he has been on the field, Clowney has flashed All-Pro ability.
Now, for the first time in his career, Clowney is fully healthy and has an entire offseason in front of him to further develop his pass-rushing skills. And as we all know, opposing defenses will heavily focus on slowing down defensive end J.J. Watt, which should result in a lot of one-on-one pass rush situations for Clowney in 2016.
Marvin Jones, WR, Detroit Lions
With Calvin Johnson retiring this offseason, the Lions signed free agent Marvin Jones and need the former Cal standout to help ease the pain of losing the best wide receiver in franchise history. This is the first time Jones will be expected to produce as a No. 1 or No. 2 wide receiver on a weekly basis, and based on what he showed during his past two NFL season, we believe he will exceed expectations.
His new quarterback, Matthew Stafford, is a true gunslinger, and with Golden Tate lining up on the other side of the field, Jones should see plenty of one-on-one coverage in 2016. As a result, we fully expect him to go well over 1,000 receiving yards.
Statistics courtesy of Pro-Football-Reference.com.