15 Best Non-Conference College Basketball Games of 2014-2015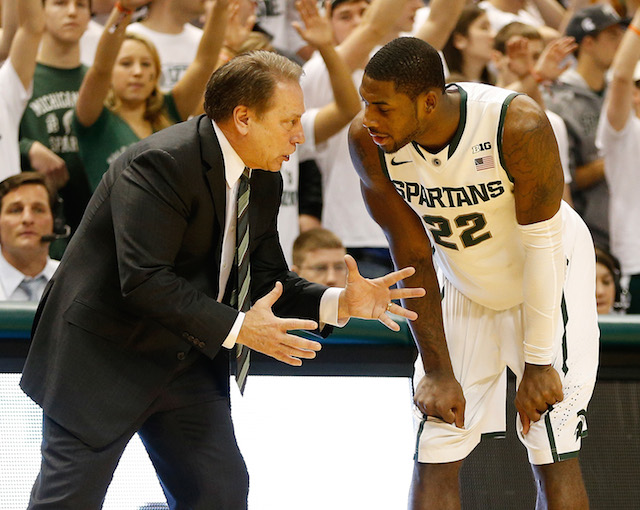 As college basketball gets closer to tipping off, it's time to mark your calendars for the can't-miss games in the first two months of the season. While the winter grind of conference play yields plenty of tantalizing matchups, we're focused now specifically on the non-conference slate, those games between top teams that could set the tone for how the rest of the year unfolds. Which schools will get signature wins to boost their March Madness profiles? Which programs will rise to the top and demonstrate that they're truly among the elite contenders for the 2015 national championship?
We ranked the top 15 non-conference games (or in some cases, doubleheaders) that we can't wait to see between now and the beginning of January. This list includes traditional home-away battles, some neutral-site games, and even some made-for-TV events. The only games not eligible for selection were matchups that aren't set in stone yet: For instance, No. 4 Wisconsin and No. 7 Florida will likely square off in the Bahamas on Thanksgiving Day, but that would require certain outcomes in the Battle for Atlantis bracket that haven't taken place yet.
So here, now, are 15 of the best non-conference college basketball games of 2014-2015. (All team rankings are according to the preseason coaches' poll.) Is it time for the season to start yet?
15. Veterans Classic: Friday, November 14 (Tennessee-VCU, Michigan State-Navy)
The season gets started off right with the inaugural Veterans Classic, an annual doubleheader hosted by Navy and featuring three 2014 NCAA Tournament teams. No, this one won't take place on an aircraft carrier (although Michigan State's been there, done that already).
14. Wichita State vs. Memphis: Tuesday, November 18
The Wichita State Shockers (from Wichita, Kansas) are playing the Memphis Tigers (from Memphis, Tennessee) in Sioux Falls, South Dakota. The geography doesn't exactly make sense, but the basketball should be good. To make things even weirder, this game will tip off at 2 p.m. ET on a Tuesday.
13. Virginia at VCU: Saturday, December 6
Two of the nation's top 16 teams reside in Virginia. That hasn't been the case on a regular basis. The No. 8 Cavaliers will be attempting to claim in-state supremacy (and survive Shaka Smart's patented 'Havoc') on this weekend visit to No. 16 VCU.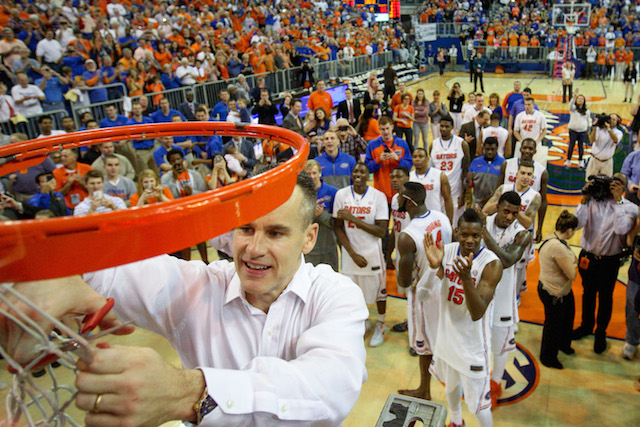 12. Texas at UConn: Sunday, November 30
Kevin Ollie's UConn Huskies no longer have Shabazz Napier, but still have a national title to defend. The Huskies' non-conference schedule is loaded, including an early visit from top-10 Texas.
11. Louisville vs. Minnesota: Friday, November 14
We guarantee that this game, which will be played at a military base in Puerto Rico on the opening day of the season, will be won by coach Pitino. Of course, it will also be lost by a coach Pitino. Father Rick's Cardinals take on son Richard's Gophers, with family bragging rights on the line.
10. Gonzaga at Arizona: Saturday, December 6
Mark Few's Gonzaga team always beefs up its non-conference schedule to try and compensate for playing in the West Coast Conference. This year is no exception, as the No. 13 Bulldogs travel to No. 2 Arizona to try and make a statement that the selection committee will remember at seeding time.
9. UConn at Florida: Saturday, January 3
While most teams will have already turned their attention to league play by the time 2014 turns to 2015, we still have this Huskies-Gators battle in Gainesville to look forward to in early January.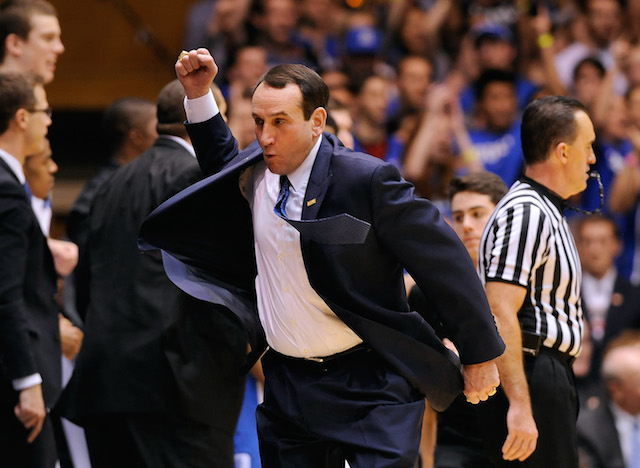 8. CBS Sports Classic: Saturday, December 20 (North Carolina-Ohio State, Kentucky-UCLA)
The first edition of the CBS Sports Classic, a three-year series of December games between North Carolina, Ohio State, Kentucky, and UCLA that will rotate around the country, is slated for Chicago's United Center. Hard to beat seeing three top-20 programs in one afternoon.
7. Duke vs. UConn: Thursday, December 18
The Blue Devils make their seemingly annual trip under West Point grad Mike Krzyzewski (pictured) to the New York/New Jersey area for a non-conference, neutral-site showdown with the defending champions.
6. Texas at Kentucky: Friday, December 5
No. 1 Kentucky appears on this list quite a bit, as John Calipari's young — but loaded — team has quite the schedule in front of it before beginning SEC play. That includes a top-10 clash with the Longhorns in Lexington as part of the SEC/Big 12 Challenge.
5. Florida at Kansas: Friday, December 5
Kansas lost two of the top three picks in the NBA Draft this year after just one season in Lawrence (Andrew Wiggins and Joel Embiid), but Bill Self's team is still ranked in the top five. They have a chance to validate that ranking against the No. 7 Gators at Allen Fieldhouse.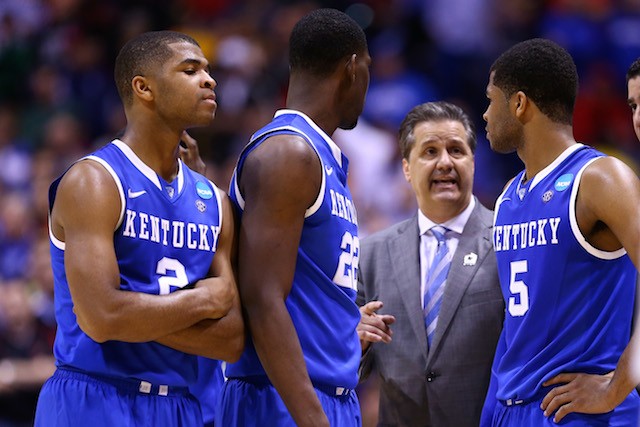 4. Kentucky at Louisville: Saturday, December 27
This is always one of our favorite non-conference games to watch, as Bluegrass State foes Kentucky and Louisville renew their legendary rivalry. In addition to the usual regular-season game, the Wildcats have knocked the Cards out in two of the last three NCAA tournaments. Revenge time in Louisville?
3. North Carolina at Kentucky: Saturday, December 13
Kentucky will practically have its own national television weekend miniseries in December, as the Wildcats face North Carolina, UCLA, and Louisville three Saturdays in a row. We're most excited about the game with the Heels, as it pits No. 1 against No. 6 in a collision of blueblood programs.
2. Duke at Wisconsin: Wednesday, December 3
The highlight game of this year's ACC/Big Ten Challenge comes on Wednesday night, December 3 when the No. 3 Duke Blue Devils travel to No. 4 Wisconsin. The Badgers bring back most of their Final Four team intact, while Duke boasts the No. 1 recruiting class in the country.
1. Champions Classic: Tuesday, November 18 (Duke-Michigan State, Kansas-Kentucky)
The best non-conference college basketball doubleheader of the year (and two games is always better than one, right?) finishes ESPN's 24-hour tipoff marathon in mid-November, live from Indianapolis. No. 3 Duke against No. 18 Michigan State, then No. 1 Kentucky vs. No. 5 Kansas? Um, yes, please. The Final Four might not be this good.