1993 NFL Draft: Where Are All of the 1st-Round Picks From Jerome Bettis and Willie Roaf's Class Now?
The NFL draft is an inexact science. The right pick can change the course of a franchise; the wrong one can set a franchise back years. Look, for instance, at the 1993 NFL draft. Two quarterbacks were taken with the first two picks and couldn't have turned out more differently. One was a hit while the other was a flop.
There were plenty of other great picks from that draft, especially in the first round. Let's look back at the first round of that draft, who was picked, who succeeded, and who ultimately failed. 
Who was picked in the first round of the 1993 NFL draft?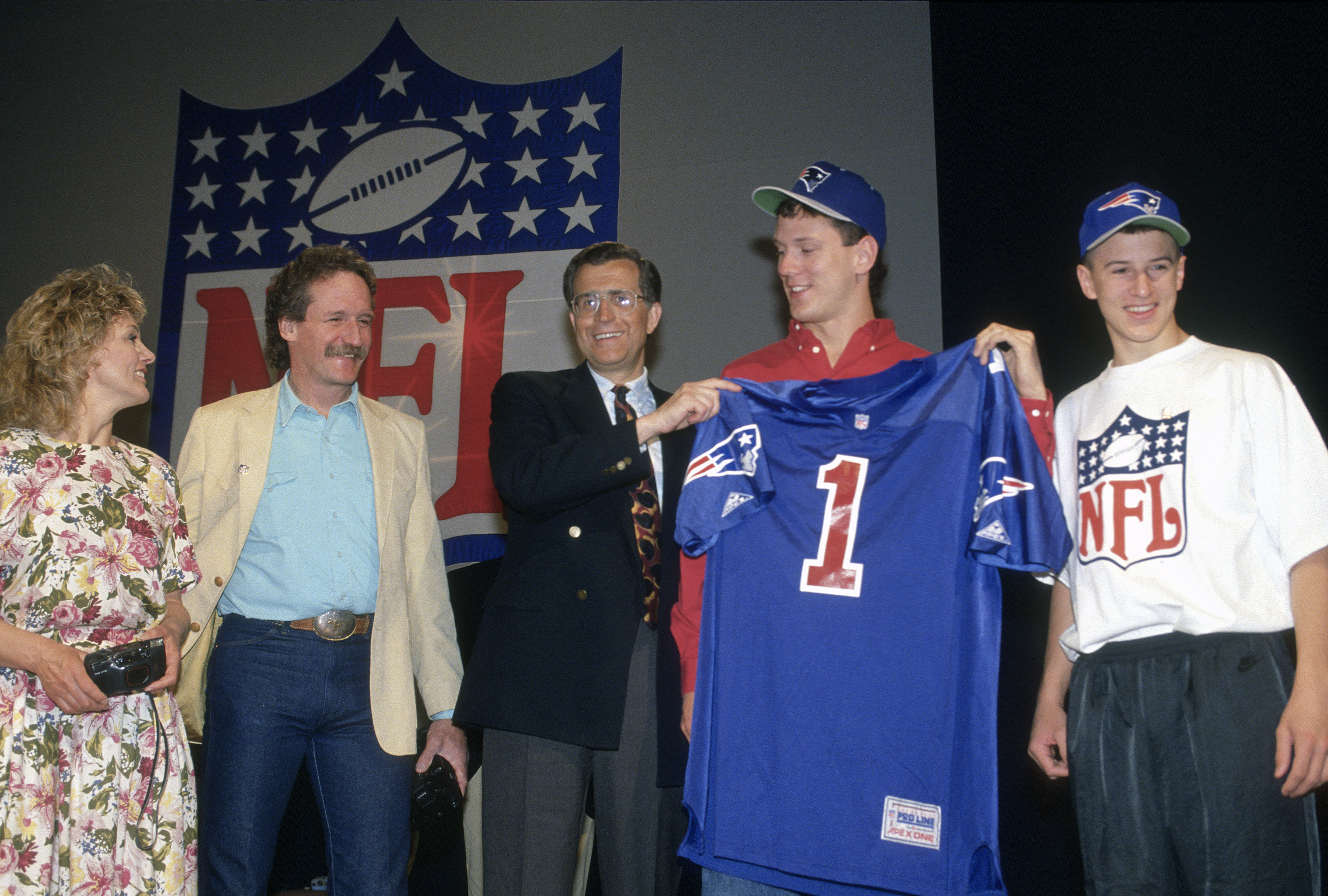 Pro Football Reference has a record of every first-round pick in the 1993 NFL draft, listed below in order: 
Drew Bledsoe, New England Patriots
Rick Mirer, Seattle Seahawks
Garrison Hearst, Phoenix Cardinals
Marvin Jones, New York Jets
John Copeland, Cincinnati Bengals
Eric Curry, Tampa Bay Buccaneers
Curtis Conway, Chicago Bears
Willie Roaf, Kansas City Chiefs
Lincoln Kennedy, Atlanta Falcons
Jerome Bettis, LA Rams
Dan Williams, Denver Broncos
Patrick Bates, LA Raiders
Brad Hopkins, Houston Oilers
Steve Everett, Cleveland Browns
Wayne Simmons, Green Bay Packers
Sean Dawkins, Indianapolis Colts
Tom Carter, Washington Football Team
Ernest Dye, Phoenix Cardinals
Lester Holmes, Philadelphia Eagles
Irv Holmes, New Orleans Saints
Robert Smith, Minnesota Vikings
Darrien Gordon, San Diego Chargers
Deon Figures, Pittsburgh Steelers
Leonard Renfro, Philadelphia Eagles
O.J. McDuffie, Miami Dolphins
Dana Stubblefield, San Francisco 49ers
Todd Kelly, San Francisco 49ers
Thomas Smith, Buffalo Bills
George Teague, Dallas Cowboys
So, of the picks listed, who fared the best and who fared the worst? 
Who were the most successful picks of the 1993 NFL draft? 
This first round of the draft included two eventual Hall of Famers: Roaf and Bettis. Roaf essentially formed a one-man wall in Kansas City, where his stellar blocking earned him a gold jacket. Meanwhile, Bettis started his career in LA as a steady back before moving to Pittsburgh, where he really took off. He later helped the team to a Super Bowl win before retiring. 
There were other notable performers from this class. Before Tom Brady took the reigns in New England, Bledsoe was the team's leader. He quarterbacked them to a Super Bowl appearance in 1996. An injury let Brady surpass him as the starter, but Bledsoe tacked on a few decent years with Buffalo and Dallas before his career ended. 
Smith was a solid running back for the Vikings before retiring young, bringing a steady presence to their back field. Hearst was another better than average running back from this draft class, playing well for the Cardinals and 49ers during his career. 
Some other success stories form this draft who went outside the first round include some names you may recognize: Michael Strahan, John Lynch, and Will Shields. All three players also went to the Hall of Fame. 
Who were the least successful picks of the 1993 NFL draft? 
The biggest bust of this draft had to be Mirer. Taken by the Seahawks with the number two overall pick, he had big expectations heading to Seattle coming out of Notre Dame.
The team had struggled to maintain consistency in the years before his arrival, and he and Bledsoe were viewed as the two clear-cut top prospects from this draft. Whereas Bledsoe excelled with the Patriots, blossoming into a top-10 quarterback, Mirer was never able to get over that hump. He struggled mightily. 
While Mirer's story is a case of a player who didn't pan out, a much more tragic tale played out later in the first round. Stubblefield played well for the 49ers before signing a big free-agent deal with Washington he couldn't live up to. Unfortunately, just this past year a judge sentenced Stubblefield to at least 15 years in prison for a 2015 rape, according to CNN.