2 Potential Fights For Stipe Miocic After His UFC 241 Win Over Cormier
Before losing to Daniel Cormier at UFC 226, Stipe Miocic was considered by many to be the greatest UFC Heavyweight Champion of all time. Miocic may have solidified that position by regaining his title with an impressive knockout victory over Cormier at UFC 241.
Stipe Miocic became the first UFC Heavyweight Champion in history to defend his title three times when he successfully did so against Alistair Overeem, Junior dos Santos, and Francis Ngannou before losing to Cormier. With the title back in his possession, the 36-year-old heavyweight will look to start adding some more championship defenses to his resume. Here are the two fights that look most attractive for his next bout in the octagon.
1. Stipe Miocic vs. Daniel Cormier 3
Miocic hadn't lost since December 13, 2014, when he fought Daniel Cormier for the first time. Over the duration of his 1,302-day unbeaten streak, Stipe Miocic had won six fights including his title-winning match against Fabricio Werdum at UFC 198 and the three title defenses listed above. The loss was just the third of his career and only the second by knockout.
Daniel Cormier's loss to Stipe Miocic at UFC 241 was just the second official loss of his career after his previous loss to Jon Jones at UFC 214 was reversed due to Jones failing a drug test. His last official loss came back on January 3, 2015, to Jones at UFC 182. His unbeaten streak of 1,687 days was seven matches long and included two UFC Championship victories and four successful title defenses.
Cormier and Miocic are a pair of all-time greats. There is plenty of meat left on this bone; Daniel Cormier dominated the first round and was likely winning the fight on the scorecards before Miocic turned things around in the fourth. Cormier had originally planned to retire after UFC 241, and he still might after taking some time to reflect on his career. But if the 40-year-old decides he wants to return to try to right this wrong, a third fight between these two would be must-see TV.
2. Stipe Miocic vs. Francis Ngannou 2
Since 2014, all but one of Stipe Miocic's seven wins have come by way of knockout. The only man besides Daniel Cormier who has stepped into the octagon with Miocic over the last six years not to get knocked out was Francis Ngannou.
Miocic did dominate the fight, taking it to an exhausted Ngannou for five rounds en route to a unanimous decision victory. But Ngannou did well to avoid being knocked out, and he still hasn't been throughout his young career.
Francis Ngannou's incredible mix of power and athleticism led to his meteoric rise through the heavyweight ranks of the UFC. Ngannou won his first six fights with the promotion and ended them all within two rounds, earning a heavyweight title shot at UFC 220. His lack of conditioning was clearly an issue in a fight against an elite opponent.
Since losing that fight and then another to Derrick Lewis at UFC 226, Ngannou has bounced back with three straight first-round knockouts against Curtis Blaydes, Cain Velasquez, and Junior dos Santos. He is the number one contender in the heavyweight division and a more experienced fighter than he was the last time these two met.
Plenty of other options down the road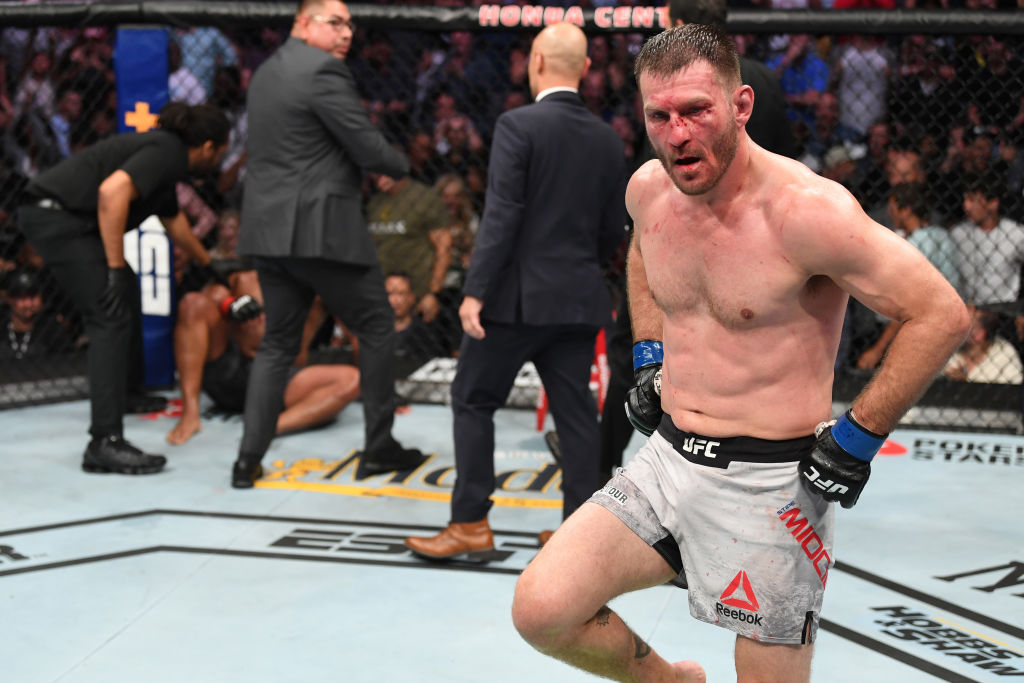 Once Miocic gets through a rematch against one of these two opponents, he has a few other interesting matchups ahead of him.
Like Daniel Cormier, Junior dos Santos has fought Miocic twice and owns a 1-1 record against him, defeating Miocic at UFC on Fox in 2014 and then losing to him at UFC 211. Dos Santos will have to wait in line after losing his last fight to Francis Ngannou, but he'd won his previous three fights before that loss, and a rubber match could be interesting.
Other heavyweight contenders include Curtis Blaydes, Alistair Overeem, and Derrick Lewis. And if they both keep winning, perhaps Jon Jones will be enticed to come up in weight to fight Stipe Miocic for the UFC Heavyweight Championship at some point. But regardless of who he fights next, Miocic could be the top dog in this division for years to come.