The 2 Reasons Every QB in the NFL Should be Scared of Aaron Donald
Aaron Donald is the best defensive player in the NFL — and one of the league's best players overall. In 2019 he looks to add to that, possibly by breaking records or by leading the Rams back to the Super Bowl. He's had some remarkable achievements for a player so young. Being one of the best players in the game isn't enough. Aaron Donald wants to leave his mark, and there are two reasons every QB in the NFL should be scared of him this season.

Aaron Donald's career so far
Drafted No. 13 overall by the Rams in 2013 out of the University of Pittsburgh, Donald has been a standout for his entire career. He's amassed some impressive statistics and accomplishments in a short career — only five seasons — thus far. His achievements include:
59.5 career sacks (including a career- and league-high 20.5 last season)
189 solo and 263 combined tackles
149 QB hits
2014 NFL Defensive Rookie of the Year and All-Rookie Team
NFL Defensive Player of the Year in 2017 and 2018
Five Pro Bowls
78 games played (out of 80)
Four-time first team All-Pro
Those accomplishments would be enough for most to call it a career. It puts Aaron Donald into an elite class of defensive players considered one of the top overall players in the NFL. He's also paid handsomely for his efforts: he makes $22.5 million a year, which on an annual basis is enough to make him the 12th highest paid player in the league.

Two reasons NFL QBs should be scared of Aaron Donald
As his stats show, NFL quarterbacks already have enough reasons to look over their shoulder when they play Aaron Donald and the Rams. Now, he's offering two more reasons QBs should fear seeing him on the other side of the line of scrimmage.

He wants to get back to the Super Bowl and win
The Rams' Super Bowl loss to the New England Patriots is one big motivating factor. Donald said that one specific visual during the Patriots' postgame celebration that motivated him: the sight of his daughter, crying, after her father's team came up short. Donald had promised her a win and went on to say:

"My main thing is I got to hold up to that promise. I told her she was going to be able to play in that confetti with her dad after we win…we are going to get there and we are going to win it this time… definitely more motivated than ever," Donald said, according to Reuters.

Donald had to have been frustrated that the Rams' defense was fairly effective at shutting down the Patriots' high-powered offense with little to show for it. Seeing his daughter upset only added fuel to the fire of wanting to get back to the NFL's biggest game, this time to win.
He wants to get better, and he believes he can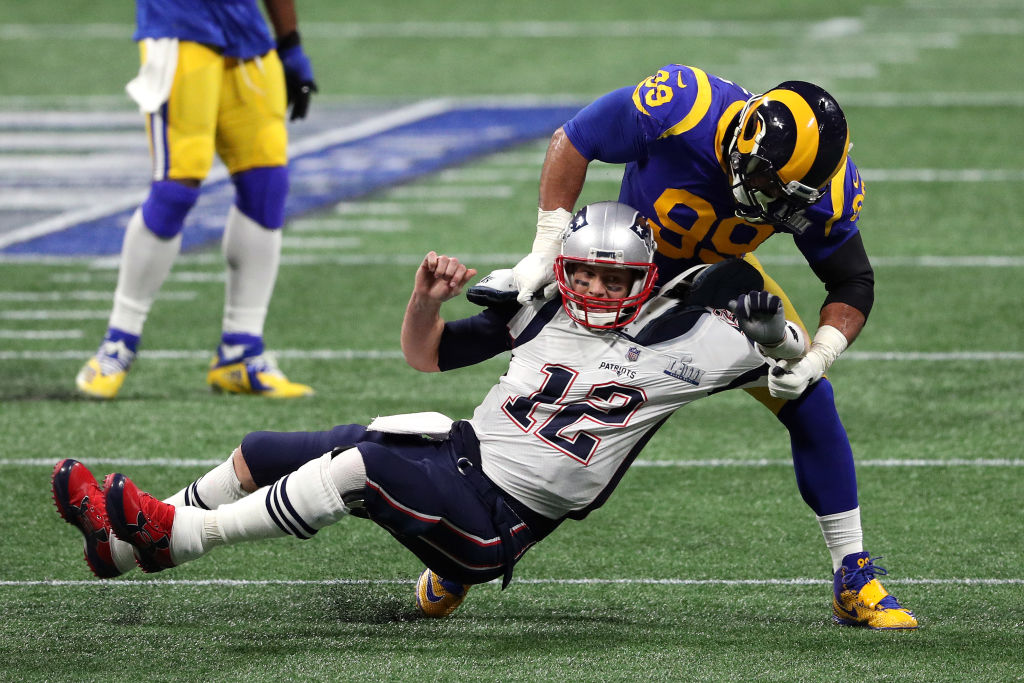 As shocking as it may seem, Donald's evaluation of his game is that he has room for improvement. It's hard to imagine him getting better, but not the way Donald sees it:
"People are probably going to think I'm just talking, but I honestly feel like I haven't played my best yet…I feel like there is a lot more room for improvement. I did a lot of good things last season that I get to build off, but I also did a lot of things that I could clean up to make myself that much better."

Despite reaching some incredible heights, Donald is far from done. He's only 28 years old and is just approaching his prime as a defensive performer. He may be right that he still has room to improve. That's a scary thought for NFL QBs and offensive linemen.