After 2 Rebuilds and Multiple Crushing Playoff Losses, Bengals Punter Kevin Huber Finally Has a Super Bowl Ring in Sight
Kevin Huber grew up in Cincinnati and played at the local university. Now, the Bengals' longtime punter finally has an opportunity to win a Super Bowl.
Outside of the now-retired Pat McAfee, punters usually aren't household names. Only the most knowledgeable Cincinnati Bengals fans likely know or care about veteran specialist Kevin Huber ahead of Super Bowl 56.
Those watching at home and needing a reason to root for the Bengals will almost certainly turn their attention to young star quarterback Joe Burrow or Pro Bowl pass-rusher Trey Hendrickson. Nonetheless, let us introduce you to Huber, the franchise's longest-tenured active player who has had a fascinating journey from fifth-round pick to potential Super Bowl champion.
Kevin Huber is the Bengals' longest-tenured player, and he's seen plenty along the way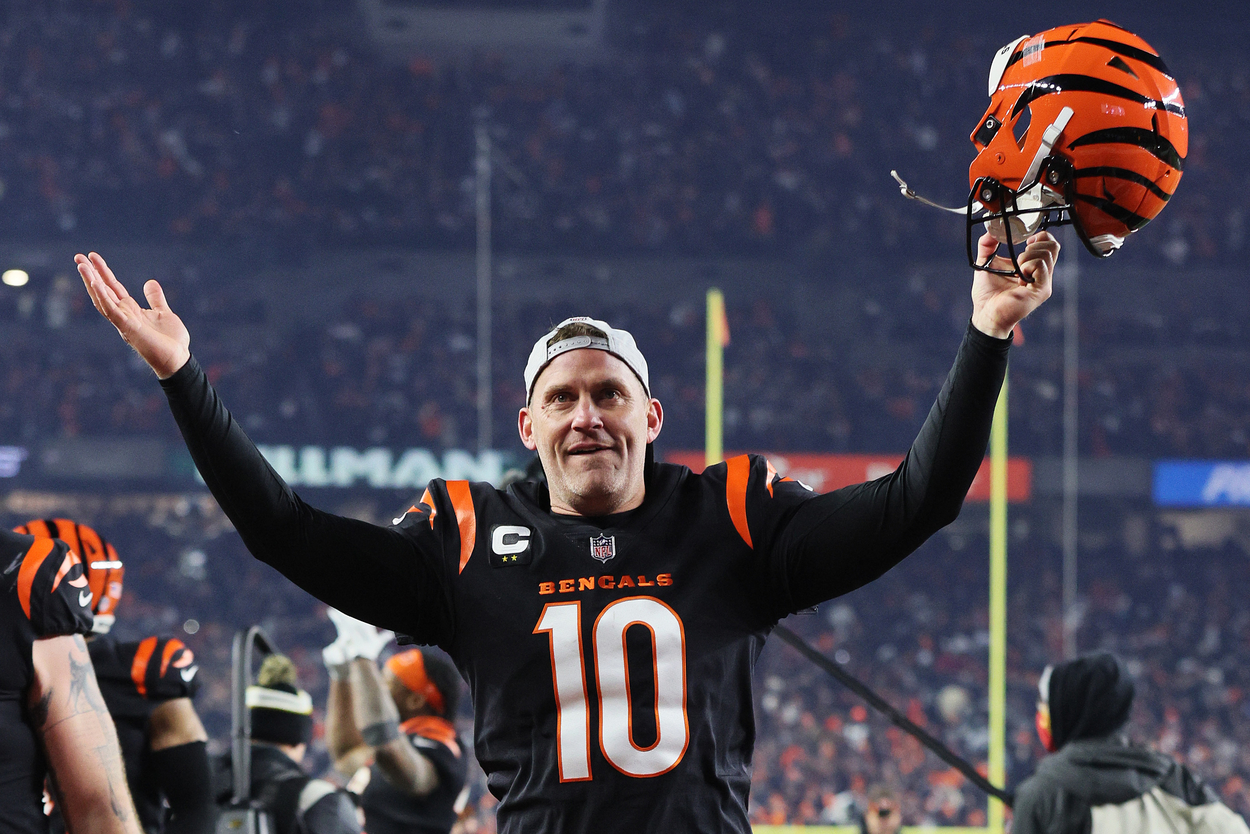 When the Bengals drafted Huber in the 2009 NFL Draft, Carson Palmer and Chad Johnson — er, Ochocinco — still made up one of the league's most prolific quarterback-receiver duos. Peyton Manning still played for the Indianapolis Colts, future Tennessee Titans head coach Mike Vrabel was a linebacker on the Kansas City Chiefs, and Terrell Owens had recently signed with Buffalo Bills.
Yes, that last one happened.
Huber has seen it all over the last 12 years and 10 months. He's the only Bengals player left from the 2009 AFC North champions team. The University of Cincinnati product stuck around for two rebuilds, albeit one barely counts. Bengals fans watched Andy Dalton and A.J. Green pick up right where Palmer and Ochocinco left off upon their respective departures.
However, not even the Red Rifle and his All-Pro wideout could end the Bengals' playoff struggles. Cincinnati went one-and-done in six Wild Card Round appearances during Huber's first 12 seasons.
The second rebuild, one which began after the 2018 season, allowed the Bengals to select Burrow first overall in the 2020 draft. Hendrickson and former LSU wide receiver Ja'Marr Chase followed in the 2021 offseason. Then came an AFC North title, three straight playoff wins, and a trip to SoFi Stadium.
Huber's Cincinnati roots go far beyond his 13 seasons wearing the Black and Orange
It goes without saying that a Super Bowl victory would bring Bengals fans great joy. Of course, it would. Even New England Patriots fans flooded the streets during the latter years of the Bill Belichick and Tom Brady dynasty.
Huber likely has extra incentive to want to party with the Lombardi Trophy. He grew up in Cincinnati and was 5 years old when the Bengals defeated the Houston Oilers, 41-14, on Jan. 6, 1991. That remained the Bengals' most recent playoff victory until Huber, Burrow, and the current roster defeated the Las Vegas Raiders in the 2021 AFC Wild Card Round.
Huber then went on to play at the University of Cincinnati, long before the team became social media darlings and convinced the College Football Playoff committee they were worthy of the right to get dominated by Alabama.
Suffice to say, Huber is a Cincinnati boy through and through. Now, the 36-year-old has an excellent opportunity to finally bring a title to the Queen City.
Huber is eagerly awaiting the opportunity to bring a title to Cincinnati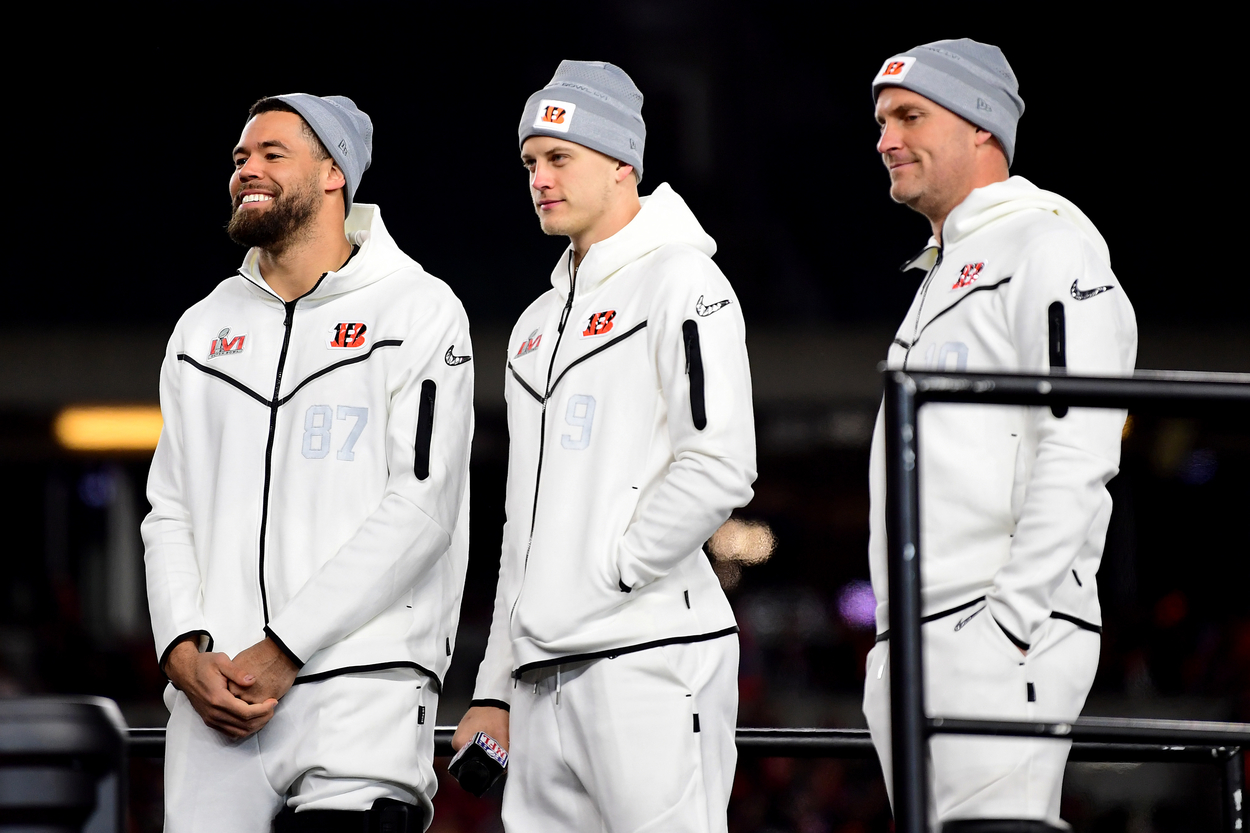 Considering he was born in 1985, Huber finds himself in rare company among Bengals players, and not only because he's old enough to remember flip phones and when MTV actually played music videos.
Before this season, the Bengals hadn't reached the Super Bowl since January 1989 when Huber was 3 years old. It's not hyperbole to suggest generations of Bengals fans were too young to remember a playoff victory — at least until Burrow and friends arrived. Counting Huber, the 2021 Bengals featured six players who were alive on Jan. 6, 1991.
In a recent interview with the Associated Press' Dennis Waszak Jr., Huber admitted he believes the city of Cincinnati "would just implode" if the team wins on Sunday.
"A long time of just waiting for this moment. You know, getting there a couple of times, but losing and then that long drought in between the last time they went and now, it would mean everything to the city. They would be just completely on cloud nine, just experiencing this, just excited, happy. I would assume the parade would be pretty epic."

Kevin Huber
It seems only fitting then that Huber, who is tied with longtime Cincinnati cornerback Ken Riley for the most regular-season games played in Bengals history, is one win away from participating in that epic parade he dreamed of watching as a youth.
Like Sportscasting on Facebook. Follow us on Twitter @sportscasting19.