2 Young Stars Made Dwyane Wade Realize It Was Time To Retire
It isn't always easy for an NBA star to know when they should retire. Some players stick around too long in an attempt to pad their stats and improve their legacy. Others, like the recently retired Vince Carter, willingly accept smaller roles in order to continue playing the game they love. Yet eventually the handwriting on the wall becomes clear, and even the greatest legends must step down.
Every player has their own way of gauging when that time has come. For Miami Heat legend Dwyane Wade, it was two up-and-coming young stars who helped him realize it was time to retire.
Dwyane Wade's career in a nutshell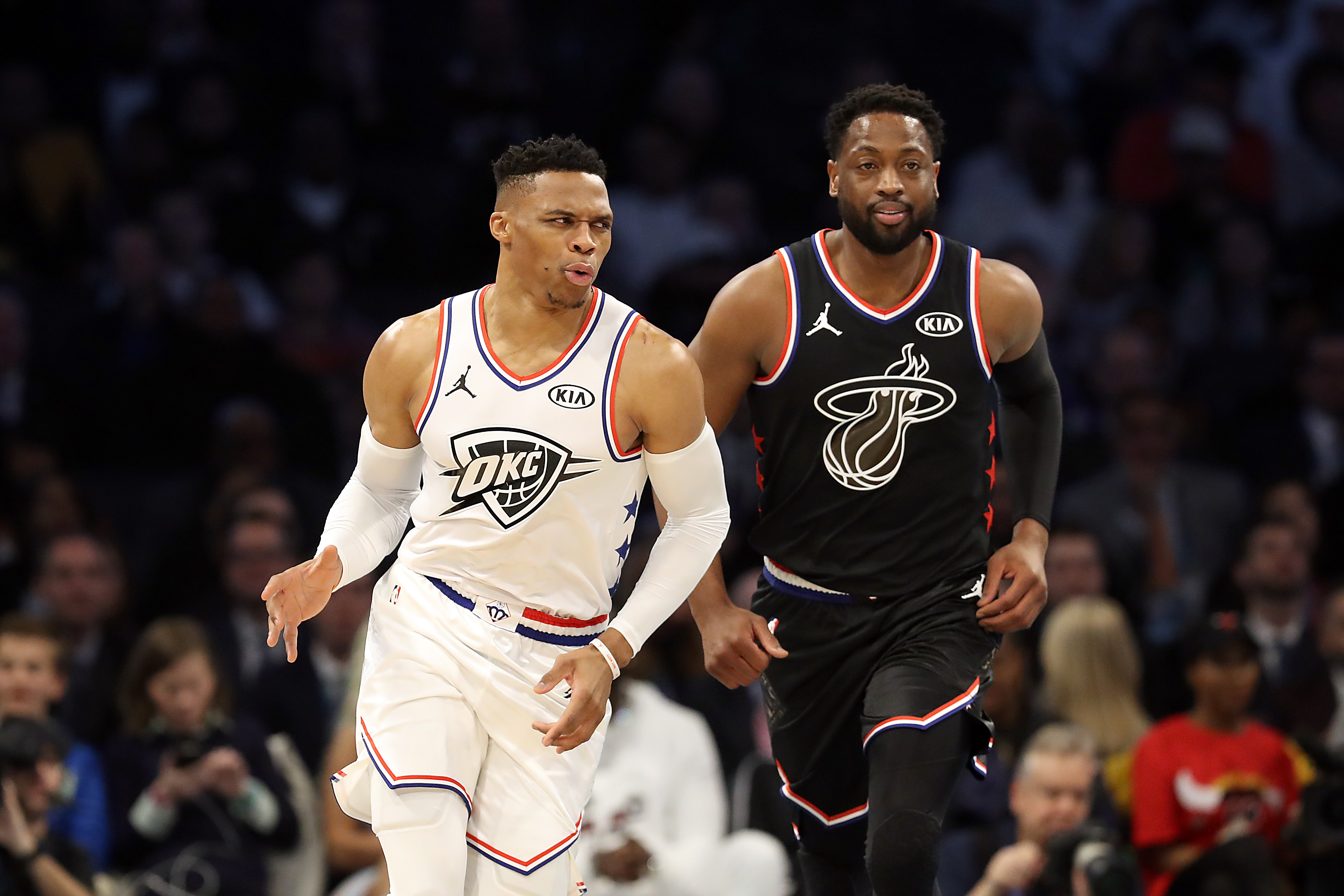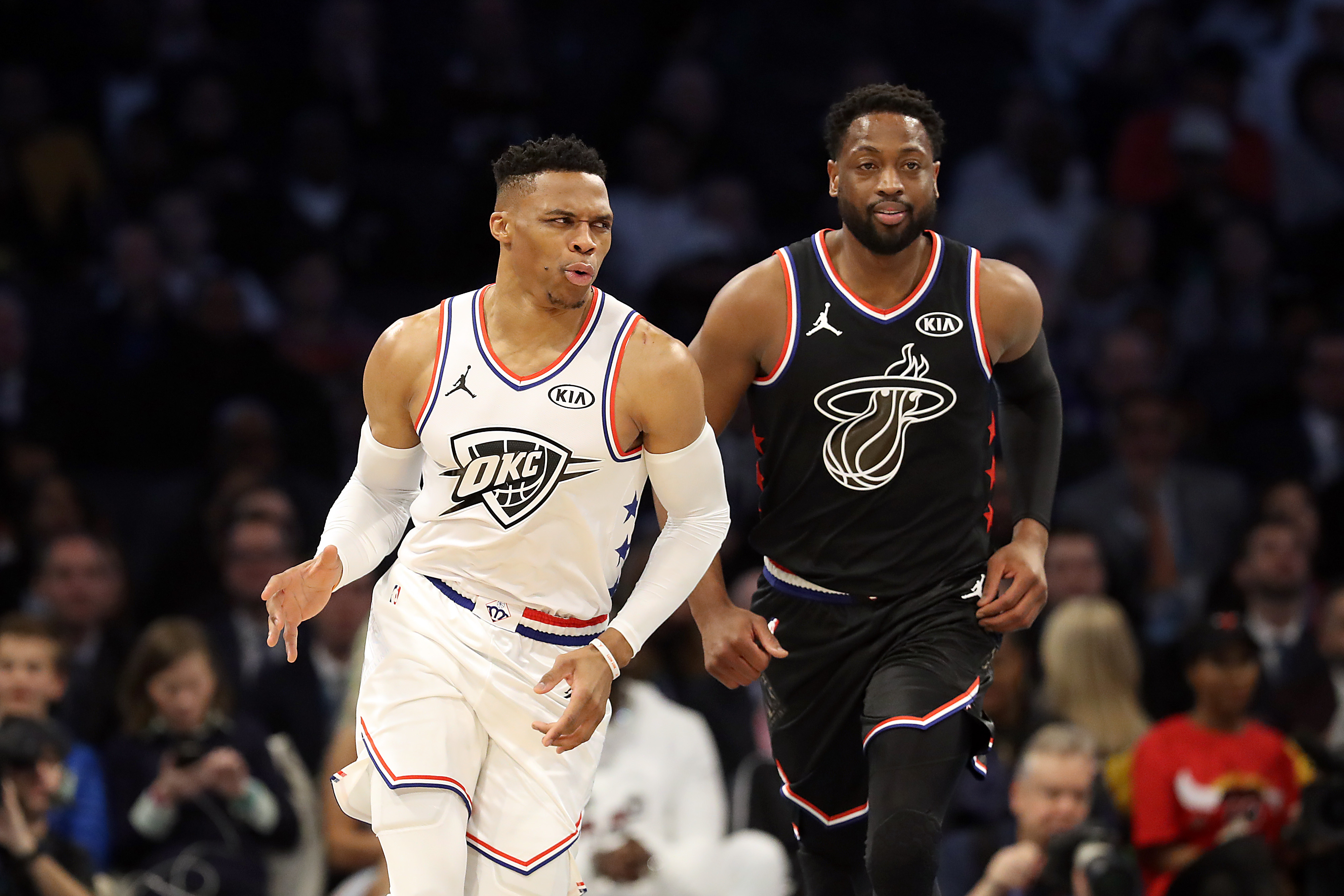 The Miami Heat drafted Wade with the fifth pick of the 2003 NBA Draft. It didn't take long for him to prove what an impact player he could be, and by his second season, he was already averaging 24.1 points, 5.2 rebounds, and 6.8 assists per game. Alongside an aging, but still, effective Shaquille O'Neal, Wade and the Heat won a championship in 2006, with Wade taking home the NBA Finals MVP.
Wade later won two more championships alongside LeBron James and Chris Bosh, during the Heat's "Big Three" era. In his 16 seasons in the NBA, Wade earned 13 All-Star selections and two All-NBA First Team selections. He also made three All-Defensive Second Teams, and was the league's scoring champion in 2009.
Aside from brief stops with the Chicago Bulls and Cleveland Cavaliers, Wade spent the entirety of his career in Miami, cementing himself as the franchise's greatest all-time player.
He is the Heat's franchise leader in a bevy of statistical categories, including points, assists, and steals. Most pundits hold Wade among the greatest shooting guards to ever play the game.
How Dwyane Wade knew his time had come
Wade recently made an appearance on The Old Man and The Three podcast. At one point, co-host J.J. Redick brought up Wade's last few years in the league. What was it like, he asked Wade, to find yourself no longer capable of performing at the same elite level as in the past? Wade acknowledged that accepting that physical change had been a significant internal struggle.
He then went on to say that he realized his playing time was coming to a close when he started noticing how fast younger players in the league were. He specifically called out two young stars on the Sacramento Kings: point guard De'Aaron Fox and shooting guard Buddy Hield.
The speedy pair were getting up shots within the first three seconds of a possession, before Wade had even had a chance to get back on defense.
It's highly likely that Wade could have stretched out his career for another few years if he'd wanted. Heck, in his last season he still averaged 15.0 points, 3.0 rebounds, and 4.0 assists per game. Yet his choice to walk away when he did was ultimately a good thing, since it allowed him to preserve his dignity and go out on a high note.
The speed revolution
Dwyane Wade's comments highlight the challenge that faces all aging players, who find themselves struggling to keep up with their younger, more athletic counterparts. Yet Wade's words also point to changes in the way the game is being played today. In short, teams are focusing on speed far more than they ever have in the past.
This fact is best illustrated with a single statistic: pace, also known as possessions per game. In 2003-04, which was Wade's first year in the league, teams had an average of 90.1 possessions per game. That number has been climbing almost every year since. This season, the pace rating sits at 100.3.
In other words, teams now enjoy more than 10 more possessions per game than they did back in 2003-04. That difference reflects the far greater emphasis being placed on speed and transition scoring in today's NBA.
All stats courtesy of Basketball Reference