2004 NFL Draft: All of the 1st-Round Picks From Ben Roethlisberger and Eli Manning's Incredible Class
The 2004 NFL draft was one of the better draft classes in recent memory, with numerous players going on to forge impactful and long-lasting NFL careers. But, as in all drafts, there were also plenty of picks who never lived up to expectations. Let's review the first round of the 2004 draft and zoom in on the best and worst picks.  
The 2004 NFL draft
Without further ado, here are the 32 selections made in the first round of the 2004 draft, along with the last year that each of them saw NFL action, courtesy of Pro Football Reference:
San Diego Chargers: Eli Manning (2019)
Oakland Raiders: Robert Gallery (2011)
Arizona Cardinals: Larry Fitzgerald (2020)
New York Giants: Philip Rivers (2020)
Washington Redskins: Sean Taylor (2007)
Cleveland Browns: Kellen Winslow (2013)
Detroit Lions: Roy Williams (2011)
Atlanta Falcons: DeAngelo Hall (2017)
Jacksonville Jaguars: Reggie Williams (2008)
Houston Texans: Dunta Robinson (2013)
Pittsburgh Steelers: Ben Roethlisberger (2020)
New York Jets: Jonathan Vilma (2013)
Buffalo Bills: Lee Evans (2011)
Chicago Bears: Tommie Harris (2011)
Tampa Bay Buccaneers: Michael Clayton (2011)
Philadelphia Eagles: Shawn Andrews (2010)
Denver Broncos: D.J. Williams (2014)
New Orleans Saints: Will Smith (2012)
Miami Dolphins: Vernon Carey (2011)
Minnesota Vikings: Kenechi Udeze (2007)
New England Patriots: Vince Wilfork (2016)
Buffalo Bills: J.P. Losman (2011)
Seattle Seahawks: Marcus Tubbs (2006)
St. Louis Rams: Steven Jackson (2015)
Green Bay Packers: Ahmad Carroll (2009)
Cincinnati Bengals: Chris Perry (2008)
Houston Texans: Jason Babin (2015)
Carolina Panthers: Chris Gamble (2012)
Atlanta Falcons: Michael Jenkins (2012)
Detroit Lions: Kevin Jones (2008)
San Francisco 49ers: Rashaun Woods (2004)
New England Patriots: Ben Watson (2019)
The best first-round picks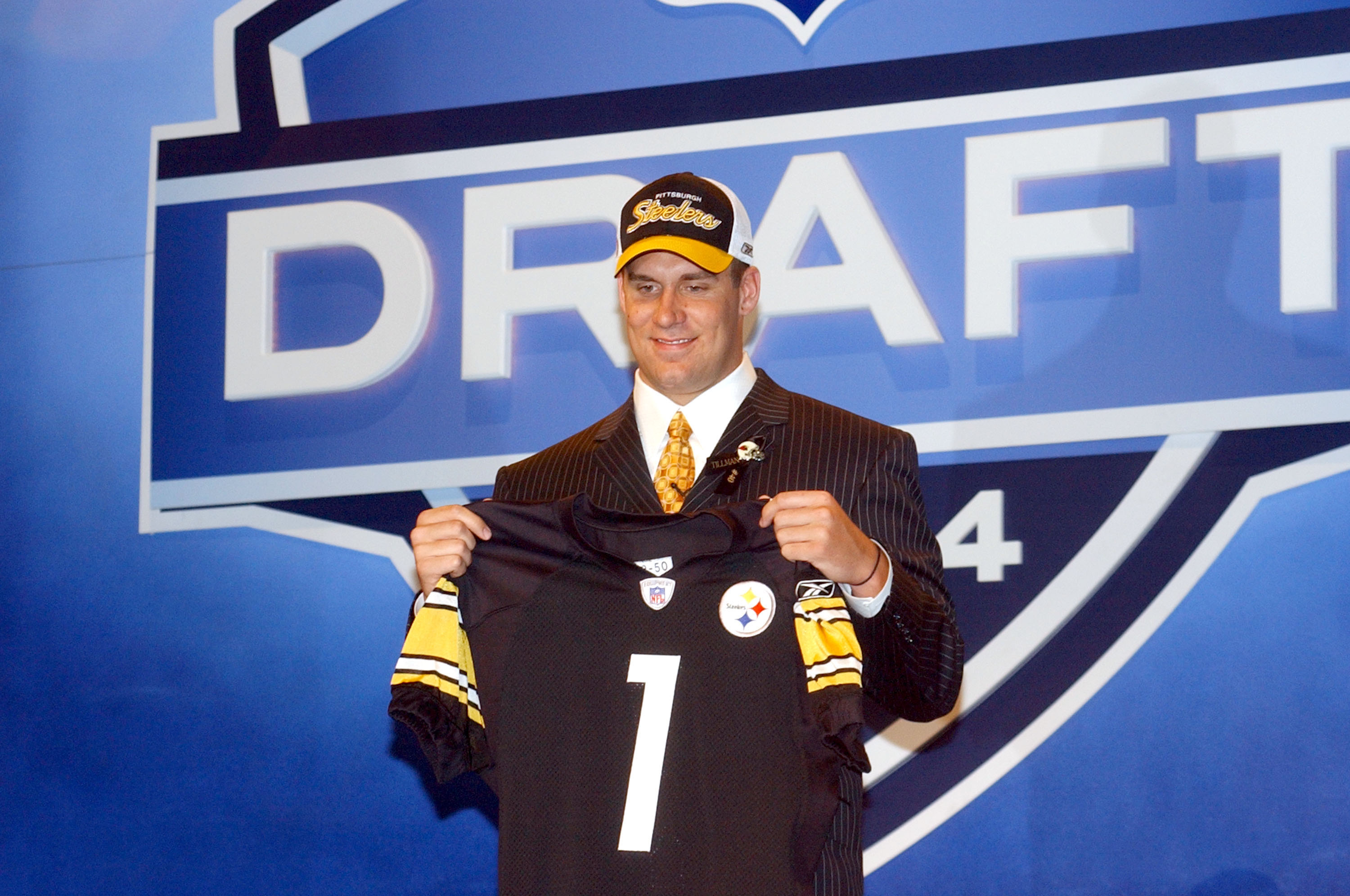 The first overall pick, Eli Manning, needs little introduction here. Though not quite as accomplished as his older brother Peyton, Eli still led his Giants squads to two Super Bowl wins, racking up two Super Bowl MVP awards in the process. Manning retired in January 2020, having amassed 57,023 passing yards — good for the eighth-best of all time, according to Pro Football Reference.
Manning wasn't necessarily the best pick of the draft. That honor likely falls to the still-active Ben Roethlisberger. A six-time Pro Bowler, Roethlisberger has also won two Super Bowls. His 60,348 career passing yards currently put him at seventh on the all-time list—one spot ahead of Manning, and within reach of Dan Marino should Roethlisberger remain healthy next season.
At the number five spot on that all-time passing yards list is fellow 2004 draftee Philip Rivers. Though Rivers has never won a Super Bowl, he has made eight Pro Bowls, and won the 2013 NFL Comeback Player of the Year award.
Among non-quarterbacks, Larry Fitzgerald stands out from the rest of the draft. The 11-time Pro Bowler has the second-most receiving yards of all time, behind only the legendary Jerry Rice, according to Pro Football Reference. Running back Steven Jackson also deserves mention. The two-time Pro Bowler racked up 11,438 rushing yards in his 12-year career.
Notable misses and tragedies
Like all drafts, 2004 contained its share of busts. The Buffalo Bills traded back in the draft to get quarterback J.P. Losman, whose athleticism never translated to the NFL level. The Cincinnati Bengals whiffed on Chris Perry with the 26th pick, with the oft-injured running back lasting just four years in the NFL.
Even worse was the San Francisco 49ers selection of Rashaun Woods at number 31. Woods failed to live up to the promise he showed in college. He played just one season for the 49ers, before quickly falling out of the NFL completely.
The 2004 draft also contained a notable tragedy: Sean Taylor. The Washington Redskins took the talented free safety with the number five pick. Taylor showed huge promise, making his first Pro Bowl in his third season with Washington. But partway through the 2007 season, Taylor was fatally shot during a break-in at his Miami home, thus cutting short a wildly promising career.