2015 NBA Mock Draft: Minnesota Pulls a 'Minnesota' Edition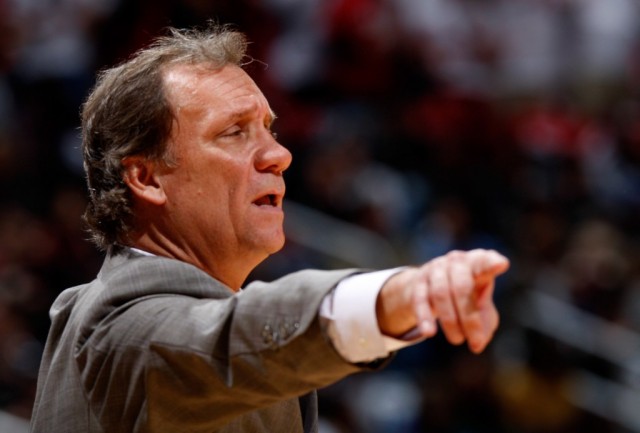 The NBA Draft is a fickle beast. And that's putting it nicely.
Despite everything you may think you know, the reality is that situations are constantly changing. While teams may originally seem to favor a particular player, opinions on that individual can immediately shift following a private workout.
On the flip side, those prospects who may appear to have the most question marks heading into the draft process, can, often times, increase their stock with one solid performance. Until the names are called on draft night, nothing is certain. In fact, even when the names are announced, you never know if that player will actually be suiting up for that team come the beginning of the season. But really, what makes this whole pre-draft period fascinating, is all the rumors that tend to swirl around.
One rumor that occurred recently involved top prospect D'Angelo Russell. Scheduled for a private workout with the Philadelphia 76ers this past weekend, the point guard suddenly canceled. According to Philly.com's Keith Pompey, Russell made this decision on account of getting "real sick." But that didn't stop the skeptics from crafting their conspiracy theories.
And while we're in no position to say what's really going on, we think it'd be fun to play along with the game. For instance, one reason why Russell could've suddenly canceled this workout, was because he knew he wasn't going to fall to No. 3. If that is indeed the case, if say, the Minnesota Timberwolves decided they were going to selected Russell with the No. 1 overall pick, then this would have major repercussions on the rest of the draft. After all, we are well aware of how one selection can not only dictate the draft itself, but shape an organization's future for years to come.
So let's see what would happen if this scenario actually played out. Our previous mock draft was based solely on the outcome of the draft lottery. This one is all about the Timberwolves going against the grain. With that, here's a look at our 2015 NBA Mock Draft: Minnesota Pulls a 'Minnesota' Edition.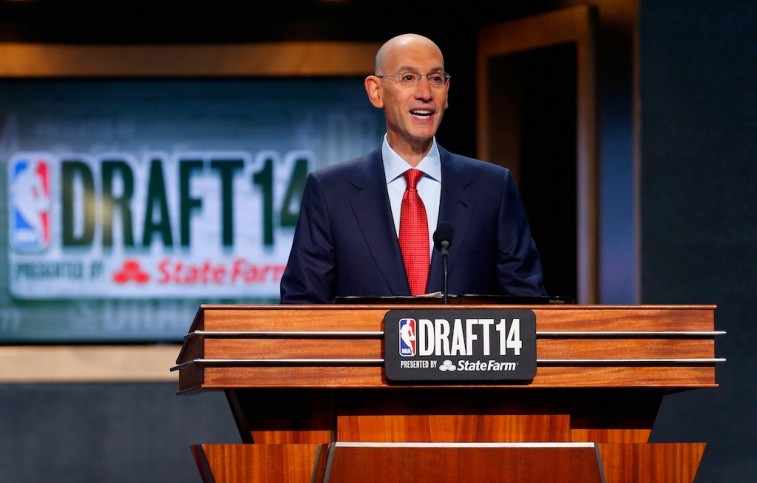 1. Minnesota Timberwolves
Pick: D'Angelo Russell, point guard, Ohio State
Conventional wisdom says the Minnesota Timberwolves should choose one of the drafts top 2 bigs. But with this franchise's history, and Flip Saunders' need to move to the beat of his own drum, the Timberwolves opt for the sweet-shooting lefty out of Ohio State. D'Angelo Russell has the handle, vision, IQ, and stroke to be a superstar in this league. Although everyone is surprised by the decision, ESPN's Chad Ford did say this was a possibility. Although, it still doesn't make the choice any less surprising.
Get ready for the snowball effect to ensue.
2. Los Angeles Lakers
Pick: Karl-Anthony Towns, power forward/center, Kentucky
The Lakers were all set to take Duke's Jahlil Okafor, but the Timberwolves handed them an early Christmas present — that seems to happen a lot to this organization — and they simply could not pass over Karl-Anthony Towns. The Kentucky freshman is the best two-way center in the entire draft and a complete game-changer overall. He could still use some polish on the offensive end, but the NCAA tournament gave us a glimpse into his potential. Pair that with his already impressive defensive skills, and we could be looking at the next great Los Angeles Lakers center.
3. Philadelphia 76ers
Pick: Kristaps Porzingis, power forward, Latvia
The 76ers had been enamored with D'Angelo Russell for most of the pre-draft period. But with him off the board and the team in desperate need of a floor general, look for Philadelphia to take the next best guard. Except, Sam Hinkie isn't as in love with Emmanuel Mudiay as he once was. However, he has reportedly fallen hard for the 6-foot-11 Latvian power forward Kristaps Porzingis. This organization doesn't mind raw talent; it's all about potential in the City of Brotherly Love. And this international superstar — an athletic big with an outside shot, who can also protect the rim — has it in spades.
4. New York Knicks
Jahlil Okafor, center, Duke
Phil Jackson and the rest of the New York Knicks brass are popping bottles. Owner Jimmy Dolan is probably two verses into a rewrite of his latest blues piece that was intended to be about how nothing ever works out for this organization. Somehow, someway, against all odds, the Knickerbockers end up with Jahlil Okafor — the most offensively polished big man the draft has seen in quite some time. Finally folks in Madison Square Garden are one step closer to no longer having to wear paper bags over their heads whenever they watch this team play. The 6-foot-11 center with the soft and fluid footwork, should be lighting up the scoreboard under the bright lights of NYC in no time.
5. Orlando Magic
Pick: Justice Winslow, small forward, Duke
Nothing changes for the Orlando Magic. Given that Justice Winslow's star was on the rise following a standout performance during this year's Big Dance, there was chatter that he might not even be on the board at No. 5. But he is, and the Magic are thrilled. Winslow has the NBA-body, the high motor, and crazy athleticism. Winslow may struggle with his mid-range game and his measurables aren't ideal, but he can hit the three and is explosive on both ends of the floor.
6. Sacramento Kings
Pick: Emmanuel Mudiay, point guard, China
In Emmanuel Mudiay, George Karl gets the perfect point guard to run his patented up-tempo office. This 19-year-old — by playing the last year in China — has already shown he can handle the demands of the pro level. He could use some work on his shot, but he's strong, athletic, and skilled at getting to the rim. The Sacramento Kings didn't know if the 6-foot-5 Mudiay would fall at the way to the No. 6 pick, but they have no problem selecting one of the top two guards in the entire draft.
7. Denver Nuggets
Pick: Mario Hezonja, shooting guard, Croatia
The Denver Nuggets are in desperate need of a skilled wing. Mario Hezonja certainly fits the bill. He is crafty, athletic, and a skilled shooter from the outside. Given that he is one of the talented international prospects, you might not be familiar with his game. Here's you chance to get familiar with the 6-foot-8 shooting guard.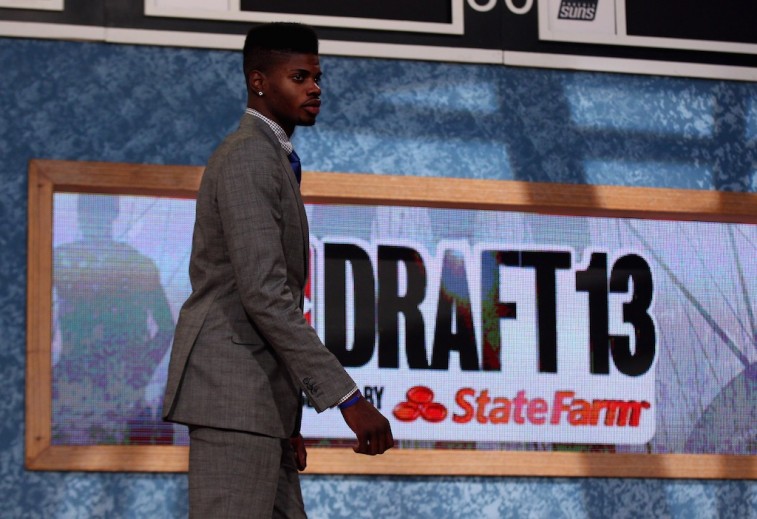 8. Detroit Pistons
Devin Booker, shooting guard, Kentucky
We originally had the Pistons taking Mario Hezonja. However, the Nuggets got to him first. Still, Detroit will be plenty happy to land Kentucky's Devin Booker. The 6-foot-6 guard is a smart ballplayer, but it's his shooting touch that's getting executives excited. The Pistons need shooters, and Booker might very well be the best in the draft. He shot 41.1% from three and had an overall field goal percentage of 47%. We think Stan Van Gundy would be super excited with this scenario.
9. Charlotte Hornets
Pick: Stanley Johnson, small forward, Arizona
Stanley Johnson stays exactly where he was before — with the Charlotte Hornets.  Despite only playing one season at Arizona, Johnson is already NBA-ready. He averaged 13.8 points and 6.5 rebounds last season and is extremely versatile on both ends of the floor. Even with all his athleticism, Johnson still presents plenty of upside. The Hornets will love that.
10. Miami Heat
Pick: Frank Kaminsky, center, Wisconsin
Johnson would've been a good fit in Miami, but Frank Kaminsky is the kind of mature player who could come in and contribute right away. A versatile seven-footer, Kaminsky possess the winning mentality that most organizations love. With his ability to shoot the three ball — 41.6% this past year — the Heat will benefit from having another player who's capable of stretching the floor.
11. Indiana Pacers
Pick: Cameron Payne, point guard, Murray State
There has been chatter that the Indiana Pacers are really high on this intelligent point guard. Murray State's Cameron Payne is quick, refined, and can get to the bucket. Throw in the fact that he put up 20.2 points and 6 assists per game this past season, and he would be a nice player to put alongside super Paul George.
12. Utah Jazz
Pick: Willie Cauley-Stein, center, Kentucky
Some people may have Kentucky's Willie Cauley-Stein higher up on the board — we did in our first mock draft — but given how the chips fell, the draft's top rim protector took a bit of a spill. If you're the Utah Jazz, you are amped about this situation. With the 7-footer roaming the floor, the Jazz have found a monster big who can anchor their defense for years to come. Right, Larry Legend?
13. Phoenix Suns
Pick: Myles Turner, center, Texas
The Phoenix Suns land a great player in Myles Turner. He definitely needs some time to refine his skills, but there is a lot to like about the 6-foot-11, 240-pound center-power forward. He's not just a big with top-notch hands. In his lone season at Texas, he averaged 10.1 points, 6.5 boards, and showed he could face up and hit the J. His ability to pick and pop will be very useful for this Suns team.
14. Oklahoma City Thunder
Pick: Kelly Oubre, small forward, Kansas
If Cameron Payne manages to fall to No. 14, we expect he'll be suiting up for OKC next season. However, that doesn't happen in this mock. So we're thinking the Thunder will have no issue with drafting for potential, which is why they'll roll the dice with Kansas freshman Kelly Oubre. With his insane athleticism and crazy 7-foot-2 wingspan, the Thunder need just be patient. With enough time to develop, this kid has the tools to be a star in the NBA.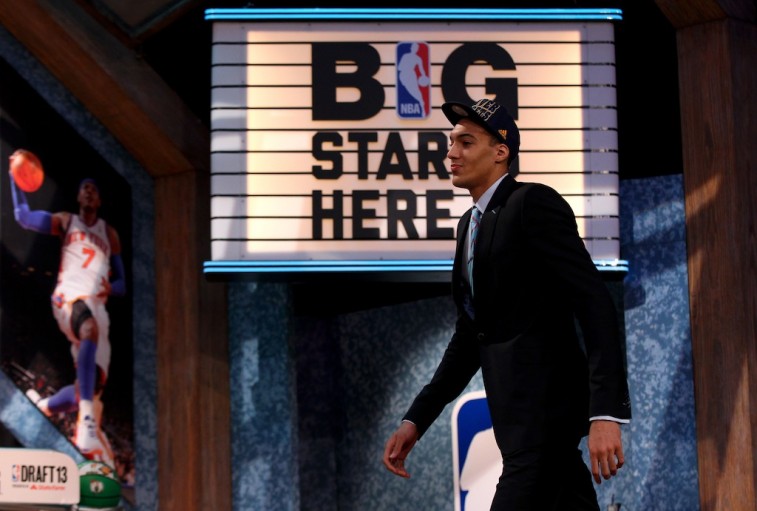 15. Atlanta Hawks (via Brooklyn Nets)
Pick: Trey Lyles, power forward, Kentucky
We had Trey Lyles going lower in our previous mock draft, but we think he'd be a good fit in Atlanta. This team could use another player at the four and Lyles definitely fits the mold. The 6-foot-10 freshman was solid scoring option at Kentucky, proving to be a versatile player for coach John Calipari. Mike Budenholzer should have no problem finding a place for a player with a 7-foot-4 wingspan and high basketball IQ.
16. Boston Celtics
Pick: Bobby Portis, power forward, Arkansas
Bobby Portis stays firmly in the No. 16 position. The Arkansas power forward averaged 17.5 points, 8.9 rebounds, and 1.4 blocks per game and was named Second-Team All-American in 2015. As we said before, Brad Stevens will be a huge fan of this kid's motor and explosiveness..
17. Milwaukee Bucks
Pick: Sam Dekker, small forward, Wisconsin
Sam Dekker will be a nice piece for Jason Kidd's Milwaukee Bucks. He is tough, athletic, and a streaky shooter when he's feeling confident. Also, this kid has an affinity for getting to the rim. If Dekker can become a more consistent shooter, he has a chance to thrive at the next level.
18. Houston Rockets (via New Orleans Pelicans)
Pick: Jerian Grant, point guard, Notre Dame
Although the Houston Rockets are in dire need of a proven point and the rumors are that they love Duke's Tyus Jone, we're sticking with Jerian Grant in this spot. Not only does his intelligence, grit, and experience make him a worthy floor general, but we believe the Rockets will value his 6-foot-4 height in the end. Of course, we could always be underestimating Daryl Morey's affection for Jones.
19. Washington Wizards
Pick: Kevon Looney, power forward, UCLA
The Wizards are in the market for a power forward, and UCLA's Kevon Looney would be a great get at No. 19. In his lone season for the Bruins, Looney averaged 11.6 points and 9.2 rebounds. He still needs to polish his game. But his upside, along with his length and versatility, will make him an attractive prospect.
20. Toronto Raptors
Pick: Rondae Hollis-Jefferson, small forward, Arizona
This pick remains in tact. Small forward Rondae Hollis-Jefferson has the NBA-ready body and the skills to contribute defensively right away. As this past postseason showed, the Raptors could use help in that particular area.
21. Dallas Mavericks
Pick: Tyus Jones, point guard, Duke
Again, we're sticking to our guns here. If Tyus Jones is on the board, we think the Dallas Mavericks would be wise to snatch him up. Forget the questions about his size. Jones is the type of player you look for in a point guard. He's cool, calm, and collected. His intangibles are through the roof. He loves the big stage. He's a great teammate. It also doesn't hurt that the kid is a proven winner. The Mavericks could use someone like that.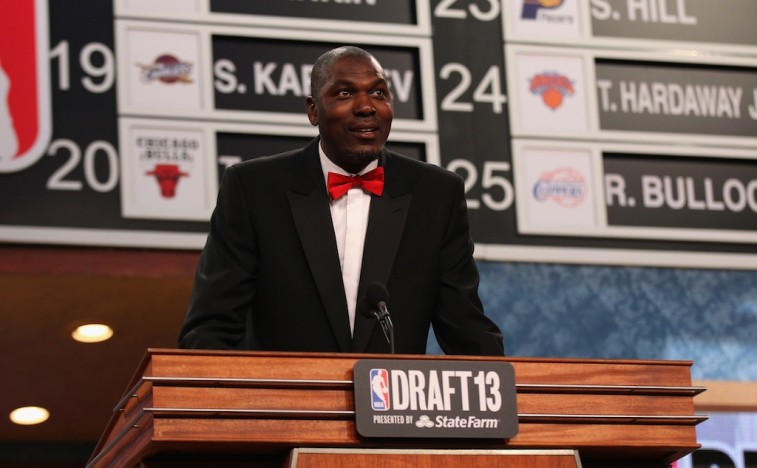 22. Chicago Bulls
Pick: Delon Wright, point guard, Utah
History shows that the Chicago Bulls could always be in the market for a reliable ball handler. For this reason, we're sticking with Utah's 6-foot-5 point guard Delon Wright. He's not the flashiest player, but he makes great decisions. He'd be a good fit in Chicago.
23. Portland Trail Blazers
Pick: R.J. Hunter, shooting guard, Georgia State
The Portland Trail Blazers go with guy who had, arguably, the biggest one shining moment during this past NCAA tournament. In Georgia State's R.J. Hunter, the Trail Blazers bring in a lethal outside shooter, with a high basketball IQ. Every team could use a player like that.
24. Cleveland Cavaliers
Pick: Justin Anderson, small forward, Virginia
LeBron James can always use someone who's capable of spacing the floor and knocking down shots — Virginia's Justin Anderson could fill that role quite nicely. A smart and versatile player, the 6-foot-6 small forward averaged 12.2 points per game and shot 45.2% from three before getting injured toward the end of last season. If all goes well with his recovery, Anderson could be a steal at this point.
25. Memphis Grizzlies
Pick: Christian Wood, power forward, UNLV
UNLV's Christian Wood is the kind of athletic power forward that could thrive with the Memphis Grizzlies. He could use some time to develop and fill out his body. However, he likes to bang on the boards and has great defensive instincts. That characteristics could help him go a long way with the Grizzlies.
26. San Antonio Spurs
Pick: Montrezl Harrell, power forward, Louisville
Louisville's Montrezl Harrell makes up for being unsized (6-foot-8) with his tenacity and fearless play. He is strong, and he has a great motor. If the San Antonio Spurs take a chance on him, and he buys into their system, this could be a win-win for both parties.
27. Los Angeles Lakers (via Houston Rockets)
Pick: Terry Rozier, point guard, Louisville
The Los Angeles Lakers could certainly use another scorer on the roster. In Terry Rozier, the Louisville Cardinals had a slick guard who consistently made big plays. He's quick, explosive, and capable of scoring off the dribble. He still needs to learn how to be more of a facilitator. Yet, his ability to make buckets will go a long way in the NBA.
28. Boston Celtics (via Los Angeles Clippers)
Pick: Chris McCullough, power forward, Syracuse
The Boston Celtics stick with Syracuse's Chris McCullogh in this draft; a player who only fell to this spot because he tore his ACL back in January. Still, his potential, length, and defensive capabilities should be enough to intrigue Brad Stevens.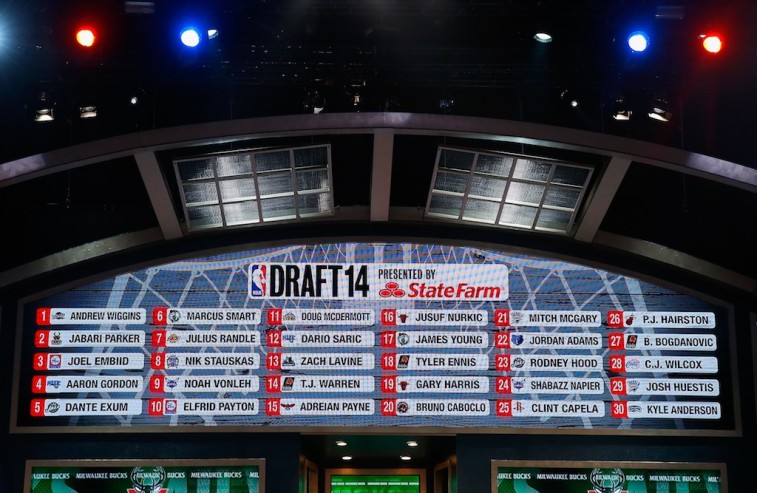 29. Brooklyn Nets (via Atlanta Hawks)
Pick: Jarell Martin, power forward, LSU
We originally had Jarell Martin going at No. 27 to the Los Angeles Lakers, but we felt a scoring guard would work better for the purple and gold. Still, the 6-foot-10 forward from LSU would be a solid addition to Brooklyn's front court. In his two seasons with the Tigers, he showed plenty of versatility. On top of that, in that brief time, he managed to make great strides in everything from scoring and rebounding, to steals and free throw percentage. All in all, he's got game.
30. Golden State Warriors
Pick: Rashad Vaughn, shooting guard, UNLV
The Golden State Warriors like their shooters. At UNLV, Rashad Vaughn put up 17.8 points per game and connected on 38.3% of his three-point shots. We have no trouble imagining him making it rain all over Oracle Arena.
All statistics are courtesy of SR/College Basketball, DraftExpress, and NBADraft.net.