2015 NBA Trade Deadline Wrap-Up: Everything You Need to Know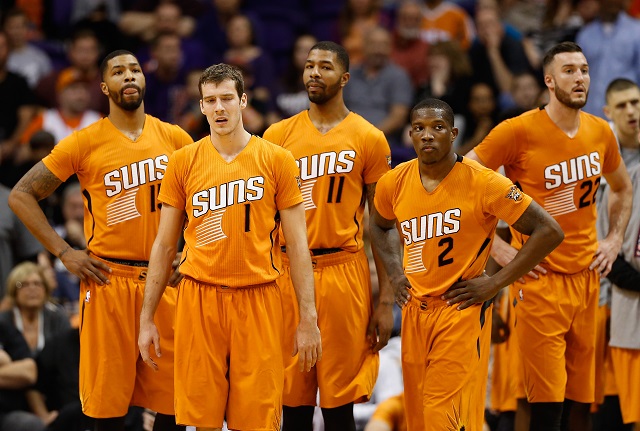 What just happened?!
If you followed the last few hours of the 2015 NBA trade deadline, which ended Thursday at 3 p.m. Eastern, then you already know that this league just got turned completely upside down. It's safe to say that things became chaotic in the waning minutes before time ran out on teams' last chance to make a deal this season. But have no fear, we've got you covered.
Just because a lot went down doesn't mean you have to be in the dark. Here's a look at the major trades that took place on the final day of the NBA trade deadline.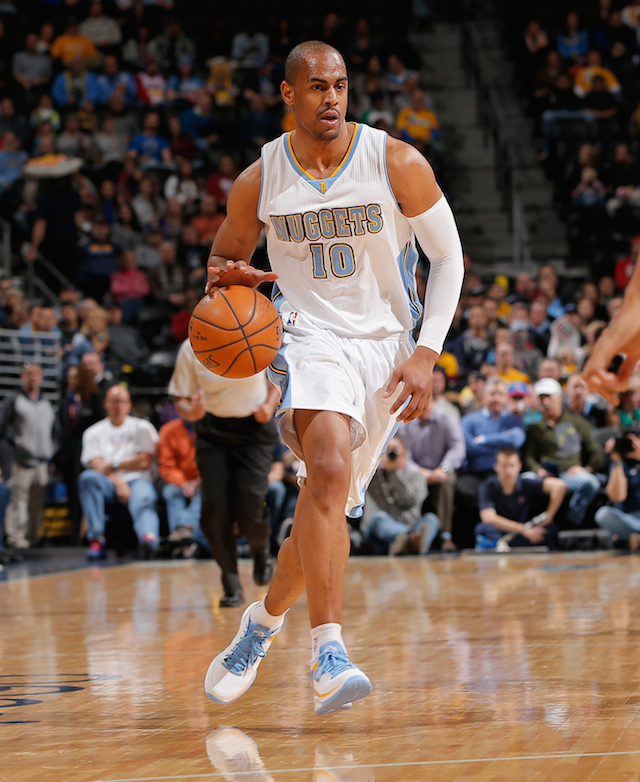 1. Denver Nuggets, Portland Trail Blazers
Nuggets get

: Thomas Robinson, Victor Claver, Will Barton, 2016 first-round pick (lottery protected)

Trail Blazers get

: Arron Afflalo, Alonzo Gee
The Portland Trail Blazers knew they needed to make some changes in order to stay competitive in the Western Conference. This five-player trade with the Denver Nuggets was their attempt to make a legitimate playoff push at the end of the season. Affalo could prove be a solid addition to the Trail Blazers' rotation, as they really needed to upgrade their bench, and he is capable of producing on both ends of the floor.
The golden ticket for the Nuggets in this exchange is the 2016 first-round pick. Although it is lottery protected in both 2016 and 2017, it becomes two future second-round picks should the Blazers fail to make the playoffs in each of those seasons.
2. Washington Wizards, Sacramento Kings
Wizards get

: Ramon Sessions

Kings get

: Andre Miller
The Washington Wizards and Sacramento Kings decided to jump into the trading game by exchanging these respective guards. The interesting thing about this deal is that it reunites Andre Miller with former coach George Karl, while at the same time eliminating Ramon Sessions' contract for next season.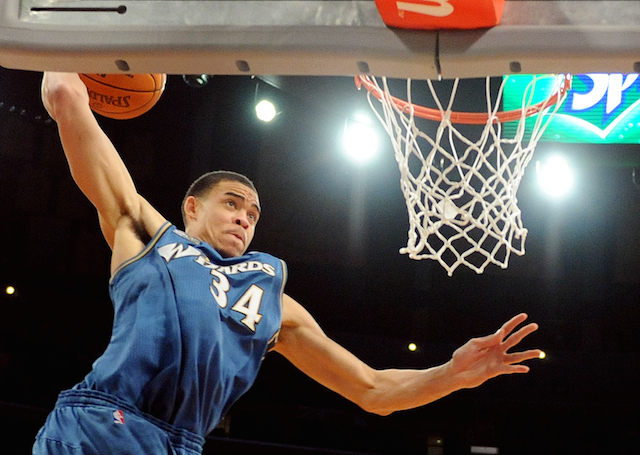 3. Denver Nuggets, Philadelphia 76ers
Nuggets get

: Rights to Cenk Akyol

76ers get

: JaVale McGee, 2015 first-round pick (top 18 protected)
The Philadelphia 76ers continue to do whatever they can to tank — we mean, "acquire assets" — and the Nuggets desperately wanted to dump JaVale McGee's contract. Even though we're not sure what the Sixers are going to do with another center, this deal should work out for both parties.
Philadelphia also acquired the rights to Nigerian forward Chu Chu Maduabum.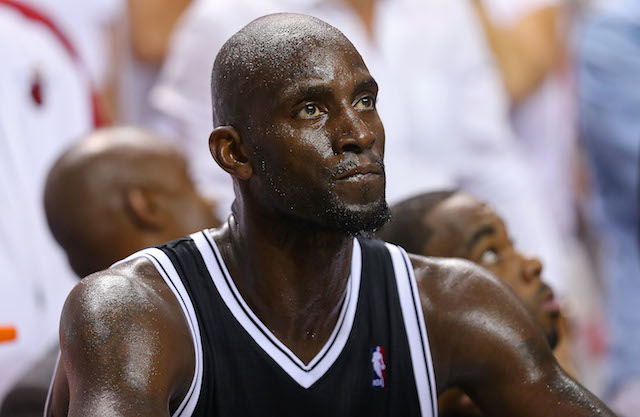 4. Minnesota Timberwolves, Brooklyn Nets
Timberwolves get

: Kevin Garnett

Nets get

: Thaddeus Young
NBA.com was the first to report that Kevin Garnett officially waived his no-trade clause and is now heading back to the Minnesota Timberwolves. It seems like the goal is to bring KG back to the place where his career started so he can mentor the Timberwolves' young core. For the Nets, they moved Garnett, an aging big man whose offensive game is not there anymore, for a guy who can put up some points in Thaddeus Young. Not a bad exchange.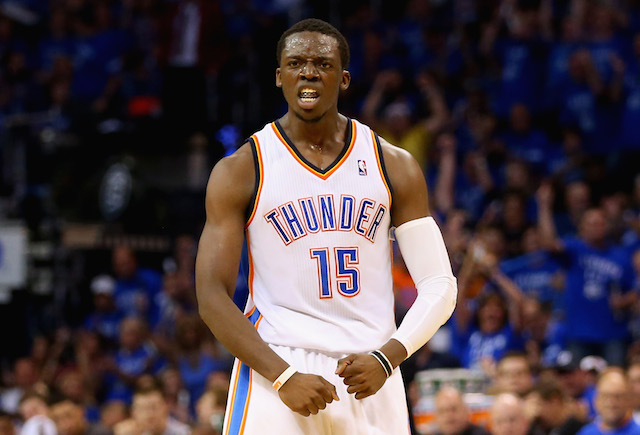 5. Detroit Pistons, Oklahoma City Thunder, Utah Jazz
Pistons get

: Reggie Jackson (from OKC)

Thunder get

: Enes Kanter (from Jazz), Steve Novak (from Jazz) Kyle Singler (from Pistons), DJ Augustin (from Pistons)

Jazz get

: Kendrick Perkins (from OKC)
This is a big-time three-team deal right here. Reggie Jackson was not a fan of what his role had become in the crowded Oklahoma City backcourt, so now he'll get the opportunity to play a bigger part for the Detroit Pistons. The Thunder believe there is no reason why they wouldn't be able to sign Enes Kanter to a contract extension. This deal could be good for everyone involved.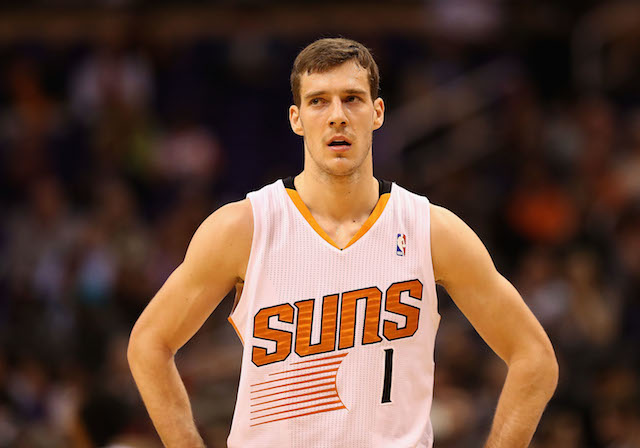 6. Miami Heat, Phoenix Suns, New Orleans Pelicans
Heat get

: Goran Dragic (from Suns), Zoran Dragic (from Suns)

Suns get

: Danny Granger (from Heat), Norris Cole (from Heat), Justin Hamilton (from Heat), two first-round picks (from Heat), John Salmons (from Pelicans)

Pelicans get

: Shawne Williams (from Heat)
Goran Dragic was finally able to get out of Phoenix, just like he wanted. And now he's heading, with his brother, to the Miami Heat. This is a big get for the Miami Heat. They may have had to give up two picks for Dragic, but he's a stud and totally worth it in our opinion.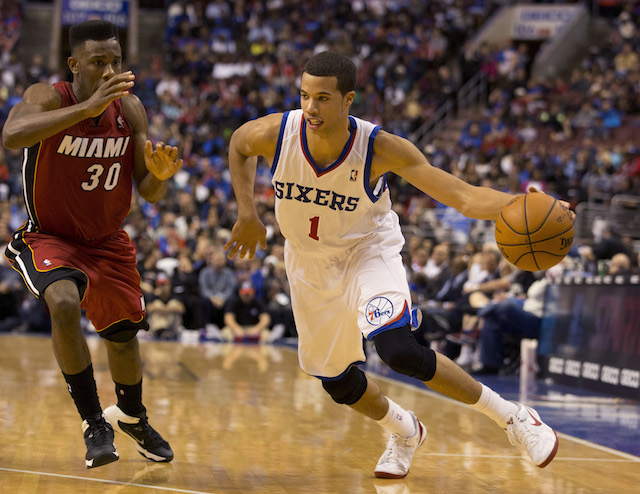 7. Milwaukee Bucks, Phoenix Suns, Philadelphia 76ers, Boston Celtics
Bucks get

: Michael Carter-Williams (from 76ers), Tyler Ennis (from Suns), Miles Plumlee (from Suns)

Suns get

: Brandon Knight (from Bucks), Marcus Thornton (from Celtics), 2016 first-round pick (from Celtics via Cavs)

76ers get

: 2015 pick (top 5 protected from Suns via Lakers)

Celtics get

: Isaiah Thomas (from Suns)
This four-team deal was one of the biggest of the day. The Phoenix Suns not only offloaded both Dragic and Isaiah Thomas, but acquired point guard Brandon Knight from the Bucks. Knight has certainly come into his own this season, and he can absolutely contribute for the Suns. But the strangest move has to go to the Philadelphia 76ers, who decided it was time to get rid of last season's NBA Rookie of the Year, Michael Carter-Williams. However, in true Philly fashion, the 76ers did pick up another draft pick.