2015 NFL Draft: 25 Top Underclassmen Prospects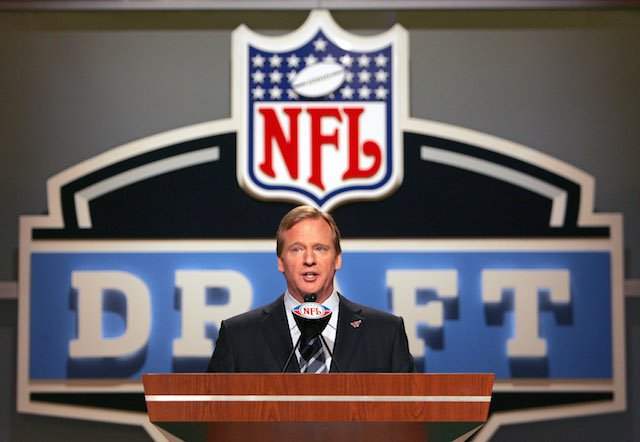 The deadline for underclassmen to declare for the 2015 NFL Draft has come and gone. For the first time since 2009, there was a decrease from the previous year in the number of early draft entries. In 2014, 98 players left school early, and this year, 76 players chose to forgo their remaining college eligibility to test the NFL waters.
Sadly, of the 98 players who were early entries in 2014, 36 of them (37%) went undrafted. With that being said, every NFL Draft is full of underclassmen who go on to have long-lasting NFL careers. This year, early entrants are projected to dominate the first two rounds of the draft.
Here's a look at 25 notable underclassmen (in no particular order) who declared for the 2015 NFL Draft. All draft projections are courtesy of CBS Sports.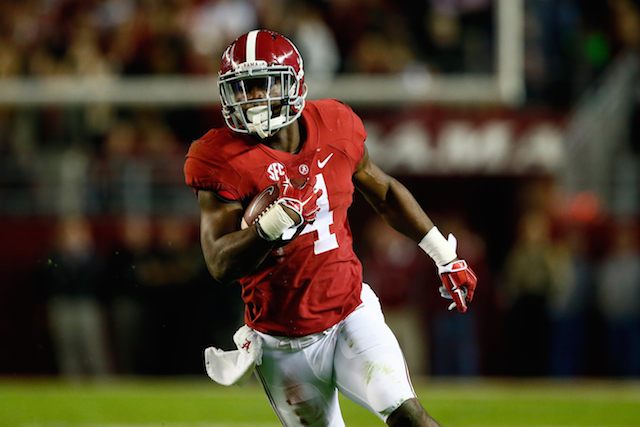 1. T.J. Yeldon, running back, Alabama (pictured)
Projected round

: 2-3

Notable accomplishments

: First team all-SEC (2013), second team all-SEC (2014)
2. Andrus Peat, offensive tackle, Stanford
Projected round

: 1

Notable accomplishments

: All-American (2014), first team all-Pac-12 (2014), second team all-Pac-12 (2013)
3. Devin Funchess, wide receiver, Michigan
Projected round

: 1-2

Notable accomplishments

: Second team all-Big Ten (2014), honorable mention all-Big Ten (2012)
4. Arik Armstead, defensive end, Oregon
Projected round

: 1-2

Notable accomplishments

: Honorable mention all-Pac-12 (2014)
5. Marcus Peters, cornerback, Washington
Projected round

: 1-2

Notable accomplishments

: Second team all-Pac-12 (2013)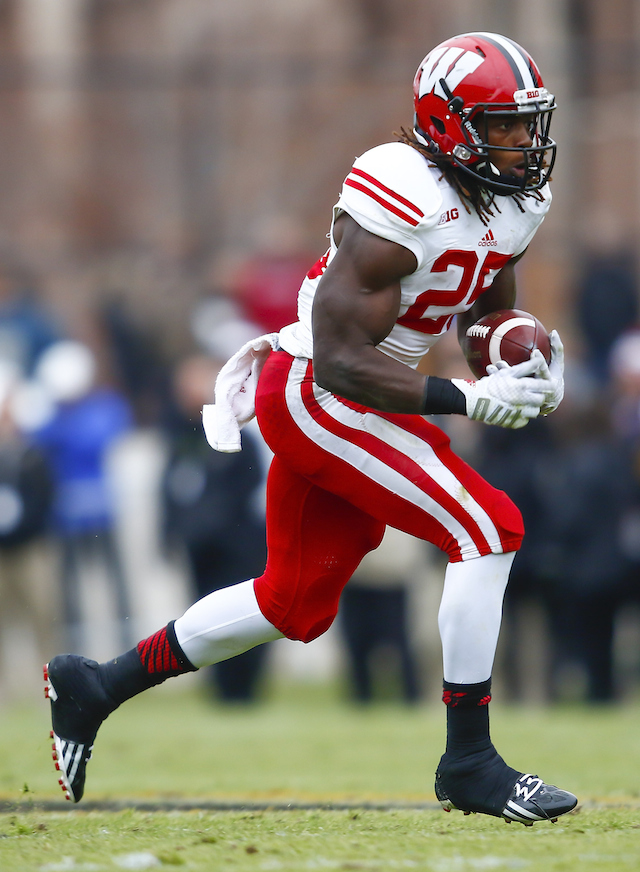 6. Melvin Gordon, running back, Wisconsin (pictured)
Projected round

: 1

Notable accomplishments

: Doak Walker Award (2014), unanimous All-American (2014), Big Ten Offensive Player of the Year (2014), first team all-Big Ten (2014), second team all-Big Ten (2013)
7. Jaelen Strong, wide receiver, Arizona State
Projected round

: 1-2

Notable accomplishments

: First team all-Pac-12 (2014), ESPN All-American (2014)
8. Maxx Williams, tight end, Minnesota
Projected round:

2

Notable accomplishments

: Second team AP All-American (2014), first team all-Big Ten (2014)
9. Malcolm Brown, defensive tackle, Texas
Projected round

: 1

Notable accomplishments

: Consensus All-American (2014), first team all-Big 12 (2014)
10. Ereck Flowers, offensive tackle, Miami (Fla.)
Projected round

: 1-2

Notable accomplishments

: Second team all-ACC (2014)
11. Brett Hundley, quarterback, UCLA (pictured)
Projected round

: 1-2

Notable accomplishments

: Second team all-Pac-12 (2014)
12. Ifo Ekpre-Olomu, cornerback, Oregon
Projected round

: 1-2

Notable accomplishments

: Consensus All-American (2014), three-time first team all-Pac-12 (2012-2014), Jim Thorpe Award finalist (2014)
13. Eddie Goldman, defensive tackle, Florida State
Projected round

: 1

Notable accomplishments

: First team all-ACC (2014)
14. Shaq Thompson, outside linebacker, Washington
Projected round

: 1

Notable accomplishments

: First team AP All-American (2014), first team all-Pac-12 (2014), Hornung Award winner (2014), second team freshman All-American (2012), two-time honorable mention all-Pac-12 (2012, 2013)
15. Dante Fowler Jr., outside linebacker, Florida
Projected round

: 1

Notable accomplishments

: Second team all-SEC (2013), first team all-SEC (2014)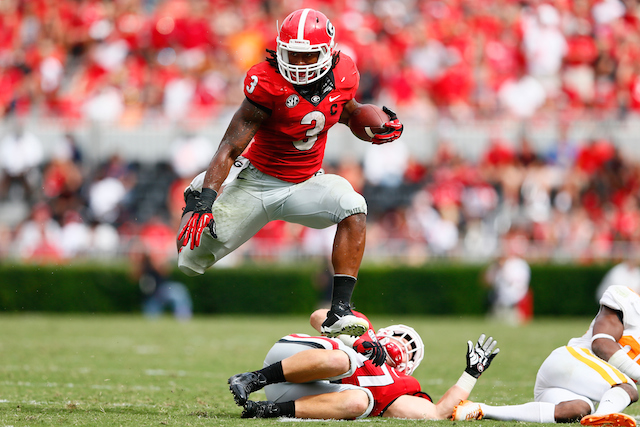 16. Todd Gurley, running back, Georgia (pictured)
Projected round

: 1-2

Notable accomplishments

: Second team all-SEC (2012), freshman All-American (2012)
 17. Trae Waynes, cornerback, Michigan State
Projected round:

1

Notable accomplishments

: First team all-Big Ten (2014)
18. Shane Ray, defensive end, Missouri
Projected round

: 1

Notable accomplishments

: Unanimous All-American (2014), first team all-SEC (2014), SEC Defensive Player of the Year (2014)
19. Dorial Green-Beckham, wide receiver, Oklahoma
Projected round

: 1-2

Notable accomplishments

: Second team all-SEC (2013)
20. Landon Collins, safety, Alabama
Projected round

: 1

Notable accomplishments

: Unanimous All-American (2014), first team all-SEC (2014)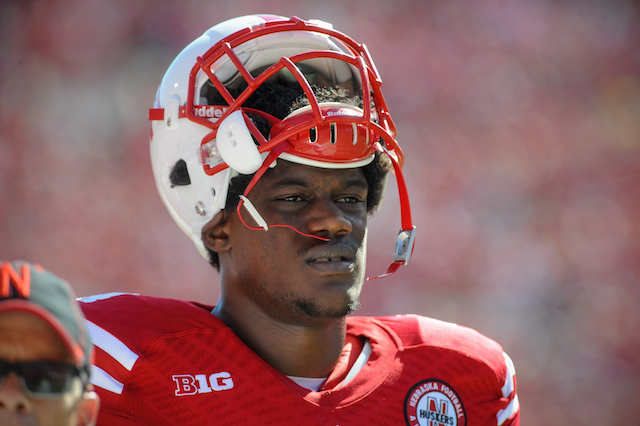 21. Randy Gregory, defensive end, Nebraska
Projected round

: 1 (top 5)

Notable Accomplishments

: First team all-Big Ten (2014)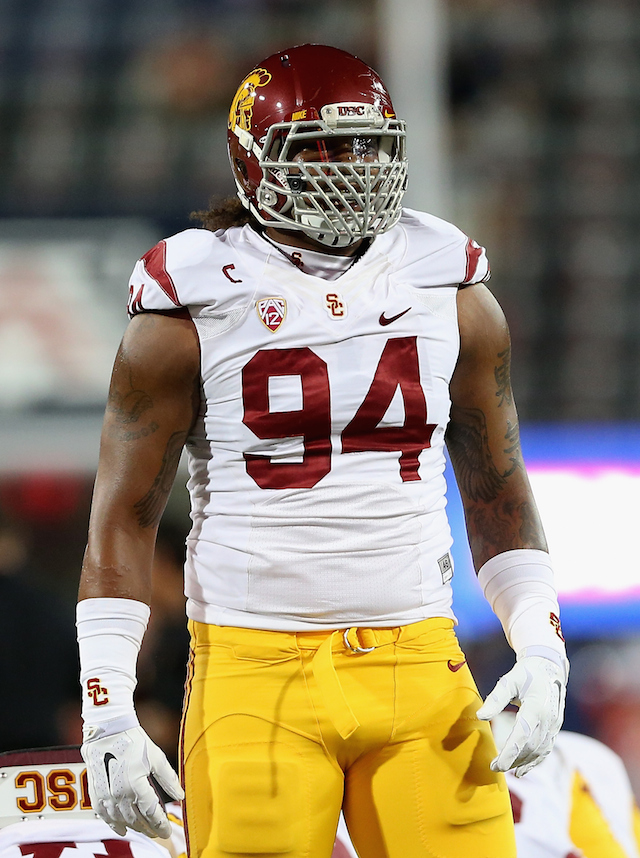 22. Leonard Williams, defensive tackle, USC
Projected round

: 1 (top 5)

Notable accomplishments

: Two-time first team all-Pac-12 (2013-2014), two-time first team all-American (2013-2014)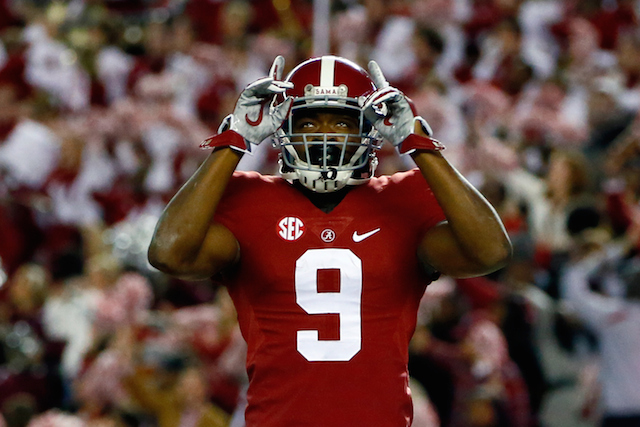 23. Amari Cooper, wide receiver, Alabama
Projected round

: 1 (top 5)

Notable accomplishments

: Heisman Trophy finalist (2014), Fred Biletnikoff Award winner (2014), unanimous All-American (2014), first team all-SEC (2014)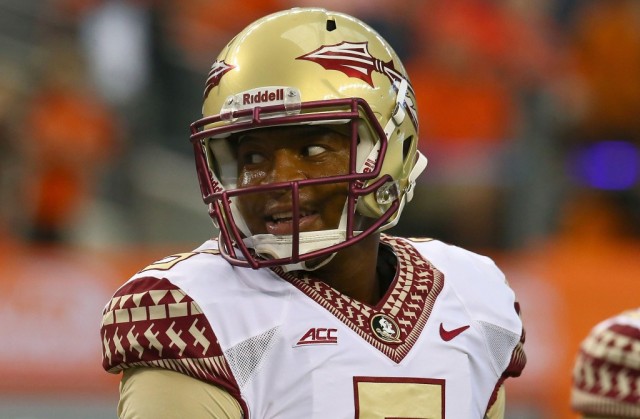 24. Jameis Winston, quarterback, Florida State
Projected round: 1 (top 5)
Notable accomplishments: Heisman Trophy winner (2013), Walter Camp Award (2013), Manning Award (2013), AP Player of the Year (2013), Archie Griffin Award (2013), ACC Player of the Year (2013), two-time first team All-ACC (2013-2014), consensus All-American (2013)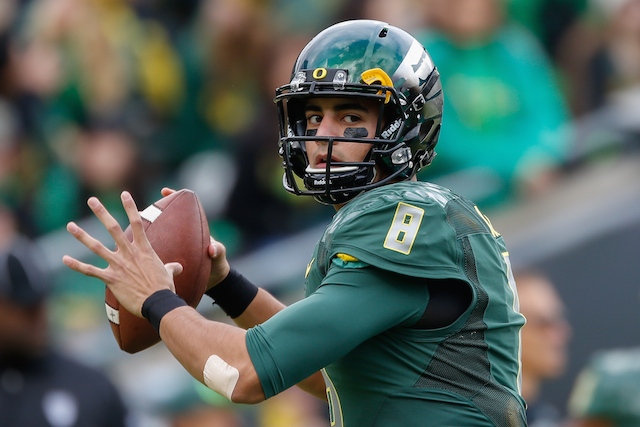 25. Marcus Mariota, quarterback, Oregon
Projected round: 1 (top 5)
Notable accomplishments: Heisman Trophy winner (2014), Davey O'Brien Award (2014), Walter Camp Award (2014), Maxwell Award (2014), AP Player of the Year (2014), unanimous All-American (2014), three-time first team all-Pac-12 (2012-2014), Pac-12 Offensive Player of the Year (2014)