2016 Fantasy Football Projections: Ezekiel Elliott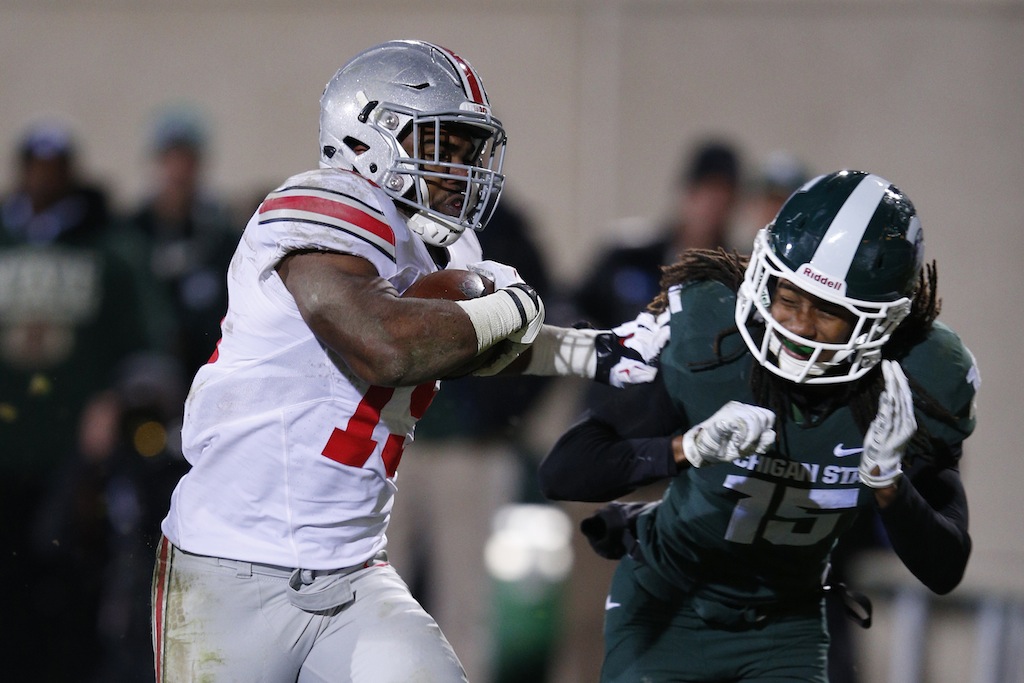 As the 2016 NFL season draws closer, fantasy football drafts are beginning to heat up. Obviously, you must prepare for your draft, and we're going to help with that by checking out some of the biggest names in fantasy football and predicting their outcomes.
While we've talked about a few big-name running backs out there, including Adrian Peterson and Todd Gurley, we now shift our attention to one of the most intriguing rookie running backs in recent memory. That would be none other than the Dallas Cowboys' No. 4 overall pick in the 2016 NFL Draft, Ezekiel Elliott.
While Elliott enters the league with a set of skills we haven't seen from a rookie running back in a long time, many fantasy football owners wonder whether or not he will immediately step in and be the featured workhorse back for the Cowboys? The answer: You bet.
Elliott is not only a superb runner, but he is also a great pass-catcher and strong blocker. He'll be able to do the best job out of himself, Darren McFadden, and Alfred Morris when it comes to protecting Tony Romo. So, let's take a look at how this will impact his fantasy value and what we expect from him in 2016.
Remember back in 2014 when the Cowboys handed the ball to DeMarco Murray 392 times? That number seems absolutely unreal, but it's also what led to the Cowboys have incredible success that season. The team went 12-4 and beat the Detroit Lions in the postseason, before dropping the divisional round to the Green Bay Packers on a brutal non-catch call (that everyone remembers).
An abundance of touches coming Elliott's way
What is slightly overlooked is the fact that Murray also caught 57 passes that year, so his usage was just unreal. While we know the type of workload that Murray handled in 2014, how about the 2015 running backs?
The Cowboys released Joseph Randle during the season, so McFadden didn't even get big carries until around the sixth game of the season. Even with that said, he still totaled 239 attempts, while Randle saw 76 rushes, Robert Turbin received 32, Christine Michael got 15, and Lance Dunbar (who got injured) saw five carries. In total, there were 367 rushes carried out. Not too crazy, right? At least, not like 2014.
What can't be overlooked: This team was basically behind in every single game that Romo didn't play. There weren't nearly as many rushing attempts last season as the Cowboys would have liked, which was simply due to the fact that the team was 4-12 and couldn't hold a lead to save their lives. In turn, we should fully expect Dallas to get back to what they did in 2014 — with a huge number of carries for Elliott.
Pass-catching will place him in the "elite" category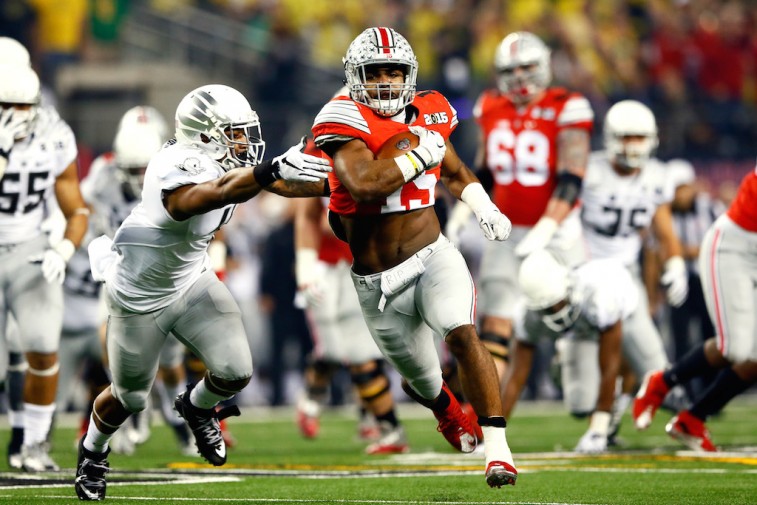 While we know Elliott can run (he had 3,961 rushing yards, 43 touchdowns, and a 6.7 yard-per-carry average over three years at Ohio State), the man can also catch passes. He actually wasn't asked to do a ton of it during his time with the Buckeyes, but in his final two seasons with the team, he caught 55 passes for 426 yards.
Elliott will be likely see somewhere between 30-40 receptions with the Cowboys in 2016, especially if he emerges as a player who the Cowboys simply can't afford to take off the field (which seems likely). Tacking those receptions onto a possibly huge workload running the ball, and there's almost no question that we're looking at a top-five fantasy football running back in 2016. Here's how we see the top five ranking when all is said and done:
Le'Veon Bell
Adrian Peterson
David Johnson
Todd Gurley
Ezekiel Elliott
Aside from Peterson, that's a lot of young talent on the board. Expect Elliott to hit the ground running, quickly proving that he was worth the exceptionally high draft pick the Cowboys spent on him.
Statistics courtesy of ESPN.com and Pro-Football-Reference.com.