2016 Fantasy Football Outlook: Antonio Brown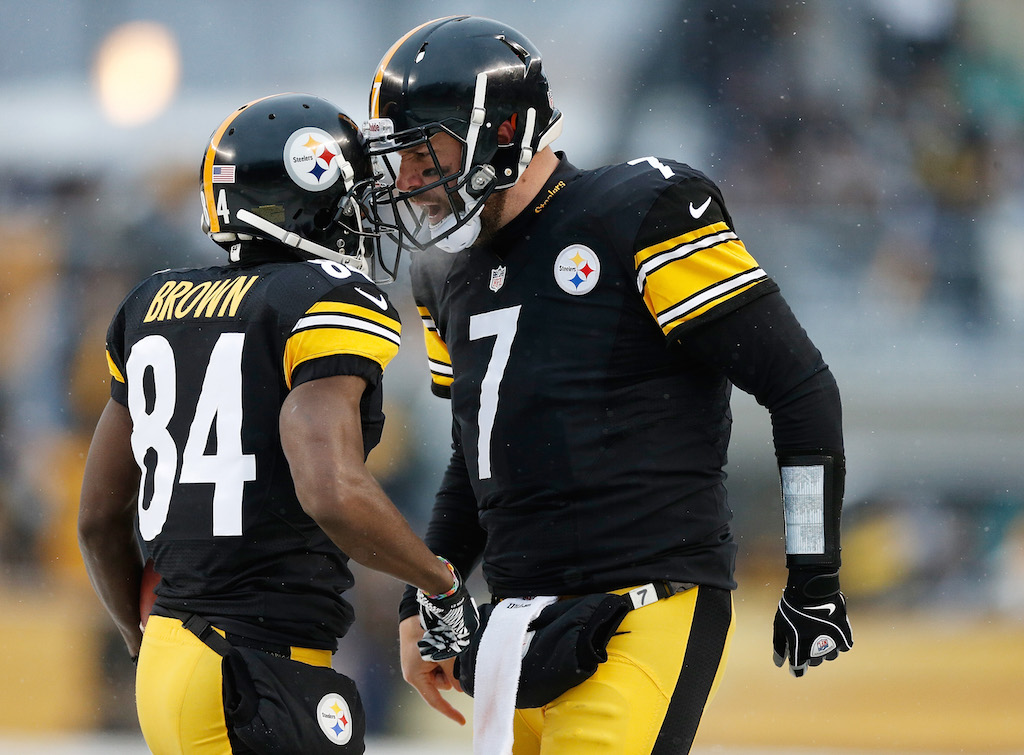 During the 2015-16 NFL season, Pittsburgh Steelers wide receiver Antonio Brown was one of the most dominant fantasy football forces in the league. For those who paid up and spent a first-round fantasy pick on him, it paid off in a big way. There's a lot to love about Brown's game, but the fact that he even managed to do damage when Ben Roethlisberger was injured, is even more impressive. Brown got it done with both Michael Vick and Landry Jones at the helm as well and finished up the season with a superb 136 catches, 1,834 yards, and 10 touchdowns. After such a stellar year from Brown, there's only one question: can he match that production again during the 2016-17 season, or has he already peaked?
Here's a look at the five highest scoring wide receivers from the 2015-16 season in point-per-reception leagues, according to Sporting Charts: In fifth, Houston's DeAndre Hopkins, with 20.69 points per game. Brandon Marshall and Odell Beckham Jr. round out the fourth and third spots, respectively, (with 21.2 and 21.29 points per game averages), while Julio Jones was the second most-consistent fantasy scorer with 23.82 points per game. In first? You guessed it — Antonio Brown lead the pack with 24.26 points per game
That sort of dominance has one outcome, as far as fantasy is concerned — not only is Brown setting himself up to be be one of the first wide receivers off the board this season, but he's been one of the top overall selections as well. In most drafts to this point, Brown has been in the top-two or top-three picks, up there with fellow receivers Odell Beckham Jr., and Julio Jones. If you're selecting Brown this year, you're betting big on him, but there's every indication that he's going to live up to the hype.
Brown's impressive, increasing production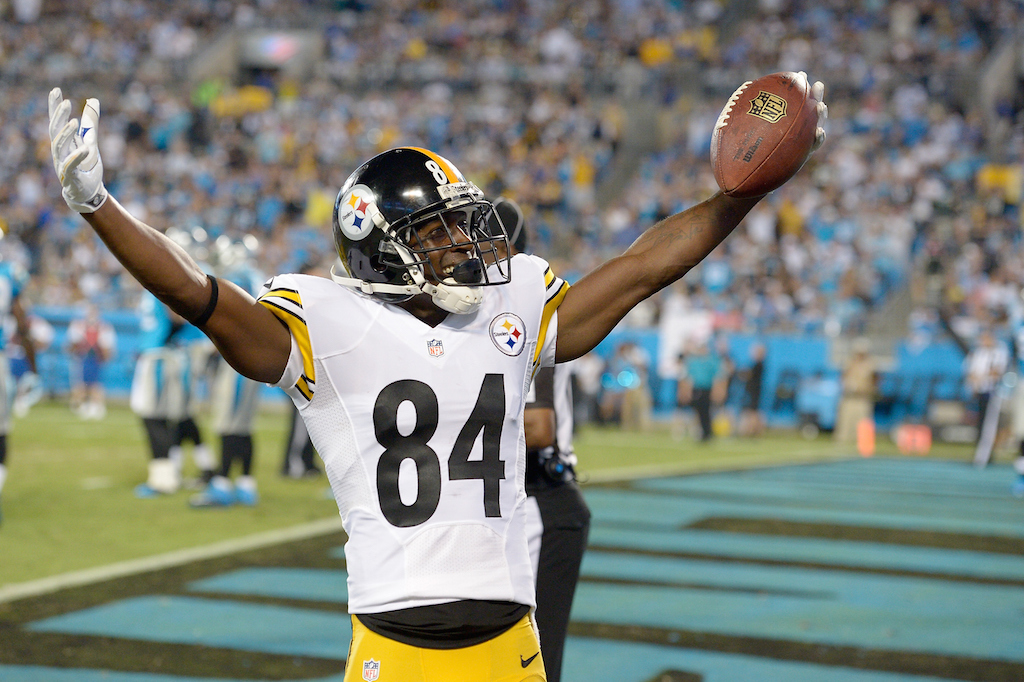 There's a lot to love about what Brown did in 2015, but if you look back at the previous seasons, we realistically probably shouldn't be all that surprised. Two years ago, in 2014, Brown totaled 129 catches, 1,698 yards, and 13 touchdowns. The year before that, he wound up with 110 catches, 1,499 yards, and eight touchdowns. Brown has increased both his receptions and yardage over the past three seasons, and in result has quickly become an elite wide receiver.
Increasing anymore than he did in 2015 is really tough to predict, largely due to the fact that he nearly broke receiving records last season. So, with that said, could we possibly ask any more of him in 2016? Fortunately, you may not have to, because Brown's rapport with Roethlisberger and his growth as a player alone is enough to make him the top wide out once again in fantasy football.
The return of Le'Veon Bell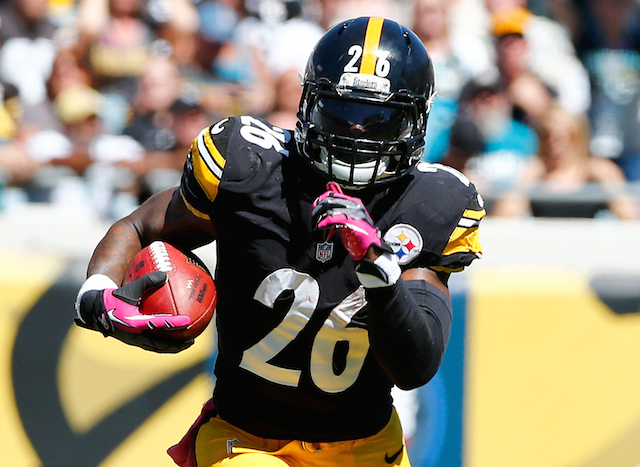 Some may see the return of Bell as a negative after he played in just six games last season. While there's no question that Bell is going to get his fair share of work this season (even if he winds up missing four games due to suspension), he's still going to get touches. The good news? That'll just open things up for Brown and the passing game even more.
A perfect example of how this could benefit Brown is Dez Bryant's 2014 campaign. Back when DeMarco Murray was a force for the Dallas Cowboys offense, it resulted in Bryant leading the NFL in receiving touchdowns. If Bell can come back and resume being a great runner and strong pass-catcher, Brown's life is going to be made even easier.
Predictions for Brown's fantasy ranking in 2016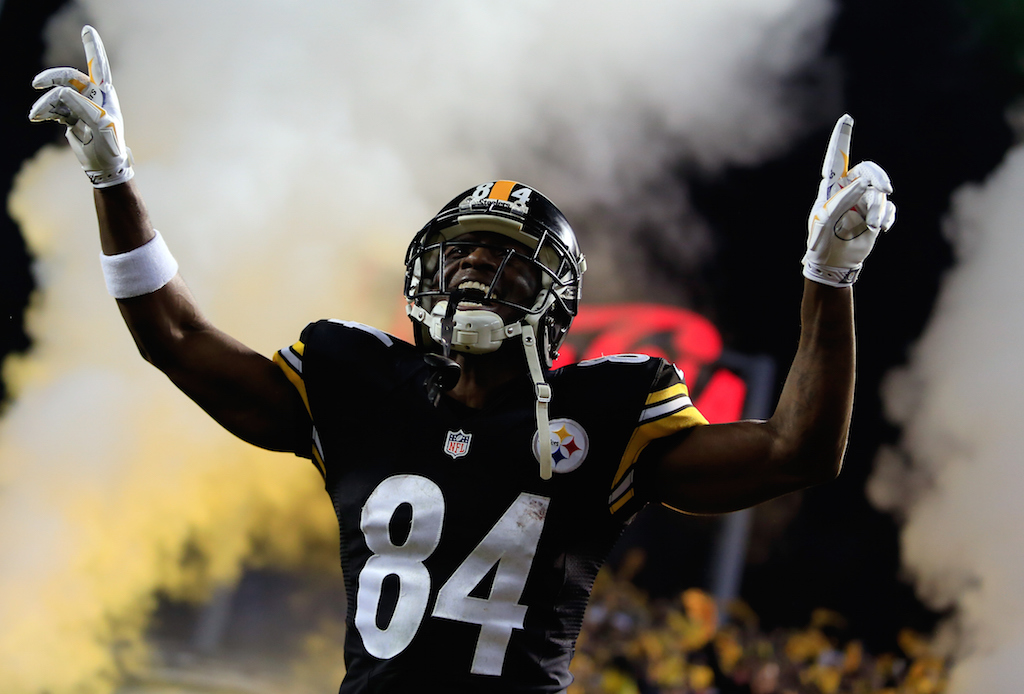 If we had to predict the top five fantasy wideouts (akin to the list from last year), we'd probably have it break down something like this — Allen Robinson rounds it out at fifth, while DeAndre Hopkins moves up to fourth. The top three of Jones, Brown, and Beckham Jr. still remain at the top, and it's hard to argue with Brown topping this list. Simply put, there's nothing to push him away from the top spot, although Julio Jones is always a threat to deliver a season for the ages because of his raw talent.
That said, with a healthy quarterback in Roethlisberger and another year in this offense, Brown is bound to be an elite fantasy option. We'll give him the nod at No. 1, and don't be shocked to see him come close to, or possibly even surpass the incredible numbers he posted last season.
All statistics courtesy of ESPN.